How to Fix LG V35 Failed to Connect to Syncios?
If you are an Android user and failed to connect your phone to Syncios Manager or Syncios Data Transfer. First, please make sure your device is supported by Syncios and follow our guide here to enable USB debugging and download phone app.
If your device still can not be recognized by Syncios even after you followed all the tips, especially when you have a LG V35 device, please check the tips below:
Occasion 1: Failed to install Syncios for android app on your phone
For Android device users, in order to successfully transfer or backup data from Android, you must have the Syncios.apk installed on your device. Otherwise, Syncios program would not recognize or detect your device correctly. Check your phone screen, there will be an install prompt when you connect your phone to Syncios. If you keep getting a message says "Failed to install Syncios apk", then please follow the tips below:
Step 1On your device, navigate to Settings > System.
Step 2 Scroll down and Find Developer options under system.
Can not find Developer options? Please follow our guide to enabale Developer options first.
Step 3 Click Select USB Configuration under Developer options.
Step 4 Choose "PTP (Picture Transfer Protocol)".
Step 5 Try again to download Syncios for android app on your phone.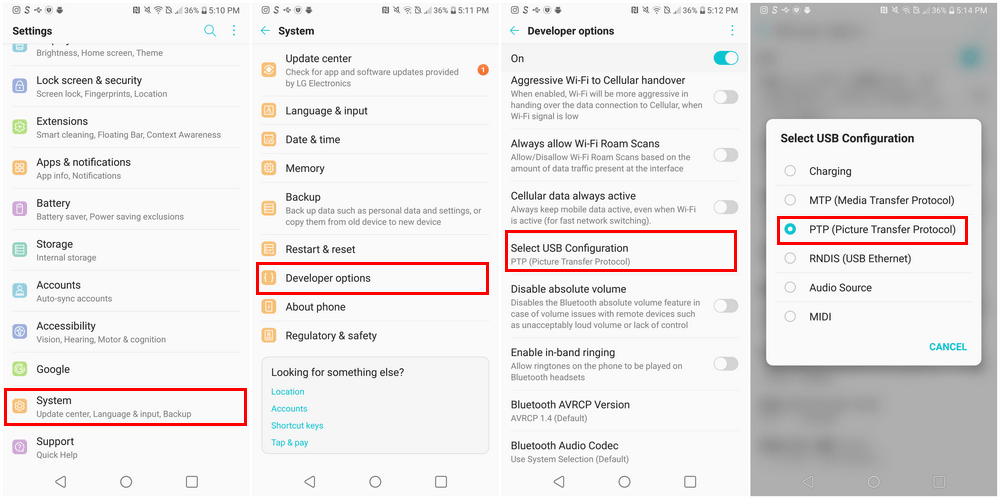 Occasion 2: Syncios for android app is disabled
In some phones, when you uninstalled Syncios for android app from your phone and try to install new version, you will find Syncios can not run normally when you connect your phone to Syncios desktop program. It's because you actually disabled Syncios app but not uninstalled it.
You can check if Syncios app is disabled under Settings > App info. If yes, please find Syncios app under settings > apps, and click Uninstall to remove the app from your phone completely so you can install the latest version.
If Syncios still can not detect your android phone, please contact us via: [email protected]