How to Export WhatsApp Messages from iPhone/Android
WhatsApp is a popular communication platform in our daily life or in our work, it stores our important data including messages, photos and videos. Their importance may stem from the fact that they serve as a record of your business-related correspondence or they may simply have sentimental value. In order to preserve these chats, one may need to export WhatsApp chats to computer or other devices. This raises a few questions.
Method 1. Export WhatsApp Data Directly from iPhone/Android
Recently, WhatsApp to a new version which supports to export WhatsApp messages to iPhone build-in apps or third-party apps, such as Notes, Email, Messages and more other apps you installed on your iPhone. Thus, you are capable to view the conversations directly after the exporting. When you need to export these chats to others or print the chats out, you will find this feature is super easy and convenient for WhatsApp users. But the flaw is that you can't restore them back to WhatsApp.
The new version of WhatsApp features more sharing options. You can share your WhatsApp conversations and media files to iPhone build-in apps or third-party apps, such as Notes, Email, Messages and more other apps you installed on your iPhone. If you just need want a quick backup, you can try this way. It helps you to export certain conversations conveniently.
Step 1: Select Chats to Export
On your iPhone, just start WhatsApp and tap Chats section, go to the very conversation you want to export. If you left slide this conversation, you will get two options: More and Archive. If you need to export it, choose More.
Step 2: Export and Share WhatsApp Chats
On the pop-up dialog box, choose Export Chat, and here you are allowed to export the chat to Messages, Mail, Notes, Files, and more other apps. Simply choose your desired one and export the chat. And you can choose to export them with or without Media attachments. Now you will get a copy of certain conversations in the third-party tool or email. But you can only check the backup when you need.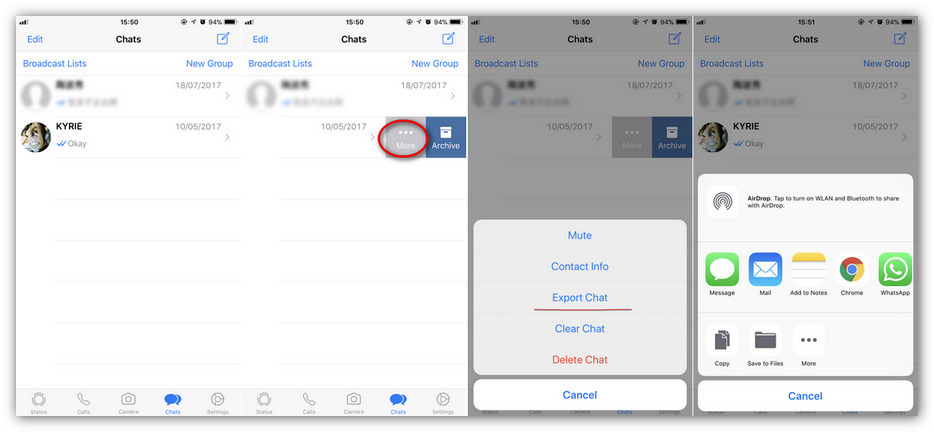 This process comes with its fair share of limitations. Firstly, this feature is not available in Germany so if you are a WhatsApp user residing in Germany then export chat is simply not possible. Furthermore, you can only export the last 40,000 messages if you select the without media option or the last 10,000 messages if you select the with media option. If you have a lot of media in a chat then the limit may even drop below the 10,000 figure. This means that if the chat has been longstanding and there have been a lot of messages over the years then some of the older messages may get left out during the export process.
---
Part 2. Export WhatsApp Data as Local Backup
If you are wondering whether you'll be able to find a direct way to transfer WhatsApp from iPhone to Samsung or not, today's your lucky day. We are introducing you to Syncios WhatsApp Transfer. Syncios WhatsApp Transfer is the easiest and most effective way to transfer WhatsApp data across different platforms, including WhatsApp messages, photos, videos, etc. Then you're allowed to restore WhatsApp data from local backup files or iTunes backup files to a new phone.
Method 2. Export WhatsApp Data as Local Backup
Step 1 Download and install Syncios WhatsApp Transfer on your computer. From Syncios WhatsApp Transfer interface, you can find four sections: Backup WhatsApp, Restore WhatsApp from local backup, Restore WhatsApp from iTunes backup and Transfer WhatsApp between two devices.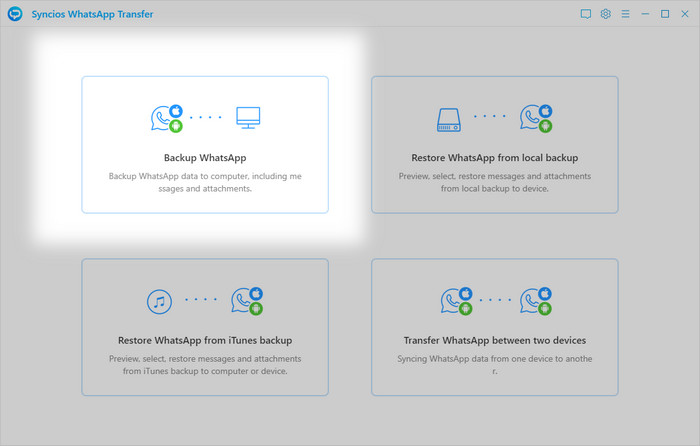 Step 2To export WhatsApp chats from iPhone or Android devices, the first step is to backup WhatsApp data by Backup WhatsApp module. Here we take iPhone as example. Connect your devices to computer via USB cable, choose iPhone as your source device from the main interface. If you have any problems for phone connection, you can follow our FAQ here.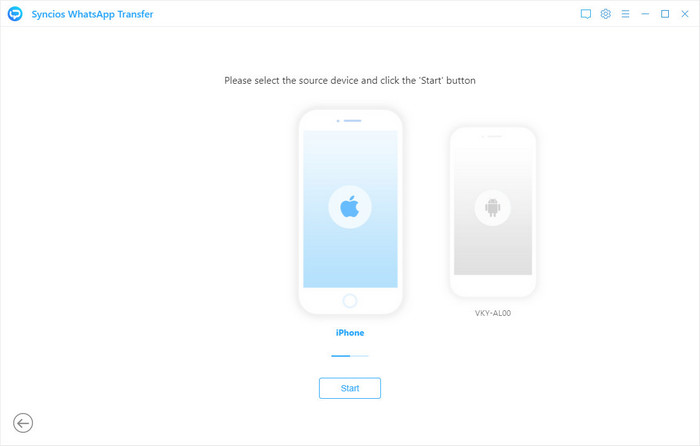 Step 3 Then click Start button. Once you tap on the button, Syncios will timely scan and backup your iPhone WhatsApp data to your computer. Wait till WhatsApp transfer completes. If you have a large size of WhatsApp data on your iPhone, then the transfer might take some extra time. Wait patiently, your WhatsApp chats then will be saved to computer as backup. You can restore the backup to another phone any time via 'Restore WhatsApp from local backup' option on main interface.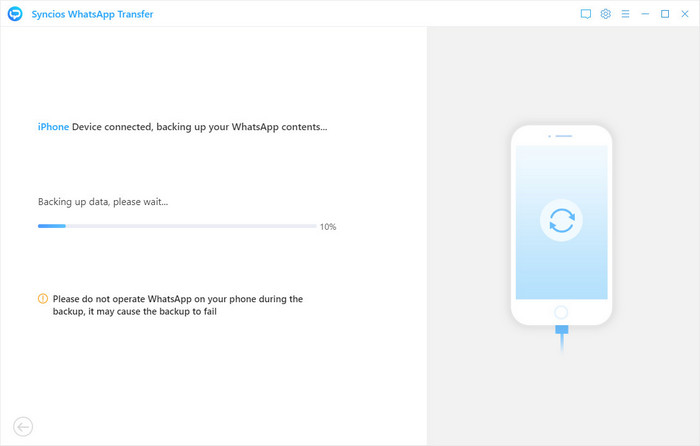 Method 3. Export WhatsApp Data to HTML/CSV
On Method 2, your WhatsApp chats will be saved as xml files which is encrypted. If you need to view or print your WhatsApp messages on computer, then we suggest you follow the steps below to export your iPhone/Android WhatsApp messages as Html or Csv file.
Step 1 Follow Method 2 to backup your WhatsApp messages to computer. After the transfer completes, click View button to check your WhatsApp messages backup. Syncios WhatsApp Transfer allows you to preview and export WhatsApp here. Please select your WhatsApp messages, and you can see two option: "Recover to computer" and "Recover to device".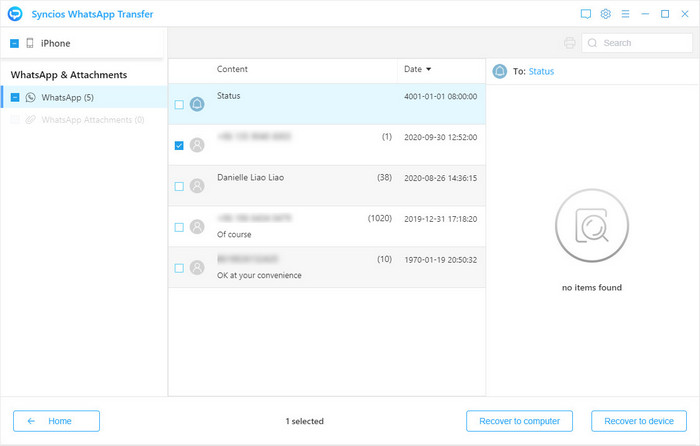 Step 2With "Recover to computer", you can export WhatsApp messages as html or csv files for easy preview or printing; "Recover to device", you can restore WhatsApp data to phone. Now please click on Recover to computer.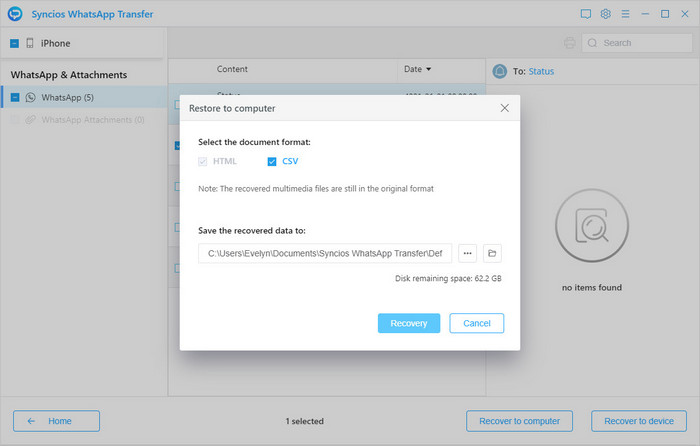 Step 3 In the pop-up windows, Syncios allows you to choose export your WhatsApp messages as Html or CSV. And the media files in your chats will be saved as orginial format in same backup folder. Choose the export format, tap on Recover to confirm. The backup folder will automatically open, you can check your WhatsApp backup here. Directly open the html files via Chrome or other explorer, and your WhatsApp message will show as below.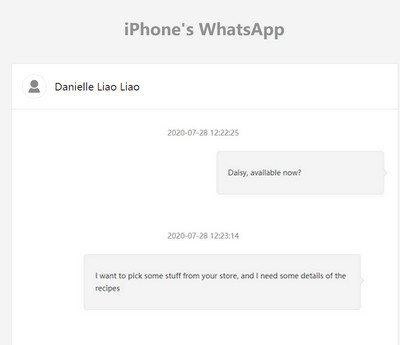 ---
Conclusion
This article has showed you how to export WhatsApp from iPhone or Android devices in 3 different ways. From all the above-listed methods, Syncios WhatsApp Transfer would be an ideal option. It is extremely easy to use and provides both device-to-device WhatsApp transfer and iTunes-to-device WhatsApp transfer solution. If you are still not sure, then you can download a free trial and have a try.
What's next? Syncios WhatsApp Transfer now!