How to Freely Transfer Files from PC to Mac?
Got a new Mac but frustrated in migration of files kept in PC? Come on, you don't want to start over again right? Here we offer you two solutions which are free to use. If you just want to make things as easy as possible, then you should never lost this opportunity to acquire how to freely transfer files from PC to Mac with Syncios.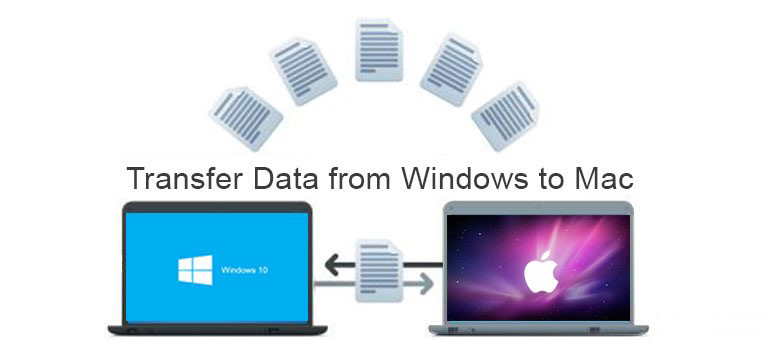 Solution 1: Transfer Files from PC to Mac with Syncios
Using Syncios can be quite time-saving and convenient for conducting data transfer from PC to Mac. All you have to do is to download Syncios MobiTrans Free on your PC and then download Syncios Manager for Mac on your Mac. Don't forget to prepare yourself with a mobile device and a USB cable which are pretty easy to get. Basically the steps will be the firstly data transfer from PC to your mobile device and then the export of the data to your Mac.
You may have the doubt why not just use USB Flash Disk which may save you from downloading programs in separate systems as well as device and USB cable. Well, the things is you have to buy extra USB Flash Disk compatible with different systems which normally is not available for transferring single item beyond 4GB. Anyway, let's read on to see how Syncios works.
Step 1On Your PC
Download Syncios MobiTrans Free on your PC and run it. Connect your device to PC via USB cable. For device detection problem, you can simply refer to troubleshooting of iOS or Android .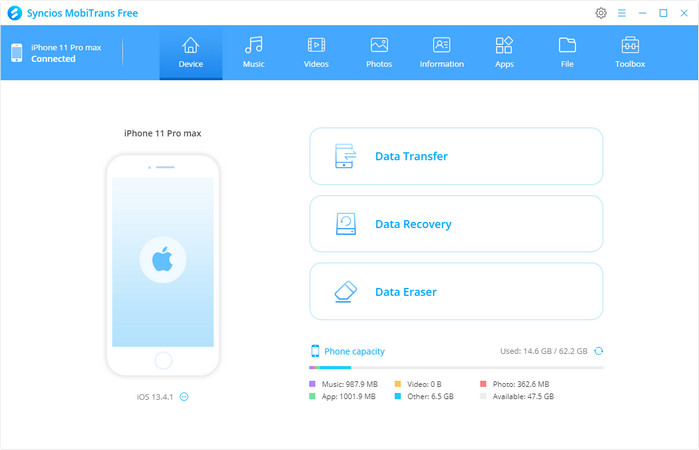 Let's take audio files for example. Tap on the Music on the top menu, click on the button beside Playlist to add a new playlist which can be named whatever you like to differentiate from the existing files in your device. Now click on Add on the top to start transferring files from PC to your device.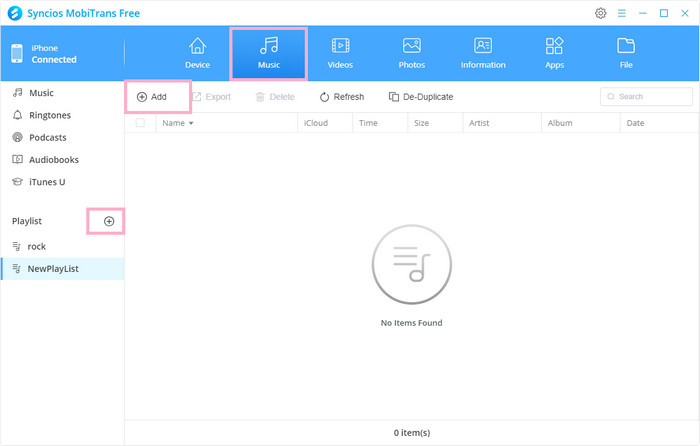 Step 2On Your Mac
Download Syncios Manager for Mac on your Mac and run it. Connect your device to Mac via USB cable.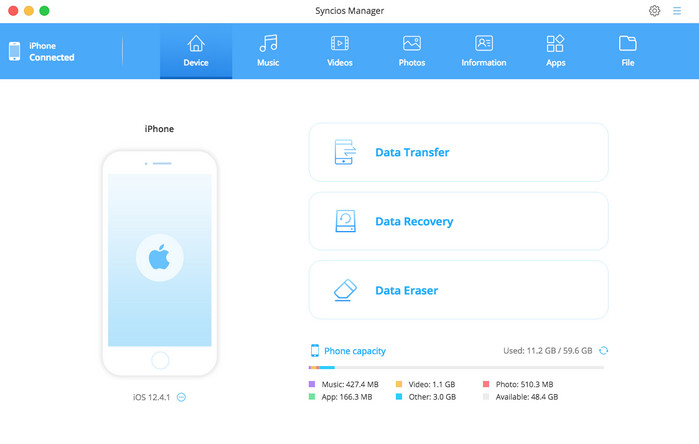 Still let's see how to transfer audio files from device to Mac. Go to Music>>New Playlist. Select all files to Export to your Mac.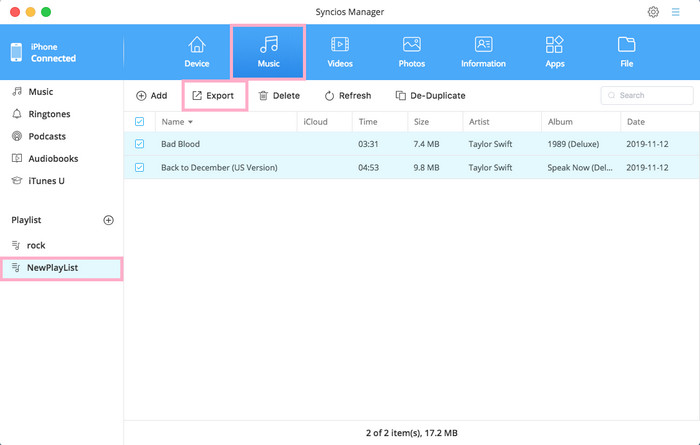 For other types of files, you can just follow suit above. If you don't want the transferred files stored in your device to take up your space, you can also use the programs above mentioned to one-click delete them.
Solution 2: Transfer Files from PC to Mac with Migration Assistant
Apple makes it easy with a free Migration Assistant which is included in the Utilities folder of every Mac. When your first start up your Mac, it will ask you if you want to transfer data over from another PC or Mac. Then you can freely download the Migration Assistant software to your PC.
Please note that the Mac and the PC both have to be running Migration Assistant and on the same network in order to find each other. The data migration may take several hours depending on what's being transferred and what means are used: Wi-Fi is slower, a wired Ethernet connection is faster.
Step 1On Your New Mac
Launch a Finder Window>>Applications >>Utilities folder>>Migration Assistant>>Continue>>From a PC>>Continue.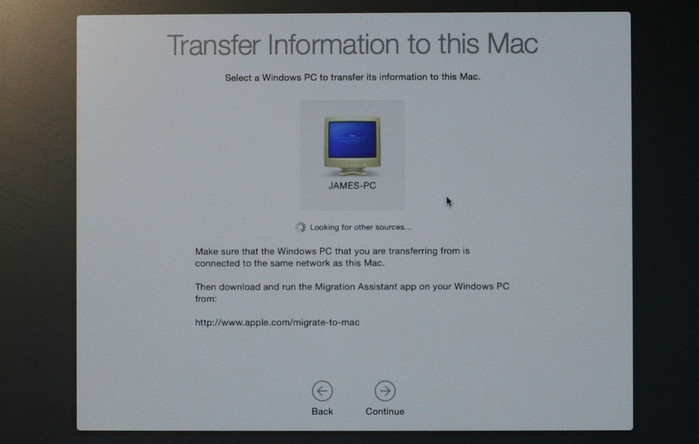 Step 2On Your PC
Firstly download Migration Assistant on your PC and run it. After launching it, Migration Assistant for Windows will try to connect to its Mac counterpart. A security code will display on the screen. Confirm that the code on your PC is the same on your Mac. Select the files, folders, and settings you want to transfer from your PC to your Mac and then click on Continue.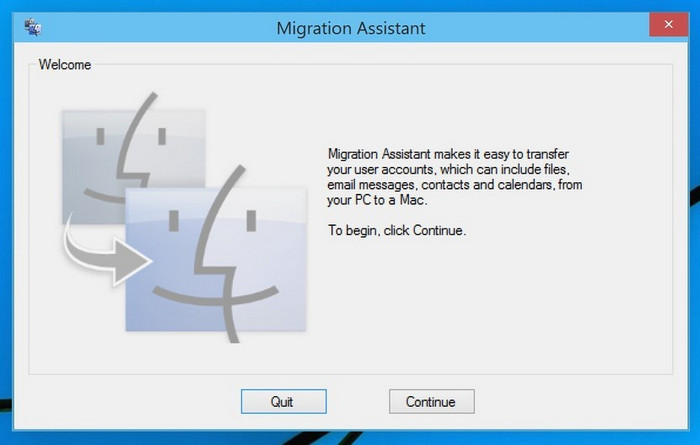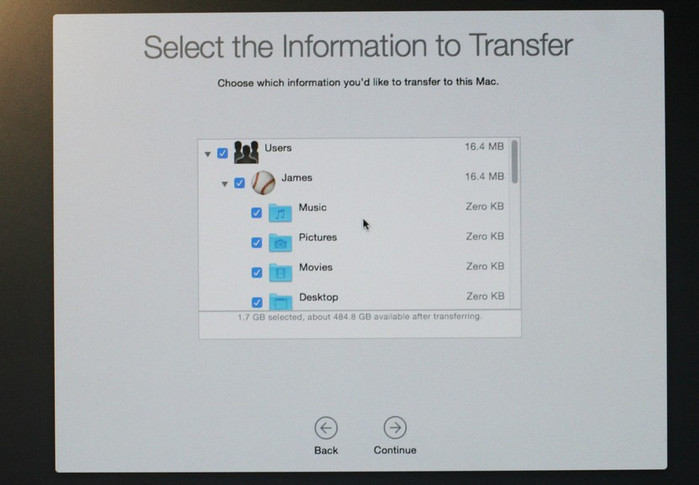 ---
Summary
Above we offered 2 methods for freely transfer data from PC to Mac. Highly recommend to use Syncios series which can do the trick in less time and more convenient fashion. If you have any need in data transfer between devices, simply refer to Syncios Ultimate.