How to Clear Facebook Cache on iPhone
When checking your iPhone usage details, you may notice that certain apps, like Facebook, Pinterest and Instagram, are hogging up a bunch of memory on your iPhone. This is because apps like Facebook will accumulate cache data (such as photos and videos) and stores them on the device every time you use the app. Those cache data will gradually eat up large storage space and slow down your iPhone.
To help you out, this article will list 2 free ways for you to clear Facebook app caches from iPhone.
---
Method 1: Directly Clear Facebook App Cache on iPhone
The first method, you can directly go to the Settings of Facebook App to clear the cache to free more space for your iPhone. Here is the detailed procedure of clearing Facebook cache.
1. Steps to Clear Facebook Cache from Facebook App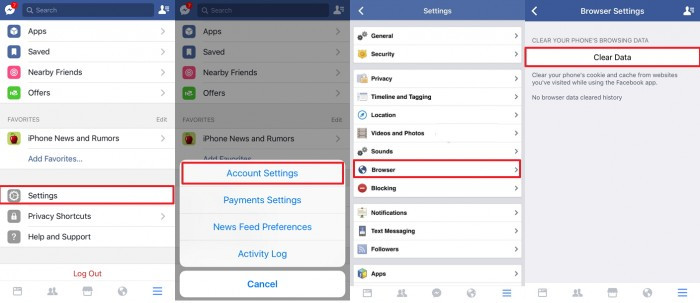 Step 1 Open the Facebook app on your iPhone.
Step 2 Next, tap on the More button at the bottom and open Settings page.
Step 3 Select Account Settings and scroll down to Browser.
Step 4 Finally, click Clear Data to clear your phone's cookie and cache from websites you've visited while using the Facebook app.
2. Steps to Clear Facebook Cache from iPhone Settings App
Step 1 Unlock your iPhone and open Settings app.
Step 2 Go to "General" > "Usage" > "Manage Storage" > "Facebook".
Step 3 Tap on "Delete App" option to uninstall Facebook from your iPhone.
Step 4 Install Facebook from iTunes App Store onto your iPhone after Facebook has been removed from your iPhone.
Note
However, if you want to increase the whole performance and speed up iPhone, it is not enough to clean only Facebook caches, you need to clean up all caches from all other apps. With these manual ways to clean iPhone caches from every app one by one, that should be a lot of work to clean iPhone caches. So you can turn to the advance way to clear Facebook caches with the other app caches together with ease.
---
Method 2: One Click to Clear All Facebook Cache on iPhone with Syncios iOS Eraser
Not only Facebook, but also other third-party apps consume more storage space than it should. To clear all these cached files, we highly recommend you use Syncios iOS Eraser to clear all cached files (including Facebook caches) on your iPhone. With the help of this iOS data eraser, YOU can deeply analyze your iPhone and clean up all cache data on your on iPhone with only 1 click.
Key Features of Syncios iOS Eraser Free:
Four cleanup modes to choose according to your need 1-Click Cleanup; Erase Deleted Files; Erase Private Data; Erase All Data – to delete data securely and permanently according to your need.
Preview data and select the exact files that you want to erase, so avoid erasing important data.
Completely erase data without a chance of recovery even with most modern recovery software.
Previously deleted files can also be found out and the program will permanently erase them for privacy protection.
Supports all iOS file types used on iPhone.
Steps to clear up Facebook caches on iPhone
Step 1 Launch Syncios iOS Data Eraser and connect your iPhone to your computer.
And please remember to turn off Find My iPhone first if you want to permanently wipe your iPhone data.
Step 2 Once connected, Syncios displays the panel interface of Free Up Space by default. There are 6 categories "Junk files", "Temp Files", "Camera Roll", "Photo Library", "Large Files and Apps".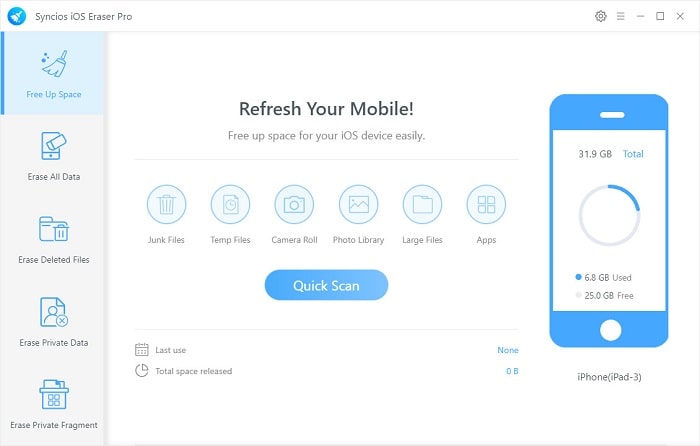 Step 3 Click on Quick Scan button to analyze and scan your device.
The scan will take few seconds for first time. When it finished, you will see a result list of scan. It shows the spaces taken by Junk files, Temporary File, etc.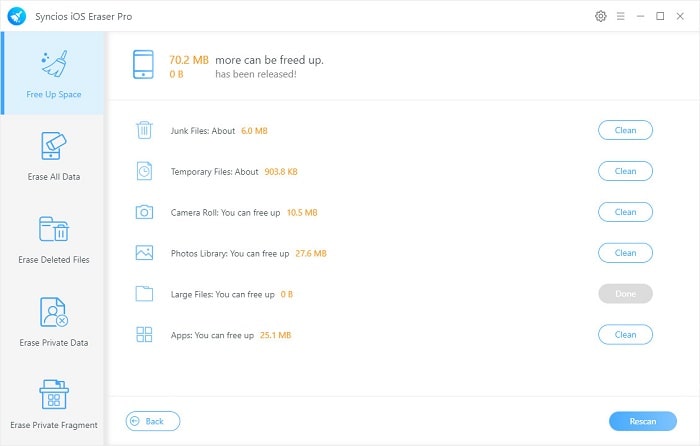 Step 4 To clear Facebook cache on iPhone, click the Clean button beside Junk Files and Temporary Files. It will automatically clean up all Facebook app cache and free up your iPhone space.
---
Conclusion
Now you've learned about how to remove Facebook cache from iPhone. Clearing app cache regularly can help you free up and speed up iPhone greatly. For whom need to free up space on their iPhone, Syncios iOS Eraser could be your best choice. If you want to know more about this program, please visit its homepage to learn more. Or you can download this program form the button below to try! Why not start it now!