How to Completely Remove Your Tinder Account on iPhone
Tinder has been introduced on a college campus in 2012 and is the world's most popular app for meeting new people. It's been downloaded more than 340 million times and is available in 190 countries and 40+ languages. But unlike most other social networking platforms, Tinder is not necessarily the kind of app that everyone would want to keep using in the long run, and you might reach a time where you want to delete your entire Tinder account and profile. And deleting the app doesn't delete your account. Follow this guide to find out how to permanently and completely delete your Tinder account on your iPhone.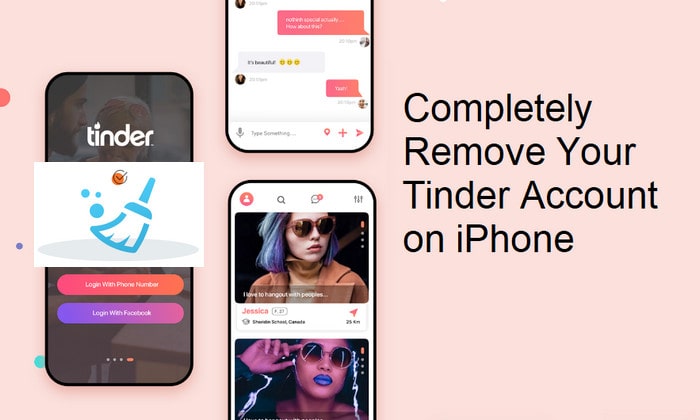 Deleting the app doesn't delete your account
Unlike most mobile applications, this dating app doesn't let you go that easily. Deleting the Tinder app from your device doesn't mean you have deleted your account. Your profile remains active, together with all your pictures, matches, and messages. This isn't necessarily a bad thing because you can get back in the game anytime you wish. All you need to do is download the app again and sign in.
However, if you want out, leaving your profile up might cause problems. If you're dating or are happily married, your partner or their friend might accidentally find you on the platform and ask "Why are you still on Tinder? Are you looking for someone else?". Your data could also remain vulnerable in their system.
This is exactly why some users may want to delete their accounts and make sure that they are no longer discoverable. Here, we'll be guiding you through the necessary steps to wipe your Tinder account and profile, right from your iPhone.
Depending on your preferences, you can either permanently delete your account, or keep it in a deactivated state where you're no longer matched with anyone.
---
How to Delete Tinder Account & Profile from iPhone
Deleting your Tinder account is similar to deleting any other social networking account if you've done it before. So, without further ado, let's see what you need to do:
Step 1 Open the Tinder app on your iPhone. This will take you to the home screen where you'll be able to see potential matches. Tap on the user icon at the top-right corner of the screen as shown below.

Step 2 Now, you'll be shown your own profile. Tap on "Settings" to access your Tinder settings.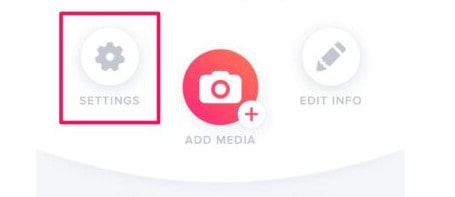 Step 3 Here, scroll down to the very bottom and tap on "Delete Account" to get started.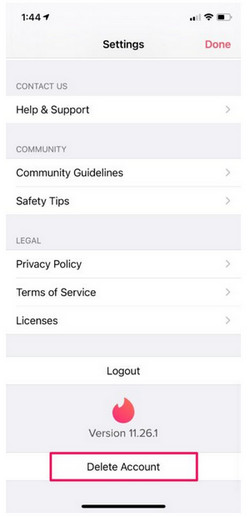 Step 4 Next, you'll be prompted to pause your Tinder account instead of permanently deleting it. If you just don't want to be shown to others, you can choose this. And then tap on the "Delete My Account" option.
Step 5 Now, you'll be asked to select the reason why you're deleting your account. You can "Skip" it if you're not interested in giving any reason.

Step 6 This is the last step where you'll be prompted to confirm your action. Select "Delete My Account" to permanently remove your account.
There you go. You no longer have to worry about your account since it's gone for good.
Note: Keep in mind that when you choose to delete your Tinder account, you will lose all your existing matches, messages, and other data permanently and they will not be recoverable.
But it is not finished yet. There might be some files left on your iPhone. Next, we need to remove these files.
---
Clear the Cache and Attachments of Tinder on your iPhone
Since these cache or attachment files can not be found by us easily, we need a professional tool to erase them completely. Syncios iOS Data Eraser is just such a tool. It is designed for data-erase for all kinds of data on iPhones and iOS devices. Its strong feature comes from being able to remove and erase files permanently with zero chance of being recoverable by any recovery tool anywhere in the world.
Key Features of Syncios iOS Data Eraser:

Five cleanup modes: Free up space; Erase all data; Erase deleted files; Erase private data; Erase private fragments – to delete data securely and permanently according to your need.


Preview data and select the exact files that you want to erase.


Completely erase data without a chance of recovery even with most recovery software.


Previously deleted files can also be found out and the program will permanently erase them for privacy protection.


Permanently erase incomplete fragments or traces left by Tinder.

Download the free trial version of Syncios iOS Data Eraser. After you run the Syncios Toolkit, just click the "iOS Data Eraser" to start the download and installation of this Tinder Data Eraser.
Steps to erase Tinder data on your mobile phone
Part 1. Steps to Clear up Tinder Caches on iPhone
Step 1 Launch Syncios iOS Data Eraser and connect your iPhone to your computer.
And please remember to turn off Find My iPhone first if you want to permanently wipe your iPhone data.
Step 2 Once your device is connected, Syncios displays the panel interface of Free Up Space by default. There are 6 categories "Junk files", "Temp Files", "Camera Roll", "Photo Library", "Large Files and Apps".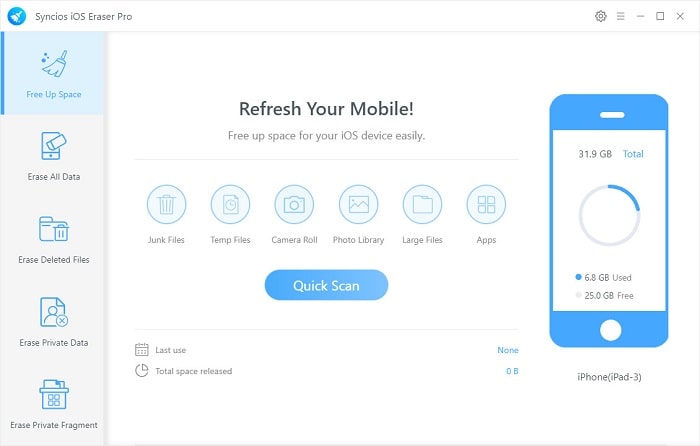 Step 3 Click on Quick Scan button to analyze and scan your device.
The scan will take few seconds for the first time. When it finished, you will see a result list of scan. It shows the spaces taken by Junk files, Temporary File, etc.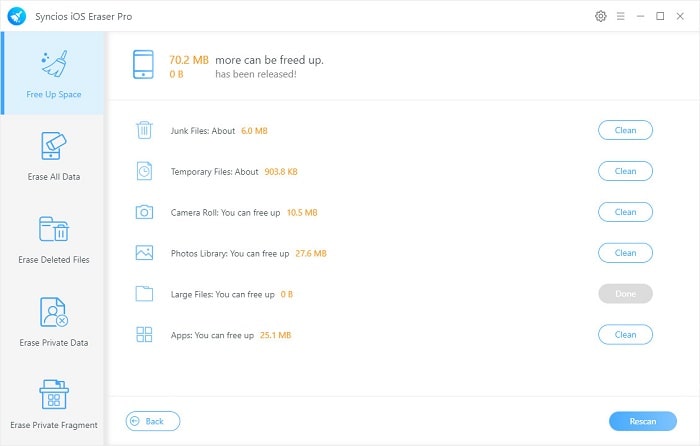 Step 4 To clear the Tinder cache on iPhone, click the Clean button beside Junk Files and Temporary Files. It will automatically clean up all Tinder app cache and free up your iPhone space.
Note: If you want to completely erase Tinder data, you can choose the "Erase Private Data" from the left-side menu.
---
Part 2. Completely Erase Tinder Chats on iPhone
Syncios iOS Eraser not only works as a cleaner, but also a data-erasing tool which can completely delete data to be 100% unrecoverable. Choose Erase mode on Syncios to delete Tinder data, your private info will be protected from being leaked.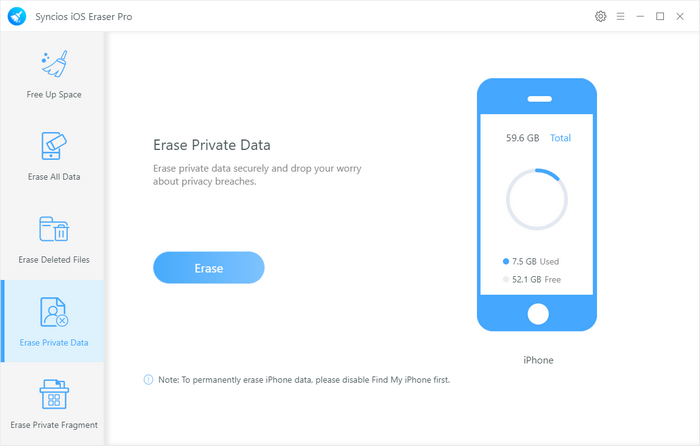 Step 1 Firstly, run Syncios iOS Eraser and select Erase Private Data mode.
Step 2 Connect your iPhone to computer via USB cable, and simply click on the Erase button.
Step 3 Syncios can smartly detect the private data on your phone, including messages, call history, safari history, photo, video, Notes, Tinder, WhatsApp, Kik, Line, WeChat and Viber. After you selected the Tinder items, please click on the Erase Now and then remove all the private records from your iPhone.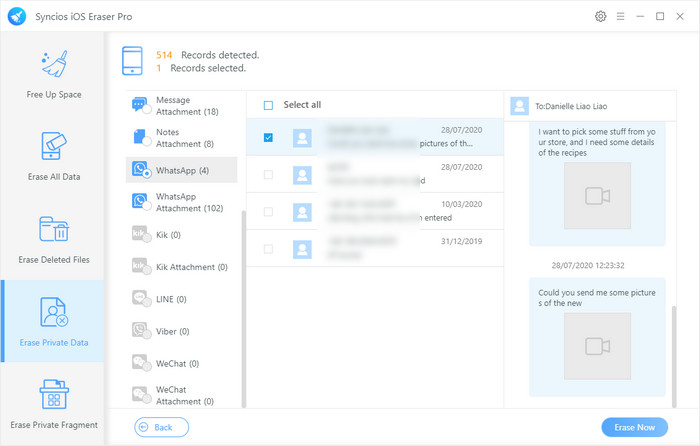 ---
Conclusion:
Congratulations, if you have finished the steps above, you're now Tinder-free. You have not only deleted the tinder account, but also completely erased the data of tinder on your mobile phone. If you've been paying for a Tinder Plus, Tinder Gold, or Tinder Platinum subscription, don't forget to cancel your active subscription once you delete your account to make sure you don't get accidentally charged.
Tips

what's next? Download Syncios iOS Data Eraser now!