How to Extract iPhone Calendar to Computer
All of us are ordinary people with busy life. Most of the time we have mountains of work or even trifles before us. To avoid our life turn to be topsy-turvy, we use iPhone calendar frequently. It can help us keep appointments with our client, tutor, dentist or someone else and memorize important anniversary. And if you lose these important data, don't be discouraged, you can recover and extract them to your computer.
You might be thinking that what if I only want to recover parts of the calendar, but I only know two common ways: from iTunes backup or iCloud backup, which will replace my current data. You should know that it doesn't mean your calendar can't be extracted successfully. Let's read this article to find ultimate solution to extract iPhone calendar to computer.
Method 1. Extract Calendar Directly from iPhone
We have searched many recovery tools on the market and finally find this one. Syncios iOS Data Recovery is a good program particularly designed for iOS devices and now trusted by a number of iOS users. You're allowed to recover photos, contacts, messages, calendar, notes, WhatsApp and more to our device or computer.
Step 1Open Syncios Data Recovery, connect your iPhone 11 to the computer.
Step 2Go to 'Recover from iOS device' tab, press 'Start' button to analyze your whole phone.
Step 3As you can see, Syncios supports types of data. As the program will automatically select all options, we need to uncheck 'Select All' and check 'Calendar' option under Memo & Others. Click 'Next' option to analyze your calendar.(both existing and deleted)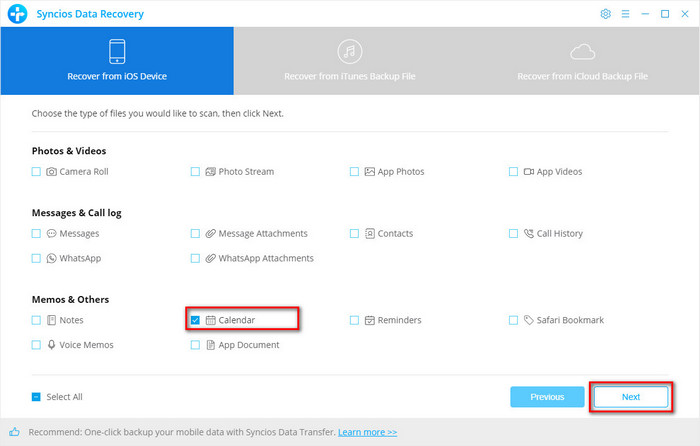 Step 4If you're going to recover deleted calendar only, click the button besides 'Show all' to show the drop-down menu. Press 'Show only deleted files' option and scroll down to browse the list of your calendars, then check your wanted calendars to recover. Now, two buttons on the lower right of the interface light up. Press 'Recover to computer' option to extract these calendars from iPhone 11.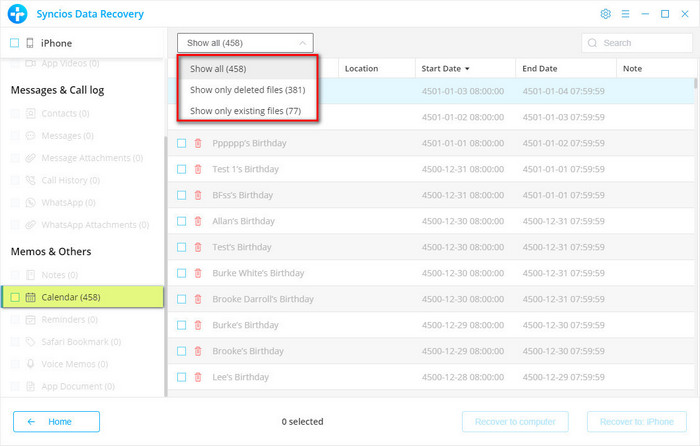 Step 5Once the transfer is completed, you will see a pop-up window says 'Your files have been successfully recovered.' At that time, you can choose 'Check the recovered data' option to check the content of your calendars. And if you still want to recover any other deleted calendars or other types of data, you can click 'Continue checking the scanning results' to return to the previous page.
Method 2. Extract Calendar from iTunes/iCloud Backup
Some iOS users have picked up a good habit of backing up data regularly via iTunes or iCloud. However, iTunes doesn't allow you to browse and recover certain calendars selectively. In that way, you can use Syncios iOS Data Recovery to solve the problem.
Step 1Choose 'Recover from iTunes Backup File' tab, select an iTunes Backup file that your calendars might stored in to scan. Click 'Start' option. And the following steps are the same as Method 1, Step3-5.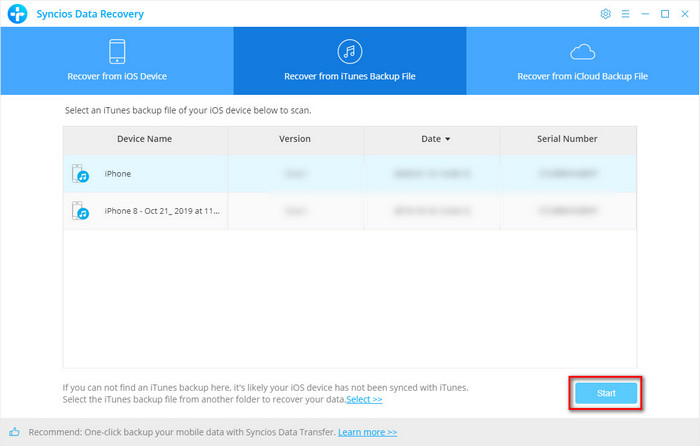 Step 2Change to 'Recover from iCloud Backup File' tab, you will ask to log in your apple id, choose the backup in which your wanted calendars stored. Click 'Download' option. And the following steps are the same as Method 1, Step3-5.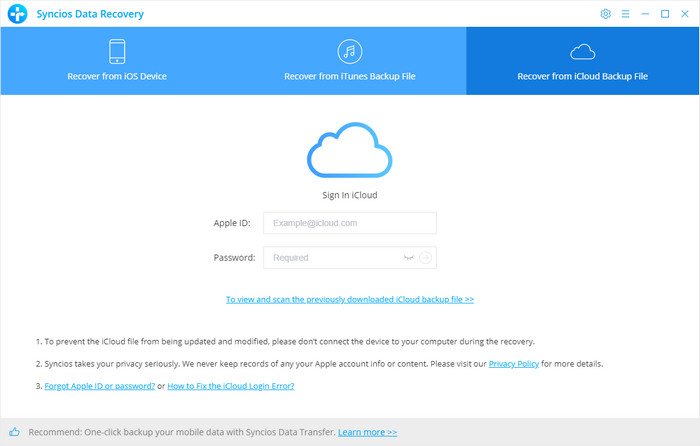 Question: What to do if you can't log in your iCloud account?
1. Check if you've entered the wrong ID or password.
2. Outdated iTunes Terms & Conditions — please update your iOS device to the latest version. If you have already done it, reboot your device can fix the problem smoothly.
3. You may log in your account before on some websites that Apple believes it's unsafe. To keep account safe, apple will lock your account temporarily. (We can assure you that Syncios program is perfectly safe.)
---
You can also learn from a video tutorial:
---
Conclusion
After reading this article, you know how to browse and extract your calendar on iPhone. With powerful Syncios Data Recovery, you can recover calendars from device itself, iTunes Backup fiiles or iCloud Backup files to computer.