How to Free up Space on iPhone SE 2020
In modern life, we can hardly be accustomed to the life without our electronic products. In that way, with time flied, our smart phones have more and more important information and files, which will occupy storage space of our iPhone gradually. Most of the currently-released phones make progress in their basic storages, while Apple still set 64GB as the internal storage of iPhone SE 2020, which is not expandable.
Is 64GB iPhone enough in nowadays? What if I'm using a 64GB iPhone SE, can I effectively save space on it? Read this article to learn how to free up iPhone SE space.

Method 1. Backup: Move Important iPhone SE Pictures to Computer Selectively
Data like pictures are always one of the biggest storage space consumers. If your phone still save the photos that took in several years ago, it must take up much space on your iPhone. Some of the apps that running in the background will be killed by the system as memory becomes low, that will annoy you and you have no choice but to delete some of data to let your phone work normally. To avoid missing any of the pictures, we can choose to backup some of them to computer.
Syncios Manager, the best iOS devices manager, which allows you to transfer photos, videos, music, contacts and so on from device to computer or reverse. Syncios Manager has added up to over 1,000,000 loyal users around the world for its powerful functions, free but professional service and simple operation. Let's see how to finish the steps:
Step 1Download and Install Syncios Manager

Syncios Manager

Transfer photos, videos, music, contacts, apps and etc. between computer and phones or phone devices.


Free to download and then edit online videos from most-used websites, like YouTube, Facebook and etc.


Make Unique Ringtone for iPhone & Android devices.


One-click backup and restore toolkit supports types of phone data.


Fully compatible with the latest Android OS and iOS system.
Step 2Backup Important Pictures/Album to Computer
First of all, launch Syncios Manager on your computer, then plug in your iPhone SE to computer via USB cable, remember to set up some necessary permissions.

To transfer desired pictures or photo albums from iPhone SE 2020 to computer, tap on 'Photos' module in the left-hand toolbar of the interface. Then, if you're going to backup a photo album, single-click to choose this album and click on 'Export' > 'OK' option to start. And if you would like to transfer several pictures inside certain album, double-click this album, pick the pictures that you wish to backup, click on 'Export' > 'OK' to begin.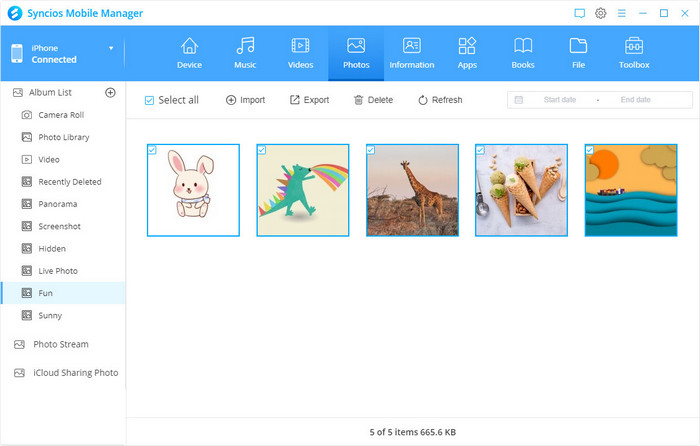 Note: With Syncios Manager, you can also backup your Music, Videos, contacts, WhatsApp data, messages and other types of data to windows/mac.
Method 2. Uninstall: Uninstall Some Unused Apps on iPhone SE 2020
Sometimes, we install an app just for a sudden thought, and we always forget to uninstall them even if we no further use for them. Too many unused apps in phone will slow down the operating speed of phone, but uninstalling apps via Settings >> General >> iPhone storage one by one, that will be too time-consuming. And Syncios Manager provides a convenient way to uninstall unused apps from iPhone in batch.
Step 1Go to 'App' Module
Turn to 'Apps' module on Syncios Manager. Wait for loading, and you can browse all apps (except for iOS system built-in apps) on your iPhone here.
Step 2Check Apps to Uninstall
Check the box beside the app icons you want to delete, or just choose the box beside Name to select all, then click on 'Uninstall' button from the top toolbar to uninstall these unused apps.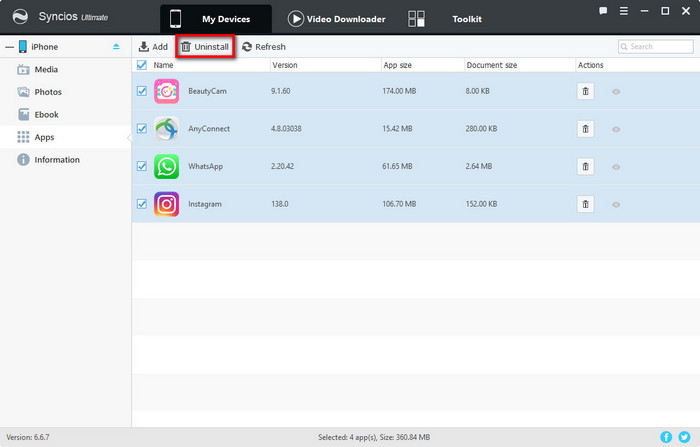 Note: Syncios Manager can support backup app and app data on iOS devices to computer, and you can click on Menu >> Settings >> Apps to set 'Backup Apps to PC folder only' or 'Backup Apps with all App data to PC folder together' option. But please note that since influenced by iTunes bugs regarding app backup, Syncios currently can't support backing up apps on devices with iOS 9 and above.
Method 3. Clean-up: Delete all iPhone SE Junk Files/Temp Files/Cache in One Click
After deleting certain app, there are still some downloaded files remain on your phone. Also, with daily usage, your iPhone has many junk files, temp files and caches, if you don't clean up them in time, they will slow down the speed of your phone. So is there any effective way to do those steps? Just use Syncios iOS Data Eraser, a professional iOS cleaner, which can not only cleaning up phone junk files, large file, fragments generated by 3rd party apps but also completely erase deleted files or information without any mean of recovering to protect our privacy.
Step 1Download and Install Syncios iOS Data Eraser

Syncios iOS Data Eraser

1-click cleanup junk files, temp files, large files and cache on your iOS devices.


Wipe more than 10 types of social apps data: WhatsApp, LINE, WeChat, Kik and etc.


Erase deleted files and private fragments with no chance to recover.


Fully compatible with the latest iOS system.
Step 2Coonect iPhone SE 2020 to Computer
Firstly, run Syncios iOS Data Eraser on your computer, then plug in your iPhone SE. To be detected successfully, pay more attention to any prompt appear in your iPhone screen. When your iPhone was recognized by the program, detailed information of your iPhone (total storage, used storage and free storage) and available operations will show up in the interface.
Step 3Tap on 'Free Up Space' (Default) Module
To free up space on your iPhone, just stay in the default module 'Free Up Space'. As you can see, there're 6 types of data available to scan and delete: Junk Files, Temp Files, Camera Roll, Photo Library, Large Files and Apps. To scan all, simply tap on 'Quick Scan' button. To scan certain part of data, for example, you just want to export and then delete the large files from your iPhone, click on 'Large Files' icon to continue.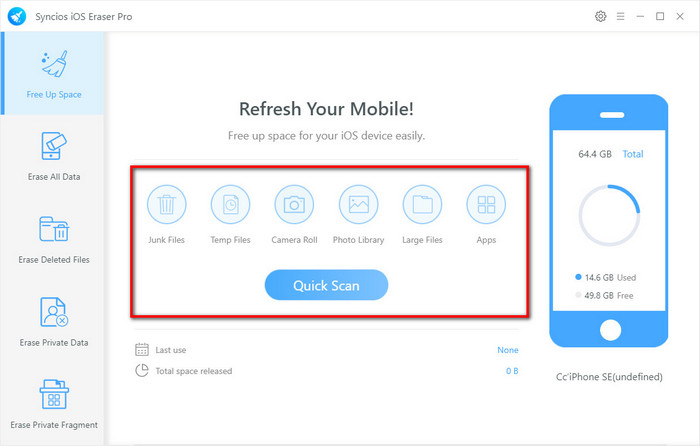 Step 4Clean the Files to Free Up Space
Wait for completely scanning, all scanned result will be listed on the panel. You can choose 'Clean' option to your desired data to free up space on your iPhone SE.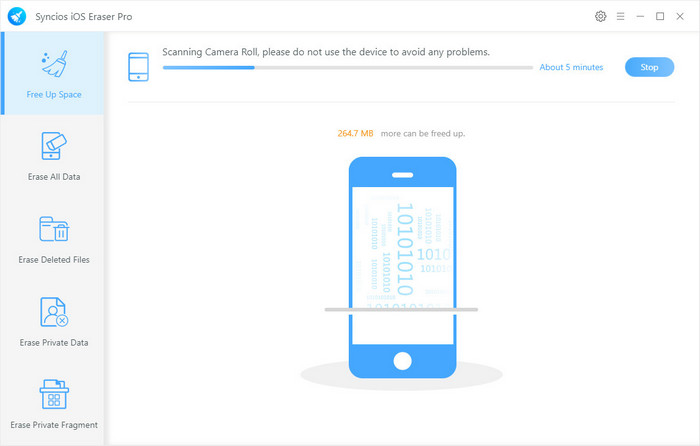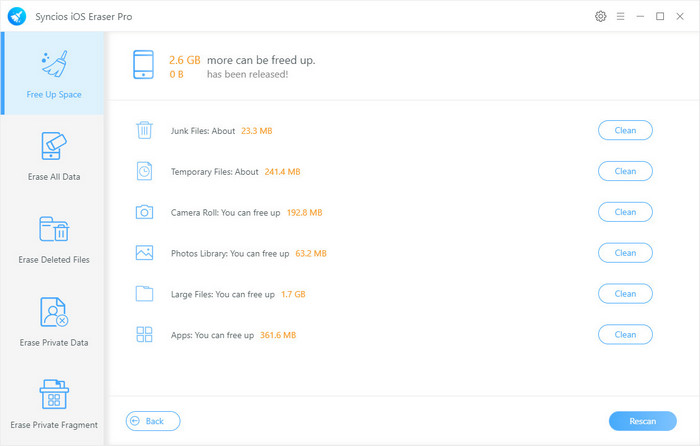 Method 4. Clean-up: Erase iPhone SE Private Information on 3rd-Party Apps
Ask people which is the most popular social application in their minds, that might be differ in the answers. As I know, app like WhatsApp, Kik, Line, Viber and WeChat, are all have numbers of users around the world. And we have many private chat logs, pictures and videos on these social platform, and it's better to clean up these files in regular, if don't need anymore. With Syncios iOS Data Eraser, you can erase these personal information to free up space as well as protecting your privacy to be recovered.
Step 1Tap on 'Erase Private Data' Module
Click on 'Erase Private Data' > 'OK' to change another module. Simply tap on the 'Erase' button on the program interface. Wait for finishing loading data.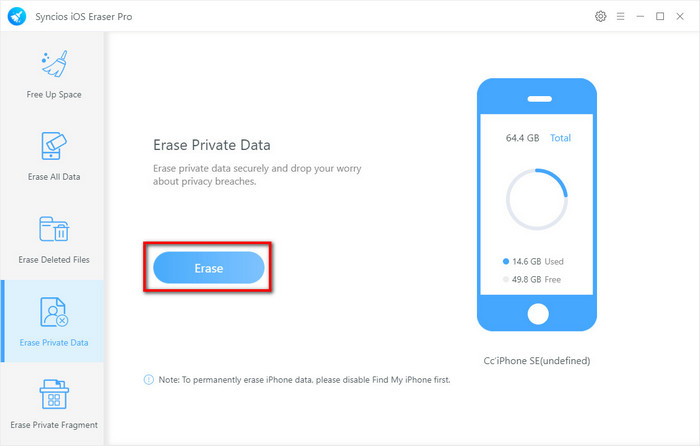 Step 2Choose What you Want to Erase
As you can see, under Private Data, there're many types of data available for us to erase, including social apps data, messages chats and attachments, call logs, notes and so on. Tap on the tab from the left toolbar to browser the detailed information. You can directly check type of data or specified items of data to erase. After picking desired ones, click on 'Erase Now' to begin the process.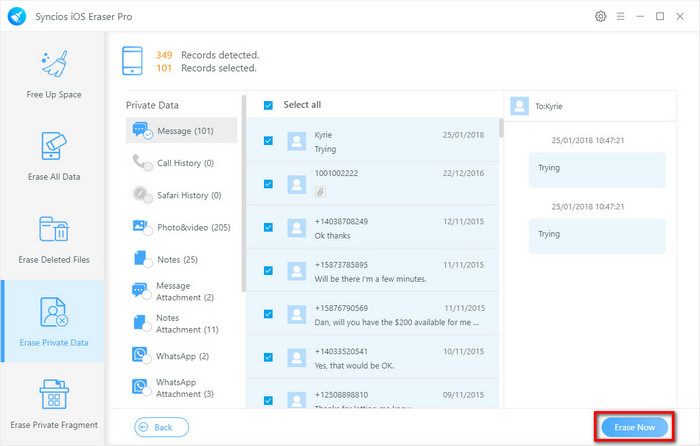 Conclusion
Now, free up the space of your 64GB iPhone! Backup important and large media files and uninstall unused apps with Syncios iOS Manager, or install Syncios iOS Data Eraser delete phone junk files, large files, caches, useless private information generated when using the 3rd party social apps.