How to Transfer App Data from iPhone to iPhone Easily?
It's easy for us to download apps after getting a new iPhone. However, how can we get app data back at the same time? iTunes will be considered when comes to data backing up and restoring. But all of your data will be overwritten after restoring with iTunes. Thus, another better way comes. You can easily transfer app data from iPhone to another iPhone with the help of some tools.
Method 1. Restore App Data to Another iPhone with iTunes
In our first method, we're going to use the iTunes to backup and restore iPhone app data. It's highly advisable to have an active iTunes account. But you can only backup data of every app one by one. No more introduce about iTunes since it's familiar to every iOS user.
Step 1 Update your iTunes to the latest one and launch it.( Go to iTunes official website to download if you don't have one: https://www.apple.com/itunes/)
Step 2Log in your Apple account then find the device icon and click it. Go to File sharing on the right sidebar. All apps on your iPhone will show up. You need to choose one app and select its app documents then click on Save to... and find a proper location to backup app data to PC or Mac.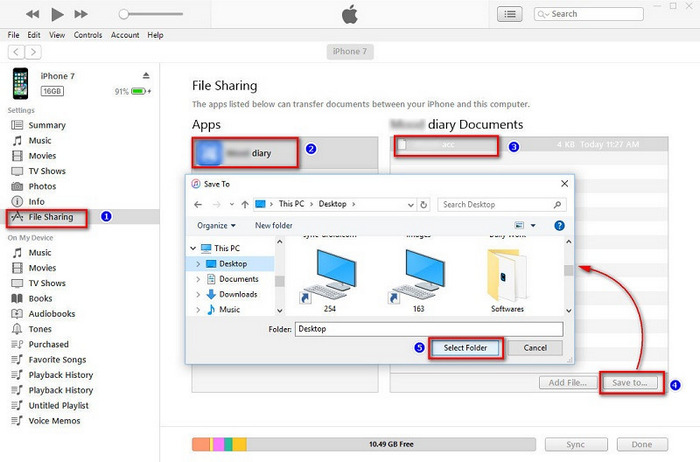 Step 3The app data can be restored as long as you choose Add File this time to import the saved app data. You can import your app data again when you need. By the way, you can delete app data with Delete key on keyboard if you can't find the delete option.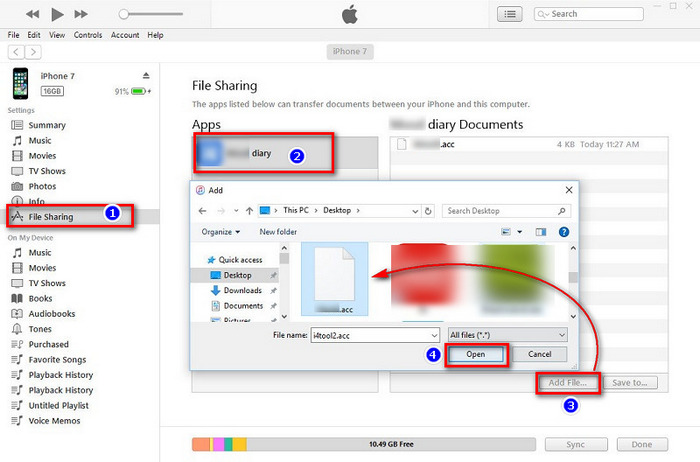 Method 2. Transfer App Data from iOS to iOS with One-Click (without itunes)
Syncios Data Transfer is a comprehensive iOS & Android data transferring tool, which allows you to move all you data like messages, contacts, call logs, music, video, etc between iOS & Android devices with great convenience and safety. And it can do more for data transferring between iOS & iOS or Android & Android. In this method, you can transfer app data at one time with simply one click. Beside, you can transfer app data from one to another directly. Also, you should keep in mind that only third-party apps' data are allowed to be backed up, system apps like Pages, Health, Home, etc. Let's check every detail on the following instructions.
Step 1Four modes will be displayed after installing and launching the latest version of Syncios Data Transfer: Phone to Phone Transfer, Restore Phone from iCloud, Restore Phone from iTunes, Backup up to PC and Restore from PC. To transfer app data from iPhone to another iPhone, you need to choose Phone to Phone Transfer.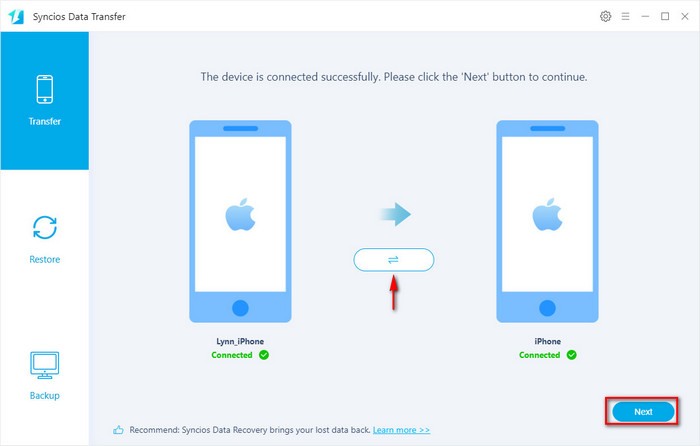 Step 2Then simply connect your iPhones to computer with USB cable. If it's your first time connecting your devices to the computer, you need to authorize this computer to access your data by tapping Trust on both your iOS devices screen. Make sure the source iPhone on the left and the target one is on the right. Flip button will help you to switch the positions. Then Syncios Data Transfer would load all your data on your source device. This step might take a while according to your data size, please be patient.
Step 3All data of your source iPhone will be listed on the middle of box after data loading, please simply check App data option on the checkbox, and customize the backup bath on the right bottom corner, then click on Next button. And after a while, all source iPhone app data will be transferred to the target iPhone. Also, this step will take a while according to your data size, please be patient.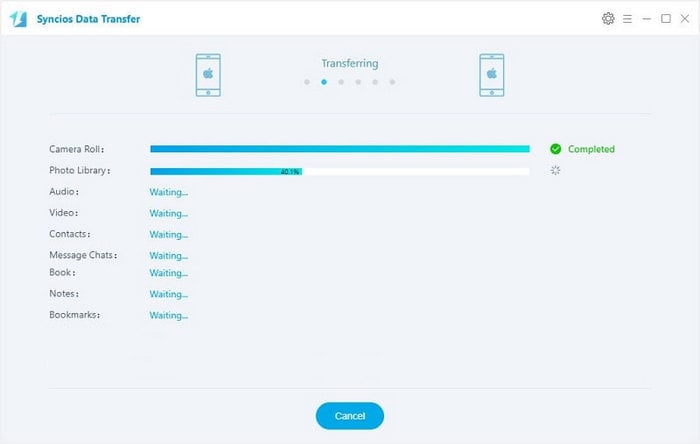 Method 3. Backup and Restore App Data Manually (without iTunes)
Syncios Data Transfer is an ideal tool for you to move data from one device to another in just one click. However, the shortcoming is that you can't preview every app before transferring but only the number of data shows up. Here we will show you to transfer app data from one iDevice to another for free. Syncios Mobile Manager supports to transfer, edit, backup, manage, view music, videos, photos, apps, ebooks, contacts, messages and more of iOS & Android mobile devices.
Step 1 If you need to transfer data from an old iPhone to a new one, install this free Phone Manager from below and launch it. Then connect your old iPhone to it ( or you can connect two iDevices at the same time if you want to ).
Step 2Go to Apps and click on the 'eye' icon behind an app under Actions, then enter App Document Management, that's where your saved data and game saves are located. Export app data to a location on computer in which you can easily archive.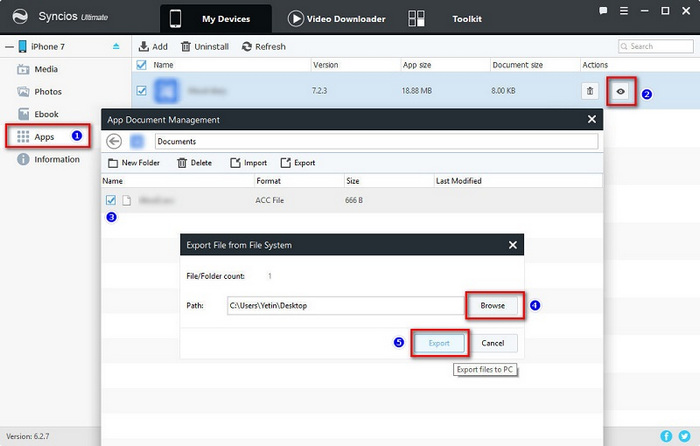 Step 3 Plug in new iPhone and simply reverse the process: find the same app on your new iPhone then navigate to App Document Management and then click on Import to get the app data you've just saved on computer. By the way, you can also simply drag and drop the app data from the computer to new iPhone directly.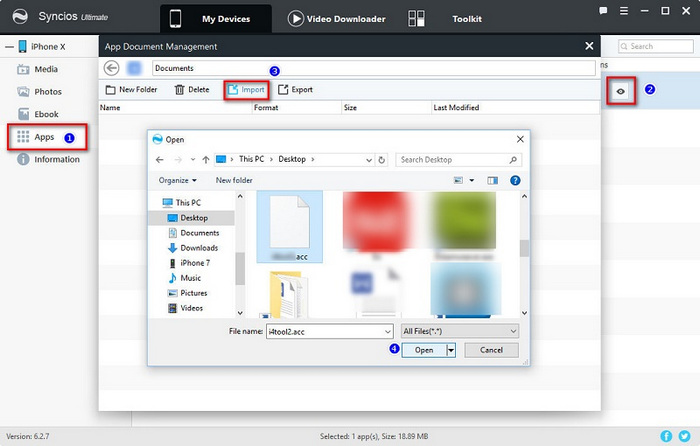 What's elseThe management of transferring, editing, backing up, restoring music, videos, photos, apps, ebooks, contacts, messages, bookmarks, whatsapp, bookmark histories and more of iPhone for free can be achieved here. Go and find more surprises!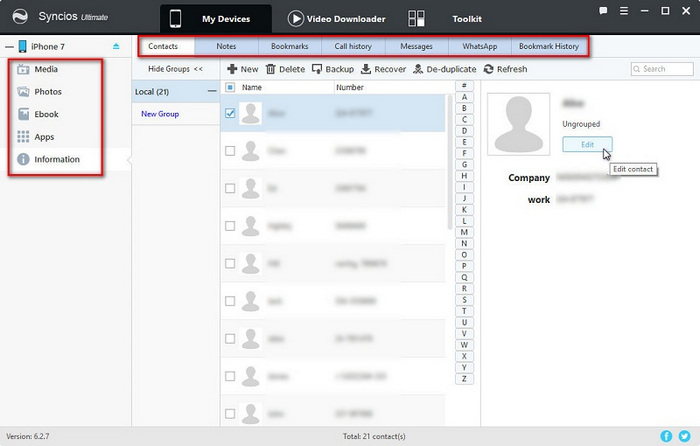 Conclusion:
As above, if you want to transfer app data when you switched to a new iPhone, iTunes is work. But if you don't want your original data to be overwritten, just use Syncios Data Transfer to move all data from iPhone to iPhone in a click, or you can choose Syncios Manager to backup and then restore app data selectively.