How to Track Phone Contacts
One of the most important parts of tracking on someone's cell phone is knowing who their contacts are. Some of you might have a need to monitor your kids and employees. You perhaps want to catch your spouse cheats. A good Contact Tracker Tool helps all to have better and secret conversation with others.
Wanna make sure your children aren't talking to the wrong sorts of people? Want to check if your employees are contacting your rivals through their phones? This guide will show you two solutions to track phone contacts.
---
Why You Want to Monitor Phone Contacts Feature
In today's world, you have to be prudent when it comes to trusting your children are hanging out with, who your employees are experiencing, or who your partner is talking with. Tracking someone's cell phone contacts list enables you to get all the mobile activities on you dashboard in right time.
For Parents
Keep track of your children's phone contacts to know about their social circle and more. Phone contacts monitoring feature lets you have a look at all the contacts saved in their mobile devices. Take a look at all the contacts saved in their phones and tablets just the way they appear in their phones or tablets.Check name along with phone number saved for each contact entry saved in your children's mobile devices. This way, you can prevent kids to perform any criminal activities or cyber crime as they do not actually know the social activities.
For Spouse
Phone contacts monitor feature does you a great favor to catch spouse cheat. At present, lots of people use social media sites and get interacted with unknowns, make unwanted relation with unknown and cheats their real one. If you doubts your spouse, then you can use phone tracker software to know your spouse mobile activities and analyze if him/her cheat on you.
For Business Owner
It is also one of the major reasons that are why business owner use phone monitoring app to identify their employees is reliable or not. It let you to analyze and identify who one is the responsible of leaking confidential information about the business or particular organization.
For Individual
All the phone book contacts you will get on your dashboard when you install the track app on victim's cell phone. It will help you to analyze whether a victim has an unrecognized or unwanted number or not.
---
Best Solution to Track Phone Contacts on the Target Device
Track Phone Contacts Via PanSpy
PanSpy is an ultimate monitoring software for Android devices. It can remotely monitor all your kid`s smartphone activities. You are able to monitor phone contacts list , text messages, calls, current GPS location, Snapchat, WhatsApp and more.
With PanSpy phone contacts tracker, you can:
View any contact from a contact list;
View names and numbers in an address book;
Look through other contact details, such as emails, home address, job info;
View contacts from chat apps.
Following are five steps to track on target phone's contacts:
1. To track on contacts, navigate to the contacts button on the PanSpy dashboard, click one time.
2. In the contacts window you will see a list of all contacts for the person. It indicates whether a person is currently saved, or has been deleted but was previously saved.
3. The contact name obviously indicates the name of the person. The age of the person is based on any saved information about the person's birthday in the contacts.
4. Next is the primary phone number for the person.
5. More info is a gold mine for anyone tracking on contacts on a phone with PanSpy.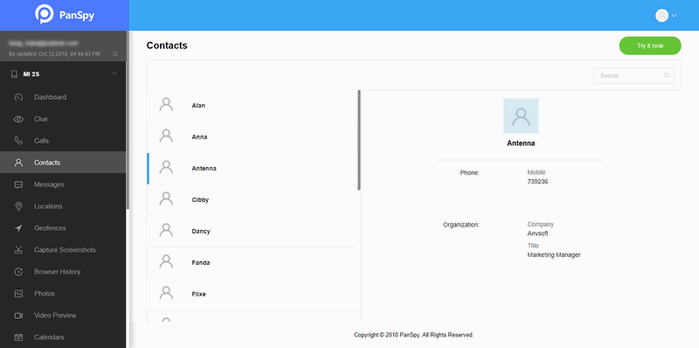 Supported OS: Android 5+ (No need for rooting)
Note: PanSpy now offers time-limited free registration, allowing users to experience mobile monitoring service. Don't miss it!
---
They Are Also Downloading
PanSpy Mobile Phone Monitor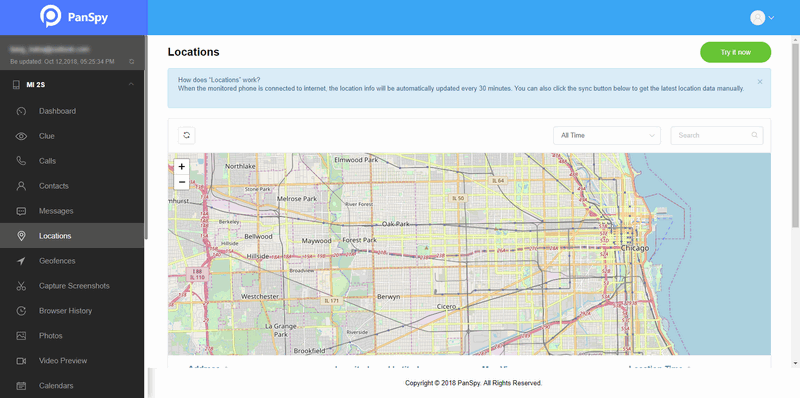 PanSpy is a professional monitoring solution provider specializing in tracking and monitoring tools for smartphone users.
Track Cell Phone Activity: Call logs, Messages, E-mails, Document, Calendar, Photo, Video, Apps and more
Track Current Location: GPS, Geofencing, WiFi logger
Monitor Social Apps: Whatsapp, Skype, Facebook, Instagram, Snapchat, Line, Kik, Tinder, Hangouts and more
Remote Control: App blocker, Schedule restriction
Conclusion
With PanSpy, you can easily track phone contacts on both iOS and Android devices. No matter for parents, for spouse, for business owner or for individual, you can monitor every contacts on devices in time.