How to Track Someone's Location without Them Knowing
Tracking someone's location should be your pressing need when you wanna know exactly where the person is now. There are various reasons why you might want to find a person's location. You may want to keep track of your kids for their safety and your sanity. You may have some off the wall reason for tracking someone using his or her phone. Whatever your reason is, there are several options now available for tracking somebody's location. There are also a lot of programs available that give you ability to keep track of a person's location by his or her cell phone.
In this guide, we will introduce you 4 solutions to track someone's location without them knowing.
Part 1: Why You Need Track Someone's Location?
Tracking a person's location is a common need nowadays because of many reasons such as one of your close people is living away from you and you can't reach her in either through phone or through social media. Knowing where is someone is probably the most comforting and a very valuable technology to have. You couldn't be more confident knowing your children are safe wherever they are.
Track Your Child's Phone without Them Knowing
As a parent, there are few things more terrifying than not knowing how your child is using their phone. We get lot of questions like "How can I track my son's phone without his knowing?" or "How can I track my daughter's iPhone without her permission?" With a cell phone spy app, you can easily know about everyone they talk to, who they chat with, what sort of pictures they're taking, and more.
Track Your Wife, Husband, Boyfriend or Girlfriend's iPhone or Android
No one wants to be suspicious of their loved partner, but sometimes people cheat. In this situation, you have to make sure there's no funny business going on behind your back in order to protect yourself and your family. A cell phone tracking app does exactly that and more. They allow you to monitor the movement of the phone using its built-in GPS. Every few minutes you'll be able to see an updated location of their phone. You can even setup geo-fencing zones so that you get notified when he or she goes to a specific location. Within minutes of their arrival you'll receive a notification on your phone.
Part 2: Track Someone's Location via PanSpy
PanSpy is a professional monitoring solution provider specializing in tracking and monitoring tools for smartphone users. It allows parents monitor text messages, calls, current GPS location, Snapchat, WhatsApp and many more. Equipped with numerous useful features, including GPS tracking, text and call logs, website blocking, and keyword alerts, the PanSpy cell phone tracking software is intended to protect both, minor children from online dangers and business owners from corporate information and assets leakage.
With PanSpy, you can:
Check the route history of the device;
Accurate the whereabouts of the device in real-time;
Within simple steps, you can start to track someone's location:
Step 1 Create an Account. Go to the PanSpy website, click Sign UP button. Use an authentic email address to sign up PanSpy. After successfully create a PanSpy account, it will send a confirmation link to your Email to activate your account, simply navigate to your Email address, tap the link to activate your account, then follow the Setup Wizard to finish the following setup process.
Note: PanSpy now offers time-limited free registration, allowing users to experience mobile monitoring service. Don't miss it!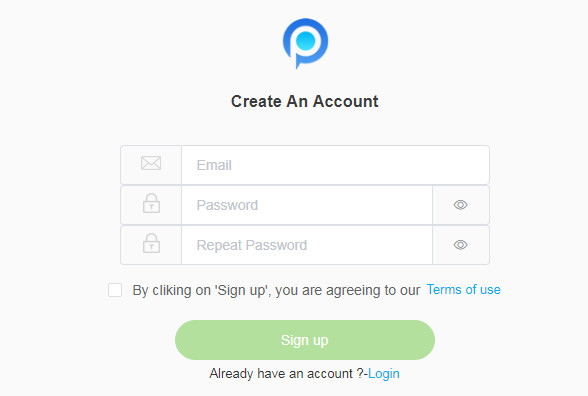 Step 2 Install Software. After successfully subscribe the service, you will get a download link to download and setup the PanSpy app. So simply download and install the app on your child's mobile device, login your PanSpy account, and follow the instructions given to set and give the app permission to access data on the target device.
Step 3 Start Monitoring. After finished the setup process on target device, turn back to the control panel on your computer. All supported features are listed on the panel so that you can click each category to view the data. To track someone's location, simply click on Location tab on the left side of the dashboard.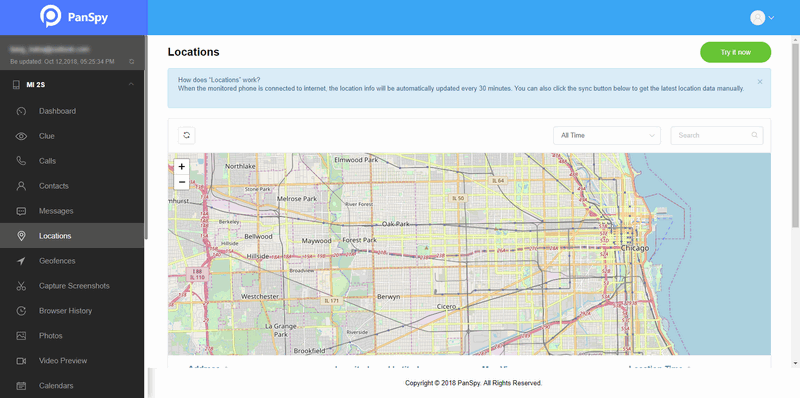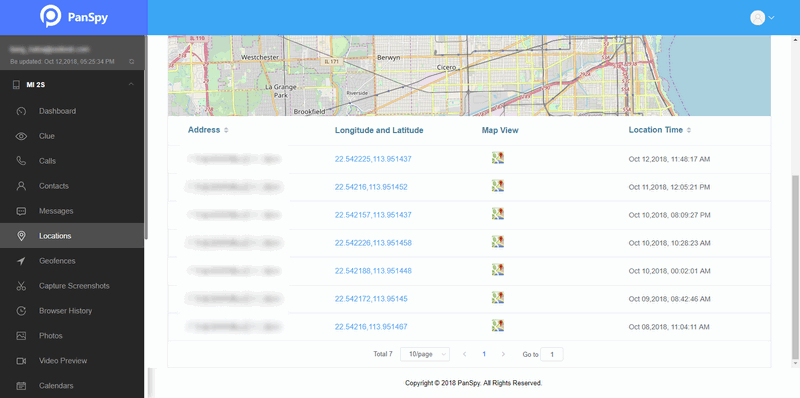 Supported OS: Android 5+ (no need for rooting)/iOS (coming soon)
Price: Free registration here
Part 3: Track Someone's Location via FamiKit
FamiKit is a parental control app for people with kids. It enables parents to check screen time, track real-time location, get location history, set geo-fencing, block inappropriate websites, view phone activities and more. With FamiKit app installed both on parent and child device, parents can track their kids' location in an easy and convenient way.
With FamiKit, you can:
Track real-time location of target device;
Get the location history to figure out the whereabouts of the person you track;
Create geo-fences around special locations and get alert once he or she is out of it.
Follow the steps below to get it done:
Step 1 Create an Account. Visit FamiKit official website then go to Sign UP to create a FamiKit account.
Step 2 Install App. Go to download page to install Famikit app on parent device then login with your account. Select Parent when asking "Who use this device". Likewise, install FamiKit app on child device and login with the same account. You should select kid's role this time and then follow the instructions given to fully authorize permissions required.
Step 3 Start Monitoring. After FamiKit is fully set up on child device, now you can refer to parent device to track real-time location or location histories. Besides, you can even set geo-fencing to receive instant alert whenever the person you track is out the defined area.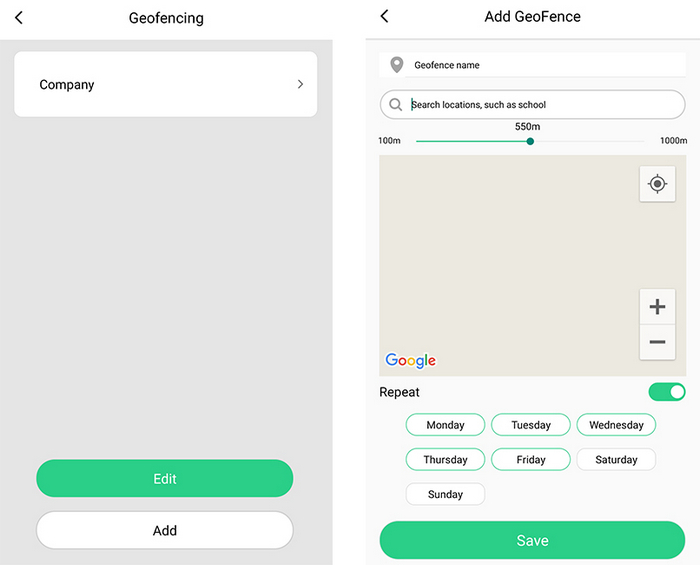 Supported OS: Android 5+ (no need for rooting)/iOS (coming soon)
Price: Free trial here
Part 4: Track Someone's Location via mSpy
mSpy is a great monitoring application well-designed for spying on iPhone or Android devices. It allows you track a cell phone's location remotely, and offers you with great insight into several aspects of the device. With three different plans to choose from, mSpy is easy to install and when done successful unlocks some great features including the ability to track calls and messages and even access installed apps on the target device.
Using mSpy you can protect your kids when you are not around and ensure they are not involved in anything dangerous.
Note: to use GPS locator your target device should be rooted/jailbroken.
With mSpy, you can:
See your kid's whereabouts on the detailed map;
View their route history and timestamps (date, time);
Access all your kid's data from your Control Panel, view location list details (coordinates, location time, address and accuracy);
Set safe and dangerous barriers with a geofencing feature.
Within simple steps, you can start to track someone's location:
1.Purchase mSpy. Select the mSpy subscription package that caters to the needs of your family. Fill in the billing information and submit your order. Once the payment is confirmed, you will receive a welcome email that will take you to the mSpy Control Panel.
2.Install Software. Log in to your Control Panel and follow the instructions.
3.Start Monitoring. Log in to mSpy Control Panel to start tracking GPS, instant messages, browsing history and any other activities taking place on the monitored device.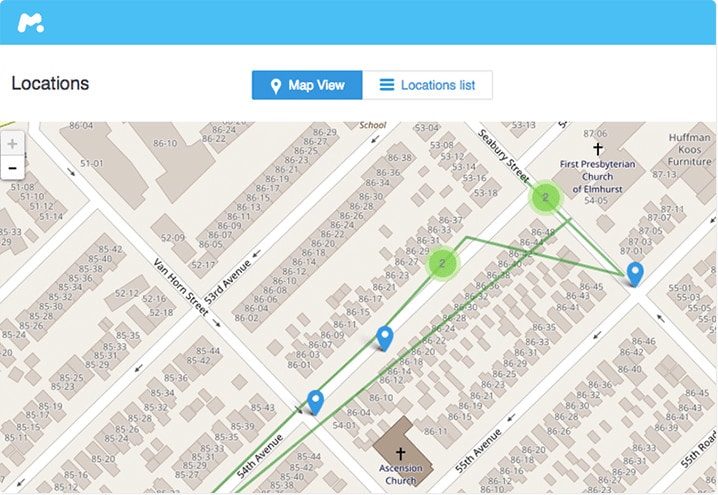 Supported OS: Android 4+ Rooting needed / iOS 7 - 8.4; 9.0 - 9.1 Jailbreak needed
Price: $29.99/month for Basic version, $69.99/month for Premium version
Part 5: Track Someone's Location via Spyzie
This is an all-inclusive location tracking app available for both Android and iOS devices. It is very easy to use when it comes to knowing the whereabouts of your near and dear ones. It comes with a wide range of advanced features apart from simply tracking your cell phone's GPS location including viewing call history and monitor call logs, track text messages, monitor WhatsApp, previewing videos, spying installed apps and photos, etc. Spyzie comes to you in a choice of two monthly subscription plans—Premium Edition and Ultimate Edition, each with their own rich set of features. You can simply open the app and keep tracking your required person's location directly from your device.
Now, we'll show you some basic steps to use the app to track your required person's location.
1. Firstly, create an account on Spyzie to get started. Note that the registration for an account can be complished on both the site and the app.
2. In the setup wizard form, leave all the required information of your target device that you wanna track.
Note: you can only track Android devices right now. Tracking feature for other types of devices will be in further updates.
3. After completing the setup form, click the "Next" button under the page and then install the app on your target device so that you can track that remotely. Now, you still need to download and install the monitoring app on your device through which you can easily check the updated records of your required locations.
4. Navigate to your Spyzie dashboard to monitor everything in the convenient way. You will find that the dashboard is seen where different target people have been added so that their locations along with many other information can be traced in real-time.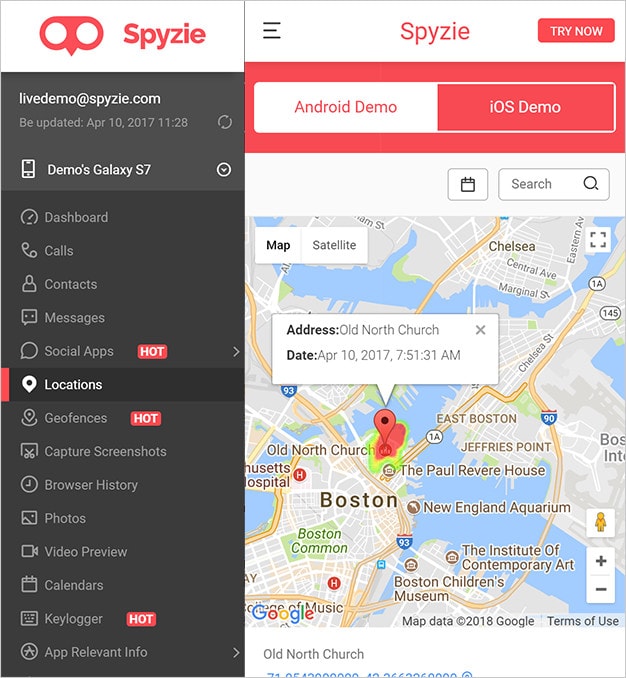 Supported OS: Android / iOS
Price: $29.99/month for Premium version, $39.99/month for Ultimate version
Summary
If you have reasonable reasons to track someone's whereabouts but lack of ways to do it, hopefully this guide offering 4 solutions to track real-time locations works for you. For tracking someone in a light way, we suggest you give FamiKit a shot. Go and get PanSpy for multi-functions. Have any problem? Just leave your comments below!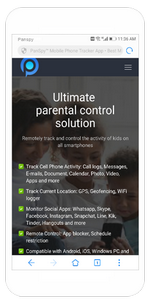 Track Cell Phone Activity: Call logs, Messages, E-mails, Document, Calendar, Photo, Video, Apps and more.
Track Current Location: GPS, Geofencing, WiFi logger.
Monitor Social Apps: Whatsapp, Skype, Facebook, Instagram, Snapchat, Line, Kik, Tinder, Hangouts and more.
Remote Control: App blocker, Schedule restriction.
PanSpy is a professional monitoring solution provider specializing in tracking and monitoring tools for smartphone users.
Try It Free
---
Extra Tips: How to Increase Image Resolution Online for Free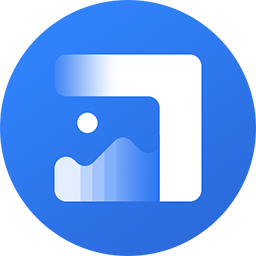 If you have some old low-resolution images, you may know that it is tricky to increase image resolution without losing quality. Because not everyone knows the editing skills and prefers to purchase a piece of professional photo editing software like Adobe Photoshop. Fortunately, AI technology can help you solve this problem. Just keep reading and get how to increase image resolution online for free using AVCLabs AI Image Enhancement without any editing skills.