How to Track Viber Messages Remotely
Nowadays, it seems that people spend their precious time with their smartphones. They use messaging apps like WhatsApp, Skype, Line, Viber and other to keep in touch with many friends. As we all know, Viber is a chat app and free calling software used for iOS and Android devices, it allows free calling and message sharing without involving cell provider phone connection.
Viber generally escapes monitoring and hence, most cell phone spying apps don't give required results for this messaging app. If you are concerned about what your kid is doing when they spend hours staring at their phone, then tracking their cell phone is a great way to put your mind at ease while keeping a close eye on them.
In this guide, we will tell you how to spy on Viber messages.
Why You Need Track On Viber Messages
Generally speaking, there are two reasons to monitor Viber calls, messages and other activities. Parents around the world have a need to know their children's activities but they have no idea because they cannot monitor their mobile usage and laptop usage with traditional methods. That's where these monitoring apps and services come in handy. Of course employers also want to protect their businesses and companies from being a victim of data breach, or information leak.
Parental Monitoring
In fact, some predators use Viber as a platform to look for victims. Children may trust strangers easily, and share too much private information with them, such as credit card numbers and passwords, home and school address, telephone numbers and more information.
Employee Monitoring
Some employees may talk with friends and families on Viber, WhatsApp and other social media apps by using the company-provided mobile phones during working time. On one hand, too much time spent on Viber may decrease employee productivity. On the other hand, some dishonest employees may leak or sell the confidential business information to competitors via Viber.
Catch Cheating Spouse
Are you suffering from the relationships quarrels? Are your partner is not loyal? Or your spouse is not giving enough time to you and lie every time. Is this your condition? Well, no worries, Viber spying app can help you figure out the reality.
How to track Viber Messages
PanSpy is an ultimate cell phone spy app available for iOS and Android devices. It assists you in monitoring all WhatsApp messages, media files, calls, Facebook, Snapchat and other messengers. Like other chat hubs, Viber is a perfect place for bullies and predators to lure kids into the trap. Hence, through using PanSpy, you can spy your child's Viber activity to protect them from dangerous or unwanted interactions.
With PanSpy, you can:
Monitor Viber texts. Read all sent and received messages on Viber. Even if a message is deleted, you will still have access to it on your personalized Control Panel.
View Viber calls details. You can easily track the date, time and duration of every call sent or received on Viber. Also, there is a blocking feature for restricting unwanted phone numbers.
View group messaging session logs. Get access to group conversations and prevent troublesome behavior before it starts.
Access tracked data. Track the target device data remotely at any convenient time. Just log in to your Control Panel to have access to everything you want to check.
Here are basic steps to track Viber messages on the monitored device:
Step 1

Create an Account

Visit PanSpy Official Website to create an account. Just tap on Sign UP button on the top right, enter your authentic email address instead of target one's and make a password of it. After a while, you'll receive a confirmation link in your email box. Once you activate it, you can follow the setup wizard to finish setup procedures.
Step 2

Install PanSpy App on Target Device

Go to target device and enter panspy.me on browser to install PanSpy app on it. Then login your account which you previously registered with to authorize PanSpy to access data on monitored device according to instructions given on screen. Finally you are able to decide to keep the app icon or not which means you may track in stealth mode. If you have any problems during the set-up, you can simply refer to this page.
Step 3

Start Tracking on Console Panel

To view all the monitored device data, including Viber, GPS location, browser history and other activities on monitored phone, log in to PanSpy Control Panel.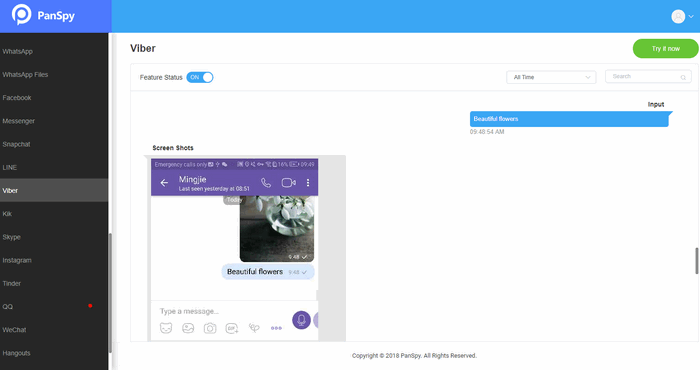 They Are Also Downloading
PanSpy Mobile Phone Monitor
PanSpy is a professional monitoring solution provider specializing in tracking and monitoring tools for smartphone users.
Track Cell Phone Activity: Call logs, Messages, E-mails, Document, Calendar, Photo, Video, Apps and more
Track Current Location: GPS, Geofencing, WiFi logger
Monitor Social Apps: WhatsApp, Skype, Facebook, Instagram, Snapchat, Line, Kik, Tinder, Hangouts and more
Remote Control: App blocker, Schedule restriction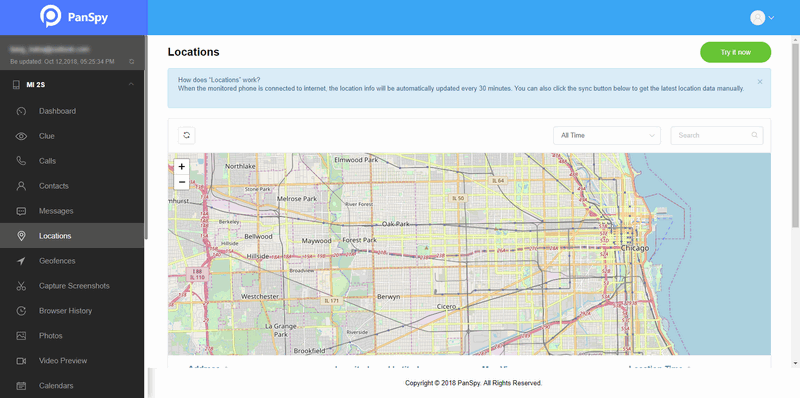 Summary
In this brief write-up, we explained why people hack Viber and how to remotely hack Viber without knowing. If you are considering about setting parental control on kid's Android device and supervise his/her contacts, messages, calls, location, Viber, WhatsApp, Facebook, Instagram and more social apps, then PanSpy is the first choice.