6 Best Ways to Download and Import Music to Samsung
When we receive a new Samsung phone, we must remember to move everything from old phone to the new one. However, there's one more thing we won't forget to do, for the reason that listening to music has become an addictive thing. We will listen to music when we're on our way to work or when we're alone. Even somebody has different playlists which are suitable for different emotions.
Here we'll introduce 6 best ways to guide you how to download and import music you like to Samsung.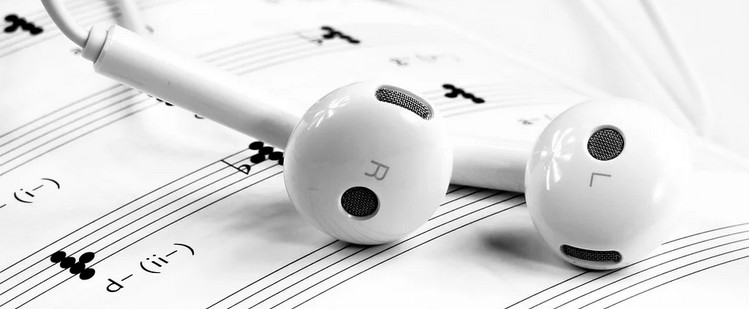 Method 1. Import music from computer to Samsung via USB
As we all know, transfer data from an Android phone to a computer via USB is a common and easy method.
Step 1Connect your Samsung phone to computer via USB cable. You are supposed to click 'Connected as a media device' on the notification panel.

Step 2Open 'This PC' in your computer, you can see that Samsung Phone appears as a removable disk. Double click on the disk and there are many different folders, such as Movies, Pictures, Music and so on. You can copy >paste or directly drag-and-drop the target music from local folder to your target folder (You can also add a new folder in your phone to save these new songs from computer.)
Method 2. Import music from computer to Samsung Selectively
If you're looking for a powerful Android phone assistant to manage types of data for you, such as add music from PC to phone, export photos from phone to PC, backup phone apps on PC, edit phone contacts on PC and etc. Syncios Android Manager which is designed for managing data with ease, always give us surprises. Let's follow the steps:
Step 1First of all, download and install Syncios Manager on your computer.
Step 2 Launch Syncios Mobile Manager via Toolkit by clicking 'Mobile Manager'.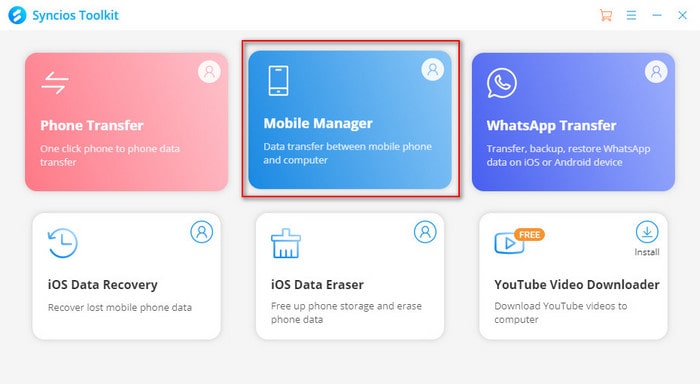 Step 3 Connect your Samsung phone to your computer.
NOTE: Please don't forget to enable debugging mode on your Samsung. And if your Samsung still can't be detected by Syncios, you can check the following occasions:
① Haven't enabled USB debugging mode on your Samsung—If Developer options isn't available, go to 'Settings' > 'About phone' then tap Build number 7 times. Press on the Back icon to 'Settings' page, then select 'System' > 'Advanced' > 'Developer options'.
② If 'Allow USB debugging?' appears, tap 'OK' to confirm.
③ Failed to install Syncios Apk on your phone—go 'Settings' > 'Security', check Unknown sources to allow downloading Syncios.
④ Tap 'Connected as a media device' or 'Connected as a camera' on your phone, use connection mode as MTP / PTP.
⑤ Mobile ADB driver should be installed.
⑥ USB cable or USB port is for normal use.
Step 4You can see few options. Click on 'Music' and you will see the following screenshot. If want to import songs from computer to Samsung, tap 'Add' option to find a smaller pop-up window. Choose 'Add folder' or 'Add File' as your like. ('Add file' option allows you to preview the detailed information of songs before data transfer.) Now find your target folder from the list and press 'Crtl+A' to pick all songs or selectively choose certain songs. Finally, click on 'Open' button to import these songs.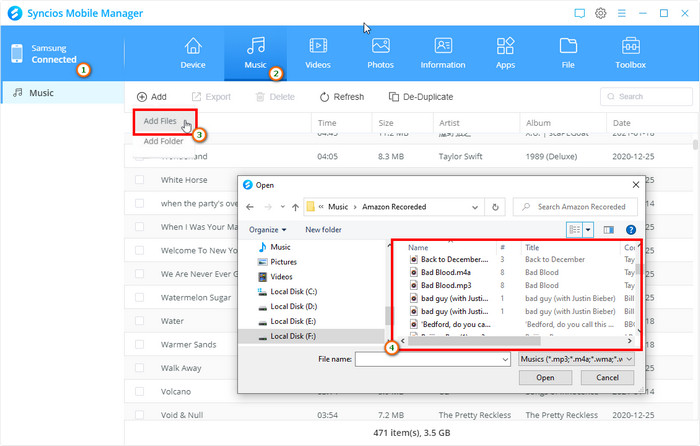 Method 3. Import music from Android device to Samsung wirelessly
If you want to transfer favorite songs from old Android phone to the new Samsung, Syncios App for Android can finish the steps wirelessly. It enables us to easily transfer SMS, bookmark, call log, contact, audio, photo, SD card photo and video between two Android phones.
NOTE: It's a totally free app, but you need to make sure the following two points:
1. Both of your Android phone should install Syncios App
2. Your phones should connect to the same Wi-Fi
Step 1Open Syncios App on both of your phones, you can see page like this. Tap 'Tool' > 'Exchange assist'Data Transfer by clicking option to a new page.
Step 2Then, choose 'I am a receiver' option on your Samsung, while click 'I am a sender' option on the other Android phone.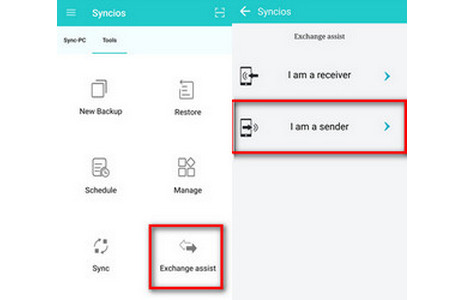 Method 4. Import music from iPhone to Samsung
All the time we know that there're some difficulties to transfer data between iPhone and Android. So is there any tool can help us solve it perfectly? Will it be complicated? Syncios Data Transfer provides the simplest answer for you. You're allowed to transfer contacts, messages, videos, pictures, audio and more from iOS device to Samsung without any limitation.
Step 1First of all, download and install Syncios Data Transfer.
Step 2 Open Syncios Data Transfer by clicking 'Phone Transfer' from the interface of Syncios Toolkit.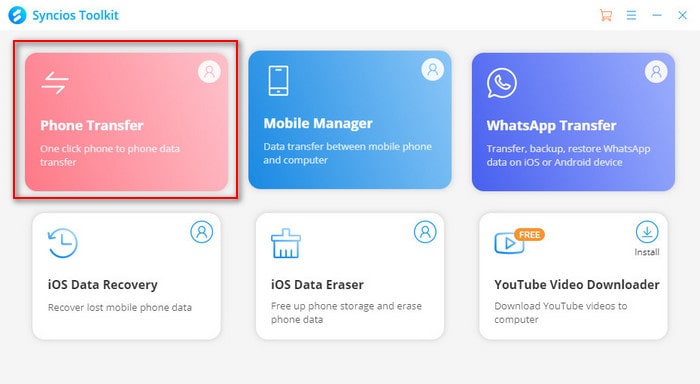 Step 3Connect your Samsung phone to your computer.
Step 4As you can see, there are three different modules:
Transfer: transfer almost all files, including contacts, video, SMS, photos, call logs, music, bookmarks and more between unlimited mobile devices.
Restore: restore data from iTunes/iCloud backup or from iTunes Library to mobile phones.
Backup: backup your phone data to computer by one-click.
Go to Transfer module (default module) like the following screenshot.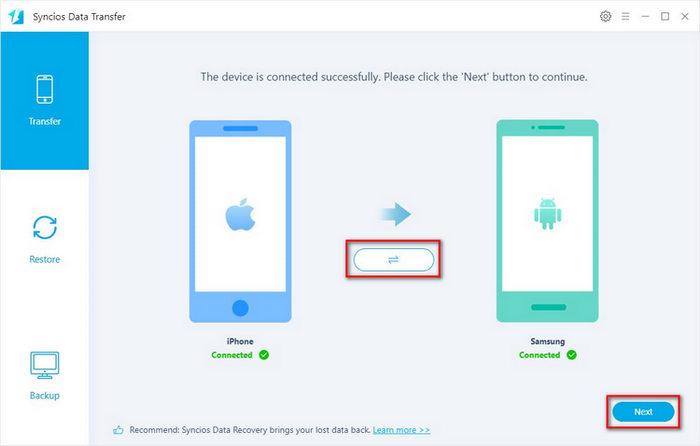 NOTE: Your target phone (Samsung) should be put on the right. If the position is incorrect, you can change it manually.
Step 5Click 'Next' to the next step. If you want to transfer music, check 'Audio' option, then click 'Next' option to load the data.(33 audio files in the screenshot). Then tap 'Next' >'OK' to start data transfer.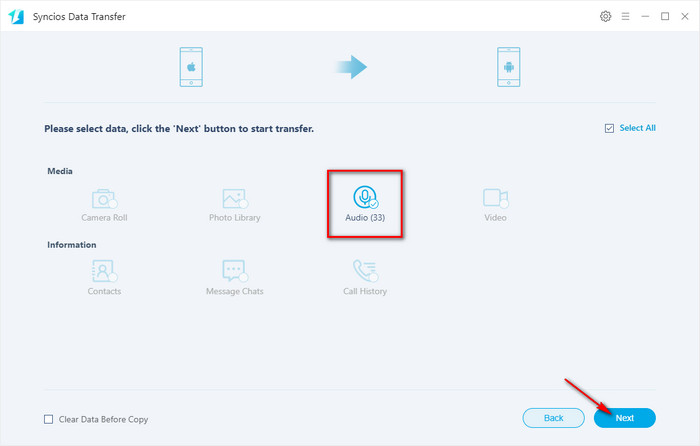 Method 5. Import music from iTunes library to Samsung
iTunes is used for managing and playing music or videos for apple users. If the songs that you want to transfer are from iTunes Library instead of in your iOS device, don't quit the program, the Restore module of Syncios Data Transfer can help you import music to Samsung mobile phone from iTunes Library.
Step 1Click 'Back' to the main interface. Then go to 'Restore' module. There're four options: Syncios Backup, iTunes Backup, iCloud Backup and iTunes Library. Tap iTunes Library option to find a pop-up window.
Step 2Syncios will detect and load music files from iTunes Library on your computer automatically. Pick all songs and then click 'OK' > 'Next' > 'OK' option to import music to Samsung.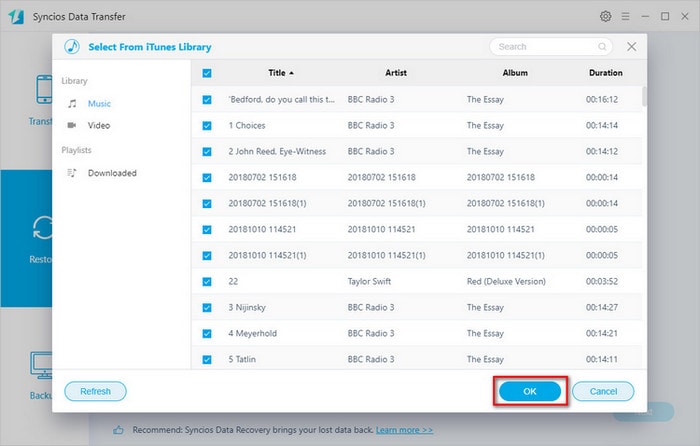 Method 6. Download music from stream music to Samsung
There are some mainstream music platform commonly used by music lovers. But how can we download songs in a common format and then we can enjoy them on iPod, iPhone, Zune, PSP, MP3 player and some other devices offline? AudiCable Audio Recorder can do that in an easy way.
Step 1 Download and install AudiCable Audio Recorder.
Step 1 Run it on your computer. There are some popular music platforms listed on the start-up page.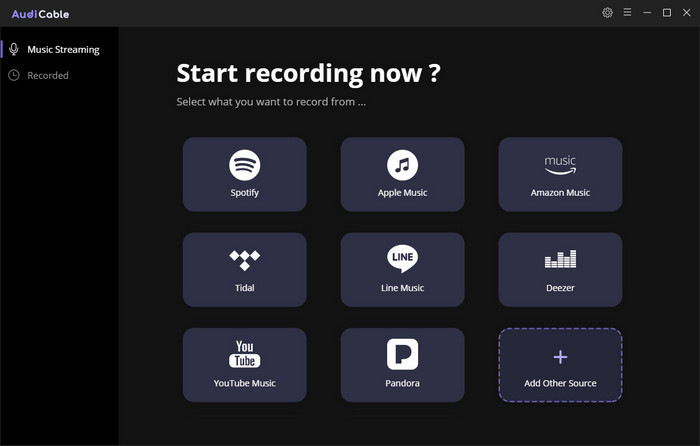 Step 2Click the 'Settings' button on the top right to customize the basic parameters, including Output format, Output quality and Output folder.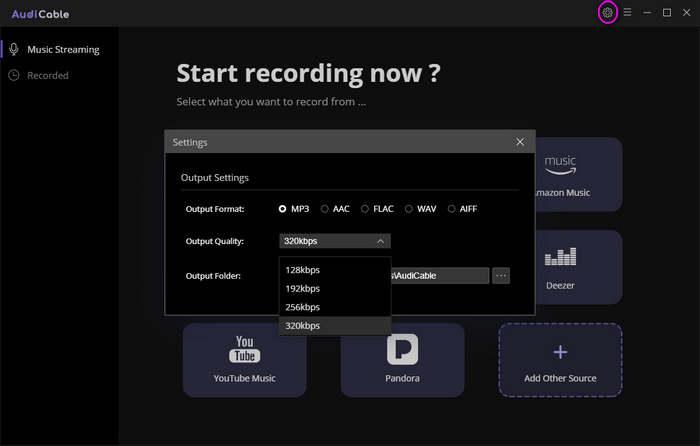 Step 3 One the main interface, click on 'Spotify' and then click 'Sign in'. Enter your account information to login. It supports both Free and Premium accounts.
Step 4 After you login, search and find the music/song you like. Then select a song or a playlist to play. AudiCable will automatically begin to record the music.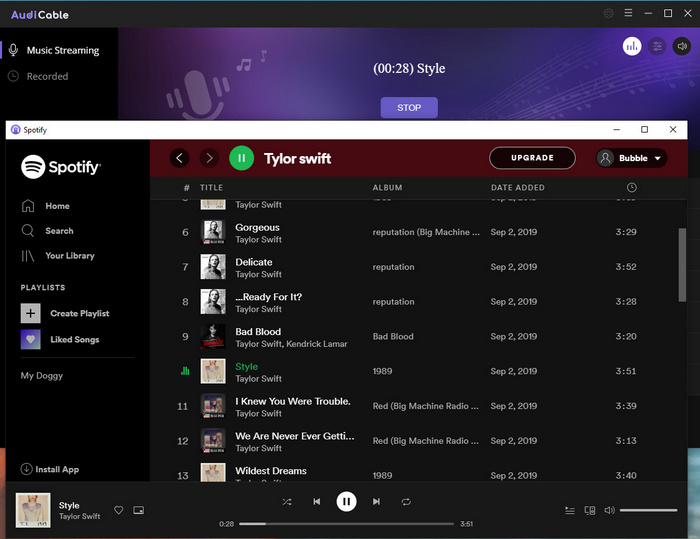 Step 5 When the song is played to the end, back to the main window and switch to the 'Recorded' panel. The music you just listen is recorded and listed here, which is saved on your computer. Now you can enjoy the music off-line.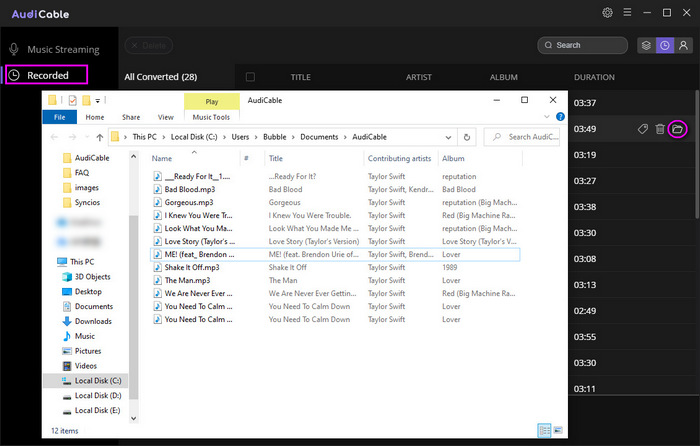 Step 6 Follow the process in Method 2 to transfer the music to your Samsung mobile phone.
Conclusion
Now you know download and import music to your Samsung phone. You can import music from computer to Samsung via Syncios Mobile Manager, to transfer music from iPhone/iTunes Library to Samsung via Syncios Data Transfer. Also, You can download and convert Spotify music to a common format via AudiCable Audio Recorder and save them to your mobile phone.
What to Do Next? Download Syncios now!