3 Ways to Copy Music Files to OnePlus 7
Everyone likes music. In most of my spare time, I enjoy my favorite music with my mobile phone. Sometimes I listen to the music with my headphone, sometimes with the speaker. Most people now save their music on smartphone so they can access them anytime they want, smartphones are the most common music players now. But when you switch your old device to a new one such as the OnePlus 7 for some reason, the music files that saved on the old device now are not available on the new one, we need to copy these music files from the old device to the new one. How do we add music to the new device seamlessly?
Now that you found this article, I bet you were in same trouble and you were looking for some simple ways to add music to your new device. No worry, this article will take OnePlus 7 as example to give you 3 simple methods to walk you through the trouble. Each method helps you copy music from different source that depends on where you saved your music files, on your PC, an old device or other collections like iTunes. After reading the whole article, you can check if they work for you and choose a preferable one. And now let's start to import music to OnePlus 7.
Method 1. Add Music Files to Your New OnePlus 7 from Computer
Basically, if you have all your music tracks saved on your computer, you can simply download the music files from your PC to OnePlus 7. An USB cable is enough to get it done. By connecting your device to PC with an USB cable, then copy the music files to your OnePlus 7 directly. This method is obsolete but it works after all.
Of course, to copy music files to OnePlus 7 seamlessly, we can use some phone manager tools. Recommend to download and install this powerful Syncios Mobile Manager tool on your computer. This tool helps you to transfer the music file from computer to your OnePlus mobile phone in so easy way. And follow the steps below.
Step 1: Start the program after installing it successfully, then connect your OnePlus 7 to computer via an USB cable. Turn on USB debugging mode to allow the tool detect your device.
Step 2: After the program successfully detected your OnePlus device, click on Music on the top panel. It will list all media files on your device. And now you can add music files from your computer to OnePlus 7.
Step 3: To add music files to your OnePlus 7, click on Add button on the top menu then you are allowed to select the certain music files or a whole folder on your computer. Simply select your desired ones and click Open button to start copying music from the computer to your OnePlus. And after a while (depends on the size of your music files), you can enjoy the music on your new OnePlus 7.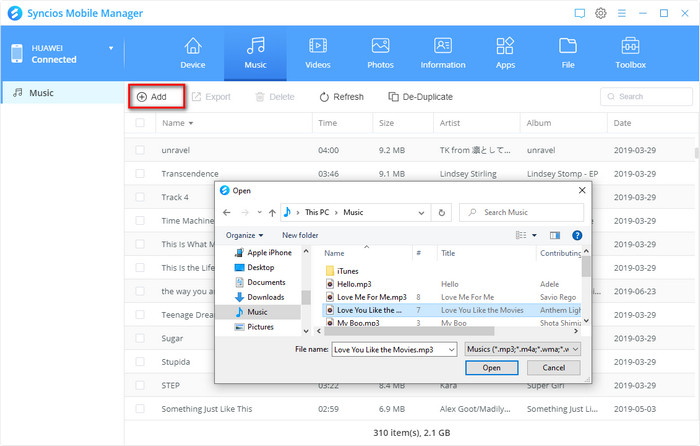 ---
Method 2. Transfer Music from Other Devices to OnePlus 7
The first method works on the files saved on your PC. But what if all your music files are still remained on your old device? How do we transfer them from the old device to your new OnePlus 7? This part will help you through. A great phone-to-phone-transfer tool is recommended: Syncios Data Transfer, which is a simple yet effective solution for transferring contents between different devices, cross-platform supported. With this handy data transfer tool, you are allowed to transfer all music tracks from your old phone including both Android and iOS device (like iPhone, iPod or other Android devices) to your new OnePlus 7 quickly with lossless quality. You can simply download it and follow the steps below to get the job done.
Step 1: Download and install Data Transfer tool to your computer first and launch it, you will see three modes on the main interface: Transfer, Restore and Backup. Select Transfer mode (the default mode) on the panel, then connect both of your old device and OnePlus 7 to your computer via USB cables.
Step 2: If you were using an Android device you need to turn on Developer Mode and USB debugging as well on both devices to let the program detect both devices. After both phones connected successfully (You can connect Android device wirelessly later since the second time), make sure the source device was on the left while the OnePlus 7 on the right, you can click on the Flip button to exchange the position. Then click Next button to proceed.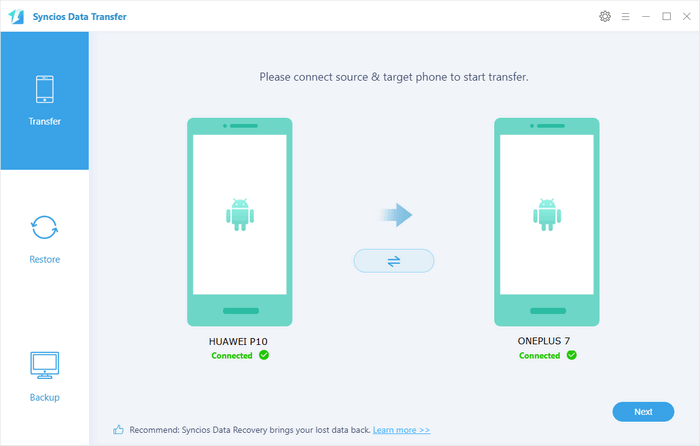 Step 3: Now you need to select music files to transfer, so simply tick off Audio option on the panel, Syncios will load all music files on the source device. Then simply click on Next button to start transferring music. And after a while (depends on the size of your music files), all music will be successfully transferred to your new OnePlus 7.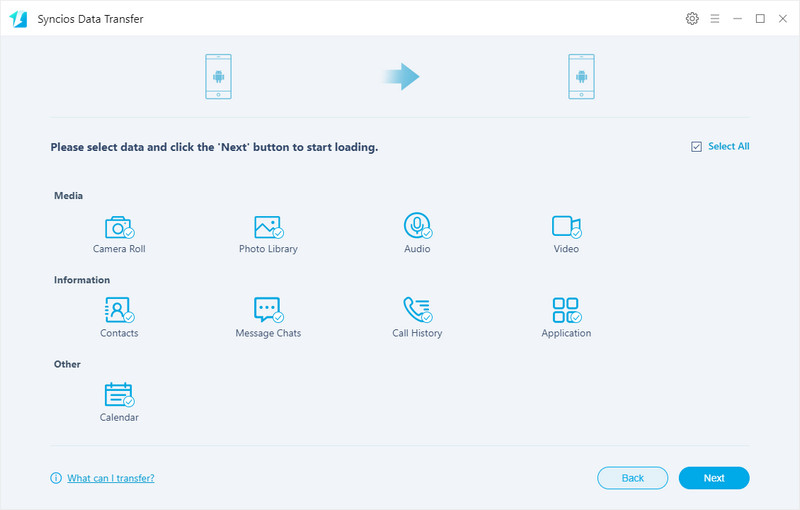 ---
Method 3. Sync Music from iTunes Library to OnePlus 7
Copying music files from computer or other devices to OnePlus 7 have been introduced above. On the third part, if you used to be an iOS user, you might using iTunes to sync your music. So is it possible for you to sync iTunes music to an Android device? The answer is yes. Besides of directly phone to phone data transfer, Syncios Data Transfer also supports syncing iTunes library to iPhone and Android devices. So if you need to transfer the music files from iTunes to your OnePlus 7, please simply follow the steps below to restore music from iTunes library to OnePlus 7.
Step 1: Launch Syncios Data Transfer and this time we need select Restore mode on the main interface, and then connect your OnePlus 7 to the program via an USB cable. Similarly, you need to turn on Developer Mode and USB debugging if you haven't.
Step 2: After your device connected successfully with the program, click on iTunes library button, Syncios Data Transfer will start loading your iTunes Library and will list all music/playlist after a while. Check all your desired music files and click on OK button, then click on NEXT button to start copying them to your OnePlus 7. After a while, all selected music will be added to your new device, you can disconnect your device and check.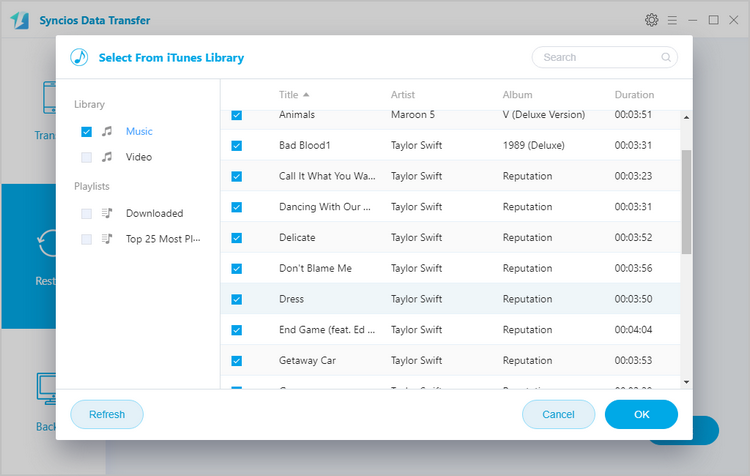 ---
Conclusion
So you can see all three methods to copy music files from different sources to OnePlus 7 have been introduced above, from PC, other device and iTunes library. Now you can simply choose your preferable one to get your own music tracks transferred. Actually, I believe that there are also other methods to transfer music to your new OnePlus 7, and the methods given above are really simple to get this job done. I sincerely recommend you to have a try. Of course, if you encountered some problems while transferring the music, please leave a comment below or contact us. We are glad to hear from you.
Extra Tips: How to Get Streaming Music to OnePlus?
So many digital music platforms only provide music in stream. How to download these streaming music to enjoy off-line? Just try AudiCable Audio Recorder, the best solution to help steaming music subscribers to download any songs from both Premium & Hi-Fi Music to plain MP3/AAC/FLAC/WAV/AIFF with 100% original audio quality kept. It supports most popular music platforms including Spotify, Amazon Music, Tidal, Line, Deezer, YouTube, Pandora, etc.
Features of AudiCable Audio Recorder:
Easily record music from different streaming services.
Keep original quality & ID3 tags of the recorded music files.
Support to record as multiple audio formats.