How to Transfer Photos from OnePlus 8/8 Pro to Computer
Days ago, the anticipated OnePlus 8 5G and OnePlus 8 Pro 5G were announced. As rumored, OnePlus 8 and 8 Pro 5G have improvements in its battery capacity, available colors, phone screen and camera setting. However, the concern is that the OnePlus 8 Pro 5G is staffed with a 6.8-inch Fluid Display, which will refresh 120 times per second. It makes us excited just to think about it. We will get a better experience when watching a video or playing a game. The major mobile phone manufacturers are facing more and more incentive competition in 2020.
So do you like this new OnePlus flagship 2020? Can OnePlus defeat the rivals? Well, no matter what, if we got a new OnePlus 8/8 Pro, we will wonder how to transfer photos from OnePlus 8/8 Pro to our computer, especially after using for a period of time. Here we covered the most effective ways to you.

Method 1. Transfer Photos from OnePlus 8/8 Pro to Computer for Free
If you're finding an effective Android Data management tool, don't hesitate to try Syncios Manager, which has continuously promoted by a professional technical team. With user-friendly interface, you can flexibly export/import/delete/manage multiple phone contents on computer, such as photos, photo albums, music, playlist, videos, contacts, messages and so on. To meet different needs, Syncios Manager can support 3000+ types of Android phones, all outdated, leading or the latest ones.
Step 1Download and Install Syncios Manager

Syncios Mobile Manager

Sync contacts, messages, call history, audio, photos, videos and other contents to computer.


Import photos, videos, audios and more media files from computer to iOS/Android devices.


Use your device as an external USB Key for extra convenient storage.


One click backup and restore phone data.


Fully compatible with the latest Android OS and iOS system.
Step 2Connect your OnePlus 8/8 Pro to Computer
To connect smoothly, you should enable debugging mode on your Android. Go to OnePlus 8/8 Pro Settings >> System >> About phone to tap Build number for 7 times. Then, navigate to Back >> Developer options >> USB debugging. visit your OnePlus 8/8's 'Developer Options' by navigating Settings option to enable USB Debugging. What's more, when connect OnePlus 8/8 Pro via USB cable, you will receive a prompt on your phone informing you to choose 'Connect as' what, it's necessary for us to choose 'Media Device (MTP)'.
Any OnePlus phone detection problem, click here >>
Step 3Go to Tap 'Photos'
To transfer all or parts of photos from OnePlus 8/8 Pro to computer, you should tap 'Photos' option from the top toolbar of the interface. At the moment, you can see several categories under Album list. You can tap one of the tabs to enter certain album.
Step 4Pick Desired Picture Files/Albums to Transfer
After entering an album, you can view every pictures in it. Next, pick photos that you wish to transfer from your phone device to computer. Click on 'Export' option to launch a pop-up window, which let us to select the location. Tap 'Select Folder' to launch the process. Please patiently wait for minutes. Besides, if you're going to transfer a whole photo album, simple click on 'Album List' from the left-hand of interface to back the last page, check one or several albums, click on 'Export' > 'Select Folder' to transfer.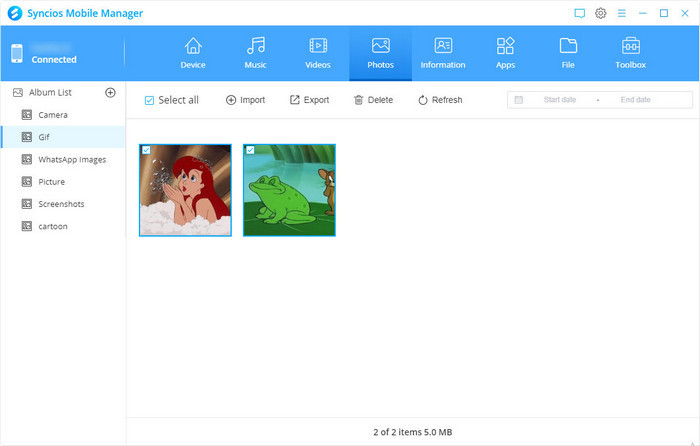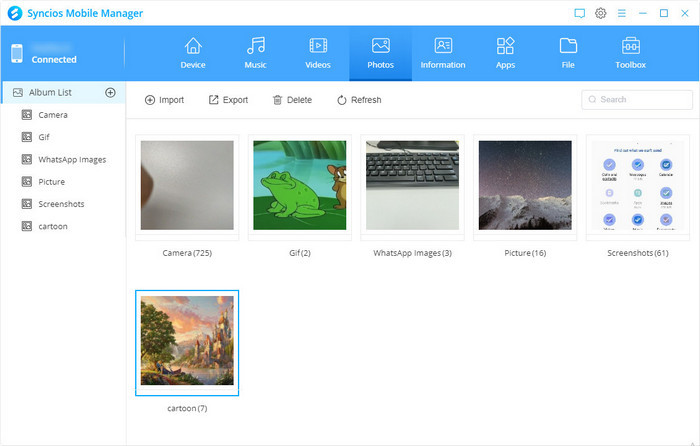 Method 2. Transfer Photos from OnePlus 8/8 Pro to Computer on One-Click
Photos is always one of the biggest phone storage consumers, and some of us will choose to backup them to computer in regular to avoid losing or just to free up phone space. So what do you think the quickest way to move all photos from a phone to computer? We strongly recommend you Syncios Data Transfer, the one-click solution for transferring data between Androids or iPhones, or from Android to computer and iPhone to computer. Supported sorts of data are various, like photos, audios, contacts, videos, text messages and etc. If you need, you can then restore every Syncios backup back to phone whenever you want.
Step 1Download and Install Syncios Data Transfer

Syncios Data Transfer

Backup all phone contents to computer in 1 Click, including photos, contacts, SMS, videos, music and etc.


Transfer data from iPhone to Android, Android to iPhone, Android to Android, iPhone to iPhone in 1 Click.


4 Restore Modes: to restore data from iPhone/Android/iTunes/iCloud backup to iOS or Android devices.


Transfer songs or playlists from iTunes Library to an Android phone, iPhone, iPad and iPod touch.


Fully compatible with the latest Android OS and iOS system.
Step 2Go to Tap 'Backup' Option
Run Syncios Data Transfer on your computer and connect your OnePlus 8/8 Pro to the computer via USB cable or Wi-Fi. If you prefer to connect with Wi-Fi, you can tap on 'Use Wi-Fi' option under phone icon, but we really recommend you to choose USB Cable connection mode, since it is more stable and faster. Now, tap Backup module. Below the computer icon, 'Backup to' option shows you the default save path. If this path doesn't have enough space, you can choose another one by yourself. Once you have specified a location, click on 'Next' option and the transfer process will be started.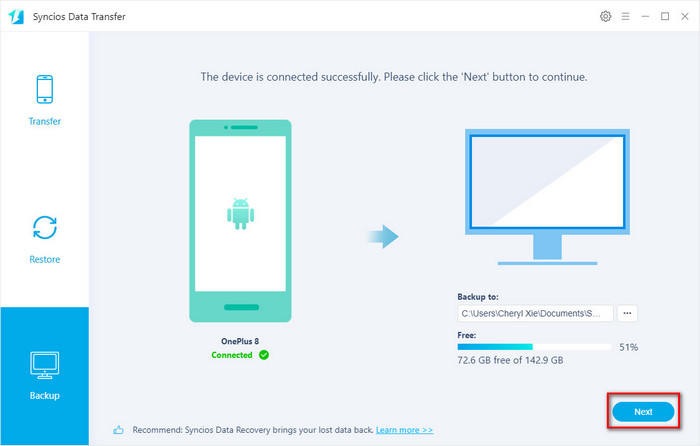 Step 3Transfer All photos from OnePlus 8/8 Pro
In this page, you can view all categories of data that you're able to backup. To transfer all pictures from OnePlus, you're supposed to check both 'Camera Roll' and 'Photo Library' options, and click on 'Next' option to load data, you can then know a specific quantity of your pictures. Click on 'Next' > 'OK' again to start the process. If you've a large number of photo to transfer, it may takes some time, please keep connecting your phone to computer and unlocking the phone screen.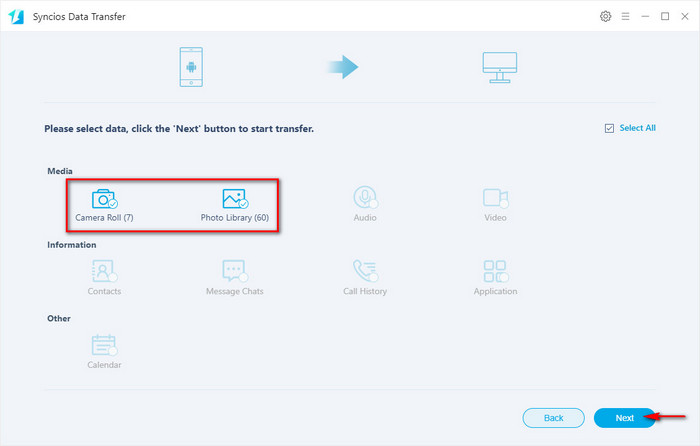 You can also learn from a video tutorial:
Method 3. Transfer Photos from OnePlus 8/8 Pro to Computer with Photos App (windows 10)
If your computer is using windows 10, you can choose to its native program Photos. It can also support to export your Android phones, iPhone, iPad or other digital devices photos to computer.-As you like, choose to connect via Wi-Fi by connecting the same network or via USB cable. Here's how to transfer photos from OnePlus 8/8 Pro to computer via built-in Photos app.
Step 1Open Photos app
From your Start menu, you can easily find Photos option, tap to open it on your windows 10. Plug in your OnePlus 8/8 Pro with a USB cable, unlock your phone and choose to trust this computer, meanwhile, the Photos app will pop up automatically.
Step 2Go to tap 'Import'
You can find the 'Import' button at the top right-hand corner of interface. Then you can see 'From a Folder' and 'From a USB device' option. The first option is to let you import folder from the local, So you're supposed to choose 'from a USB device' option. The app will start searching for devices that are ready for import data. Just choose your OnePlus 8/8 Pro to continue.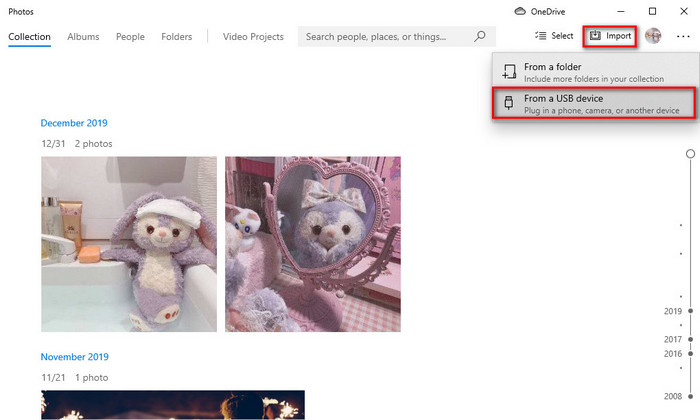 Step 3Choose photos you want
For Thumbnails view, pick photos that you're going to export and then click 'Continue' option. Once the photos are imported successfully, they can be checked in your Pictures folder later.
Method 4. Transfer Photos from OnePlus 8/8 Pro to Computer via Google Drive
Google drive allows users to save personal files and operating systems on Google's servers. Therefore, we can also use it to transfer OnePlus8/8 Pro photos to computer.
NOTE: Every Google Account has only 15GB free storage.
Step 1Install Google Drive app on your device from Google official website. When prompted, type in your log in information for Google Drive.
Step 2Press on 'Menu' icon and select 'Settings' > 'Back up & sync' option, or you can find desired photos that you'd like to upload to Google Drive from the Gallery. Next, tap on 'Share' button and click on 'Save to Drive' > 'Allow' > 'Save' option to finish the steps.
Step 3Go to Google Drive website, choose your photos files and right-click 'Download'.
Step 4 After successfully downloading these photos, you're free to view them on computer.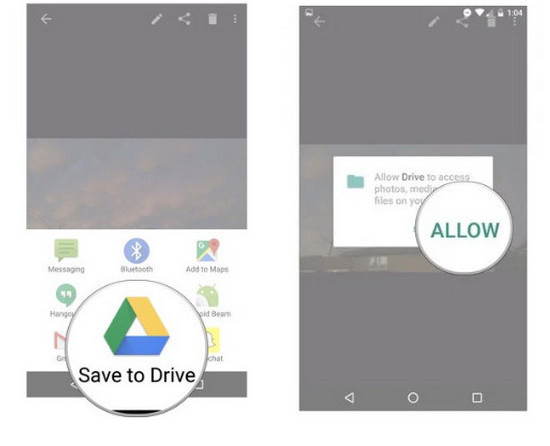 Conclusion
As above, you have know four methods to transfer photos from OnePlus 8/8 Pro to computer. Free Syncios Mobile Manager let you transfer photo files or albums selectively. The One-click solution Syncios Data Transfer help you transfer all phone pictures to PC simple in one click. Besides, Windows 10's native Photos app and Google Drive are also available. However, it's up to you to decide which is the most suitable and convenient.