Move iPhone, iCloud and iTunes Backup Data to OnePlus 9/9 Pro
If you are still struggling with whether to buy an iPhone 12 or OnePlus 9, there is a line that you can take into consideration, the price. iPhone 12 is obviously higher than the latter. Still, OnePlus 9 and Pros have many spotlights when it comes with a fix for the most glaring flaw of prior OnePlus flagships. For the cameras feature, OnePlus 9 series offer better color correction, and both regular and ultra-wide photos look great. If you agree to me and are also switching from an iPhone to OnePlus 9 now, you should not leave some tips. Even though you got a new phone, but never forget the data left on iPhone, iCloud and iTunes. So in this article, let me tell you how you can safely copy and move iPhone, iCloud and iTunes backup contents to your OnePlus 9. Keep reading it and you will pick up something you really need.

---
Video Tutorial - How to Transfer iPhone Data to OnePlus 9/9 Pro
[ If you want a lively and interesting teaching on how to transfer iPhone data to OnePlus 9/9 Pro, you can watch the steps in this video. ]
---
1. Move iPhone Data to OnePlus 9/9 Pro
There is no easier way than using a direct transfer tool, which can simply copy and move the data on an iPhone to OnePlus 9. Supported to transfer across platforms between iPhone and OnePlus 9, OnePlus 9 and computer, iCloud to OnePlus 9, or iTunes backup to OnePlus 9, Syncios Data Transfer is what an adorable assistant whenever people are confronted with a phone transfer. It is powerful enough that you can also use it to transfer data existing on iPhone, iCloud and iTunes backup to OnePlus 9 at ease. So in firstly, let me show you how quick it is to copy iPhone data to your OnePlus 9 or 9 Pro.

🔶TRANSFER: Phone to Phone Transfer, iOS to iOS, Android to Android, iOS to Android, Android to iOS.
🔶TRANSFER: Seamlessly transfer photos, videos, music, contacts, messages, call history and more.
🔶RECOVER: Recover PC local backup, iTunes Backup, iCloud Data and iTunes Library to iOS/Android.
🔶BACKUP: Completely backup iOS/Android to Windows/Apple computer.
Step 1: Run into 'Phone Transfer' mode if you are on a Windows Syncios Toolkit. Or you can directly get the program by tapping the download button that is given above.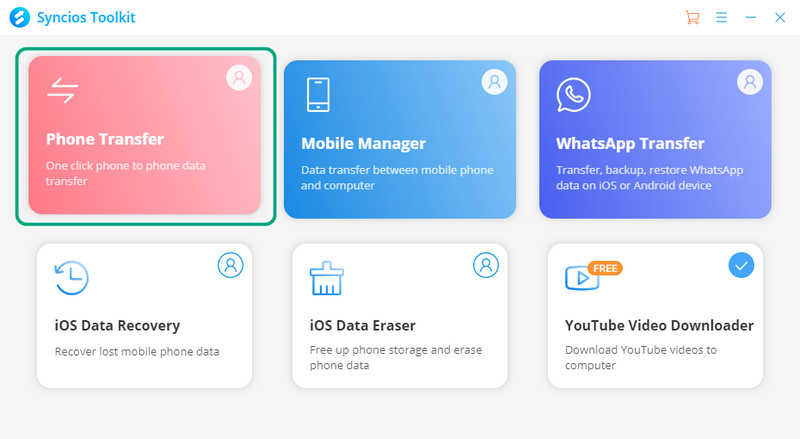 Step 2:When you initiate Syncios Data Transfer on your computer, you can start to connect both your iPhone and OnePlus 9 to computer. Don't hurry the transfer task to next step. If the phone is misplaced, do correct them by tapping the flip icon in the middle. After that, tap Next to move on.
People might forget to enable the USB mode on their OnePlus 9 when they try to connect to Syncios program, they can kindly refer to this tutorial on helping fix any possible issue on the Android connection. And if you are stuck with the iPhone connection, refer to this tutorial for help.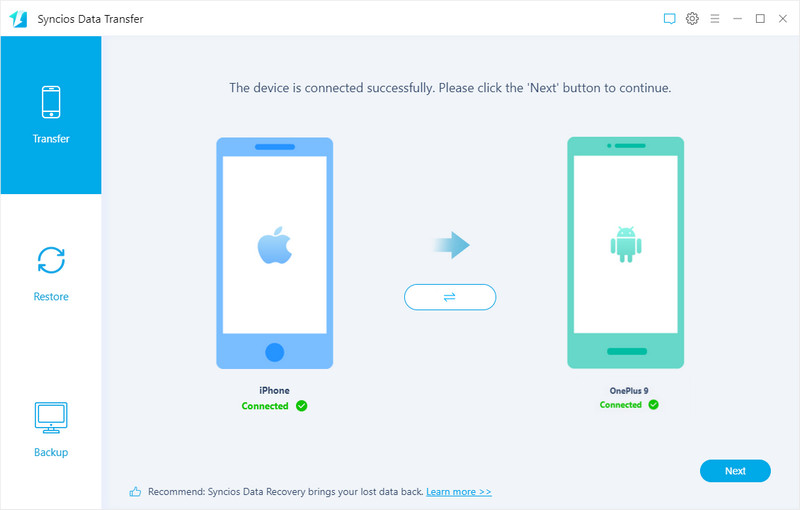 Step 3:Select the file types provided on the reference list. If you need one of the types, then tick off the box in front of the file name like Photo Libray. But if you look forward to a complete migration, then one click tick off the Select All option to select all the files types.
Step 4:At last, click on the Next button to load the files from iPhone and then again tap on Next to start the transfer as expected.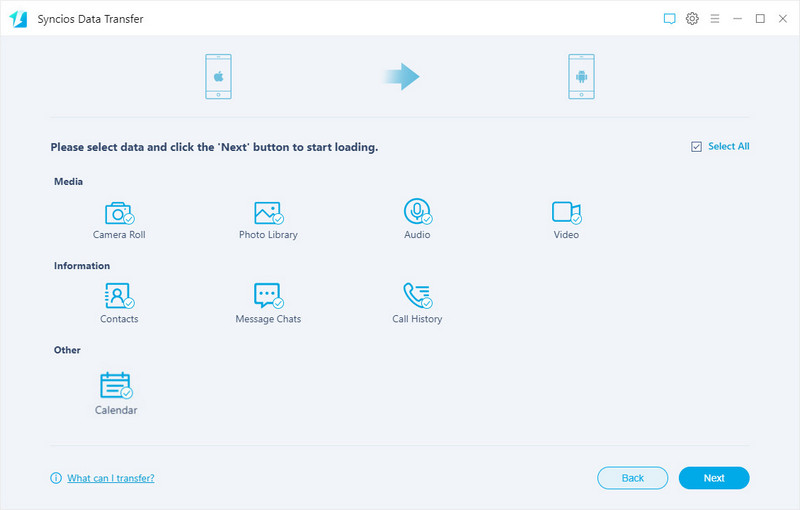 ---
2. Download iCloud Data to OnePlus 9/9 Pro
What will you do with the iCloud data if you switch to OnePlus 9 ? Android users find no ways to access to iCloud in general. So if you are in need to download your iCloud data to OnePlus 9, you can gain helps from Syncios Data Transfer's Restore feature. There are 4 built-in data entrances allowing you to restore and transfer the data to your OnePlus 9. Among them, the cloud-based iCloud is available as long as you sign in with your Apple account and directly download the iCloud data to OnePlus 9. Check with the steps below:
Step 1:Run Syncios Data Transfer on your computer and then directly connect your OnePlus 9 to it. This time, you don't have to connect to iPhone any more. So if you lost your iPhone but have no idea on re-use your iPhone data, you can go with this way to download the iCloud data.
Step 2:Go to Restore mode, and click into the iCloud entrance. And follow the on-screen instructions to log in with your iCloud account.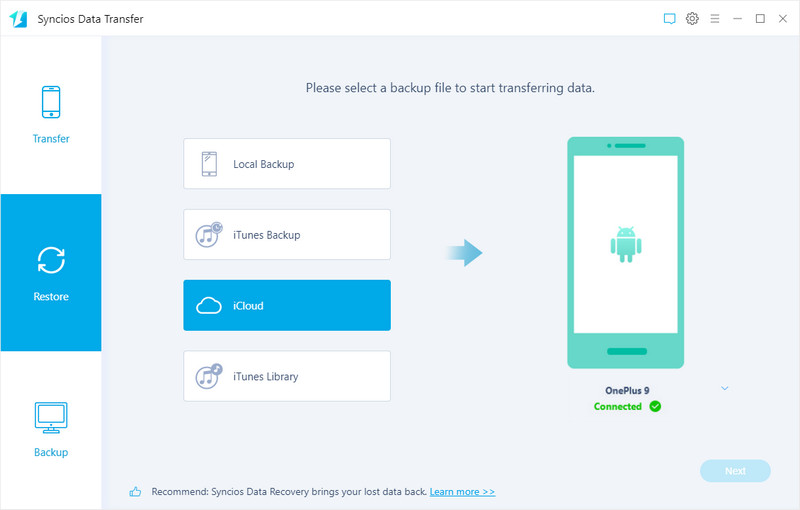 Step 3:After you access to your iCloud contents, there are several types you can download. They are iCloud Photos, Note, Reminders, Calendars and Contacts when if target phone is an iOS device. But if the phone to receive the iCloud data is an Android or OnePlus, then only iCloud photos, contacts and Calendar are available currently. You then just pick the one you need.
Step 4:After your selection, click 'Next'to start to download the selected iCloud data to your OnePlus 9.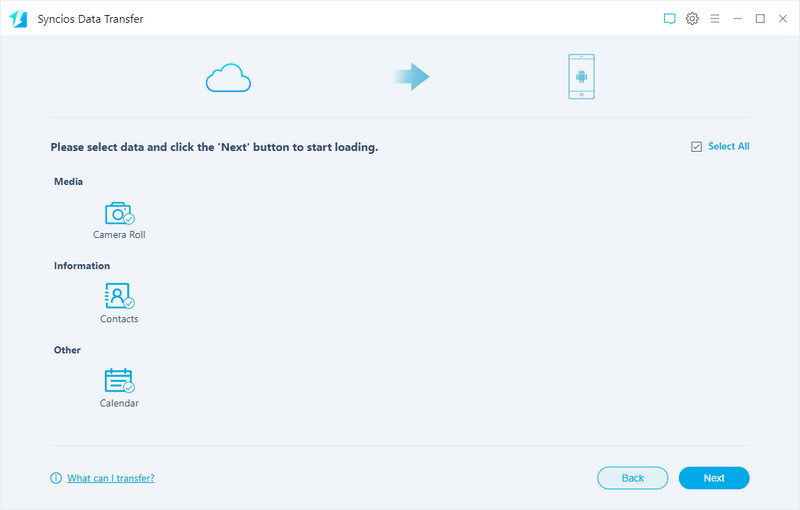 3. Restore iTunes Backup Data to OnePlus 9/9 Pro
If you are heavily reliant to iTunes which gives you way to store as much files as you want when you were using an iPhone. And when you want to restore them back to you iPhone, that is very simple to do a sync between iPhone and iTunes backup. But now, you are with OnePlus 9, shared with Android synstem instead. How could it be as easy as iPhone to restore iTunes Backup to OnePlus 9. You may know the answer if you have read in the part 2 to download iCloud data. So to restore or sync iTunes backup contents to OnePlus 9, you can do with Syncios Data Transfer by:
Step 1:Run into Syncios Data Transfer on your computer. And then connect OnePlus 9 to the program with the original cable.
Step 2:Go to the second feature of Restore and enter into iTune backup entrance. If you have ever backed up your iPhone wit iTunes on your computer, then Syncios will read and access to these backup for you to restore the data.
Step 3:Choose one iTunes backup that you want to restore from according to the generated date. After that, click 'OK' to fold the corrent window and go to the next step.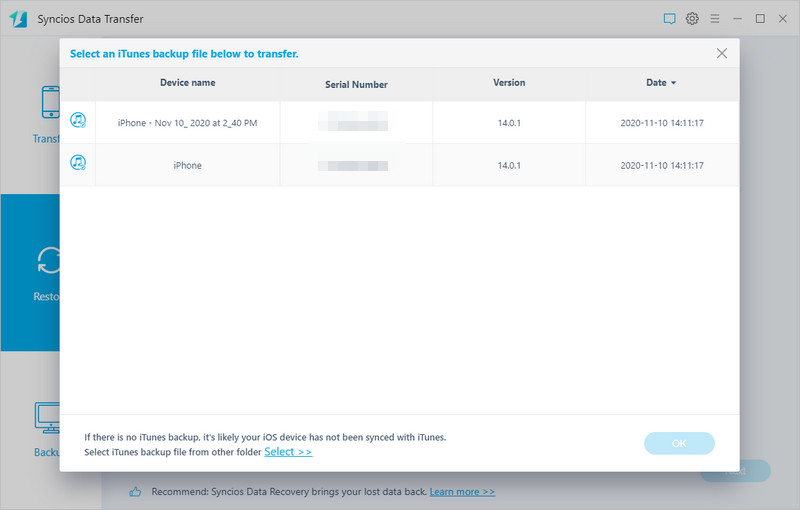 Step 4: Again make sure your phone is well connected to the program at the moment. Then click Next. You will need to select what kind of files you want to restore from this iTunes backup. So pick them by ticking off the box in front of the file name.
Step 5:Finally, you then just tick off the Next button to start the restoration, and wait until it completed.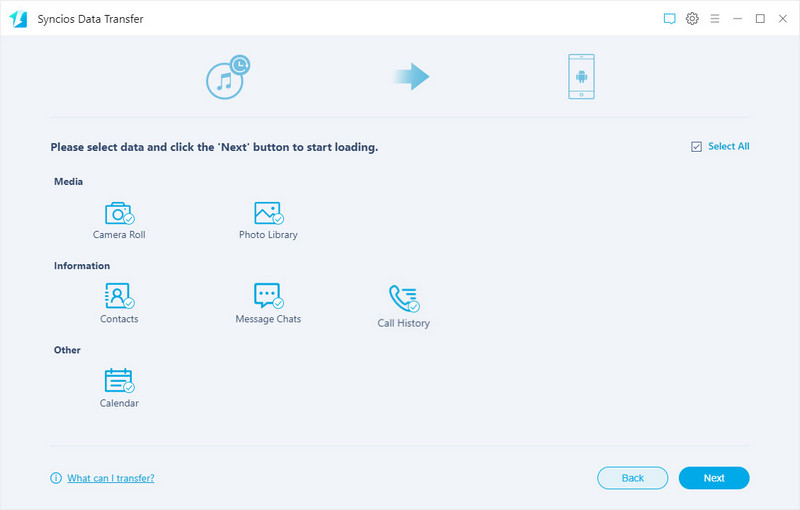 ---
4. Transfer WhatsApp Data from iPhone to OnePlus 9/9 Pro
In the last part, we will talk about the WhatsApp data. You might backup your WhatsApp data to iCloud when you were on iPhone WhatsApp. But the WhatsApp stored in iCloud can be shared unless you are still on an iOS supported device. If you want to transfer the iCloud WhatsApp to OnePlus 9, that could be a waste of time. In this case, We found that Syncios WhatsApp Transfer could effortlessly solve this problem while it is giving you a direct phone to phone WhatsApp transfer feature. Whatever it be an iOS or Android phone, you can make WhatsApp transfer across platforms so conveniently.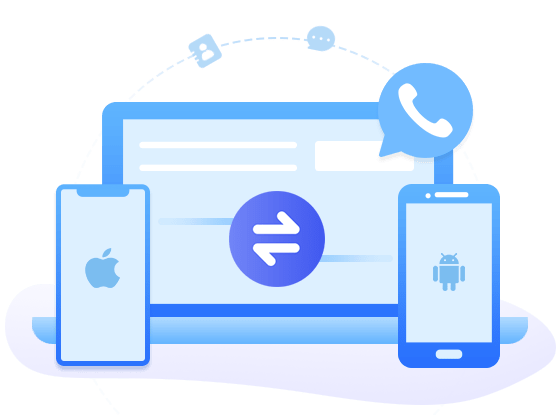 Backup WhatsApp on iPhone/Android to a computer.
Export WhatsApp backup to HTML and CSV files.
Preview the backup content and print all data you want.
Transfer WhatsApp between iOS devices and Android.
Step 1: Download and install Syncios WhatsApp Transfer on your computer. Or if you have Syncios Toolkit on your computer, directly click into WhatsApp Transfer to start the program.
Step 2:Further click into Transfer WhatsApp between 2 devices on the main interface. This feature is fully compatible for both iOS and Android phones.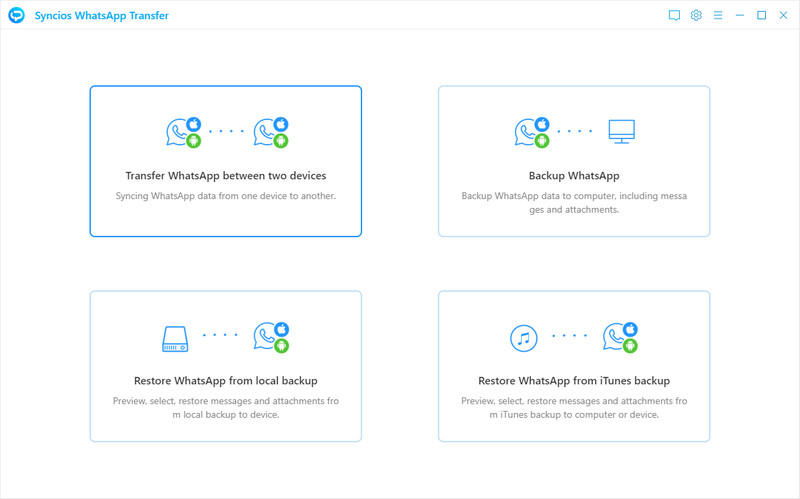 Step 3:Connect your iPhone and OnePlus 9 to computer until Syncios recognize them on screen.
Step 4:Click on the Transfer button to start. It should be noted that WhatsApp data existing on your OnePlus phone (Target phone) will be erased. Meanwhile, there is an option to backup the OnePlus 9 WhatsApp before you go to this directly transfer. If you already do your OnePlus WhatsApp for a backup in previous, skip it and tap Continue to complete the transfer.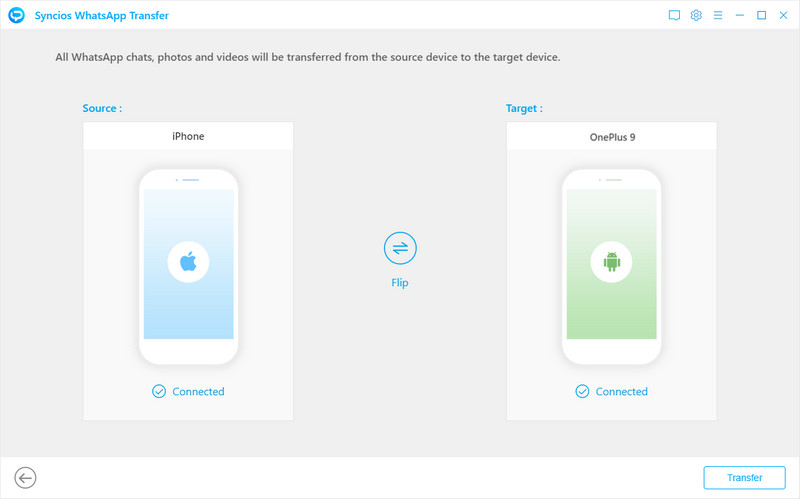 ---
Conclusion
In this article, we give you handful ways to transfer the iPhone data to OnePlus 9 phone, including your iCloud data, iTunes backup data and WhatsApp messages as well as WhatsApp attachment. You can find the part that exactly meets to your need and follow the steps as told. All the ways are safely enough without data loss and overwritten. If you want more tips on data transfer across different mobile platforms, leave us messages in the comment part.
Syncios Data Transfer (Win and Mac):
Syncios WhatsApp Transfer (Win and Mac):