How to Customize and Set Ringtones to OnePlus 8/8 Pro
When switching to a new phone, you are likely to change things up on your phone, such as ringtone, text alert tone, and screen background. If you get bored using the same thing all the time and enjoy the freedom of being able to change things whenever you want, you may want to know how to customize ringtones for a further use. However, unlike the iOS device, which makes setting up a custom ringtone a fairly arduous task, the ability to customize ringtones on Android phone like OnePlus 8 would be a simple job. Here is how to do it. In this article, you can learn how to turn your favorite songs into ringtones and set up your custom notifications

Part 1. Custom OnePlus 8 Ringtones
Get used to your default ringtones? You amy need to change and apply a personal ringtone. It's annoying to hear a ringtone is similar to yours. Everyone want to be different and always find ways to show personality. This tutotrial shares you a easy way to turn your favorite songs to ringtones then apply on your OnePlus 8/8 Pro. Check more details and follow instructions below.
To create ringtones on your OnePlus 8, you'll need help from a ringtone maker anyway. There are many ringtone creator apps available on Google Play Store, today I will share you a phone data manager, Syncios Phone Manager. This tool is the most reliable one for making ringtones on OnePlus 8 or 8 Pro. Also, you are able to get help from this program when you need to manage and edit your phone data like contacts, messages, music, videos, photos, apps. You can get the free version and check more functions you like. Now, let's check how to turn any song to ringtones on OnePlus 8.
Step 1: Get Syncios Mobile Manager downloaded to your computer. Intsall and then run this program on your computer. Connect OnePlus 8 to computer via an USB cable. To make sure a proper connection, you'd better pay attention to:
❶ Keep phone unlocked and check your phone frequently;
❷ Choose connection mode as "Transfer Files" as soon as connecting;
❸ Enable USB debugging mode on your OnePlus 8.
After recognized successfully, move to next step.
Step 2: Make sure you've saved the songs you are going to customize to ringtones on computer. If you've saved songs you need on computer, just skip to step 3. If not, you can go to Media > Audio to export songs from OnePlus 8 to computer. Or if you need to export songs from other iOS or Android device to computer, just connect the source device to computer then export songs from the device to computer via Syncios.
If you need to download online music, go to Video Downloader on the top menu bar, then copy the link of that song from YouTube, paste the link to the URL box. And then download it.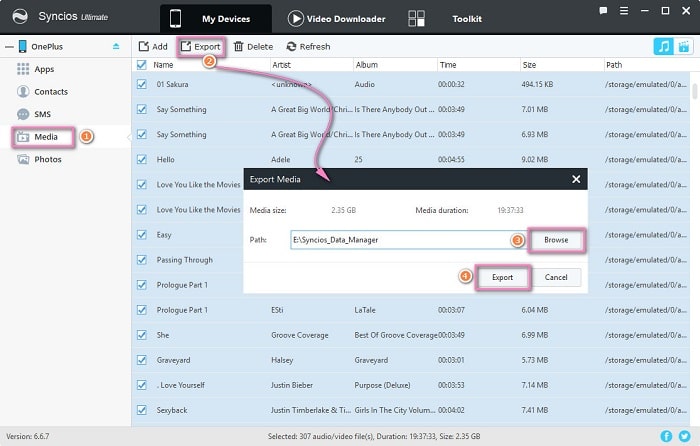 Step 3: Navigate to Toolkit on the top menu bar, open Ringtone Maker. A pop-up window appear. Click on Choose to import a song from computer. Then play the song and set its start and end. Finally, click on Save & Import to save the custom ringtone to your OnePlus 8.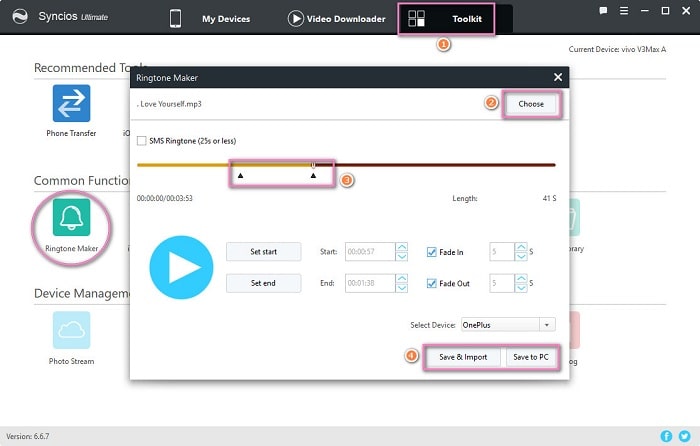 ---
Part 2. Apply New Custom Ringtones on OnePlus 8 for the Entire Agenda
Now, we need to learn how to apply the custom ringtones on your OnePlus 8/8 Pro.
Step 1: Open Settings app on OnePlus 8, then scroll down and click on Sound & vibration > Phone ringtone.
Step 2: If you've saved ringtones into Ringtone file folder on the first part, you can find the imported custom ringtone directly from the ringtone list. If not, follow the next step.
Step 3: Click on the Add button to launch the media manager app.
Step 4: Music files stored on your phone are enlisted here.
Step 5: Select a mp3 track and set it as your custom ringtone.
---
Part 3. Personalize the Ringtone for Individual Contacts on OnePlus 8
To distinguish calls, part of phone users choose to set a special call ringtone for families or friends. The special ringtones help you realize who is calling as long as you hear the special song ringing. If you are in an important meeting, answer the phone or hang up? You can react quickly.
Step 1: To designate a ringtone to a contact on your OnePlus 8, open Contacts app on OnePlus 8 phone and find a contact you need, tap on it to view details.
Step 2: On the contact details interface, find Edit option and click on it.
Step 3: Tap Menu, then tap Set ringtone.
Step 4: Select from the available ringtones.
---
Part 4. Change Ringtone for Incoming Emails on OnePlus 8
Set a special ringtone for incoming emails to distinguish who is sending the emails quickly.
Step 1: From the Home screen, swipe up then open Settings.
Step 2: Tap Sound & vibration and tap Default notification sound.
Step 3: Select from the available ringtones.
---
Part 5. Turn on / off Emergency Alerts on OnePlus 8
It's an extra tip for you to know how to turn on emergency alerts on OnePlus 8.
Step 1: From the Home screen, tap Messages.
Step 2: Go to Menu > Settings, and tap Wireless alerts.
Step 3: Tap Menu > Settings. Select from the following:
Allow alerts (on / off)
AMBER alerts (on / off)
Extreme threats (on / off)
Severe threats (on / off)
---
Conclusion:
Setting your own ringtones is a simple thing when you need to be different. This tutorial offers a way to create a ringtone out of any audio file and do it without spending a penny. If you find this post helpful, please help us by spreading the word to your friends.
---
Tips

what's next? Download Syncios Data Transfer now!
---