DiskAid Review & Difference Syncios iOS Manager and DiskAid
DiskAid is an iPhone file transfer software available for PC and Mac in 10 languages that gives access to the iOS file system using a USB connection or via Wi-Fi. DiskAid transfers music and video from any iPhone, iPod or iPad right back to the iTunes library or any location on the computer.
Syncios is a powerful software that has taken up the gauntlet to provide you with all the said functionalities, without even jailbreaking your iDevice. It's the 'Ultimate transfer solution between iPod/iPhone/iPad & PC'. Coupled with a ravishing UI, it's not only quite easy to use, but also extremely handy to move files back and forth between your iOS device and PC. Along with letting you transfer music, photos, videos etc, it also enables you to back them up to any target location, install, remove or backup apps, use your device as a USB storage and lots more.
So what's the differenct between DiskAid and Syncios? Go and find the one you need.
1. DiskAid
DiskAid is a desktop software application for both Mac OS X and Microsoft Windows developed by DigiDNA and released in June 2008. The application consists of a browser window showing the contents of the iOS device to which the host computer is connected using the original USB connector.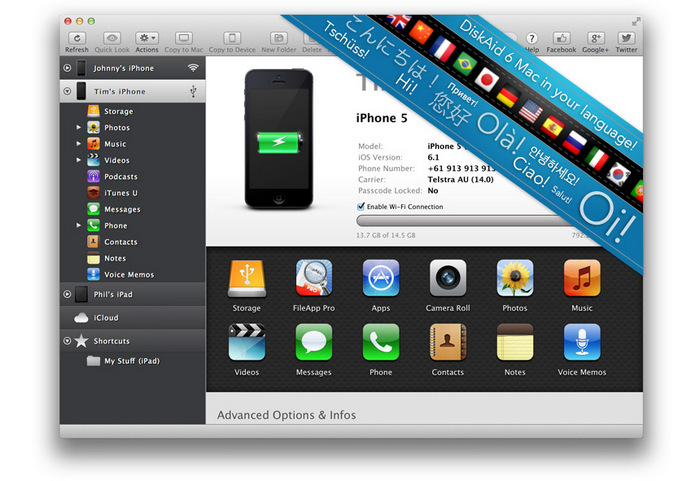 What Users Say About DiskAid:
Thank you. You are stars. I had lost my pics folder on the PC and could recover it from the IPAD Photo Gallery.
--- Ranbir Khanna
Fantastic software! Finally a way to properly interact between iPhone, iPad, and my laptop. Using it with FileApp and it does most of what I need. Thanks.
--- Jeffrey Jones
My Itunes got messed up when i changed hard drives so I was unable to sync my ipod, diskaid put everything on my ipod back into itunes flawlessly, playlists, artwork and play counts, saved me having to burn all my cds' again. Thank you diskaid, I cannot recommend this enough it's BRILLIANT!!
--- K. Jones
2. Syncios iOS Manager
Syncios is an easy-to-use yet powerful iOS device manager, which is well-designed for users who want to manage media contents between iOS devices and PC. Syncios enables you to synchronize your iPod, iPhone or iPad with the local Windows pc. You can see the content of your iOS device and pick the products that you need to copy to your pc or import to your device, when you connect Syncios and your device.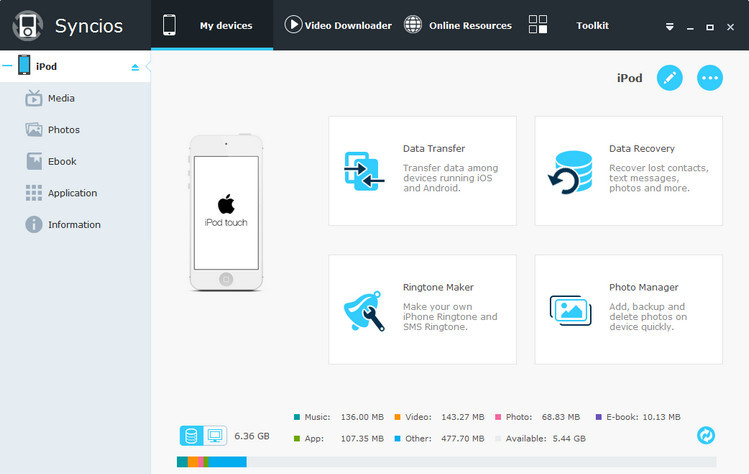 What Users Say About Syncios:
Like this freeware. It helps do almost everything I want for my iPod Touch 5. It even supports converting and syncing videos for my iPod Touch 5. Easy to use. Great product!
--- echochen
It provides the ultimate transfer solution between iOS devices and PC for users. Syncios allows you to transfer and manage your apps, photos, music, ringtone, audiobooks, videos, TV shows, MV, playlist, eBooks and more between iPod/iPhone/iPad and PC freely and easily.
--- tucows.com
Much better than iTunes and other software!!! Easy to install and use. Nice Appearance and organized well. Please keep on improving this software continuously. People will love it!!!
--- jblue0056
3. DiskAid
VS

Syncios iOS Manager
| | | |
| --- | --- | --- |
| | Syncios iOS Manager | DiskAid for iOS |
| Audio Converter | | |
| Video ConverterC | | |
| Ringtone Maker | | |
| Audio Management | | |
| Video Management | | |
| Playlist Management | | |
| Photos Management | | |
| Ebooks Management | | |
| Apps Management | | |
| Contacts Management | | |
| Notes Management | | |
| SMS Management | | |
| Bookmarks Management | | |
| iTunes Backup Extractor | | |
| Built-in Video Downloader | | |
| Wifi Supported | | |
| Mac Version | | |
| Multiple Devices Supported | | |
| Price When Rated: | Totally Free | $29.9. Free Trial |
DiskAid® is a registered trademark of DigiDNA SARL.
Apple®, iPod®, Mac and iTunes® are a trademark of Apple Inc., registered in the U.S. and other countries.
---