How to Import WhatsApp Chats to Telegram
WhatsApp is one of the most popular instant messaging services in the world, but with the broadcast of its latest security breach you may be thinking of abandoning this app for an alternative. And Telegram will be your priority. Telegram boasts more secure factors that WhatsApp can't catch up with. And if you are leaving for Telegram, you will be in need to transfer WhatsApp Chats history from WhatsApp to Telegram. How-to steps are shown in this article. Also at the end, we give you an ultimate way to backup all WhatsApp history along with the attachment to computer, which is a wise way when you decide to give up WhatsApp but you can still find and use the WhatsApp data if necessary.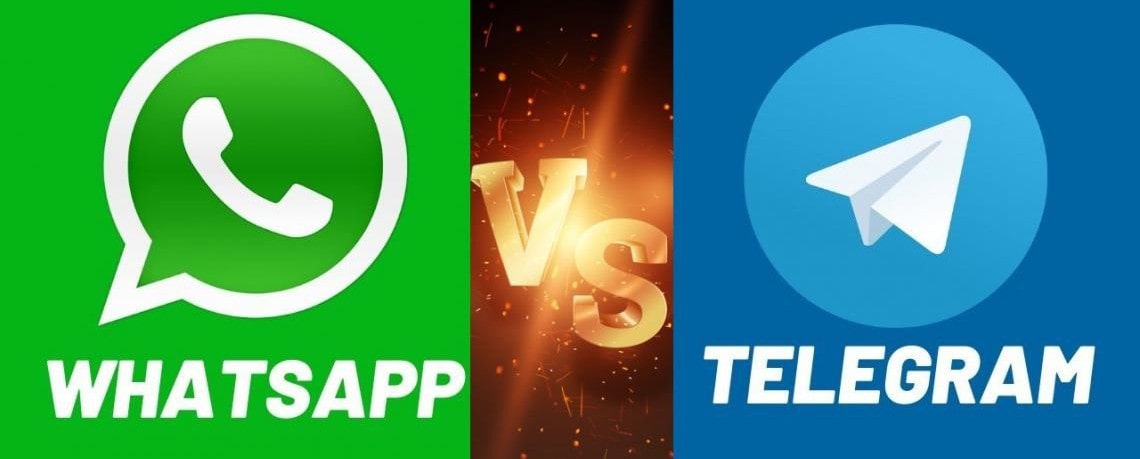 Part 1: Import WhatsApp Chats from Android/iOS to Telegram
Starting from Telegram 7.4 update, users are able to migrate chat history to Telegram from WhatsApp. And this works both for individual chats and groups one by one. Steps to move a chat from WhatsApp on iOS and on Android are kind of different, so you can look at the case from below:
Import WhatsApp Chats to Telegram On iOS device:
1. Open the Contact Info page in WhatsApp, swipe left to right and then tap the three vertical dots on the top right corner.
2. You'll be asked to restore with or without media. Select the option as per your preference.
3. Tap 'Export Chat' > and select 'Telegram' in the Share menu.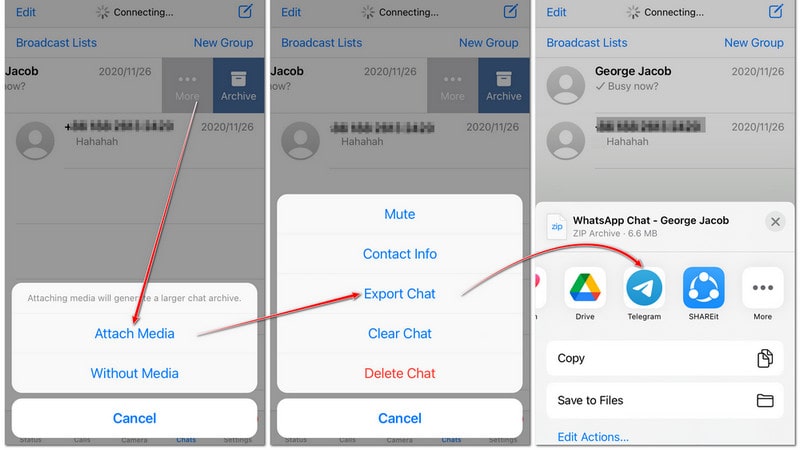 Import WhatsApp Chats to Telegram on Android device:
Similar steps apply to import WhatsApp group chats to Telegram. After that, you can view the imported WhatsApp on Telegram app. The pity is that you can only move chats one by one, there's no way to move them across in bulk at current.
1. Open a chat in WhatsApp, then tap the area right beside the profile picture of a contact on the top.
2. Tap 'More' > 'Export Chat' >Include Media/Without Media' > select 'Telegram' in the Share menu.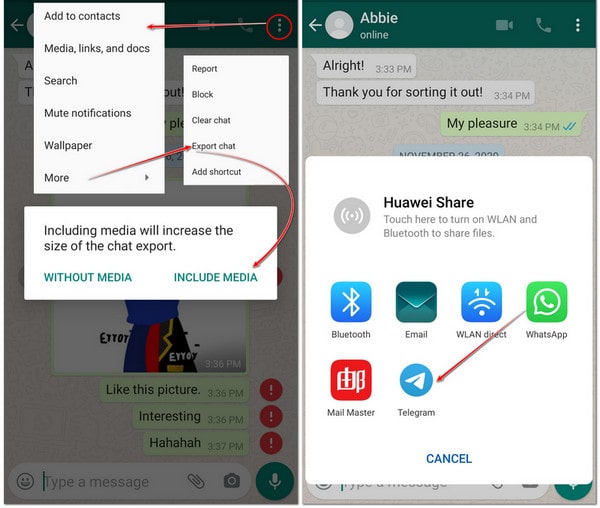 If it were not for this shortcoming that it is not supported to import WhatsApp to Telegram in bulk, the mentioned way would be wonderful for you to devote to Telegram. Another thing to take note here is that messages and media moved to Telegram will not occupy extra space on your smartphone. Users can also optimize storage space and control cache size by tapping Data and Storage Usage tab in Settings.
---
Part 2: Export and Backup WhatsApp Chats from Android/iOS to Computer.
However, if you are determined to shift from WhatsApp to Telegram app from the day on, it is necessary for you to make a backup of your precious WhatsApp chats history along with the attachment. And computer is a good option to save for any backup data due for its suitable and reliable characters. Even you later uninstall WhatsApp from your phone, you are still capable of viewing WhatsApp chat history on computer free of obstacles by exporting WhatsApp chats to HTML files via Syncios WhatsApp Transfer.
Step 1: Download and install Syncios WhatsApp Transfer on your computer. Windows and Mac versions of the program are given. If you are Windows user, then initiate the program by installing Syncios Toolkit at first and then click into 'WhatsApp Transfer' module to formally start up Syncios WhatsApp Transfer on your computer. For Apple computer users, directly tap the download button above to simply export your mobile WhatsApp chats to a Mac for a backup.
Step 2: Run into 'Backup WhatsApp' functionality and connect your Android or iPhone to computer with a USB cable, when program will automatically recognize the phone. You then just tap the Start button to instruct Syncios WhatsApp Transfer to make a backup of WhatsApp from your phone.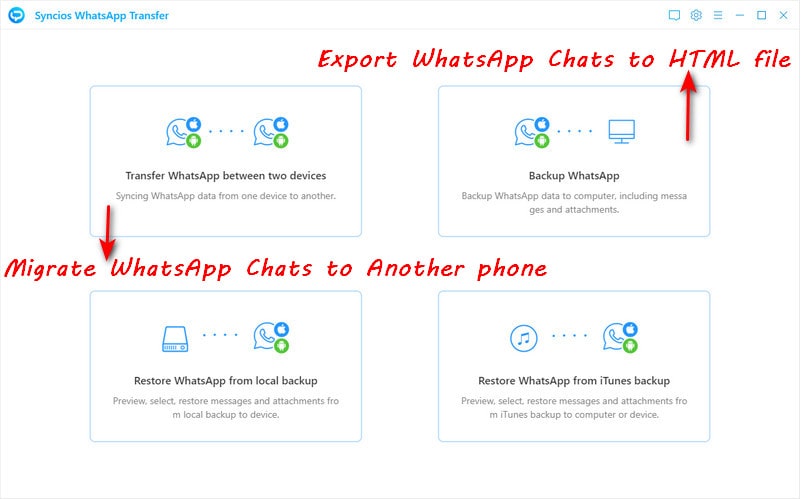 Step 3: Not a while, WhatsApp chats history and media files attached in the WhatsApp chats will be backed up to computer. To know where you can check the backup on PC, tap the Settings icon upper right and you can see a back path, where the backup contents are stored in.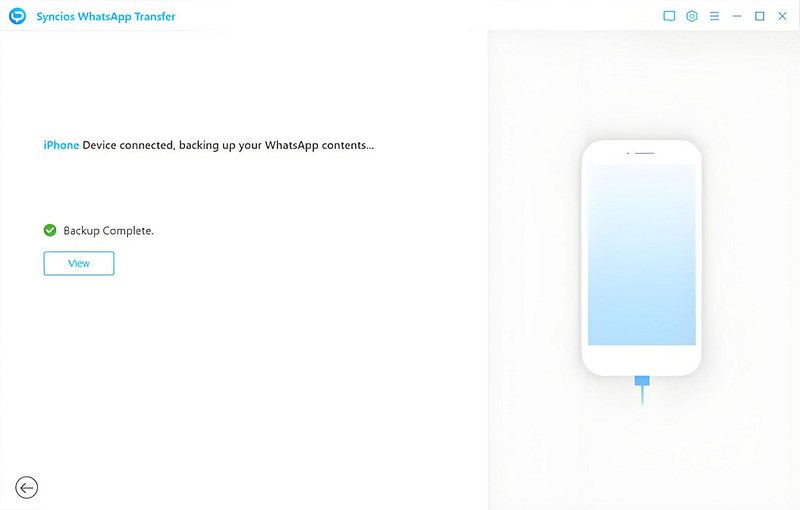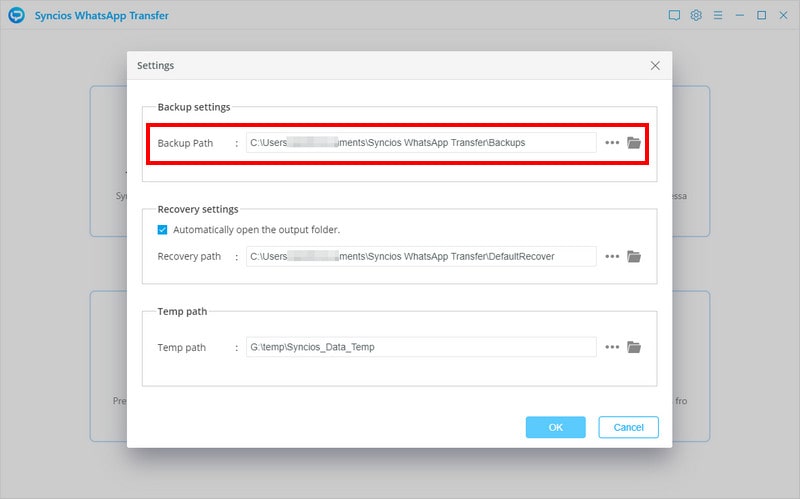 You will find that there are more functions you can make use of, which will appeal to anyone using WhatsApp messages. So we list you the main features of Syncios WhatsApp Transfer to make you know clearly about it. Or you can directly view them on program.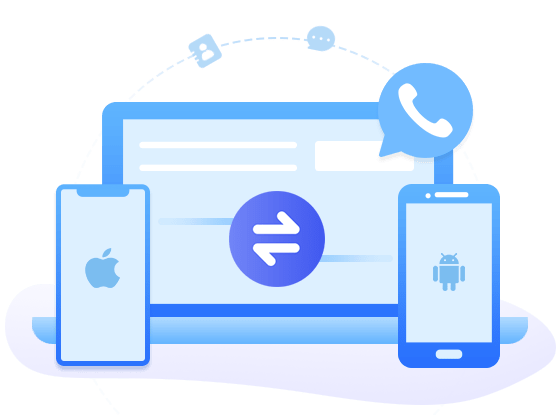 Backup WhatsApp on iPhone/Android to a computer.
Export WhatsApp backup to HTML and CSV files.
Preview the backup content and print all data you want.
Transfer WhatsApp between iOS devices and Android.
---
Final Words
In this article, we give you simple steps to migrate WhatsApp chats to Telegram. In part 2, we stress that export and backup WhatsApp to computer if data needs to be adopted in the future as well as mitigation of data loss. Syncios WhatsApp Transfer comes to meet all your needs for WhatsApp transfer in a safe and quick way. No time based free trial is available, why not get it right now?