How to Migrate WhatsApp Groups to Signal
When talking about instant message apps, WhatsApp is well known by all your friends and family. But if you are on a business speaking to a confidential source, and you don't want your business is shared with anyone who might pick up your locked phone, Signal messager might win in the wake of message privacy and security. Either individually or in groups, WhatsApp and Signal work their ways as a day-to-day messaging app. But we have to admit that the end-to-end encrypted Signal has been more adorable than WhatsApp.
Some are asking for ways to migrate their previous WhatsApp messages to Signal, which remains to be resolved. But we share with you an approachable way to migrate WhatsApp groups to Signal when you are leaving WhatsApp for Signal! As an extension, we also give you a simple way to migrate existing WhatsApp chats between 2 mobile phones.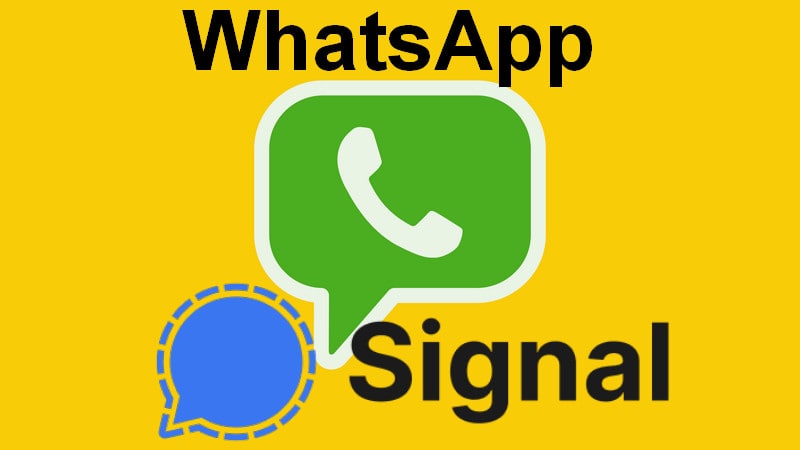 Part 1: Migrate WhatsApp Groups to Signal
Switching from WhatsApp to Signal is as easy as creating your profile on the latter by entering your phone number and then remove the former app from your device. But moving chats from WhatsApp and Signal isn't possible natively. However, there is an attainable way to migrate your WhatsApp groups to the Signal app by following some simple steps. These are equally applicable for both Android and iOS users.
1. Run into the Signal app on your phone and create a new group on the app.
2. On your Android phone, tap on the three dots menu available from the top-right corner of the screen then tap the New Group option. If on iPhone, tap the pencil icon from the top-right side of the screen. (See as figure below)
3. Select at least one person you want to invite from your phone contacts or by entering their phone number. You can add new group members at a later stage. For preference, create a name and add a profile to a specific group. This could be the same name that you want to move from WhatsApp to Signal.
4. You'll now be prompted with a pop-up dialogue box to invite friends via a link. Just click on the 'Enable and Share Link' button available on that pop-up box. This will bring a menu to let you find ways to share your group link. Choose 'Copy Link' from that menu.
5. Once you have received a group invite link, open the WhatsApp group that you want to move to Signal. Share it in your previous WhatsApp groups thus users can directly join themselves in your newly created Signal group.

---
Part 2: Transfer WhatsApp between 2 devices (iOS/Android Supported)
If you insist on transferring WhatsApp chats to another platform, whatever it be an app or device, I think it is great to export WhatsApp chats to HTML file, a readable and printable format for most platforms like computer. But if you are on the case to transfer WhatsApp chats to another device, then you can have a look at the following steps:
Step 1:Click into the download button (Windows and Mac version) to get Syncios WhatsApp Transfer downloaded. Syncios Toolkit is special offered for Windows users and then click 'WhatsApp Transfer' mode to initiate the program.
NOTE: Windows and Mac versions of the program are given. If you are Windows user, then initiate the program by installing Syncios Toolkit at first and then click into 'WhatsApp Transfer' module to formally start up Syncios WhatsApp Transfer on your computer. If you are on a Mac, directly tap the download button below to simply export your mobile WhatsApp chats to a Mac for a backup.
Step 2: On the homepage of Syncios WhatsApp Transfer, click into the first mode "Transfer WhatsApp between 2 devices".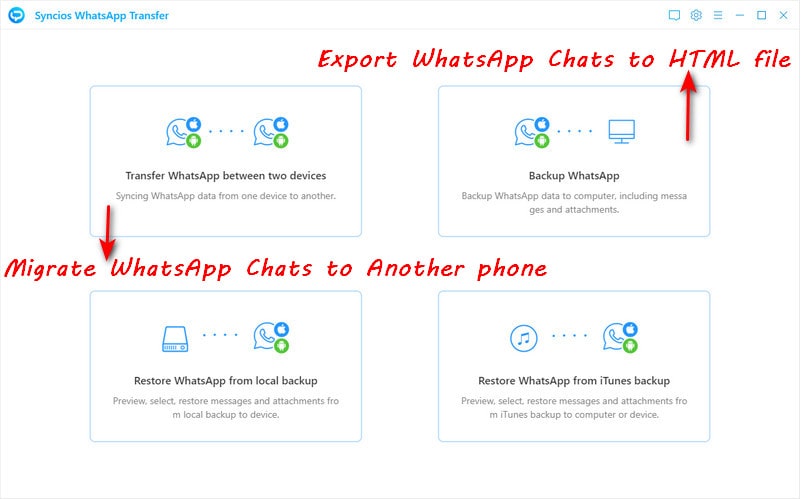 Step 3:Clearly as you can see in the coming window, respectively connect your 2 phones to program with USB cable. When phones are recognized, be aware that source phone is on the left and the target phone on the right. Position is adjustable by tapping the 'Filp' icon at the middle of 2 phones.
Step 4:Now, press the 'Transfer' button to start the process. It will pop up a prompt to remind you that data existing on target phone will be erased if you are to transfer WhatsApp data from iPhone to Android/Android to Android/Android to iPhone/iPhone to iPhone.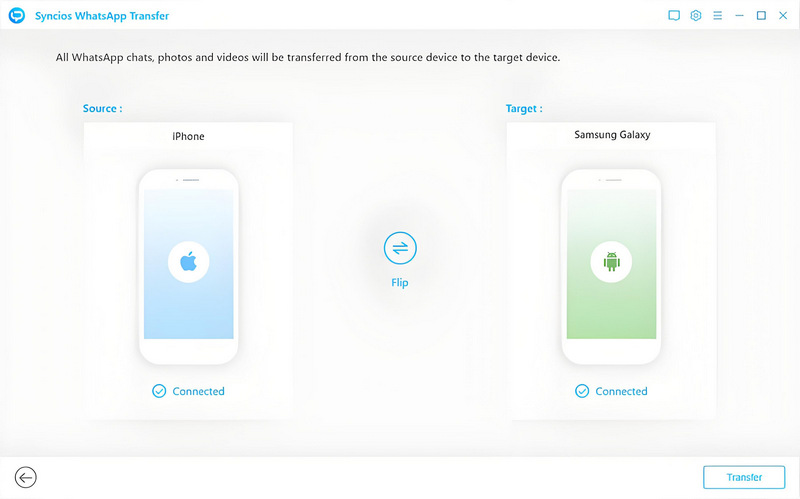 Other 3 functions in Syncios WhatsApp Transfer allow you to make a good use of, which will appeal to anyone using WhatsApp messages. So we list you the main features of Syncios WhatsApp Transfer to make you know clearly about it.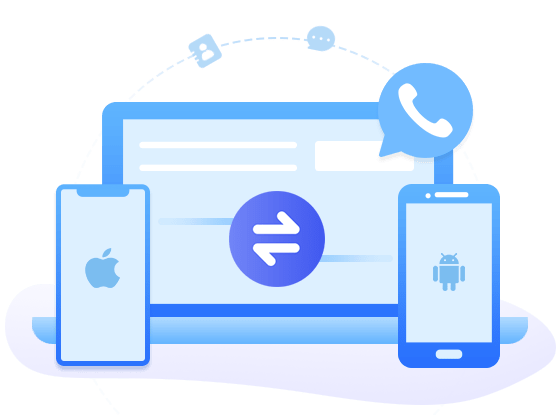 Backup WhatsApp on iPhone/Android to a computer.
Export WhatsApp backup to HTML and CSV files.
Preview the backup content and print all data you want.
Transfer WhatsApp between iOS devices and Android.
---
End Words
Signal offers users more privacy, while Facebook-dominant WhatsApp has customizable features that allow for easier use. And so if you are giving up WhatsApp to Signal, you can learn in the Part 1 to create and migrate WhatsApp groups in Signal. But for WhatsApp, sticks to much more users who can enjoy the freedom of unlimited texting and calls free of cost. There are more WhatsApp migration tips and tricks that you can refer to the Part 2 tool to achieve a phone to phone WhatsApp transfer at will.
Syncios WhatsApp Transfer (Win and Mac):