How to Fix "Not Enough Storage" Issue when Updating to iOS 14
Apple has launched iOS 14 which cheers iPhone users since they can finally get access to this advanced operating system. However, like all other updates, iOS 14 also comes with "not enough storage" problems that must be addressed beforehand. iOS 14 asks for some deletions in your current operating system when they want to upgrade to it. In this guide, you'll learn many ways to free up your iPhone space for iOS 14 update without losing any important data.
---
Method 1: Use Super Handy iOS Cleaner to Solve "Not Enough Storage" iOS Problems
To fix the "Not Enough Storage" issue, we highly recommend you use Syncios iOS Eraser, an easy-to-use iOS cleaner tool, which can instantly and safely remove useless items including junk files, temp files, cache, etc, from iPhone/iPad devices and free up massive storage for iOS 14 update without deleting essential files.
Key Features:
One-click clean up to free up space for iOS 14 update.
Five cleanup modes: Free up space; Erase all data; Erase deleted files; Erase private data; Erase private fragments – to delete data securely and permanently according to your need.
Clean up all the hidden junk files, delete third-party apps fragments, compress/delete large files, etc.
Clear Safari data including Search histories, caches, cookies thoroughly.
Previously deleted files can also be found out and the program will permanently erase them for privacy protection.
Step 1 Download Syncios iOS Eraser on your computer. Connect your iPhone to computer and launch the tool. And please remember to turn off Find My iPhone first if you want to permanently wipe your iPhone data.
Step 2 Once your device is connected, Syncios displays the panel interface of Free Up Space by default. There are 6 categories "Junk files", "Temp Files", "Camera Roll", "Photo Library", "Large Files" and "Apps".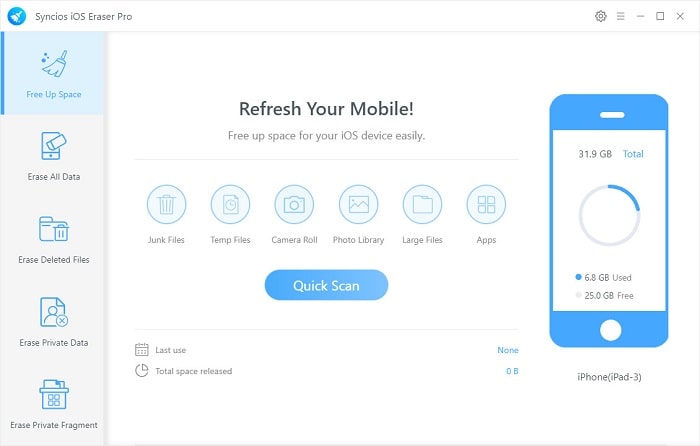 Step 3 Click on Quick Scan button to analyze and scan your device. The scan will take few seconds for first time. When it finished, you will see a result list of scan. It shows the spaces taken by Junk files, Temporary File, etc.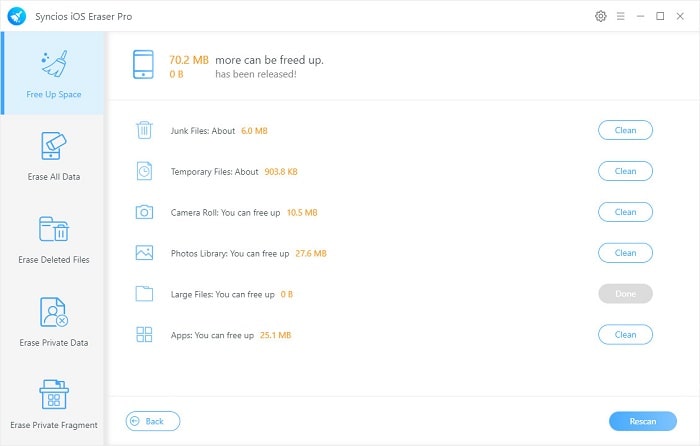 Step 4 After scanning, you will see how much storage space can be freed up, including Junk Files, Phones, Large Files and more. Then click the Clean button one by one to clear them out and get more space for iOS 14 update. It will automatically clean up all caches and junk files and free up your iPhone space.
Note
If you want to factory reset your device to get more available storage, then you can choose the "Erase All Data" mode from the left-side menu.
---
Method 2: Manual Ways to Get Enough Space for Updating iOS 14
Downloading the new iOS 14 system requires enough space, which means you need to sacrifice some files. But before you free the storage, you should learn what's taking up most of your iOS storage, so you can clean up the unwanted files without harming the core files. Whether the old chats need to be deleted or the unused apps? You can go to phone settings and get a clear insight. Now please follow the tips below to free up your iPhone storage for iOS 14 update:
1. Remove Unused Apps
Basically, single iOS app takes up larger space than Android apps. When you downloaded massive apps on your iPhone, things got worse. You can simply check out by tapping Settings > General > Storage&iCloud Usage > Manage Storage, where you can see the space that all apps and app data take up on your iPhone 7.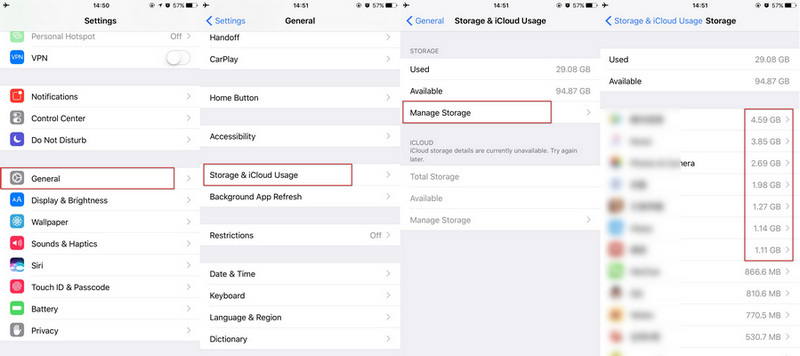 Simply self-check on your iPhone and make sure if you really need them, otherwise, back to homepage, press and hold an app until the apps wiggle, tap "X" to get rid of them from your iPhone to free up space.
2. Clean up Media Files (Videos, Photos, or Audio Files)
Since most of us have a huge collection of media files in our devices, it's always challenging to manage an update with them. If those media files are important for you and you don't want to lose them, you can consider copying media files like photos and videos to a cloud storage service. Apple offers a solution, iCloud Photo Library, which enables you upload photos to iCloud while remain only a thumbnail on your device as you selected "Optimize device storage". However, the point is that Apple only offers 5GB free space for every user if you don't buy for more, and the storage can be filled up very quickly.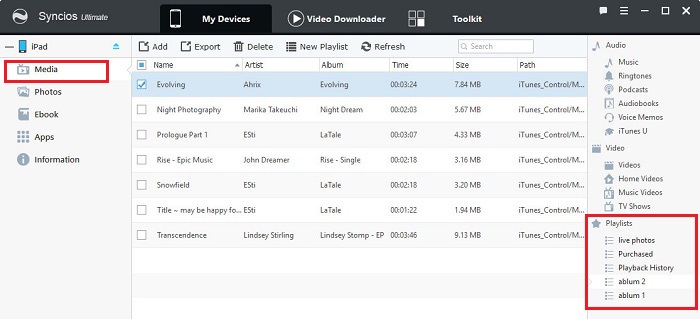 You can try a free iPhone manager tool - Syncios Mobile Manager to backup your iPhone photos/video/music to computer for free. So that you can delete them from your iPhone to get more available storage for installing iOS 14. Once your photos have copied to your cloud service, then you can easily delete them from your device.
3. Clean up iPhone Messages
The messaging app like iMessage and WhatsApp, which may received and saved a bunch of photos, GIFs, audio messages, or videos on your iPhone that takes up much space, so you can to clear these files to free up your iPhone space.
For iMessage, you can simply clear the conversations on message app. Besides, your iPhone keeps all of the text messages you sent and received forever by default, basically, we don't need to store all of the messages forever, simply change the settings to prevent it from keeping messages forever in order that we don't have to clear the messages manually. Go to Settings > Messages. Scroll down to find Message History and tap Keep Messages, then change Forever to your preferable option.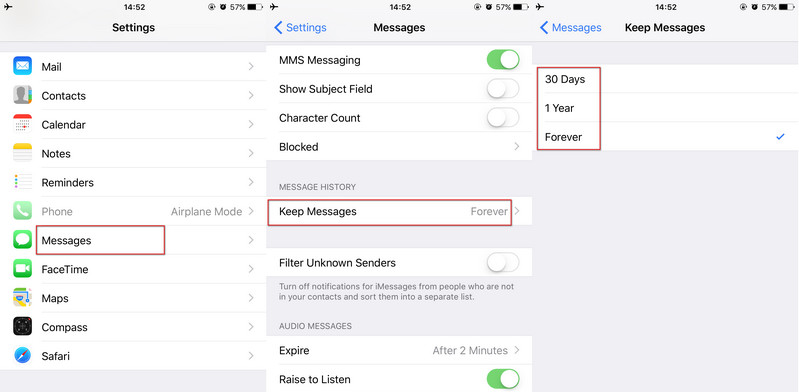 For WhatsApp, go to Settings > Data and Storage Usage > Storage Usage , you can check the storage usage of each conversation, then tap it to clear the unwanted chat history. Also, you can backup your chat history to iCloud drive to free up your iPhone space.
4. Clear Safari Data (Histories, Caches, Cookies)
Safari data isn't something you collect on your phone, but it's the system that tracks your cloud activities. Your passwords, browser/downloading history, and file cookies consume a fraction of your space. You can free your phone from this cache by opening general settings. Below is how you can do that.
Open Settings on your iPhone.
Scroll down to the Safari option.
Select Clear History and Website Data.
5. Update iOS 14 with iTunes
The final recommended solution is to get help with iTunes. Simple steps are below to update iOS 14/13 with iTunes avoiding insufficient storage. Before the iOS 14/13 upgrade, you have to make sure you have the latest iTunes.
Run iTunes and connect your device to the computer through an USB cable.
Choose the iOS device and under the summary tab click "Update".
Select "Download & Install" to begin the updating process.
---
Conclusion
This article gives you some great options to free up space on your iPhone for iOS 14 updating, and you can simply pick and choose those what works out for you after reading. If you feel it's hard to decide what to delete and what to keep, try Syncios iOS Eraser for a quick scan. It will show you the junk files and large files on your iPhone which could be the first choice to delete. Once you free up enough storage on your iPhone, you can easily update to iOS 14 without seeing "Not enough storage" message again.
What's next? Download Syncios iOS Eraser now!