How to Clear Instagram Cache on iPhone
When checking your iPhone usage details, you may notice that certain apps, like Instagram, Pinterest and Facebook, are hogging up a bunch of memory on your iPhone. This is because apps like Instagram will accumulate cache data (such as photos and videos) and stores them on the device every time you use the app. Your Instagram cache makes viewing posts quicker, but it can also take up space to the point that it may eventually eat up large storage space and slow down your iPhone.
To help you out, this article will list 2 free ways for you to clear Instagram app caches from iPhone.
---
Method 1: Directly Clear Instagram App Cache on iPhone
The first method, you can directly go to the Settings of Instagram App to clear the cache to free more space for your iPhone. Here is the detailed procedure of clearing Instagram cache.
1. Steps to Clear Instagram Search History from Instagram App
Step 1 Launch Instagram app on your iPhone.
Step 2 Click on the Profile icon at the bottom.
Step 3 Now click on Settings icon at the top right corner.
Step 4 Tap Security, find the "Clear Search History" and click on it.
Step 5 Tap Clear All > Clear All.
2. Steps to Clear Instagram Cache from iPhone Settings App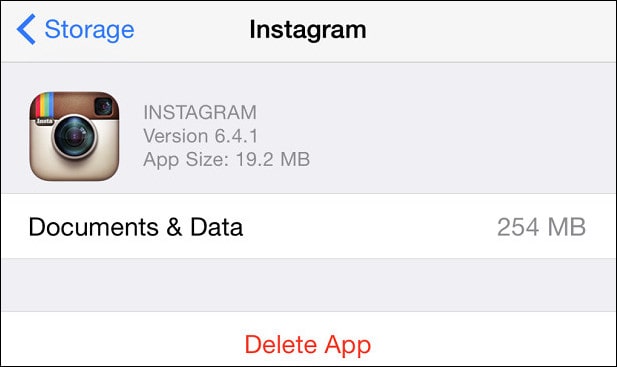 Step 1 Unlock your iPhone and open Settings app.
Step 2 Go to "General" > "iPhone Storage" > "Instagram".
Step 3 Tap on "Delete App" option to uninstall Instagram from your iPhone.
Step 4 Install Instagram from iTunes App Store onto your iPhone after Instagram has been removed from your iPhone.
Once you redownload and install Instagram again, you'll need to log back into the Instagram account. The caches will be deleted and the total size of the app will be reduced, you can confirm that manually if desired by returning to Settings "Storage" section and finding the Instagram app again.
Note
However, if you want to increase the whole performance and speed up iPhone, it is not enough to clean only Instagram caches, you need to clean up all caches from all other apps. With these manual ways to clean iPhone caches from every app one by one, that should be a lot of work to clean iPhone caches. So you can turn to the advance way to clear Instagram caches with the other app caches together with ease.
---
Method 2: One Click to Clear All Instagram Cache on iPhone with Syncios iOS Eraser
Not only Instagram, but also other third-party apps consume more storage space than it should. To clear all these cached files, we highly recommend you use Syncios iOS Eraser to clear all cached files (including Instagram caches) on your iPhone. With the help of this iOS data eraser, YOU can deeply analyze your iPhone and clean up all cache data on your on iPhone with only 1 click.
Key Features of Syncios iOS Eraser:
Five cleanup modes: Free up space; Erase all data; Erase deleted files; Erase private data; Erase private fragments – to delete data securely and permanently according to your need.
Preview data and select the exact files that you want to erase, so avoid erasing important data.
Completely erase data without a chance of recovery even with most modern recovery software.
Previously deleted files can also be found out and the program will permanently erase them for privacy protection.
Steps to clear up Instagram caches on iPhone
Step 1 Launch Syncios iOS Data Eraser and connect your iPhone to your computer.
And please remember to turn off Find My iPhone first if you want to permanently wipe your iPhone data.
Step 2 Once your device is connected, Syncios displays the panel interface of Free Up Space by default. There are 6 categories "Junk files", "Temp Files", "Camera Roll", "Photo Library", "Large Files and Apps".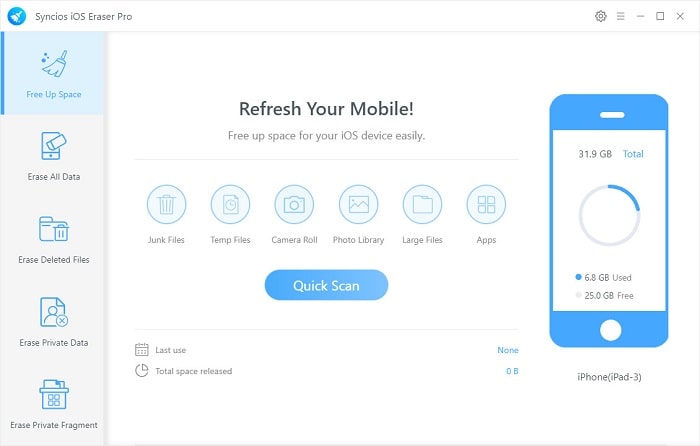 Step 3 Click on Quick Scan button to analyze and scan your device.
The scan will take few seconds for first time. When it finished, you will see a result list of scan. It shows the spaces taken by Junk files, Temporary File, etc.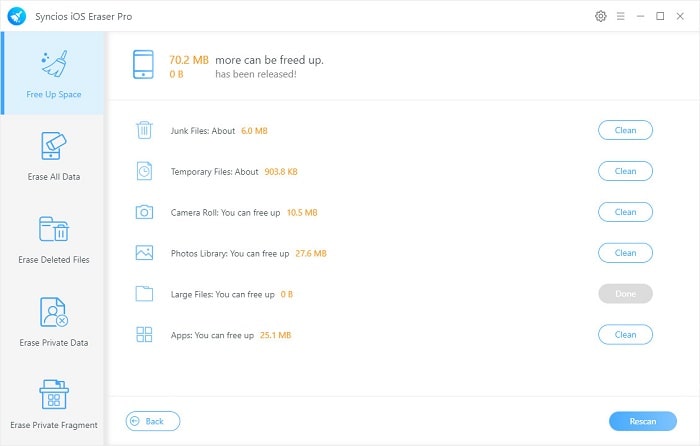 Step 4 To clear Instagram cache on iPhone, click the Clean button beside Junk Files and Temporary Files. It will automatically clean up all Instagram app cache and free up your iPhone space.
Note: If you want to completely erase fragments of files on Instagram, you can choose the "Erase Private Fragments" from the left-side menu.
Completely Erase Instagram Fragment on iPhone
Step 1 Firstly, run Syncios iOS Eraser and select Erase Private Data mode on the main interface.
Step 2 Following is to link your iOS device to the computer via an appropriate USB cable for a stable connection, and simply click on the blue button Erase.
Step 3 Syncios can smartly detect the private parts for your data security. After you selected the items going to be erased , please hit on the Erase Now and then 1-Click clear out the private records.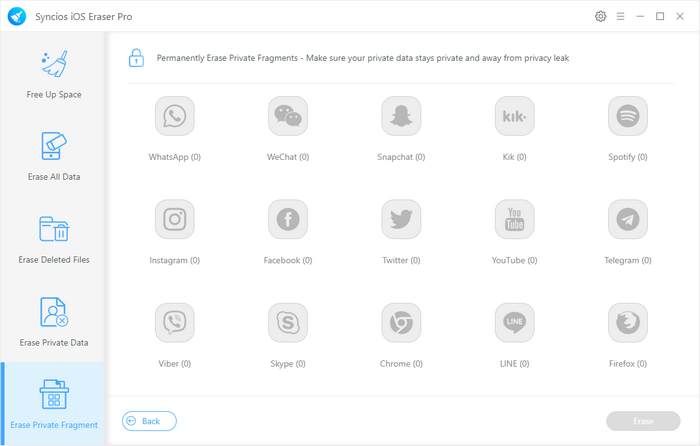 ---
Conclusion
Now you've learned about how to remove Instagram cache from iPhone. Not only the app caches, but there are also many hidden files and ignored app fragments that can contain your personal information. Although you think you've deleted them before, they do exist and require some third-party tools to permanently delete them. There's no doubt that erasing this data is a great way to protect your privacy and improve your iPhone's storage. And Syncios iOS Eraser will help you free up and permanently wipe data from iPhone with 0% recovery rate. By doing this, your personal information and privacy is protected even if you end up selling the device or giving it away.
What's next? Download Syncios iOS Eraser now!
---
Extra Tips: How to Increase Image Resolution Online for Free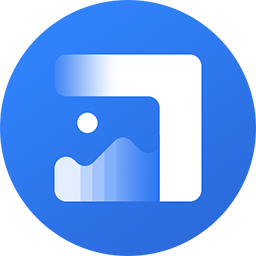 If you have some old low-resolution images, you may know that it is tricky to increase image resolution without losing quality. Because not everyone knows the editing skills and prefers to purchase a piece of professional photo editing software like Adobe Photoshop. Fortunately, AI technology can help you solve this problem. Just keep reading and get how to increase image resolution online for free using AVCLabs AI Image Enhancement without any editing skills.