Switch from Huawei to iPhone 7/7 Plus
iPhone 7, probably the most anticipated smartphone of the year, finally joined the 2016 smartphone race after a long wait. The iPhone 7 is not expected to see any major design tweaks, and is tipped to look similar to the iPhone 6s and iPhone 6s Plus, a departure from Apple's traditional tick-tock cycle. Apple is expected to keep the same price points as previous generations for the iPhone 7 and iPhone 7 Plus, with of course a large premium for the top-end 256GB variant. The next iPhone is expected to feature camera improvements in both models, with the smaller 4.7-inch offering tipped to get optical image stabilization, and the larger 5.5-inch offering tipped to sport a dual camera setup. The Cupertino giant is expected to use a new Apple A10 SoC to power both devices, with the company also rumored to bump up the memory alongside to 3GB of RAM.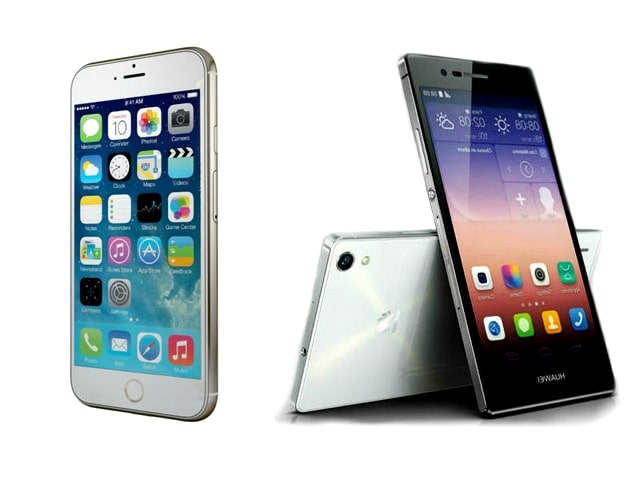 The biggest problem when you get a new phone must be how to transfer exactly all your old phone data to the new one. Now please follow this article to backup all your old Huawei phone P9/P8/Mate 8/Honor 8/Nexus 6P to your new iPhone 7 or iPhone 7 Plus without data loss.
Part 1. How to Transfer Data from Huawei Phone to iPhone 7 via Wi-Fi?
The Move to iOS app can help you transfer your old Huawei phone data to your new iPhone 7 with ease once you have great wireless Internet and some essential technical knowledge. With just a few steps, you can migrate your Contacts, Mail accounts, Message history, Calendars, Camera photos and videos, Free apps and Web bookmarks from your Huawei phone with the Move to iOS app.
Step 1 Download the Move to iOS app on your Huawei device.
Start by downloading Move to iOS from any Android app store. The app is supported on all phones and tablets running Android 4.0 and later.
Step 2Transfer your content easily and safely over Wi-Fi.
On your Huawei device, open the Move to iOS app and tap Continue. Read the terms and conditions that appear. Tap Agree to continue, then tap Next in the top-right corner of the Find Your Code screen. When you choose to migrate your data, your new iPhone 7 or 7 Plus will create a private Wi-Fi network and find your nearby Android device running Move to iOS.
Note: While setting up your new iOS device, look for the Apps & Data screen. Then tap Move Data from Android. If you've already finished setup, you'll have to erase your iOS device and start over. If you don't want to erase, just transfer your content manually.
Step 3Wait for a code and use it.
On your iOS device, tap Continue on the screen called Move from Android. Then wait for a ten-digit or six-digit code to appear. If your Huawei device shows an alert that you have a weak Internet connection, you can ignore the alert. Enter the code on your Huawei device. Then wait for the Transfer Data screen to appear.
Step 4Choose your content and wait.
On your Huawei device, select the content that you want to transfer and tap Next. Then leave both devices alone until the loading bar that appears on your iOS device finishes—even if your Huawei phone indicates that the process is complete. The whole transfer can take a while, depending on how much content you're moving.
Here's what gets transferred: contacts, message history, camera photos and videos, web bookmarks, mail accounts, and calendars. Some of your free apps will transfer if they're available on both Google Play and the App Store. After the transfer completes, you can download any free apps that were matched from the App Store. Any matched paid apps will appear in your iTunes Wishlist.
Step 5Get started with your new iPhone 7/7 Plus.
After the loading bar finishes on your iPhone 7, tap Done on your Android device. Then tap Continue on your iPhone 7 and follow the onscreen steps to finish setting it up. Once your content has been transferred, you're ready to get going. iOS will set up your default mail account.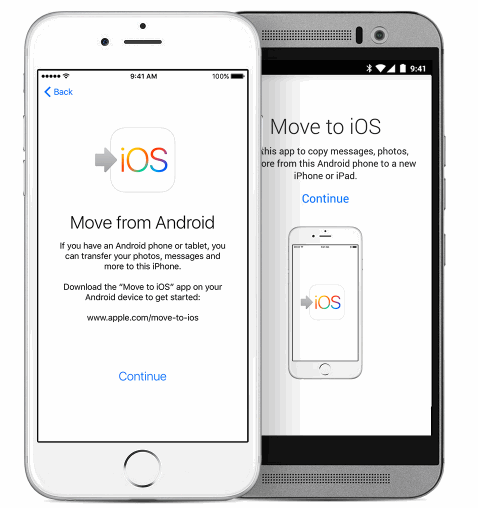 Part 2. How to Transfer Data from Old Huawei Phone to iPhone 7 by One-click?
Syncios Data Transfer
Syncios Data Transfer is a professional iOS & Android synchronizing tool, which enables you to backup or transfer messages, contacts, call logs, music, video, audio and other files between iOS & Android devices and computer with only few clicks or directly phone-to-phone transfer.
Backup phone data and restore in lossless quality.
One click phone to phone transfer.
Recover data from iTunes/iCloud backup to iOS/Android devices.
Multiple brand phones supported: Apple, Samsung, HTC, Sony, MOTOROLA, LG, HUAWEI, ZTE, Xiaomi and more.
Step 1Install and Run Mobile Data Transfer
Connect your both your Huawei phone and iPhone 7/7 Plus to your computer and launch the Syncios Data Transfer (Any detection problem, please check our Android and iOS tutorials). You will see the main screen shows connecting devices is required.
There are 3 modes: Phone to Phone Transfer, Phone to PC Backup, PC to Mobile Restore. Click the "Next" button under Phone to Phone Transfer mode. Then it will display the backup list.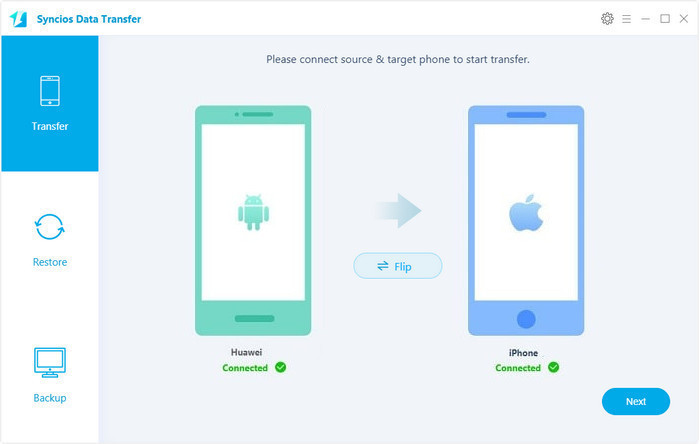 Step 2Transfer Old Huawei Phone Data to iPhone 7/7 Plus
It will be just a second before the program recognize them. Make sure your Huawei phone is on the left side while iPhone 7 or 7 Plus on the right. If not, click "Flip" to exchange the source device and target device.
On the middle panel, check data (contacts, text messages, call logs, photos, music, videos, apps, calendars, bookmarks) to transfer from Huawei to new iPhone 7 or 7 Plus as your will. Press the blue button "Next" and the details will be shown in the interface. After a while, all of content will be saved on your iPhone 7 or 7 Plus.
Note: You can check the supported contents for Android-to-Android-transfer or iOS-to-Android-transfer here.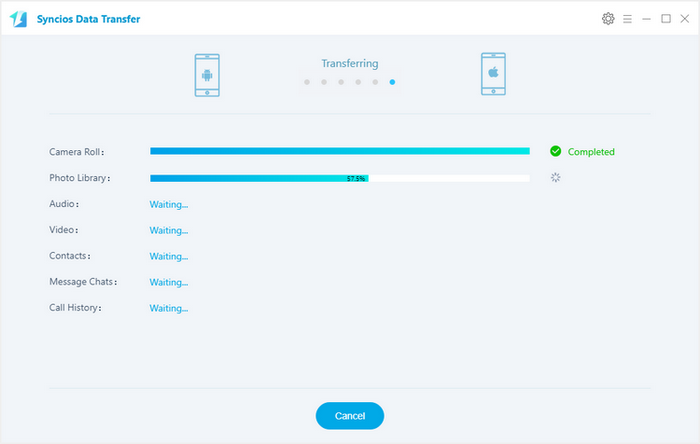 Conclusion:
As described above, two effective methods for you to transfer old Huawei data to iPhone. You can use Move to iOS app. If you have a computer at your side and want a more stable data transfer mode, free download Syncios Data Transfer to transfer Huawei photos, videos, music, contacts and etc.