Top 5 AI Image Upscalers in the Market - All You Need to Know
The digital photography industry has come a long way in the past few years. With improved photo resolution, storage capacity, and camera resolution, taking high-quality photos has become easier than ever before. However, there are always some images from an old film camera with low resolution, or you take some photos with your smartphone but find it hard to resize them at will to fit different websites and different uses, since it may make images fuzzy. Luckily, image upscalers can be of great help. There are plenty of image upscalers available right now, each with its own set of features and pros. This post will go through some of the best image upscalers in the market right now so that you can decide which one(s) are right for you.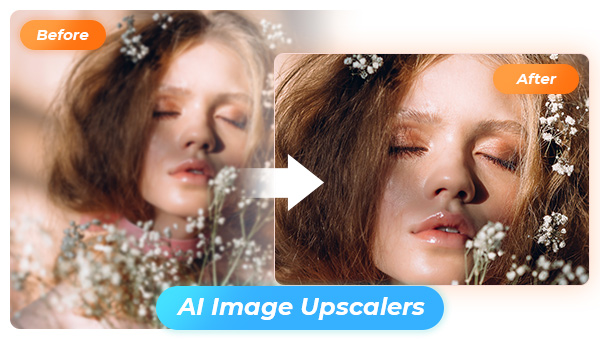 Part 1: What is an Image Upscaler and How it Works?
Brief Introduction to Image Upscaler
An image upscaler is a device or a program that helps stretch and enlarge the image to the desired size without losing the quality. Image upscalers work by analyzing the existing pixels in an image and then using machine learning to generate new pixels that match the pattern of the existing ones. This process can be repeated multiple times to produce an enlarged image that looks realistic and does not suffer from the typical artifacts associated with traditional image enlargement methods.
Classifications of Image Upscalers
There are many types of image upscalers available, which may make it harder for you to choose the best one for your needs. The following are some of the most common types of image upscalers:
Stretching: This is the simplest and most basic type of image upscaler. It stretches your image horizontally or vertically to make your image larger. The main drawback of this method is that it can reduce image quality and result in blurry images if not used carefully.
Upsampling: This method creates new pixels by combining information from multiple pixels in your original image. The quality of your image can suffer if you don't use this method carefully.
Image Blending: This method uses a combination of image data and algorithm to blend in the details of your image. The end result is smooth and seamless with no visible break in the image.
Image Reconstruction: This method is the most advanced type of image upscaler and is used to regenerate an image that is too damaged to be restored using traditional techniques. It also uses algorithms to create new pixels and fill in missing data.
AI-based Upscaler And Enhancer: This method uses artificial intelligence to enhance and upscale your image. It is a recent development in image upscaling technology and is quickly gaining popularity among consumers.
---
Part 2: Why are AI Image Upscalers So Popular Now?
It is the numerous advantages of the AI upscaler that makes it so popular today.
1. Easy to use: They are easy to use and can improve the quality of images in less than a minute. With just a few clicks, you can make your images look their best. All you have to do is upload your image into the device and select the desired models and sizes. Then, press the button and wait a few minutes for the image to get upscaled. There's no need for you to have any experience in image editing or know any special tricks for your images to look better.
2. Excellent results: AI image upscalers can improve the quality of your images by increasing brightness, contrast, and saturation. This makes your images look better. No one will be able to tell that the image was upscaled from a low-quality image.
3. Affordable: AI image upscalers are usually available for a free trial. Even if you need to purchase them, they are super affordable. There are also tons of offers and discounts for them on Black Friday and Cyber Monday.
Now let's check some good AI upscalers.
---
Part 3: Top 5 Best AI-based Image Upscalers Online
1. AVC.AI
AVC.AI deserves the top place on the list because of its unique features. Unlike most upscalers that disperse different functions across multiple pages, AVC.AI packages multiple functions into a single site. It currently has six AI features, namely, Upscale, Face Retouch, Denoise, Remove BG, Colorize and Calibrate. Focus on its Upscale feature, any kind of image, such as landscapes, wildlife, portraits, anime, weddings, night shots, macro photographs, or product pictures, can be increased or upscaled to 2x, 3x, or 4x to create large-screen wallpapers, advertisements, and other images. The output quality will never be reduced regardless of what size you choose to upscale.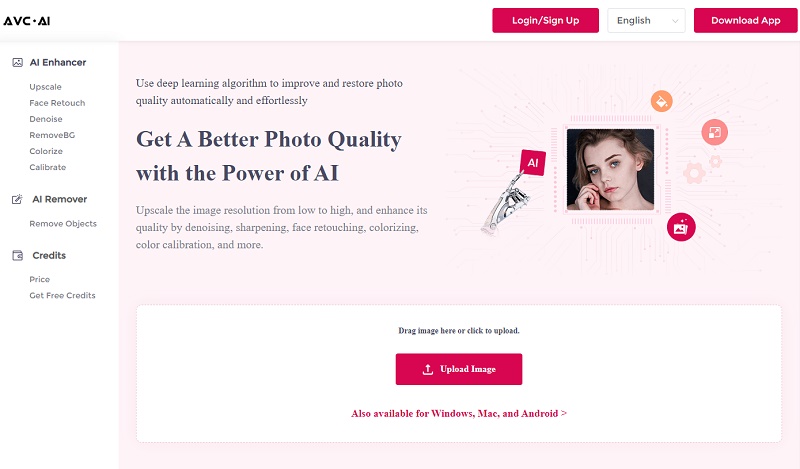 Main Features:
Upscale image resolution from low to high with super-resolution.
Remove noise and artifacts from images.
AI face refinement tool to sharpen and enhance blurry faces.
AI color calibrator to correct the color to make the photo more natural.
Quickly and easily remove the background from any image.
Pros:
Batch processing.
Upscale image up to 4x without losing quality.
Versatile supported image formats: .png, .jpg, .jpeg, .bmp, .jfif, and .webp.
Functions are integrated into one page, no switching is required, and multiple models can be used overlappingly.
Free trial and users can get 60 free credits for following its official social platforms.
Privacy protection. Images uploaded to the website for processing will be automatically deleted 72 hours after the processing is finished to protect privacy.
Cons:
You need to register an account, otherwise, the images processed during the trial will be saved with a watermark.
Compatibility: Online, Windows, Mac, and Android
---
2. VanceAI Image Upscaler
VanceAI Image Upscaler is an AI-powered tool that can help you enlarge images without losing quality. It helps enlarge images online by up to 800% without any quality loss. More scales from 2x, 4x, 6x to 8x are available to upscale images used for printing, eCommerce, presentations, and more.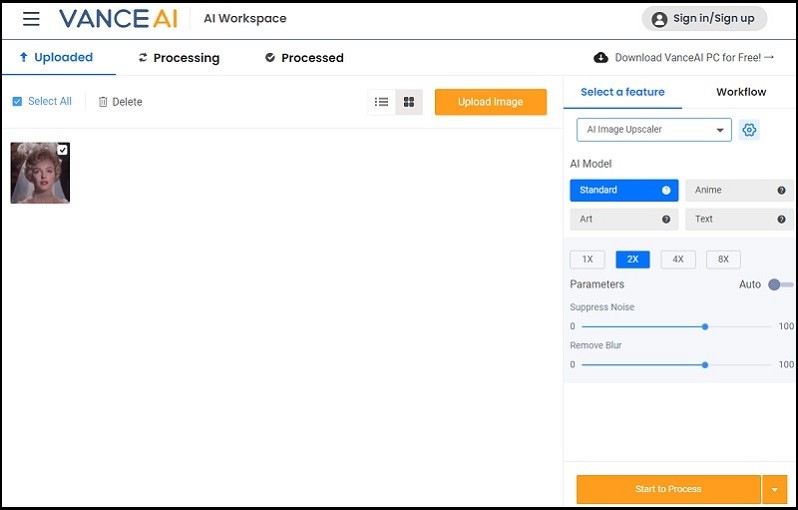 Pros:
Offer 3 images free trial.
Enhance images up to 8x without losing image quality.
Images larger than 2000x2000 or 5 MB are automatically compressed and resized.
Batch processing workplace allows users to experience more features on one page.
Cons:
Limited free use.
Watermark on processed images.
Compatibility: Online, Windows
---
3. Waifu2x
Compared to other AI upscalers, Waifu2x is more suitable for dedicated upscale animated images, since it is an image scaling and denoising algorithm that was originally developed for anime images. It works by first identifying the characters in an image, and then scaling and denoising them separately. This results in much higher quality images than traditional methods. This upscaler supports uploading images from local or typing URL to input online images. The images can be upscaled to 1.6x and 2x.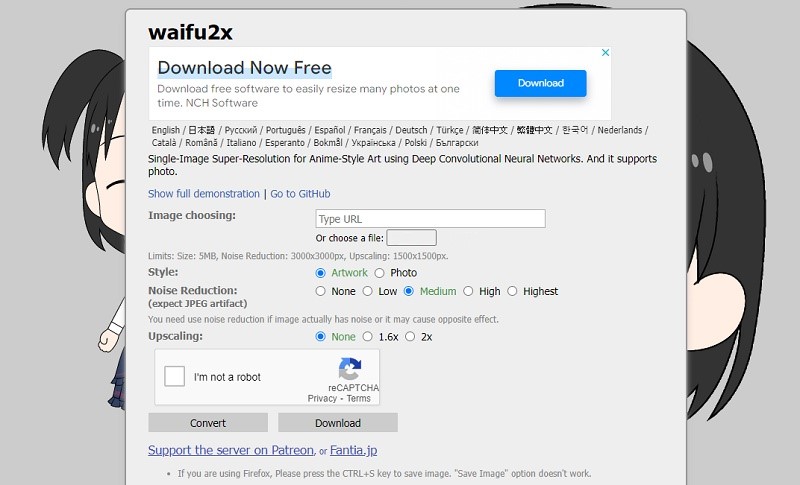 Pros:
Offer 3 images free trial.
Enhance images up to 8x without losing image quality.
Images larger than 2000x2000 or 5 MB are automatically compressed and resized.
The batch processing workplace allows users to experience more features on one page.
Cons:
Limited upscaling scales. It only supports to upscale to 1.6x and 2x.
The main interface is not as clear and refined as other websites.
Compatibility: Online
---
4. ImgUpscaler
ImgUpscaler is a new product and brand from ImgLarger. Powered by the upscaling technology from ImgLarger, it focuses on deep learning and super-resolution technology. Especially, ImgUpscaler will provide a faster and bulk image upscaling process.
Comparing ImgLarger and ImgUpscaler, the focus of the two is not the same, the former has more comprehensive functions, for example, it provides comprehensive AI solutions for photo enhancement, enlargement, background removal, photo to-sketch, and photo to-cartoons. The AI Image Enlarger produces results with higher quality than ImgUpscaler, but more time is required. While the latter, like Waifu2x, focuses on optimizing the upscaling algorithm for anime images.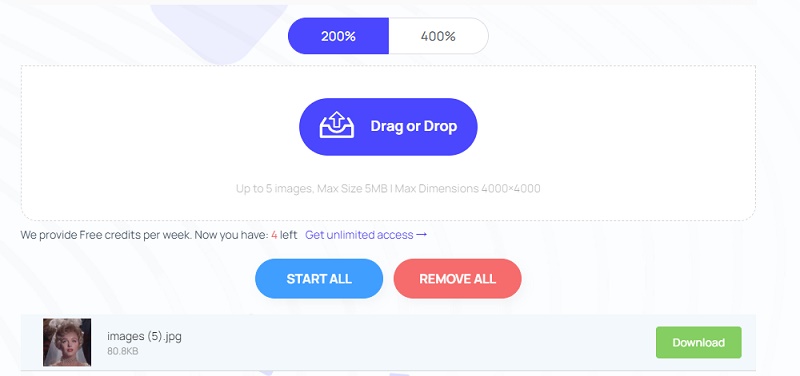 Pros:
Serve as an anime image upscaler.
Provide 5 free credits per week.
Support batch processing.
The processed image has no watermark.
Cons:
The effect is not particularly good when processing portraits and some details will be lost.
Compatibility: Online
---
5. AI Image Enlarger
AI Image Enlarger using the latest Deep Convolutional Neural Networks, bigjpg intelligently reduces noise and serration in images. This allows the images to be enlarged without losing quality. It supports upscale images to 2x, 4x, 8x and even 16x. But the free trial only supports 2x or 4x, if you want to upscale to 8x or16x, you need to pay for an upgrade.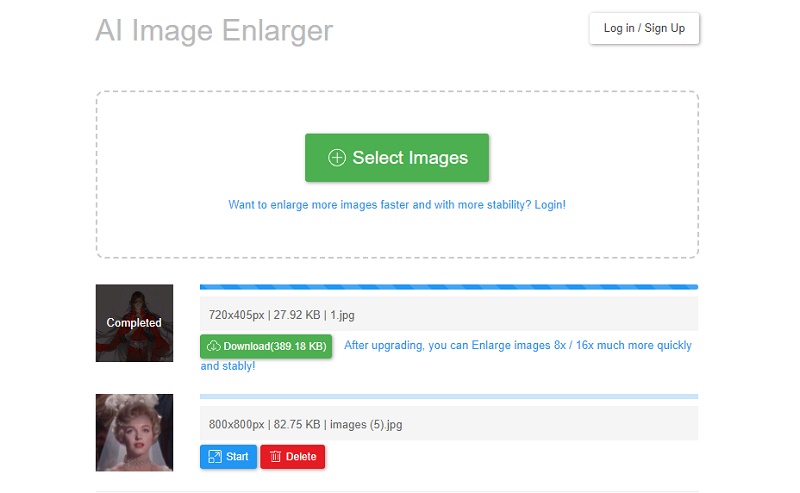 Pros:
Free trial.
Upscale to 16x after paying.
Cons:
The processing speed is slow before the upgrade.
Batch processing is not supported.
Compatibility: Online, Windows, Mac, iOS, Android.
---
Part 4: How to Upscale Image with the Above Online Tools?
The operation steps of the above online AI upscaler are all roughly the same. Next, this article will take AVC.AI as an example to introduce how to use it.
Step 1: Go to the Corresponding Website
Visit AVC.AI with any browser you like. If the website requires login to try it out, just click Login or Sign up to create an account.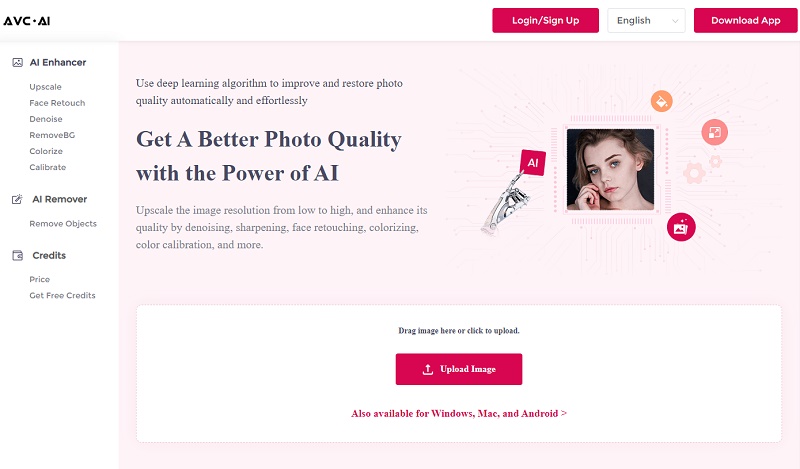 Step 2: Upload Images
There are three methods supported by all the above tools. The first method is to click the Upload button to upload a local image, the second method is to directly drag and drop it, and the third method is to type the URL of the online image into the searching box. AVC.AI currently supports the first two ways to upload photos.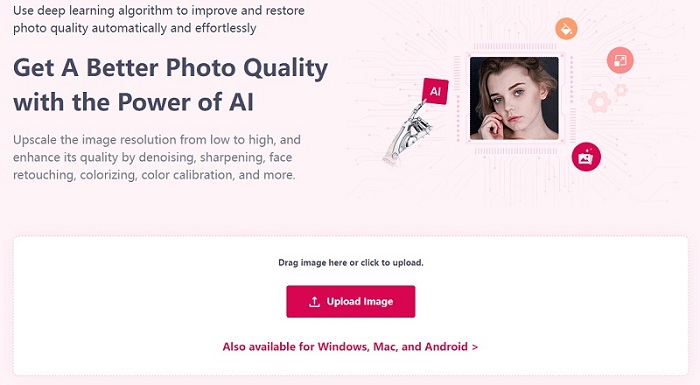 Step 3: Select the Model
AVC.AI has six models. You are allowed to choose one model to process single or multiple images or select multiple models to overlay the effect on the image. When you select Upscale model You can upscale the photo size up to 200%, 300%, or 400% or keep it at 100% original size. Or you can also choose to turn on or off the Face Refinement feature.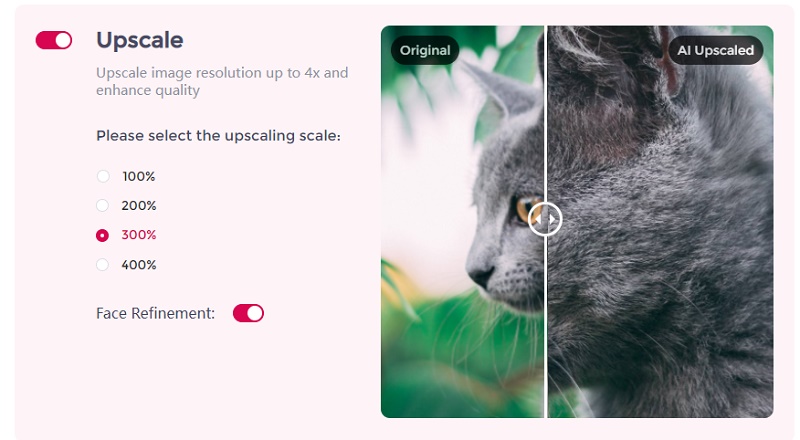 Step 4: Process the Image
Click Start Processing to process the image. When the processing is complete, click the Eye button to preview the final result. If you are satisfied with its effect, you can click Download Image to save it to your local. Please remember to download it in 72 hours, cause the processed photos will be deleted after 72 hours for your privacy.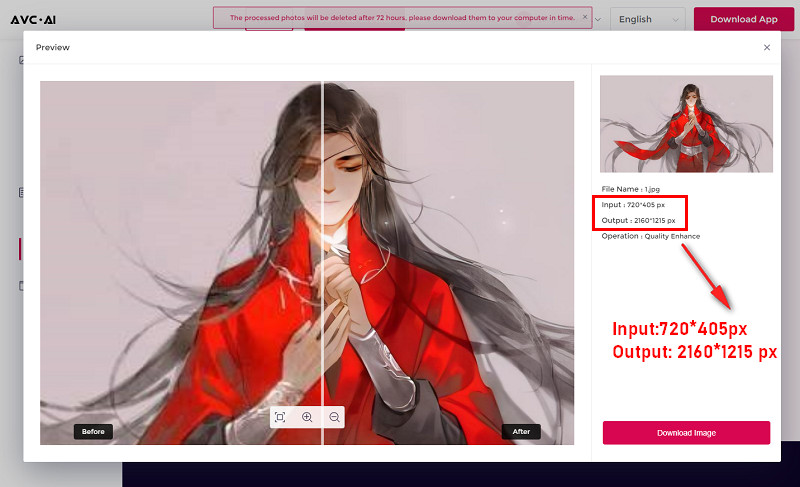 ---
Part 5: Other Miscellaneous Things to Look out for
Compatibility: Before you purchase an image upscaler, make sure that it is compatible with your computer and your image-editing software. Also, check the device requirements so that you know if your computer can run the device.
Image resolution: Before you start using the image upscalers, it is important to know the image resolution of your computer. This will help you decide which image upscaler to purchase.
Supported formats: Some upscalers support a single input format, so you need to pay attention before buying and try to choose one that supports as many input formats as possible.
---
Final Words
By reading the above, you have learned what an image upscaler is, how it works, why AI upscaler is so popular and 5 excellent online AI upscalers recommended for you. The advantages and disadvantages of each of them have been listed in detail, so you can pick one according to your needs. Don't remember to check its compatibility, supported image resolution and formats. Among these 5 online AI image upscalers, AVC.AI performs well in terms of processing results, speed, features and supported formats. If you are still not guided on which one to choose, just try AVC.AI.