How to Track Someone's Kik Messenger Messages
Kik, one of the most popular chatting messaging apps among teenagers, is different from lots of normal instant messenger. It does not require to register your phone number, while most of the instant messengers use a valid mobile number to send a verification text message or call, that's why it had some dangers to kids. The major part of Kik users are teenagers and it may be harmful to their children's life. Are you looking for the fastest and easiest way to track someone's Kik messenger? Well, you will learn how to do that and more in this article.
Why You Need to Track on someone's Kik Messenger Activities
Kik would pose a threat to underage children as there they may come across cyberbullying, online predators, scammers, etc. Kik Messenger tracker should be what you need now. It gives you ability to monitor your kid's texts and prevent your kids from the communication with online predators, cyberbullies, and other abusers who can harm your kid by having access to your kids` Kik messenger.
Track on Your Loved Ones' Kik Account
Young kids do not always think about the danger. If you are a concern parent, you know that anonymously IM chat is the source of many online predators. Therefore it is normal that you wanna track on your kid Kik account and see if there is some danger for him. Also, it is the dangerous period because your loved spouse usually do not tell you the truth. In many cases, they are lying to you and do opposite actions.
Employers Kik Messenger Tracking
The other reason for someone's Kik account tracking is to be sure of the employees' loyalty. Many business owners have problems with critical data leeks and also less productivity. That is the good reason to start monitor someone cell phone usage and make sure that this situation will not happen.
Track on Kik Messages via PanSpy
PanSpy is an advanced and professional mobile phone monitoring and tracking tool that is fully compatible with iOS and Android devices. It allows parents to monitor text messages, calls, current GPS location, Snapchat, WhatsApp and much more. Most importantly, it runs in complete stealth mode.
Using this Kik messages spying tool, you are able to:
1. Look through all messages. Remotely monitor all incoming and outgoing texts in Kik messenger.
2. Monitor timestamps. View time and date of every Kik message, as well as whether the message was sent or received.
Here are three steps to track Kik messages on the monitored device:
Step 1. Create a PanSpy account. Use an authentic email to sign up a PanSpy account. Then you can receive the login credentials and download link.
Step 2. Install and setup procedure. After successfully create a PanSpy account, you should follow the guide to finish the installation. Don't forget to authorize necessary permission on your phone. If needed, the app can run in stealthy mode by manually deleting the app icon from the phone screen.
Step 3. Start to track. Now, to start Kik messages spying and view the other activities, you need to back to your computer or device, then log in to your Control Panel.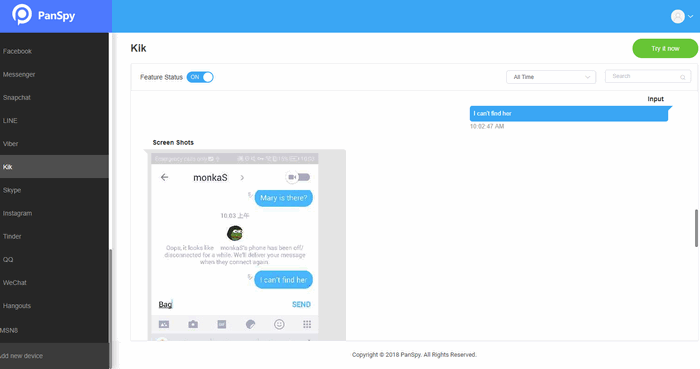 They Are Also Downloading
PanSpy Mobile Phone Monitor
PanSpy is a professional monitoring solution provider specializing in tracking and monitoring tools for smartphone users.
Track Cell Phone Activity: Call logs, Messages, E-mails, Document, Calendar, Photo, Video, Apps and more
Track Current Location: GPS, Geofencing, WiFi logger
Monitor Social Apps: WhatsApp, Skype, Facebook, Instagram, Snapchat, Line, Kik, Tinder, Hangouts and more
Remote Control: App blocker, Schedule restriction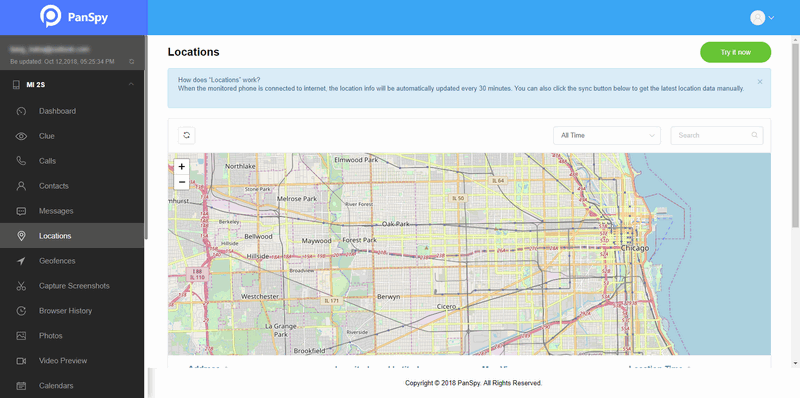 Conclusion:
In this article, we share with you the quickest and simplest way to track someone's Kik messenger. If you want to know if your child chat with strangers online or receive and sent any harmful messages, get
PanSpy
for help now! Get every little thing of both messages, contacts, call history and main social apps.