How to Transfer Everything from iPhone to OnePlus 8/8 Pro

"Hi there, my iPhone 8 has been used for years, and I decided to buy newly-launched OnePlus 8 Pro. That's great! But the only thing that worries me is can I move everything from old phone to the new one, especially my photos and uh, my messages. Many thanks."
Did you watch OnePlus 8 series launch event live video? This time, OnePlus 8 and OnePlus 8 Pro will differ a lot. For example, its super fast 120 Hz display and 30w wireless charging. OnePlus always concentrates more on innovation, and it hogs the limelight by high performance price ratio. That's why many iPhone users switch to OnePlus. But after changing a new OnePlus 8/8 Pro, transfer files might takes some time and effort. Luckily, there're many useful tools can help us transfer data from iPhone to OnePlus with ease. Let's see how they work.
Method 1. Transfer Data Directly from iPhone to OnePlus 8/8 Pro
Android and iOS are two different system, we're always having troubles sharing data between them. Are you still seeking for an effective way to move everything from iPhone to Android? Actually, there're many this kind of software in the market, and after texting and comparing, Syncios Data Transfer is the best bet among them, since it's really the good choice for cross-platform data transfer. You can free to transfer your iPhone music, videos, contacts, messages, photos and etc. to your new OnePlus 8/8 Pro, and you should follow the steps:
Step 1Download and install Syncios Data Transfer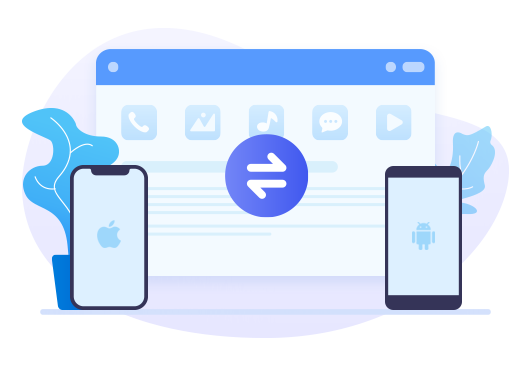 Tool Required: Syncios Data Transfer
Syncios Data Transfer — One Click Phone to Phone Transfer on Windows or Mac
Data backup and retrieve in lossless quality by one-click.
Transfer contacts, messages, music, photos, videos and more from phone to phone
Recover iTunes/iCloud Data to iOS or Android devices.
Step 2Connect your OnePlus 8/8 Pro to computer
Connect your OnePlus 8/8 Pro to the computer, and to connect the phone smoothly, you should keep unlocking your phone during the whole process and set up some important permissions.
If the OnePlus 8/8 Pro still fails to be detected, please read this tutorial.
Step 3Tap on Transfer module
'Transfer' module enables us to transfer types of phone files, like contacts, videos, SMS, photos, call logs, music, calendars and etc. from iOS devices to Android phones or vice versa. Therefore, just stay in default module. After mobile phones being scanned completely, your phone icons will show on the main interface. You're supposed to make sure your source iDevice is in the left-hand side, while your target new OnePlus 8/8 Pro should be on the right. If the position is incorrect, simply press on the 'Flip' icon to reserve. Then, tap on 'Next' option to continue.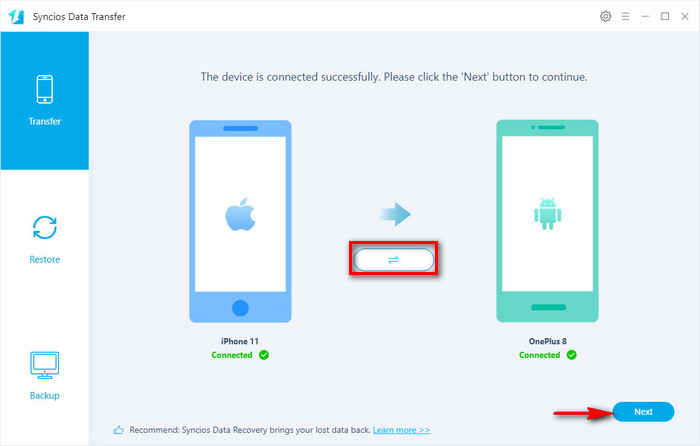 Step 4Transfer All Data to OnePlus 8/8 Pro
To transfer all available types of data to OnePlus 8/8 Pro, directly click on 'Next' to load these data, since 'Select All' is a default option. After that, click on 'Next' > 'OK' option to start transferring. If you have a plenty of data to transfer, it might takes time, so don't lock your phone or disconnect them until complete.
Note: To transfer messages (or other types of data) from iPhone to OnePlus 8/8 Pro, you will receive a prompt to ask you to set Syncios app as your default SMS app, just follow the guide and please reset assured that you can change it back later.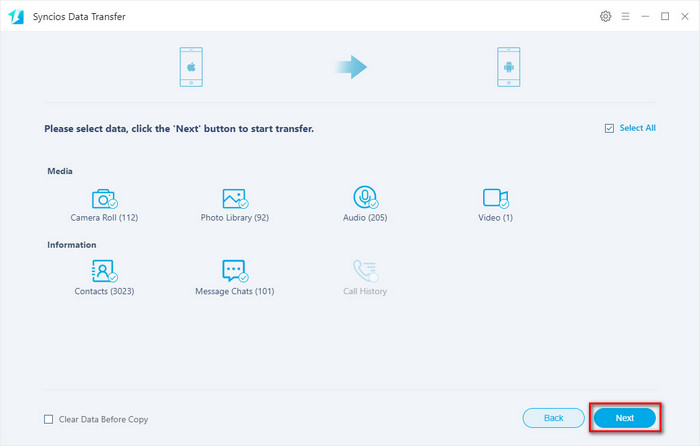 Method 2. Transfer Data from iTunes/iCloud to OnePlus 8/8 Pro
Except for transferring data from phone to phone, Syncios Data Transfer also enables us to restore iPhone data to Android from iTunes or iCloud. If your iPhone has been broken, or your wanted data have been deleted from phone, or you've sold your old iPhone, try this method!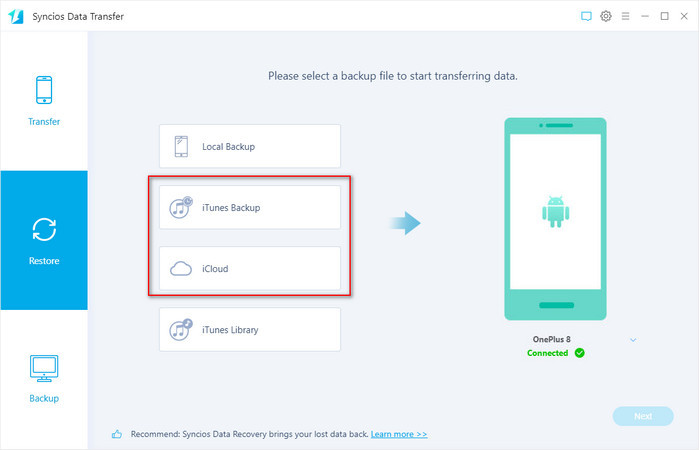 Step 1Restore iTunes Backup Files to OnePlus 8/8 Pro
First of all, go to 'Restore' module, and click on 'iTunes Backup'. As you can see, all available iTunes backup files will be automatically loaded in the pop-up window. Choose one desired backup file. Now, click on 'Next' button to continue. Check the types of data that you want to transfer. Tap on 'Next' > 'OK' to begin the process of transfer.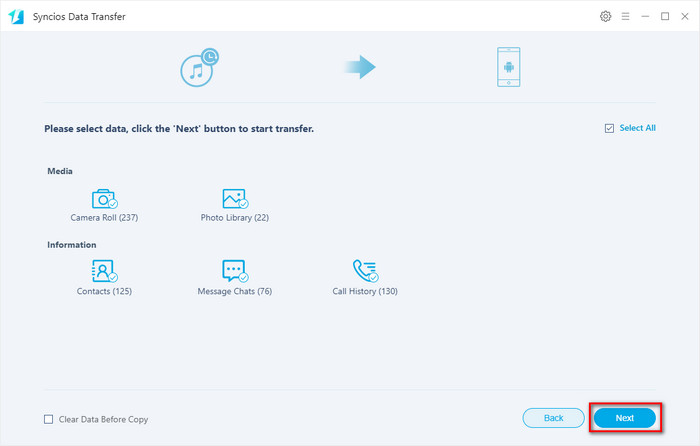 Step 2Restore iCloud Data to OnePlus 8/8 Pro
Click on 'Back' button to last interface and then tap 'iCloud' option. You will be asked to sign in your iCloud account. The categories Camera Roll, Contacts and Calendar are allowed to transfer to an OnePlus 8 phone. Tick off the types of data you're going to transfer, tap on 'Next' button to start transferring.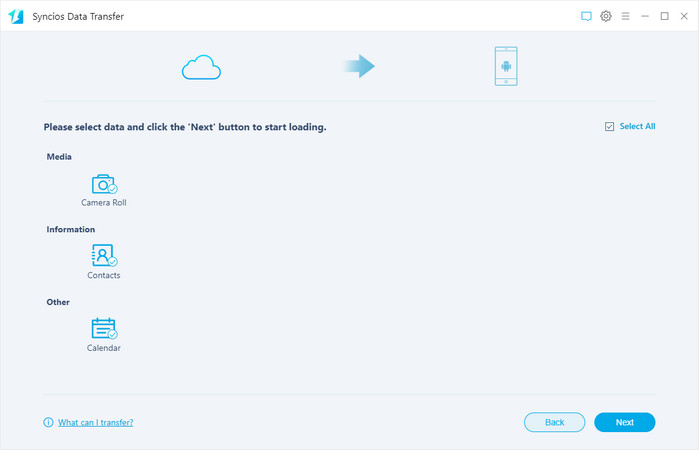 What to Do if Can't login iCloud?
1. Scrupulously check your Apple ID and password is correct or not.
2. Update your iOS to its latest version. If you have done, then a reboot can fix the problem.
3. Your Apple ID was locked when you used it on other sites or programs. You can reset new password to unlock it and please rest assured that Syncios programs would never do any harm to your personal data.
Method 3. Transfer Data from iPhone to OnePlus 8/8 Pro with OnePlus Switch
If you want to use app service launched by OnePlus, you can use OnePlus Switch.
Step 1Download OnePlus Switch on Phones
Download OnePlus Switch Android version to OnePlus and iOS version to iPhone, and the most important thing is that you should approve some permissions requested by the app.
Step 1Choose Data to Transfer
iPhone: Open the App, you will two options: 'I am New Phone' and 'I am Old Phone'. Choose 'I am Old Phone' option, and then go to New Backup >> Scan the QR code on the new device >> Start.
OnePlus 8/8 Pro: Open the app on your OnePlus, tap on 'I am New Phone' option. Select your device type as OnePlus, and then scan the QR code below with your old device.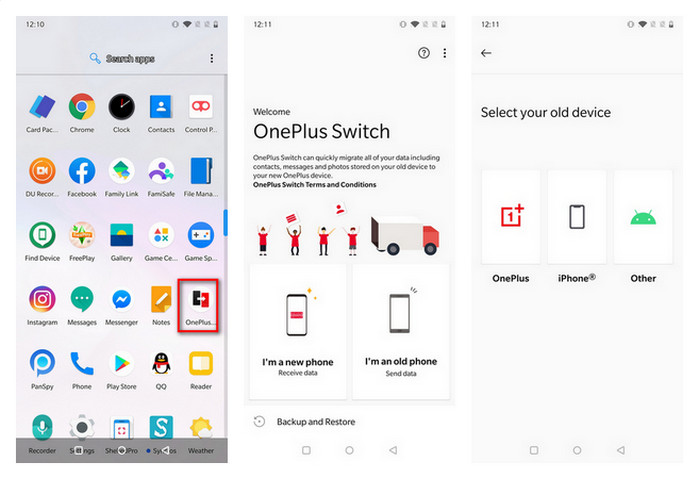 Conclusion
Now you know how to transfer data from iPhone to OnePlus 8/8 Pro via powerful Syncios Data Transfer now. 'Transfer' module let you seamlessly transfer data between iPhone and OnePlus 8/8 Pro in one click, while 'Restore' module allows you to transfer data from iTunes/iCloud to OnePlus 8/8 Pro. Also, OnePlus Switch app is available.