How to Transfer Data from Note 8/9/10 to Samsung Galaxy Note 20
Samsung's Note series are always one of the most highly-anticipated phones for the second half of 2020. I believe that as soon as the new model comes into the market, Samsung fans will scramble for trying the new product in the first time. Compared with Samsung Galaxy Note 10 launched in last year. Samsung Galaxy Note 20 has been equipped with the new Snapdragon 865 chipset. What's more, it also make a progress in its battery Capacity, up from 3500 mAh to 4300 mAh.
However, buying a new phone comes with many benefits but neither you nor I can free from the troubles of transferring thing on old mobile phone. More advanced technology on phones also represent more dependence on using them. Many important data are terrible to miss. In the way, users have to spend a lot of time transferring data from Samsung to Samsung. To solve the problem, we have gathered the most effective solutions about how to transfer data from old Samsung (note 8/9/10) to the new Samsung Galaxy Note 20.

Method 1. Transfer Data from Note 8/9/10 to Samsung Galaxy Note 20 Selectively
Finding an effective Android data management tool in the website? Wish to transfer Samsung data to a new Samsung phone selectively? Don't hesitate to choose Syncios Manager, which is a software that specially designed and has continuously promoted by a professional technical team. People will never have to suffer from data loss just because they are changing into a new phone.
To meet different needs, Syncios Manager can support 3000+ types of Android phones, except for Samsung. And all outdated, leading or the latest android models can be supported to be imported or exported files in a more flexible, and also a free way. And the most attractive things is that this phone manager has many useful toolkits, for example, you're allowed to download a video that you like from YouTube for off-line watching. Use our free Syncios Manager now!
Step 1Download and Install Syncios Manager

Syncios Manager

Manage photos, videos, music, contacts, apps and etc. between computer and phones or phone devices.


Free to download and then edit online videos from most-used websites, like YouTube, Facebook and etc.


Make Unique Ringtone for iPhone & Android devices.


One-click backup and restore toolkit supports types of phone data.


Fully compatible with the latest Android OS and iOS system.
Step 2Connect your Samsung Phone to the Computer
The first thing you should do to promise your Samsung can be smoothly connected is that, enable debugging mode on your Samsung Note 8/9/10! If you've done this operation, just skip the part. If not, please go to tap on 'Build number' for several times until you see a prompt that says "Developer mode has been enabled". Click here to find the steps.
Step 3Selectively Choose Data from Old Samsung to Backup
Skimming through the program, we can easily find that you can manage your Samsung Apps, contacts, SMS, Media (music & videos) and Photos. So following we will take SMS as an example. To selectively transfer messages from old Samsung to the Note 20, hit on 'SMS' section. Tap on 'Backup' button from the top toolbar to backup the selected messages.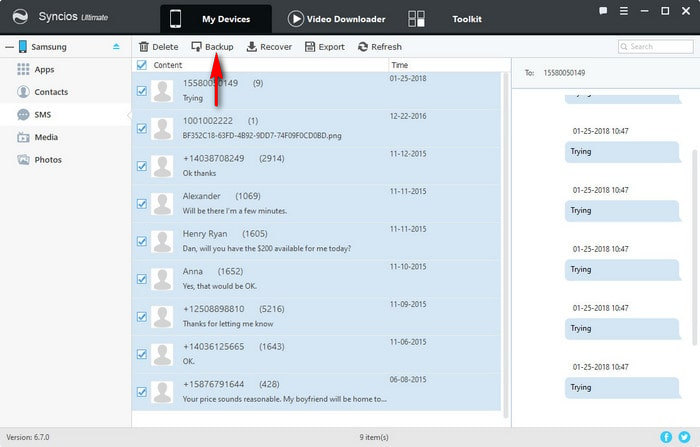 Step 4Recover the Backup Files to Galaxy Note 20
Now, it's time to connect your new Samsung Note 20 to the computer via USB cable. If you only has one cable, disconnect the old one and connect the Note 20. Again, tap on 'SMS' module. Choose Recover button to launch a pop up window this time. You can choose suitable backup file according the date or device name. Select one and click on 'OK' button to transfer these messages to Note 20.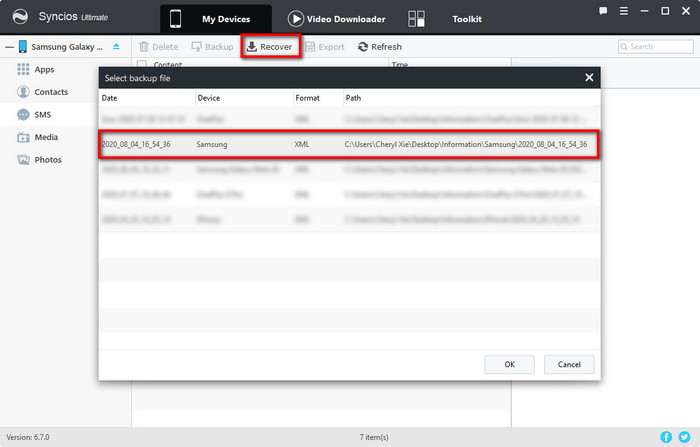 Method 2. Transfer Data from Note 8/9/10 to Samsung Galaxy Note 20 by One-Click
Don't want to singly migrate phone files? Want an effective data transfer solution that can transfer all things by only few clicks, then consider using Syncios Data Transfer. It can support to share data, like photos, music, videos, contacts, text messages, calendar and so on, between unlimited devices, for example, from Android to Android, from iPhone to computer (Win/Mac), from Android to iPhone and vice versa..
More importantly, you can also restore backup files from iTunes/iCloud/local backup files to iPhone/Android with ease. If needed, you're allowed to sync iTunes library to a Samsung or any other Android phone.
Step 1Download and Install Syncios Data Transfer

Syncios Data Transfer

Transfer data from iPhone to Android, Android to iPhone, Android to Android, iPhone to iPhone in 1 Click.


Backup all phone contents to computer in 1 Click, including photos, contacts, SMS, videos, music and etc.


4 Restore Modes: to restore data from iPhone/Android/iTunes/iCloud backup to iOS or Android devices.


Transfer songs or playlists from iTunes Library to an Android phone, iPhone, iPad and iPod touch.


Fully compatible with the latest Android OS and iOS system.
Step 2Three different modules of Syncios Data Transfer.
'Transfer': transfer multiple phone data, including contacts, media files, SMS, photos, call logs, calendars, apps and more between mobile phones.
'Restore': restore data from local/iTunes/iCloud backup files to devices or restore music from iTunes Library to iOS devices & Android.
'Backup': one-click backup everything from phone to computer/laptop.
Connect your Samsung Galaxy Note phones to computer. Two connection ways are available, via USB cable or Wi-Fi. Choose one you like. Then, go to 'Transfer' section. Click 'Next' to the next step.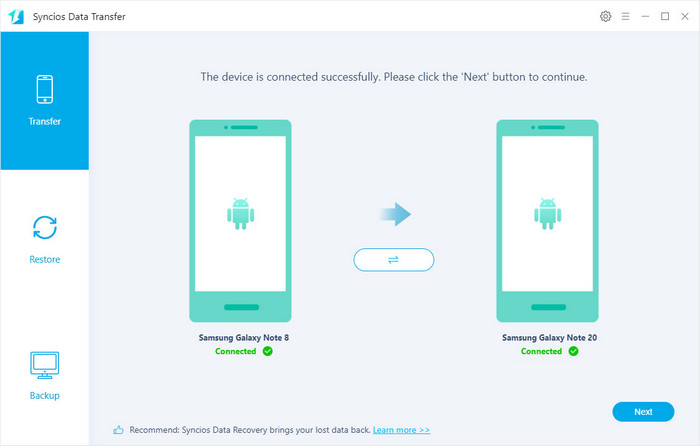 Step 3Select Types of Data to Transfer
◆ To transfer everything: 'Select All' is a default option, so continue to click 'Next' option twice, then click on 'OK' to begin the transfer process.
◆ To transfer certain type of data: Uncheck 'Select All' first, and then check the type of data that you would like to transfer. For example, check 'Camera Roll' and 'Photo Library' to transfer all pictures. And the following steps are the same as occasion above.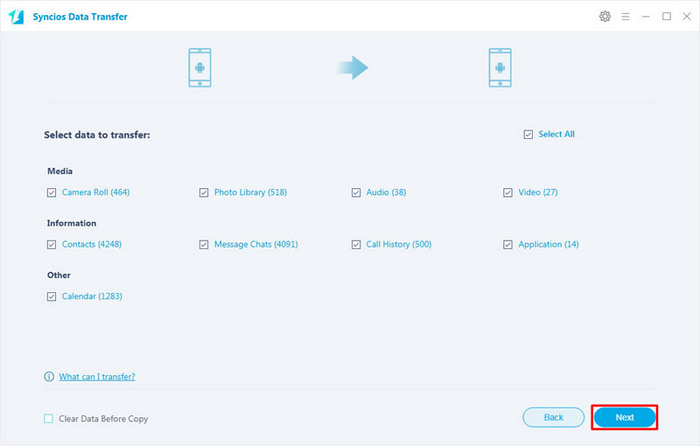 ---
Video Tutorial - Sync Old Samsung Data to Samsung Galaxy Note 20
Method 3. Transfer Data from Note 8/9/10 to Samsung Galaxy Note 20 via Smart Switch
If you don't have a computer in hand, you can choose application, like Smart Switch, which is particularly designed for Samsung phones by Samsung. With it, you can keep what you've collected on original Samsung Galaxy phone all along the way, including your phone messages, videos, photos, contacts and etc. To learn how to transfer data between Samsung with Smart Switch, below is the answer:
Step 1Download the application on two Samsung Galaxy Note phones. Put the phones within 4 inches, then open Smart Switch app on the phones.
Step 2On your old phone, choose 'Send data' option, while on Note 20, hit on 'Receive data' tab. You can choose one connection mode, 'Wireless' or 'Cable'. After selection, click 'Allow' on the old phone. Once it finishes scanning, check contents that you want and then tap on 'Transfer' option to begin the process.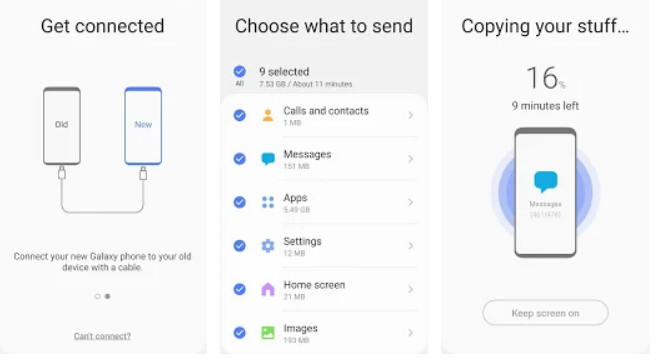 NOTE: If you choose to connect two phones via cable, please ensure you've connected the USB-OTG adapte to the Samsung Galaxy Note 20.
Method 4. Transfer data from Note 8/9/10 to Samsung Galaxy Note 20 Through SHAREit
Except for Samsung official app, there is also another application that you can use to transfer the data between two Samsung Galaxy devices. That's SHAREit, which is a sharing app designed for Android devices to transfer data, including movies, videos, music, wallpapers and gifs from one phone to another one. To know how to transfer data from old Samsung to Samsung Galaxy Note 20 via Shareit, let's follow the steps given below:
Step 1First of all, open a browser or Google Play Store on your phone, type in SHAREit, then download and install the apps to your Samsung phones.
Step 2Open apps on two devices. On the source device, tap on the Send icon (upper-left corner) from the screen and you will enter the 'Select Files' page. Samsung phone data are divided into Files, Videos, Apps, Photos, Music. Select desired data to share with another device.
Step 3Press on the Next button to initiate the transfer process from the source Samsung phone. On the target device, hit the 'Receive' button and the device will be discovered by the Source to receive the chosen data.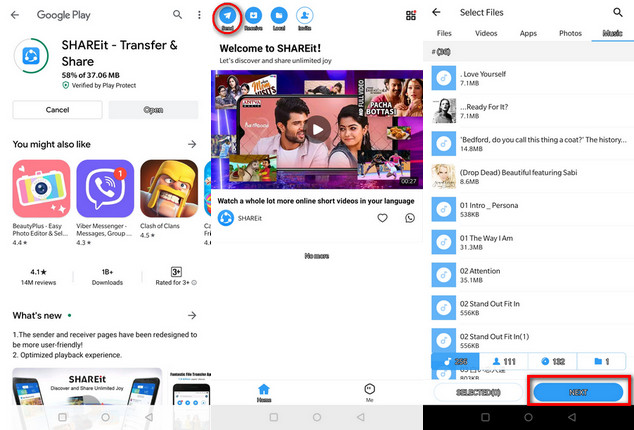 NOTE: The transfer process are easy to be interrupted by some known or unknown factors, please keep the phones nearby.
Conclusion
The method provided above is several helpful ways to transfer data from Samsung Note 8/9/10 to the latest Galaxy Note 20. Free Syncios Manager and Syncios Data Transfer are two dedicated computer programs, one enables us to transfer data in batch, and another one allows us to transfer all files in few clicks. However, Samsung Smart Switch and SHAREit are two applications that designed for wirelessly moving data for Android devices. Take one suitable to you and start moving data now!