How to Transfer WhatsApp Messages from Samsung to Samsung (2021 Best Solution)
Why so many people choose Samsung? Why they decide to update to next generation of Samsung mobile phones instead of changing other brands? There might be many reasons, for its excellent technology, well-designed device, good specifications, reliability and users confidence. Certainly, like other manufacturers, Samsung has its own pros and cons. But when you make up your mind to change anther Samsung phone, the problem comes in. That's how to transfer social app data, like WhatsApp, from old Samsung to the new one.
If you're also one of the loyal user of WhatsApp, read this article. There are effective ways that can help you transfer WhatsApp messages between two Samsung phones with ease.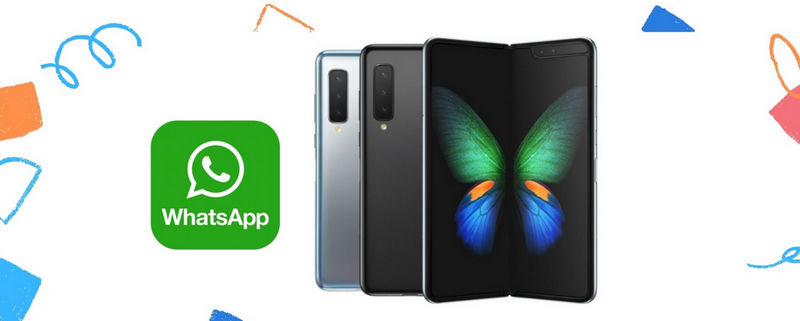 Method 1. Selectively Transfer WhatsApp from Samsung to Samsung
There are various ways of doing this but we Syncios aim to find the simplest one. In this way, Syncios WhatsApp Transfer was released particularly for transferring WhatsApp data between Android devices, iOS devices or finish a cross-platform transfer. More importantly, it allows you to backup smartphones WhatsApp database, including the messages, photos, audios, videos, documents and so on to a Windows computer or a Mac. If needed, the WhatsApp Transfer has a direct entrance for us to browse and print out WhatsApp history.
Read on to learn how to start a selective WhatsApp transfer from Samsung to Samsung.
From Syncios WhatsApp Transfer interface, you can find four sections: Backup WhatsApp, Restore WhatsApp from local backup, Restore WhatsApp from iTunes backup and Transfer WhatsApp between two devices.
Part 1. Backup Old Samsung WhatsApp Messages
Step 1First of all, get one WhatsApp Transfer installed on your computer. In the start-up page, you can easily see 4 sections: Backup WhatsApp, Restore WhatsApp from local backup, Restore WhatsApp from iTunes backup and Transfer WhatsApp between two devices. To transfer WhatsApp messages between two Samsung phones, let's enter Backup WhatsApp module to take a backup in advance.
Step 2Connect the old Samsung (the source phone) to computer via USB cable. Can't get your Samsung connected? Check if you've enabled the debugging mode. If not, please just tap on Build number (under Settings > About phone) several times then go to turn on USB debugging mode. Simply follow the on-screen instructions or refer to here.
After being successfully detected, click Start and Syncios will begin to backup the Samsung.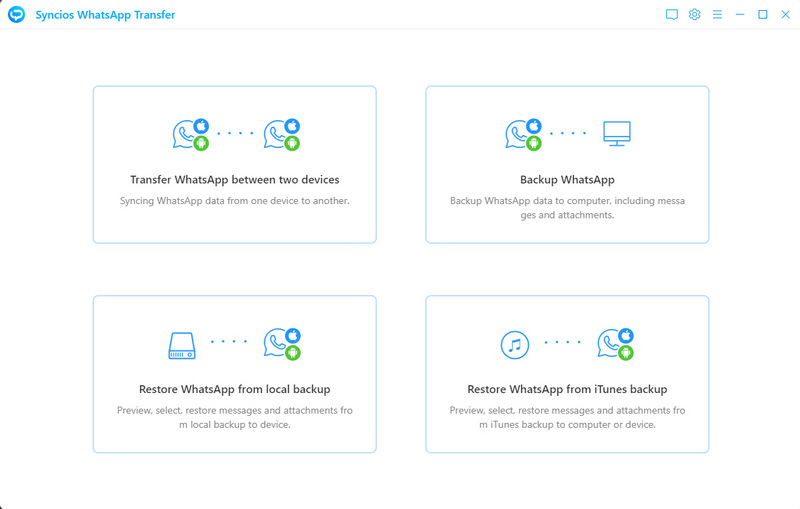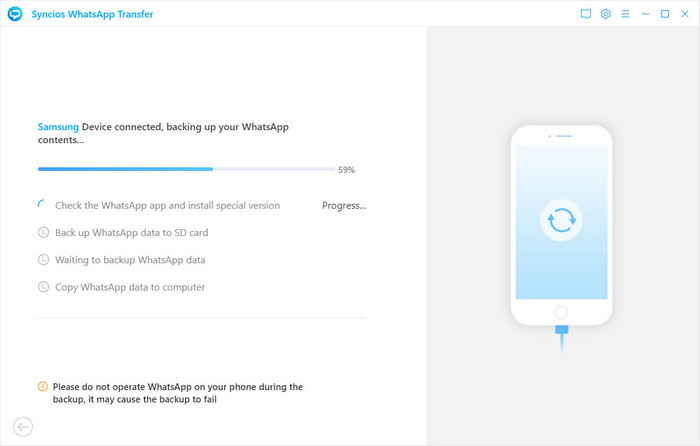 Tips:
📢 Allow Syncios to install a customized version of WhatsApp to your Android.
📢 During the backup process, you will see pop-up window informing you to backup your WhatsApp data in advance. Please open and log into WhatsApp account on source device, then choose Setting > Chats > Backup Chats. What's more, the Back up to Google Drive option should be turned off. Everything is ok, and you can click on Next to continue the process.
📢 Don't operate WhatsApp on your phone during the backup, which might causes the backup to fail.
Part 2. Restore Old Samsung Backup File to New Samsung
Step 3 Click View button or back to interface and enter Restore WhatsApp from local backup module to browse and select a WhatsApp backup file. The list will display all available backup files that you made via Syncios on this computer. Choose one file based on its generated date. Tap Browse.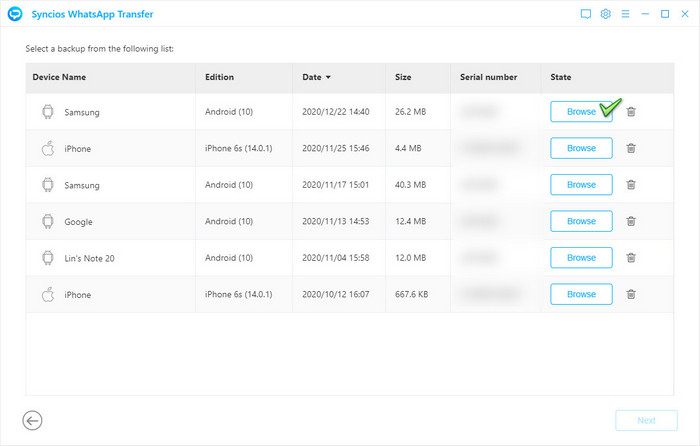 Step 4You're free to view both the incoming and outgoing WhatsApp messages here. Check the group item(s) you want to migrate to the new Samsung. Disconnect your old Samsung and change the new one. Next, tap Recover to device > Recover to start transferring.
NOTE: Please note that the exiting WhatsApp content on your target phone will be wiped out. So we recommend you to backup the current WhatsApp data before transferring by tapping Backup button on the pop-up.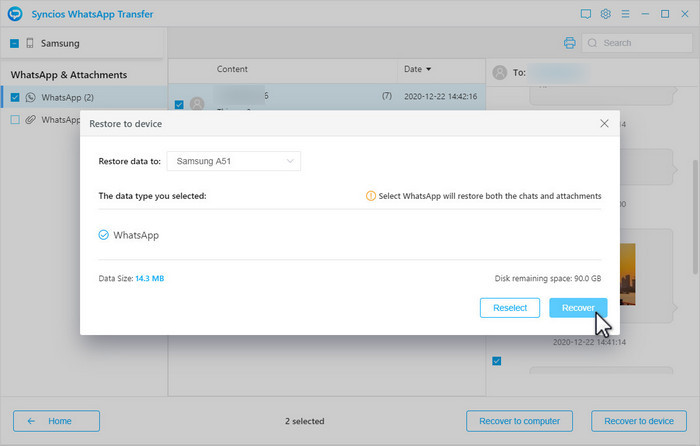 You Can Also Learn From A Video Tutorial:
---
Method 2. Transfer WhatsApp from Samsung to Samsung via Backup
If you really prefer a traditional method to a convenient 3rd party tool. You can also directly move the Samsung WhatsApp messages to your new-purchased Samsung by backing up and then restoring the WhatsApp backup. Refer to the steps below.
Step 1 Unlock your source Samsung to run WhatsApp. Go to tap Menu Button. Click Settings > Chats > Chat Backup > Backup option to create a backup of current WhatsApp data on Samsung device.
Step 2 Install one WhatsApp on your target phone at first. Then, you can begin to transfer the backup file. Normally only two possibilities. If there's an external SD card on your old Samsung, you just need to softly pokes it until the tray pops out, remove it and then put it into the new Samsung device. If only has a SD card or internal memory, then connect both devices to computer via two USB cables and find a folder named as "/sdcardWhatsApp/folder". Copy it and transfer to the new Samsung.
Step 3 When everything is prepared, start WhatsApp on the new device. Setup it according to the screen prompts. You will see a pop-up notifying you that a backup file has been detected. Choose Restore option and that's it.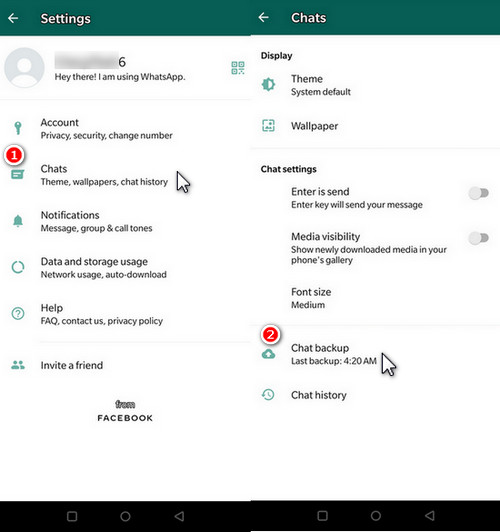 Conclusion
To sum up, Syncios WhatsApp Transfer has made thing less difficult. No matter you're going to transfer WhatsApp data from Samsung to Samsung, Samsung to other brands of Android devices or Samsung to iPhone, Syncios WhatsApp Transfer is always the best choice. With it, you're allowed to take a selective backup or transfer of WhatsApp data. Don't hesitate to install one now!
You May Also Need:
Need a powerful Samsung Manager?
Syncios Mobile Manager is the world's 1st phone manager for Android and iPhone.
Sync contacts, messages, call history, audio, photos, videos and other contents to computer.
Import photos, videos, audios and more media files from computer to iOS/Android devices.
Use your device as an external USB Key for extra convenient storage.
One click backup and restore phone data.