Merge Two WhatsApp Accounts Chats without Overwriting or Verification
Since the launch of WhatsApp, it has changed the way people communicate. Your friends and family members could easily get touch with you or share photos with you via WhatsApp. On this account, when switching to another phone, there should be a better way to merge WhatsApp conversations. If you want to transfer WhatsApp from one device to another device without re-installing WhatsApp on the target device, you are in the right place. Just follow detailed steps below to learn how it works.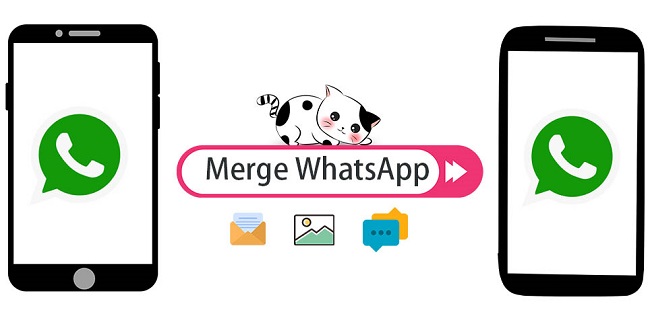 Merge WhatsApp on Two Phones without Linking with the Same Account
You know you could not move WhatsApp conversations directly. It's not an easy or even possible job unless you get help from a professional WhatsApp Transfer tool. One of the most used tool is called Syncios WhatsApp Transfer. It is a professional program regarding WhatsApp backup, restore and transfer. All based requirements regarding WhatsApp are achieved by this program. If you are a WhatsApp user, this is the right app for you.
Why Syncios WhatsApp Transfer is necessary to you:
🚀 1. Directly transfer WhatsApp between two devices.
🚀 2. Backup and Restore WhatsApp data without restrictions.
🚀 3. No need to link with the same WhatsApp account.
🚀 4. Fully compatible with Android and iOS devices.
🚀 5. Export WhatsApp chats to HTML and CSV files.
🚀 6. Preview WhatsApp chats and attachments in detail.
🚀 7. Be able to print WhatsApp chats you select directly.
Step 1: Download and install Syncios WhatsApp Transfer on a Windows PC or MacBook. Do not install the wrong version. When you start this program after the installation, you will not open Syncios WhatsApp Transfer directly. You will open a toolkit in which all Syncios tools are included. As a result, you need to navigate to WhatsApp Transfer and open this tool you will use.
Step 2: Now we are in the main interface of Syncios WhatsApp Transfer. Go to its upper right to locate a setting icon, tap it. Set the backup path in advance in case you want to change later.
Step 3: All preparations are done. To merge WhatsApp of two accounts means that you need to achieve a WhatsApp Transfer between two devices without linking with a same phone number or account. Therefore, just choose Transfer WhatsApp between two devices mode.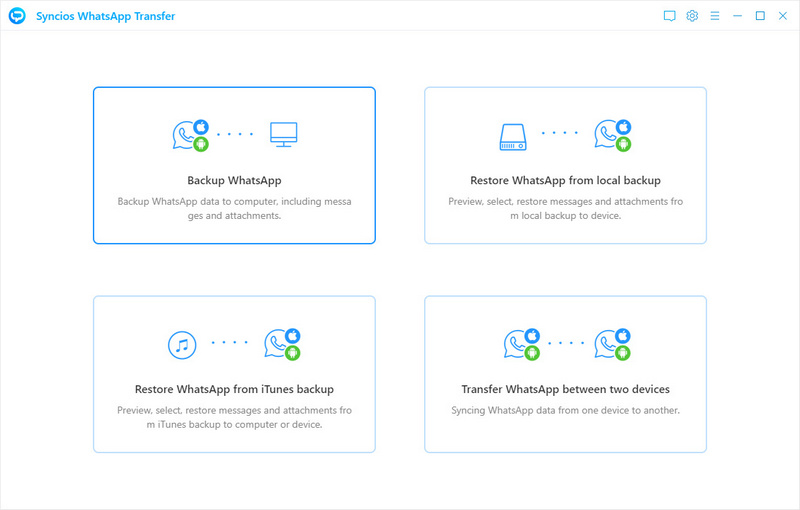 Step 4: Connect both a source device and a target device to computer via USB cables. As soon as you connect two phones, you need to choose Trust if an iOS device is connected and choose Transfer File as connection mode on Android device. Also on Android device, turn on its USB debugging mode.
Step 5: When the phones are connected well, click Backup WhatsApp. Then we can choose the source device and click Start to launch the backup process. Unlock your phone and notice any pop-up prompts. It's easy to follow its on-screen instructions.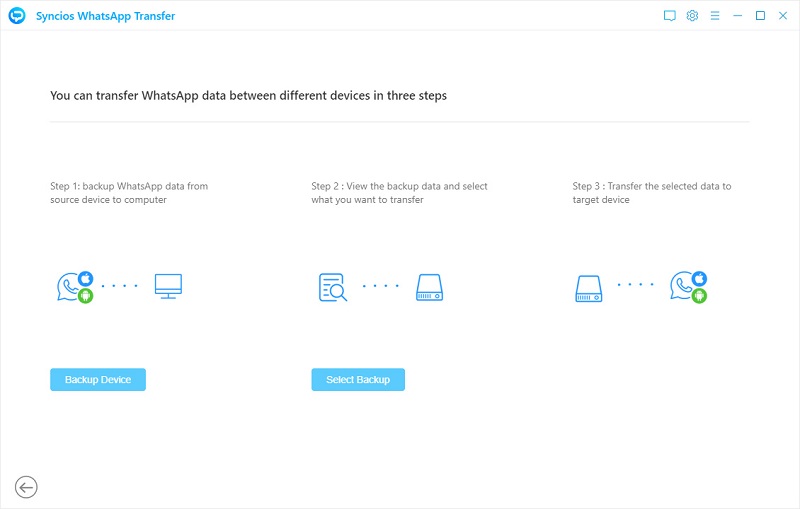 Step 6: Now we just need to restore the WhatsApp backup of the source device to your target device. Two options are provided now:
After a backup is created, you will see a View button. If you need to transfer WhatsApp to your target device right now, click it.
If you want to postpone this transfer, you can close this program now. All backups will be saved on your computer safely. You will not lose them unless you reset your computer and clean all data on it. Next time, when you open this program, just choose Restore WhatsApp from local backup on the main interface.
Two options will lead to a backup list interface. All previous WhatsApp backups created by Syncios are enlisted. Choose the backup you need according to its device name, date and size. Click Browse to start loading all details of WhatsApp data.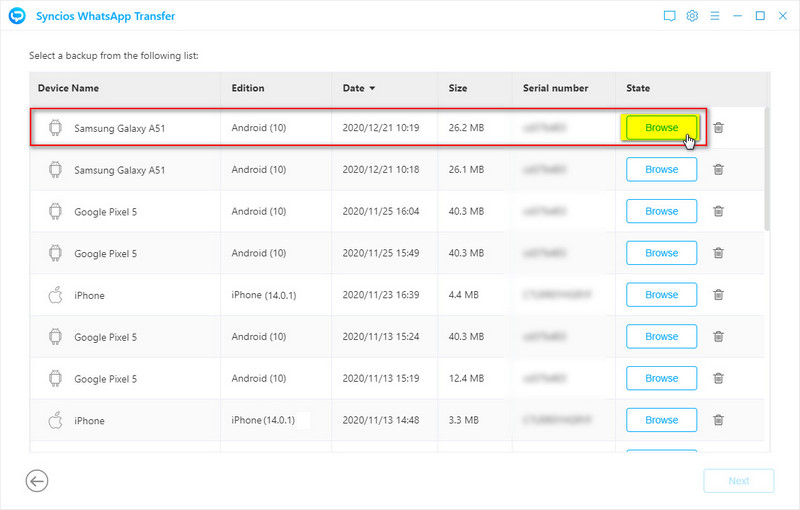 Step 7: Now you will get rights to choose files from WhatsApp Chats and WhatsApp Attachments columns. Choose WhatsApp conversations and attachments you need then tap Recover to Device.
Notes:
The existing data of WhatsApp on the target iOS device will NOT be overwritten even without linking with the same WhatsApp account. All data will be merged into your WhatsApp application on your target iOS device.
But WhatsApp on your Android device will be overwritten by the new updated WhatsApp backup. But still lucky, you can keep various WhatsApp backups on your computer via Syncios in case you lose WhatsApp data accidentally. Besides, the transfer may not be overwritten owing to our constantly updates. You can check by sending email to [email protected]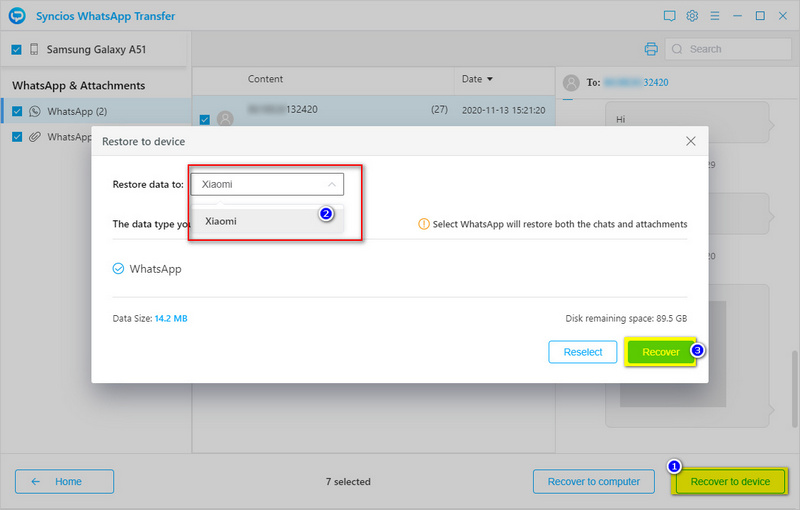 🌞 Extra tips - Print WhatsApp chats:
✩ By the way, if you need to print WhatsApp chats, just select chats then go to upper right. Tap Print to print chats you need. You are allowed to choose a conversation, then on the right panel, selectively tick off chats and sent photos or videos you need then print. That means you don't need to print all chats of certain contact
✩ In addition, you can choose backup your WhatsApp to computer via this tool, then you will get CSV and HTML WhatsApp backup files which can be printed easily via Excel and website browser respectively.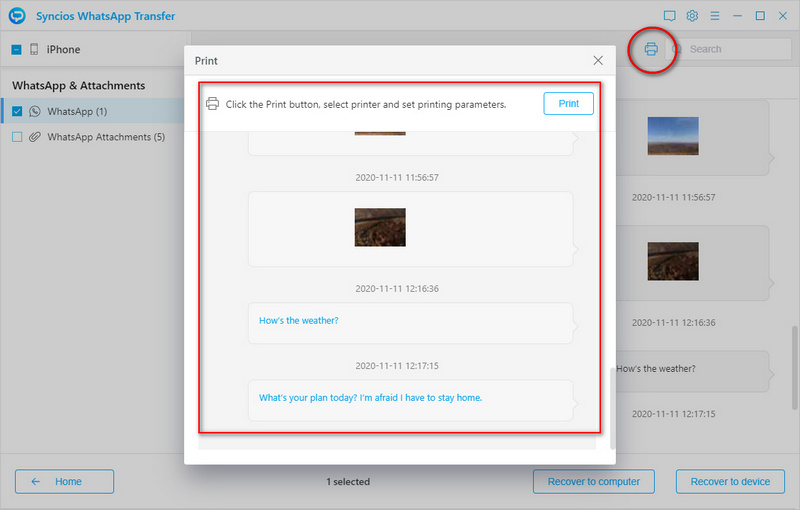 ---
Conclusion
The article has made it easier for WhatsApp users to merge WhatsApp conversations of two different accounts without quality loss, which could not be achieved with any official solutions. You'd better get assistance from a professional WhatsApp Transfer tool. You can backup, restore, transfer, print WhatsApp data quickly under its help. If this guide helps, please share it with the people around you.
Syncios WhatsApp Transfer (Win or Mac)