4 Ways to Transfer WhatsApp Messages to OnePlus Nord
Since released in 2009, WhatsApp has been outstanding success, and it continues to grow and boom. For mobile users, WhatsApp could be the first app to be installed when switching to a new phone. Therefore, when you upgrade to a new phone, to avoid losing previous WhatsApp chats and attached media files, you need a quick way to move all WhatsApp data to the new device. That's why this article comes. For some OnePlus users, you may need help from this post. You will find a proper way to transfer your WhatsApp chats, photos and videos from Android phone, iPhone, iPad to OnePlus phone, including OnePlus Nord.

We'll show you 4 different methods of transferring your WhatsApp messages to a new OnePlus Nord. Follow this article to pick one method that most suitable to get your job done.
Method 1. Directly Move iOS/Android WhatsApp to OnePlus Nord
There are various ways to transfer WhatsApp to OnePlus Nord. But if you need to transfer WhatsApp quickly or even transfer WhatsApp between phones running on different OS, then a help from a WhatsApp Transfer is needed necessarily. One of the best WhatsApp Transfer tool, Syncios WhatsApp Transfer, is the exact app for you.
Why Syncios WhatsApp Transfer provides the best solution? Check what this tool can do for you:
🍺 1. Directly transfer WhatsApp data between phones (iOS and Android devices are compatible).
🍺 2. Preview detailed WhatsApp data and transfer only the chats you want.
🍺 3. No need to link with the same WhatsApp account on both source device and target device.
🍺 4. Be able to print WhatsApp chats you select directly.
🍺 5. Export WhatsApp backup to HTML and CSV files.
🍺 6. Backup and Restore WhatsApp data without data loss.
Video Tutotrial - Quickly Transfer WhatsApp to Android Phones
Step 1:Download and install WhatsApp Transfer on your Computer.
Download WhatsApp Transfer Windows version or Mac version according to your need. For Windows version users, run it from Syncios Toolkit by clicking WhatsApp Transfer on the interface. For Mac version user, just start the program directly.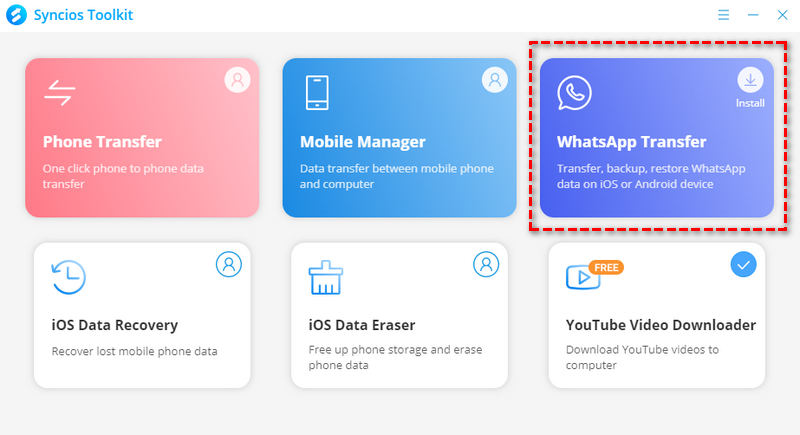 Failed to download or open WhatsApp Transfer? Check here right now.
Step 2:Connect a source device and OnePlus Nord to PC
Connect both phones to the computer via USB cable. On Android devices, set the connect mode as "Transfer File" instead of "Charge Only". On iOS devices, choose "Trust" when connecting. When it's failed to connect iOS device, check this tutorial. When it's failed to connect Android device, check this tutorial.
Step 3:Transfer WhatsApp to OnePlus Nord
To transfer WhatsApp from another iOS or Android phone to OnePlus Nord, choose Transfer WhatsApp between devices mode.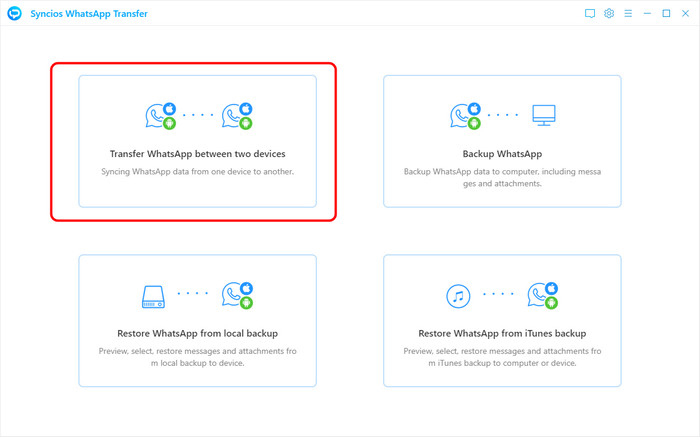 Make sure the target phone is in the right place (the right side). If it is not correct, please click the Flip button. Then click Transfer to continue.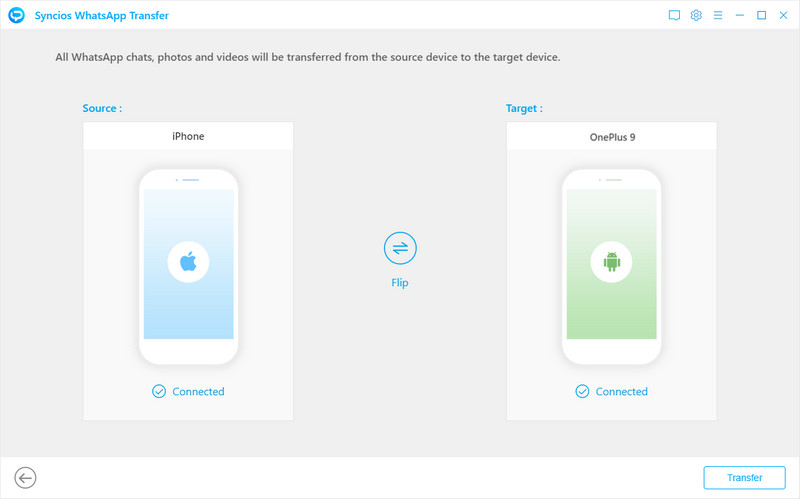 Note: Please note that the WhatsApp data on your OnePlus Nord phone will be erased, so please back up the current WhatsApp data on your OnePlus Nord before transferring. You can go back and choose "Backup WhatsApp" mode to make a backup at first.
During the transfer, do not disconnect your phone until the process is completed successfully.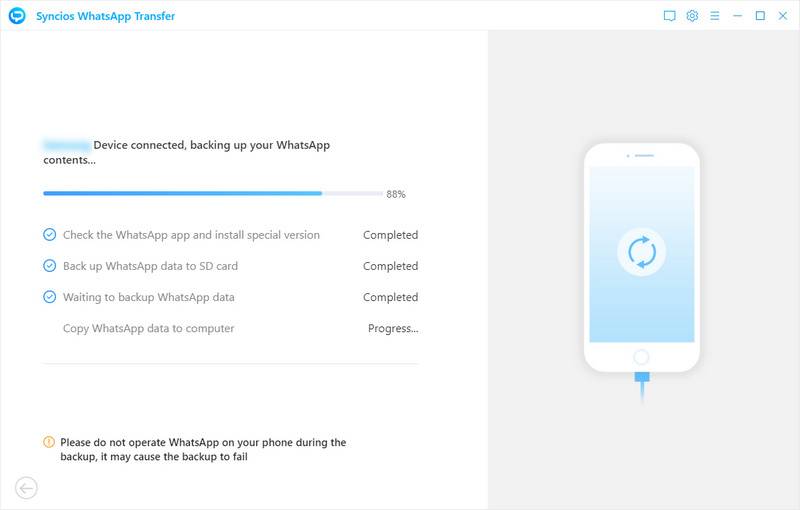 🙋 Print WhatsApp Chats:
This is an extra tip you can follow. When you finish the transferring in the above step, please click the View and Browse button in order to preview the contents. Then tick the box in front of the chats you want to print and finally tap the Print icon

upper right the window. So the selected WhatsApp messages will be displayed for a preview. Make sure your computer is connected to printer so that the chats will be printed out after clicking on the Print button.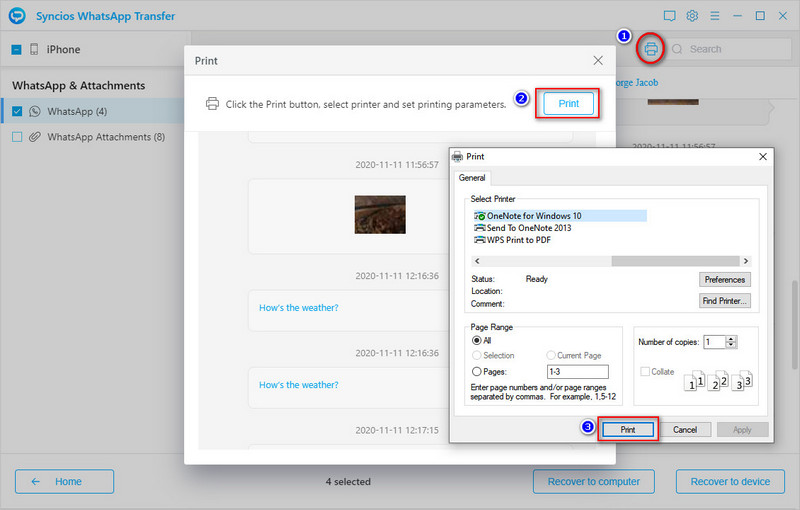 ---
Method 2. Retrieve WhatsApp from iTunes Backup to OnePlus Nord
The first method actually provides a direct way to transfer WhatsApp from an iOS or Android device to OnePlus Nord. If you could not get access to the old iOS device, or just want to restore WhatsApp data from an iTunes backup, this method could be considered. Syncios WhatsApp Transfer is also a perfect helper to retrieve WhatsApp data from iTunes backup.
Step 1:Connect OnePlus Nord to computer
Download and install Syncios WhatsApp Transfer on your Windows PC or Mac. For windows version, start it from the Syncios Toolkit. Then you just need to connect your OnePlus Nord with computer. To restore WhatsApp from iTunes backup, navigate to Restore WhatsApp from iTunes backup.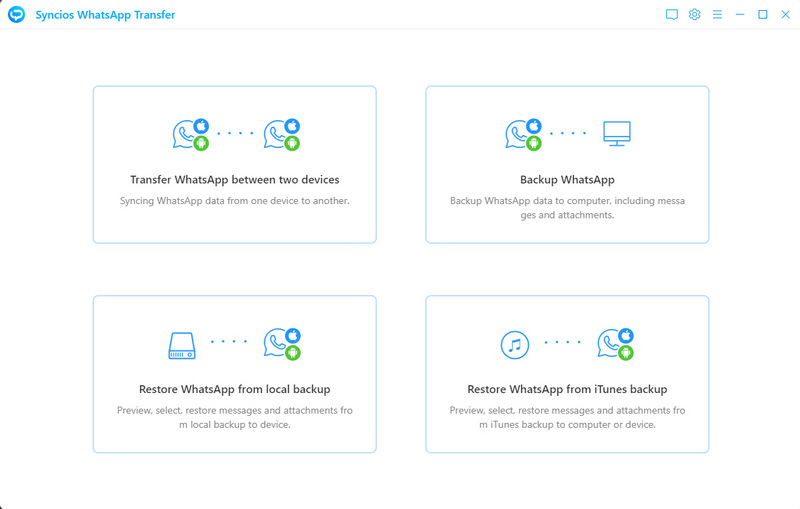 All saved iTunes backup are listed. You can choose one according to its device name, date, or size. Navigate to the desired backup and click Browse button to start loading the selected backup.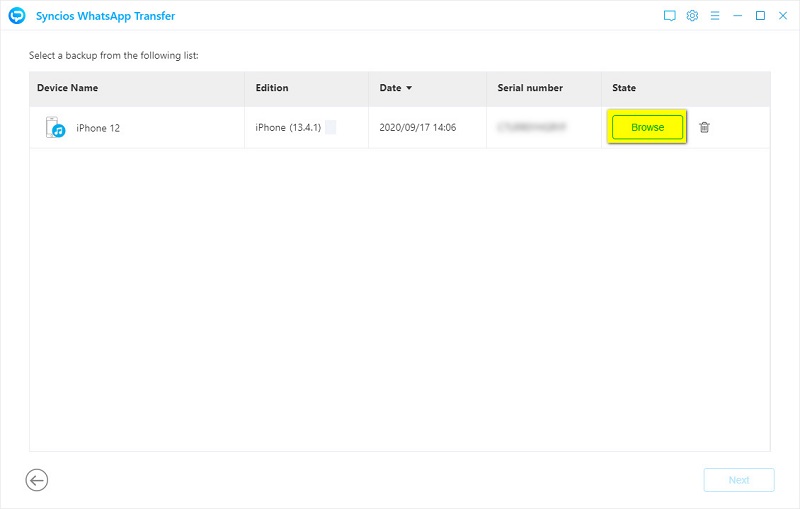 Step 2:Restore WhatsApp from iTunes backup to OnePlus Nord
Detailed WhatsApp conversations are displayed. Choose chats and attachments you need, then you can start recovering. To recover the WhatsApp data to OnePlus Nord, tap Recover to Device then choose Recover to OnePlus Nord. Click Recover to start the recovery process. Do not disconnect your phone until all transfer is completed. After finishing the transfer, open WhatsApp on your phone to follow its setup and check the imported conversations.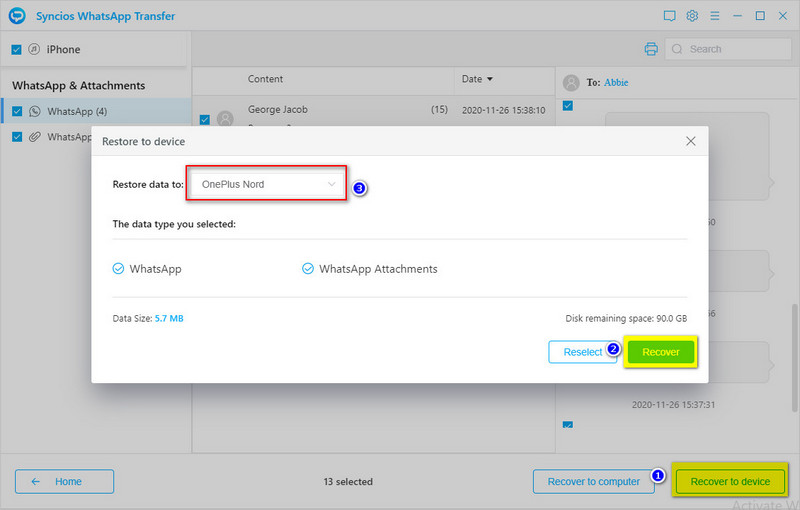 ---
Method 3. Transfer WhatsApp to OnePlus Nord via WhatsApp Cloud
For WhatsApp users, you can ask help from WhatsApp official solution. WhatsApp also provides backup option for iOS and Android users. But WhatsApp Cloud backup option could not help you transfer data from phone to phone directly. And there is no detailed preview for selection. You can only choose to backup all existing data. The old backup will be overwritten by the new uploaded backup. And it will restore all WhatsApp data from the backup to the new device without selection. All this could be done with solution 1.
And this method could not help you to transfer WhatsApp from old iOS device to OnePlus Nord. Because on iOS devices, WhatsApp could only be backed up to iCloud, which could not be supported on Android devices.
Step 1: If you've created backup on old device, then you can skip to step 3 now. If you need to backup your old device to WhatsApp Cloud now for transferring the data to OnePlus Nord, then you can follow us to make an immediate backup now.
Step 2: For old Android users, get physical access to your old Android phone and start WhatsApp on it. On the upper right you can see three vertical dots, click it and choose Settings > Chats > Chat backup. It will create an immediate backup to cloud server and replace the existing WhatsApp backup.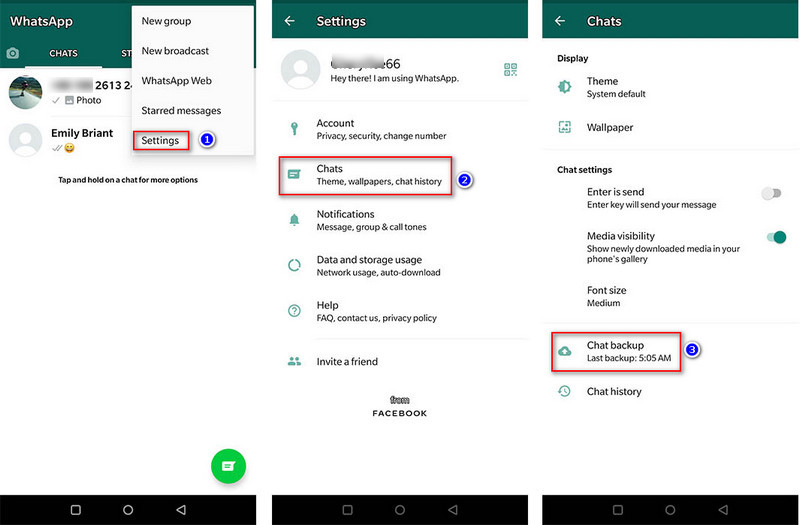 Step 3: Now, we are going to restore WhatsApp backup from WhatsApp cloud server to OnePlus Nord. If you've installed WhatsApp on OnePlus Nord, you need to remove it then install it again. Only during the WhatsApp new start-up, you can enter recovery mode. Otherwise you could not restore backup to your phone.
Step 4: When follow steps of the new set-up, you need to verify your phone number. Here of course you need to log in with the same phone number, otherwise, the backup could not be detected. That means, you could not transfer WhatsApp between different accounts. Only by using Syncios WhatsApp Transfer, you can transfer WhatsApp without using the same account. Back to this method, after restoring your chats, WhatsApp will begin restoring your media files. Just wait with patience and keep the internet connection stable.
---
Method 4. Export WhatsApp Messages to OnePlus Nord
If you want to transfer WhatsApp without any help from the third-party. Then you can check this method. It allows you to selectively export WhatsApp chats, photos and videos. To be exact, you can share WhatsApp files to different platforms.
Exporting chats could also helps you to get certain WhatsApp conversations you need. You do not need to remove WhatsApp on both old device and new phone. You just need to share chats and videos you need via WhatsApp, Dropbox, Emails, Bluetooth, etc.
🎅 From old iOS device to OnePlus Nord
Step 1: Launch WhatsApp on old iOS device, then tap over the chat conversation (contact name) you are going to transfer. Slide to left then tap More > Export Chats. Choose "With Media" or "Without Media". After that, just choose the way to share WhatsApp messages. You can choose to export chats via WhatsApp, Dropbox, Mail, Bluetooth and etc. The follow its on-screen steps to upload your chats.
Step 2: Then just open your OnePlus Nord. Open WhatsApp to check received files. Or open Bluetooth to receive WhatsApp files. And for instance, if you upload chats to Dropbox, log in to your Dropbox account on OnePlus Nord and then access the WhatsApp backup file there.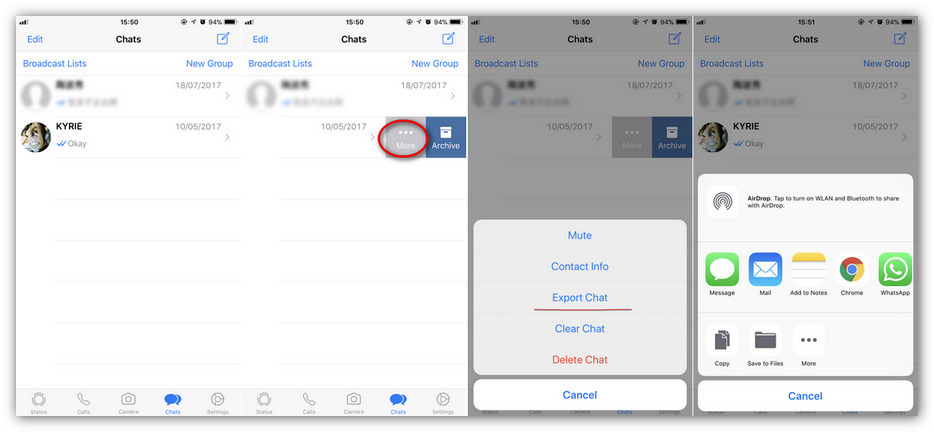 🎅 From old Android device to OnePlus Nord
Step 1: Start WhatsApp on your Android device, then open any conversation you need. On the upper right, you will find three vertical dots. Tap it to get a pop-up menu. Choose More > Export Chats. You need to decide sharing WhatsApp "With Media" or "Without Media".
Step 2: Then just choose the way to share, including WhatsApp, Dropbox, Mail, Bluetooth and more. For instance, if you send chats via email, just choose "Email" and input your email address and send this chats. Then get your OnePlus Nord and open the receiver's mail. You are able to view all received chats via Mail. But you can't sync WhatsApp messages to your WhatsApp application, it's only for check.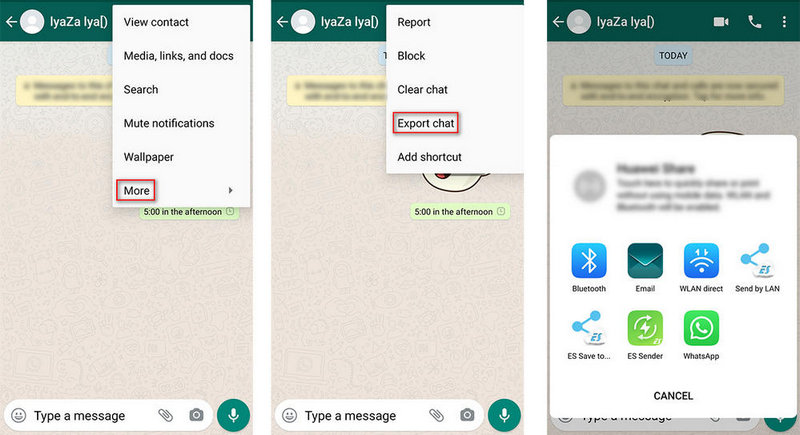 ---
Conclusion
For OnePlus Nord users or other Android users, you can follow the same steps to transfer WhatsApp. It's helpful tutorial when switching to a new phone. Keep this article in case you need it later. If this guide helps, don't forget to share it with your friends. If you need transfer tools we listed above, you can download now!
Syncios WhatsApp Transfer (Win and Mac):