How to Recover iTunes/iCloud data to Android Phone
Some people like iOS, while the others like the Android. Currently, according to the stats, Android phones sell much more than iOS worldwide, but when it comes to the profit, Apple still eats most of the cake, due to its high average selling prices and high margins. If you used to be an iOS user, who has switched to a new Android phone for some reasons. One of problems you may be facing is that move the contents to the new Android phone. Restoring the needed data from iCloud or iTunes may be a great option, since iCloud and iTunes help iOS users easily backup their data. However, recovering data from iCloud or iTunes directly to an Android phone can be troublesome, and that's what this tutorial is going to talk about, that is, offering you best solution to restore needed data from your iTunes/iCloud data to the new Android phone. Keep reading the rest of this guide to make the difference.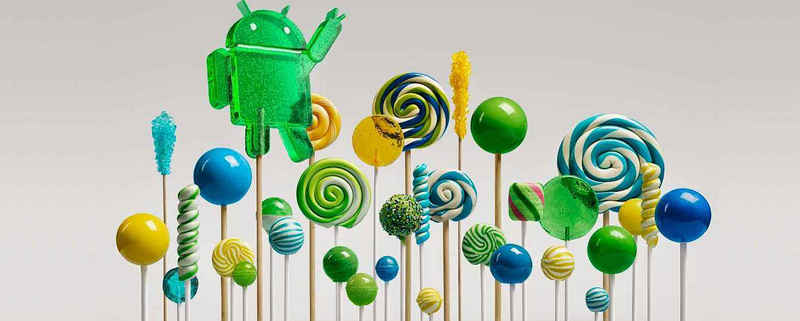 Since we can't restore iTunes and iCloud data to Android Phone directly, we need a third-party application to help us. Syncios Data Transfer - A very user-friendly data transfer tool, which enables you transfer SMS, Call logs, Contacts, Photos, Music, Video between iOS and Android devices. And the most important thing is this program will also help you download your iCloud contents to your Android devices. Simply download and install the compatible version on your computer.
Restore iCloud data to Android Phone
Step 1Download and Install Syncios Data Transfer
Click the button to download the proper version of Sycios Data Transfer. After installed successfully, launch the Syncios Data Transfer program via Sycios Toolkit. Choose "Phone Transfer" on the start-up interface of Syncios Toolkit.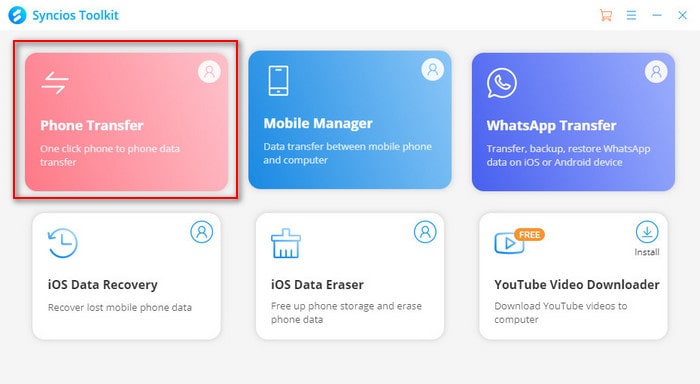 Connect your Android device to Syncios, and make sure you have enabled the USB debugging mode on your Android device. You can see three modules on the program homepage: Transfer, Restore, Backup. Select "Restore" module on the homepage, then choose "iCloud".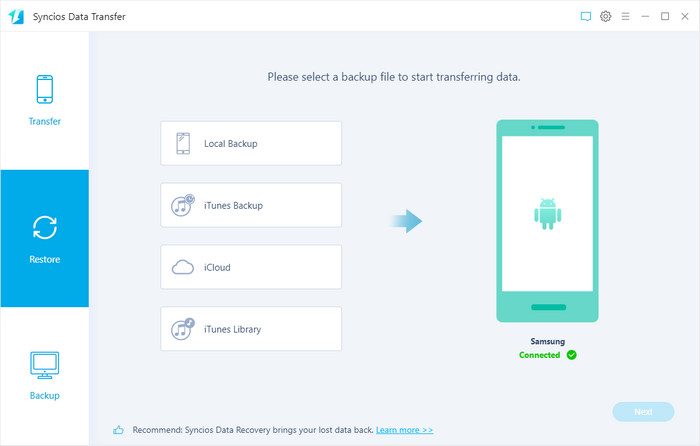 Step 2Log in Your iCloud Account and Download Data.
Enter your iCloud account to sign in. When you do this, make sure that your internet connection is in good condition.
Note: It's totally safe to sign in your account here. We take your privacy seriously, and the program won't keep any record of your account and data at any time during your sessions.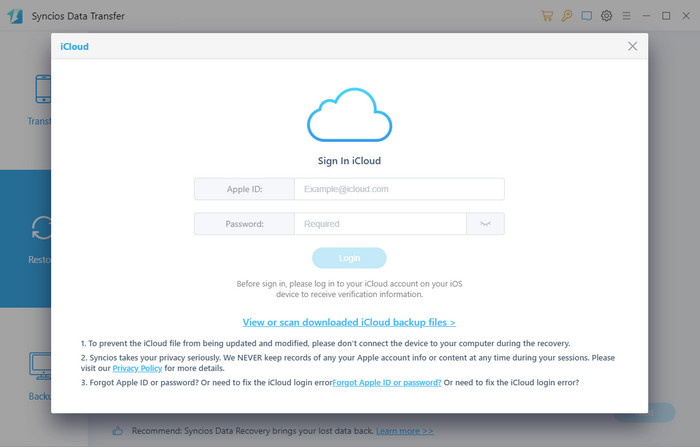 Click on the "Next" option and you can see that photos, contacts and calendars are all supported to access. Choose the one you want to access and then click on the "Next" button to start downloading. If it's the first time you download the iCloud data via Syncios or there're a large amount of files on it, it will take some time. Please wait till complete.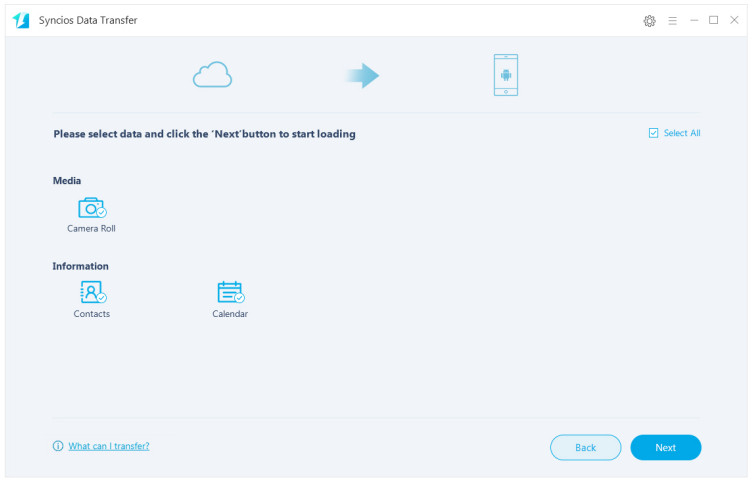 ---
How to Recover Data from iTunes Backup/iTunes Library to Android phone
Step 1Download and Install Syncios Android Transfer
Download and install the Syncios Data Transfer by clicking the following button.
Launch the iTunes-to-Android-Transfer program via Syncios Toolkit after installed successfully.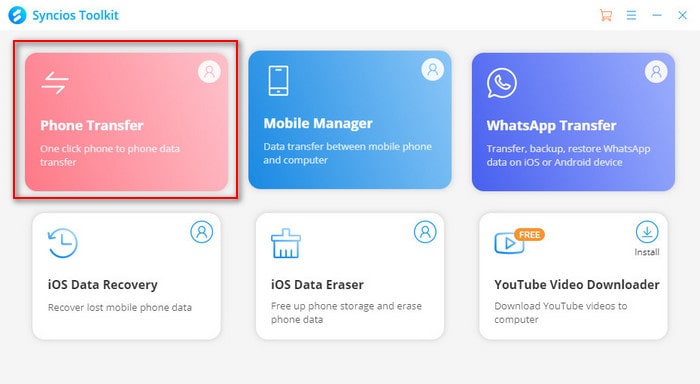 Select "iTunes Backup" module under "Restore" on the homepage. (Simply select "iTunes Library" if you want to restore iTunes library.)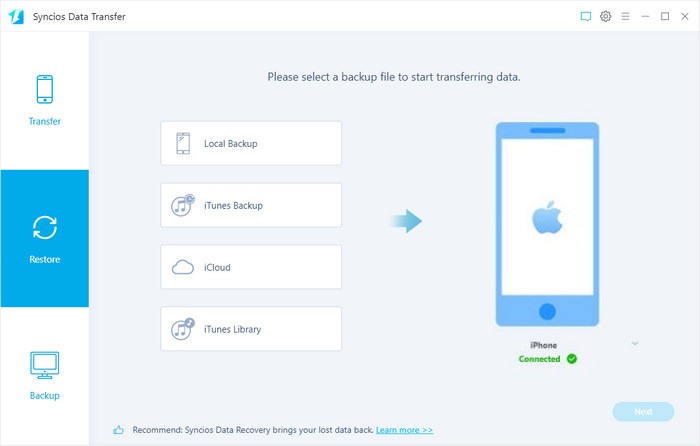 Step 2Choose Contents to Transfer to Android phone
Your iTunes backups will show in the list, choose the one you want to restore. Then all data from your iTunes backup file will be displayed in categories on the window. Connect your Android device to Syncios, and make sure your device is well detected by this program. (Any detection problem, please follow this tutorial)
Then just select the contents you want to restore (including Contacts, SMS, Call logs, DCIM photos and Bookmarks) and click the "Next" button. After a while, the selected data will back to your Android device. (The steps of restore iTunes library are very alike.)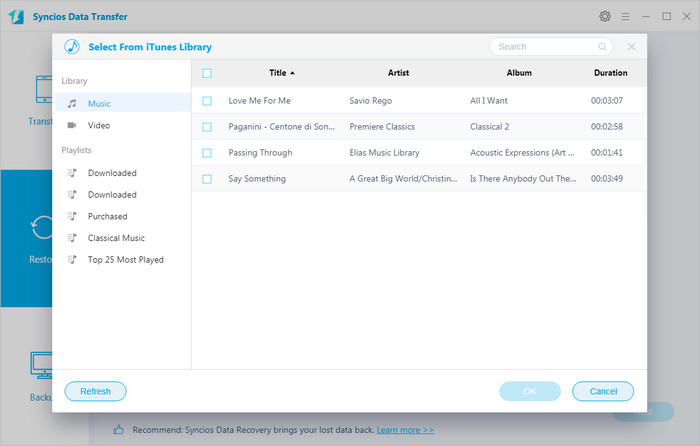 ---
FAQs:
Q1: What to do if my devices are not being detected by Syncios Data Transfer?
For iOS devices: Click here.
For Android devices: Click here. Android devices can also connect Syncios via WiFi.
Q2: Can I use Syncios Data Transfer to import music/photos/videos from computer to my Android?
We are sincerely sorry that Syncios Data Transfer currently doesn't support computer-to-phone transferring. However, you can download our Syncios Manager to finish this job. And the Ultimate version of Syncios Manager also supports Data Transfer feature(phone to phone transfer, restore from iCloud/iTunes), you can learn more from here.
Q3: What are the differences between free version and paid version of Syncios Data Transfer?
The free version supports transferring/backing up/restoring five items of each category, paid version supports transferring all data.
And for more questions, please feel free to contact our support via Email. We are glad to hear from you.
---