How to Convert Live Photos as JPG Format Photos on PC
Apple introduced live photos feature with iPhone 6s and iPhone 6s Plus and the feature is present in the latest iPhone XS, iPhone XS Max, iPhone XR as well. The live photos feature, as you know, is a mixture of movie and still image. That is, a live photo is neither a photo nor a video.
Live photos are being touted as one of those must-have features and we have explained how to get fairly good results with them. That said, live photos have a few caveats. For one, they take up a great deal more space than traditional stills. You may also not want to share the whole thing. You might simply want to share it as a still photo and discard the rest. In this post, we are going to teach you how to convert your live photos as jpg format photos. Just take a few steps.
So how to convert live photos as jpg format photos? Live photos are awesome and sometimes they just make you smile. But for most photos, it's not really useful and it takes up space. Removing live part of live photos could help you to save space and still keep the photos. In fact, we could duplicate live photos to still photos. And keep live photos or delete live photos whatever you need. Converting a Live Photo to a still photo is actually a really easy process, which can be accomplished in just a few short steps.
Part 1. Convert Live Photos to HEIC Photos
Step 1 First, open the live Photo in the Photos app and then tap on share button

in the lower-left corner. And choose Duplicate > Duplicate as Still Photo. Now you can see a duplicated still photo and an original live photo. Just delete the live photo if you don't need to keep.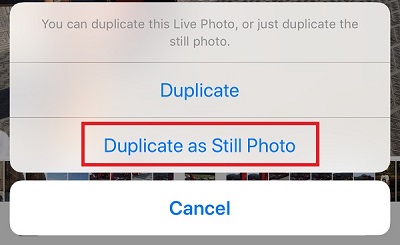 Step 2 Or you can also turn off live photo function when taking a photo. Launch camera app and you'll find the Live Photo icon, which is made up of three concentric circles at the top of your screen. If the icon is yellow (or gold), Live Photos is currently turned on. To turn it off, simply tap on the icon.

Tips: For iOS devices running iOS 11 or later, your still photos will be saved as HEIC formats automatically. For older iOS versions, your still photos will be saved as JPG formats on your iOS devices automatically.
---
Part 2. Export Photos to Computer as JPG Photos
Step 1 Now you've saved live photos as still photos, and you need to export photos from iPhone to computer simply. Besides, for iOS devices running iOS 11 or later, they are HIEC photos if you save them directly to computer via USB cable. If you want to export them to computer as JPG photos easily, you should get a free mobile tool - Syncios Mobile Manager. And then we'll start.
Step 2 Install then launch the program. Connect your iOS device to it. And open "Mobile Manager" program on the main interface. Keep your device unlocked and pay attention to any pop-up message.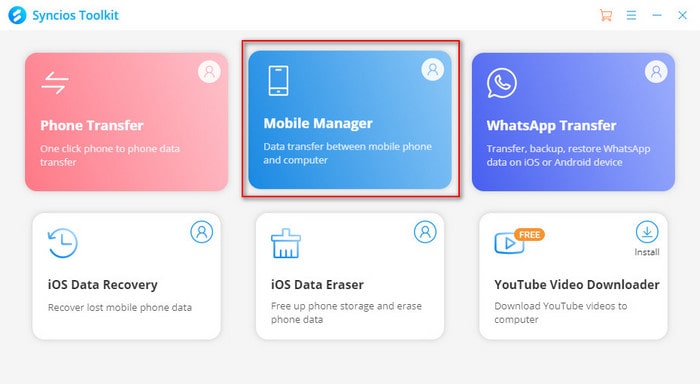 Step 3 After a successful connection, navigate to content bar on the left. Find Photos. Check photos in Camera Roll or Photo Library, and select the still photos you've just duplicated. Click on Export, choose a proper location to save them to PC. You will be asked to save HEIC photos to JPG photos. Tap Yes if you want keep original HEIC photos and duplicated them into JPG photos.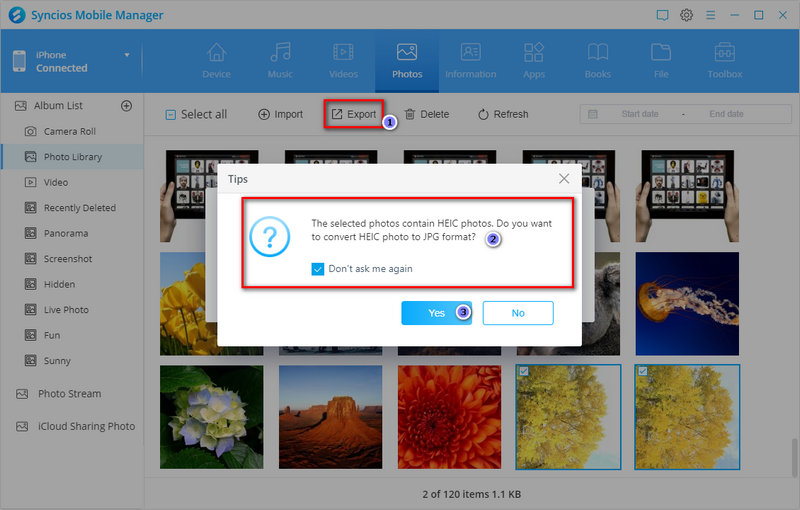 Step 4For iOS devices running iOS 11 or later, Syncios will convert your HEIC photo(s) to JPG photo(s) and also export the original HEIC photo(s) for you in order to preview or share normally. For older iOS versions, Syncios will export JPG photos directly without any quality loss.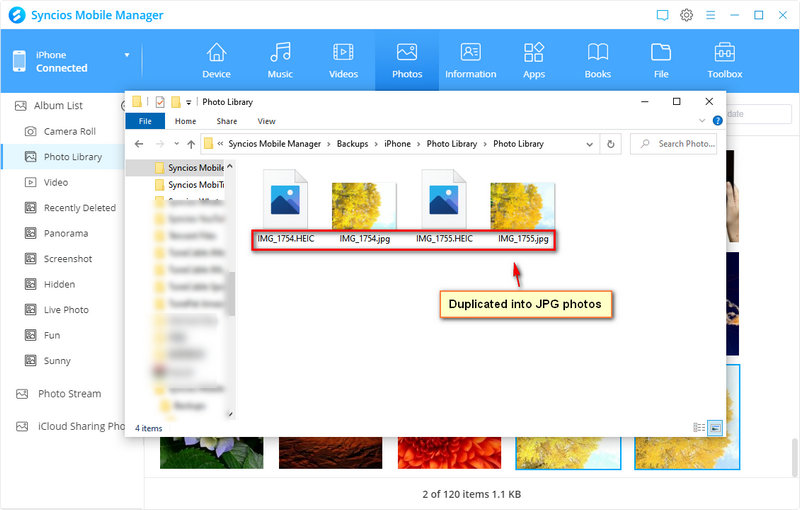 Extra Tips: If you want to convert HEIC photos from computer or device directly. Then open this Syncios Mobile Manager and go to Toolbox. Select HEIC Converter. You are allowed to select HEIC photos from computer or device. Then convert them into JPG photos.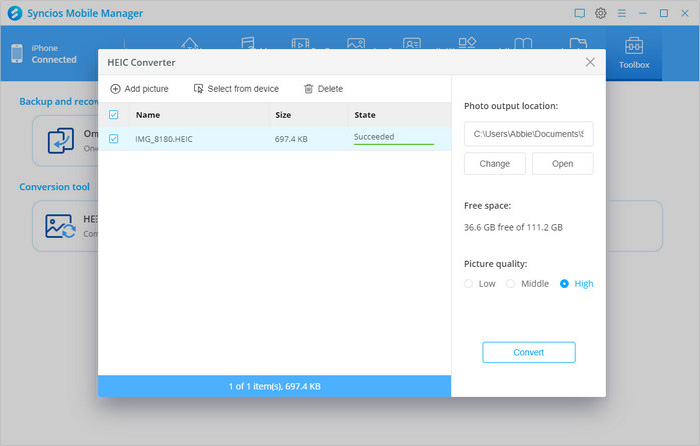 ---
Part 3. Video Tutorial. How to Save Live Photos as JPG Photos
---
Summary
Firstly, duplicate your live photos as still photos. If you were using iOS 11 or later, the still photos will be HEIC formats. If the iOS version is older, those still photos will be JPG photos. For HEIC photos, Syncios Mobile Manager supports to export HEIC photos to JPG photos and also keep your original HEIC photos.
Free Syncios Mobile Manager
Free Syncios Mobile Manager is an easy-to-use and powerful iOS & Android Mobile manager, which is well-designed for users who want to manage device contents on PC. It allows you to export contacts, apps, photos, music, ringtone, videos, SMS messages, eBooks and more for free.
Support to transfer, edit, backup, manage, view mobile data.
Import and export photos between mobile phone and computer.
Handy tools: One-Click Backup/Restore, HEIC Converter, Photo Compression, Ringtone Maker, etc.
Fully compatible with latest Android and iOS devices.