Getting Started with Syncios Manager
Welcome to Syncios iOS & Android Manager and start to get familiar with it from now on! Learn how to install Syncios and some basic information about Syncios iOS & Android Manager.
Step 1: Locate and launch the downloaded file named setup_syncios.exe to start the installation.
Step 2: Click Install Now to start one-click installation for Syncios program.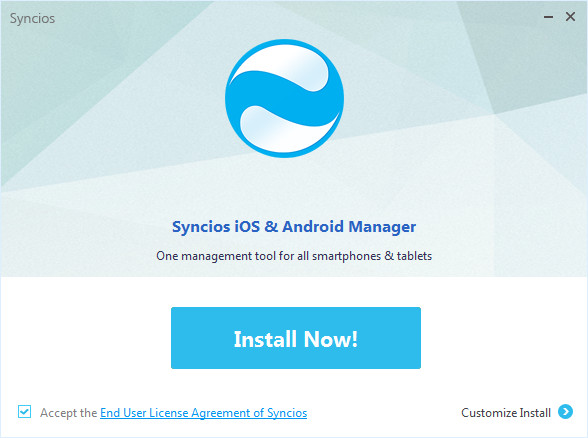 Step 3: Click Finish to complete the installation or "Start Now" to launch Syncios.
Please Note:
Do not start iTunes or sync files when running the program to avoid data overwriting.
---
Step 1: Click

button on the upper right corner, and click Upgrade to get Syncios Ultimate version.
Step 2: You will see the promotion prompt. This page shows differences between Ultimate and Free version. If you have already purchased, please click Register.
Step 3: Copy and paste your Registration name and Registration code.
Step 4: Click Activate button to finish registration.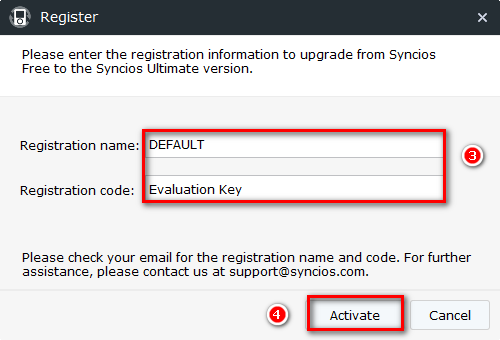 Please Note:
1. You can upgrade to Ultimate version from the Syncios free version directly, or keep using the free version. Here is Difference between the Syncios Free and Ultimate version.
2. The registration name is case sensitive. Please do not add blank at the beginning or the end of the word.
---
Main Interface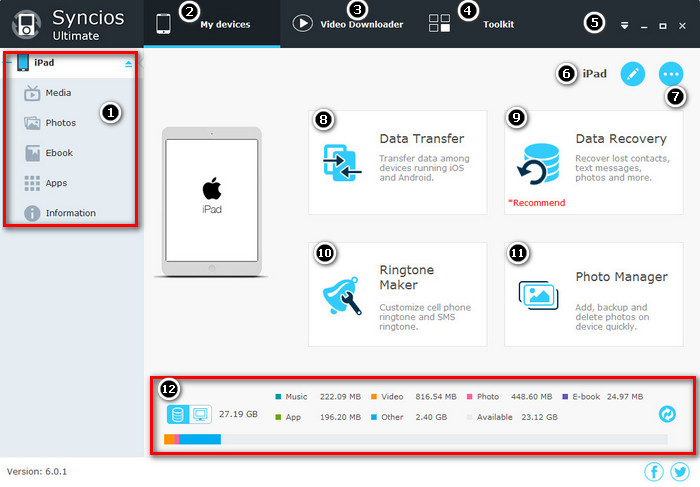 Supported Devices and iOS&Android Versions
(1) Choose the device and items you would like to manager. Or click

to eject your device. Supports to switch and manage multiple devices simultaneously.
(2) Connect and manage data in your iPad/iPhone/iPod Touch/Android.
(3) Download online videos and convert to your iPad/iPhone/iPod Touch.
(4) Free toolkit to better manage your iOS/Android devices, including audio converter, video converter, ringtone maker and more other free tools.
(5) Click to make settings, select language, view online help content, register and check for Syncios updates.
(6) Click to rename the current device.
(7) Click to get device details.
(8) Transfer data among devices running Android and iOS. (Only for Ultimate version).
(9) Recover lost contacts, text messages, photos and more. (Recommend Software).
(10) Ringtone Maker Shortcut to make your own iPhone/iPad/iPod Touch/Android ringtone.
(11) Photo Management Shortcut to manage photos on current iOS&Android device.
(12) Capacity and space condition about your iPad/iPhone/iPod Touch/Android.
---
References
You can check our prorgam reference and supported devices from here.
---
Tips

what's next? Download Syncios Mobile Phone Management now!