6 Photo Restoration Software for Professionals and Novices: A Comprehensive Guide
In this digital age, it is not uncommon to come across old photos that have either been damaged through time or have been irrevocably altered in some other way. From torn edges, discoloration, and splotchy lighting to faded colors and overexposure—there are innumerable ways that the quality of a photo can be compromised.
Luckily, there are a variety of photo restoration software available that allow users to effectively remove these imperfections from images and bring them back to their former glory. These programs also make it easy for even novice users with no previous experience in photo editing software to edit photos like a pro. But with so many different options out there, which one is right for you? Keep reading for our comprehensive guide on the selection of photo restoration software. They are divided into three major categories in turn, the operation of similar software is more or less the same, this article will select some of these software to introduce you in detail how to use them to repair photos.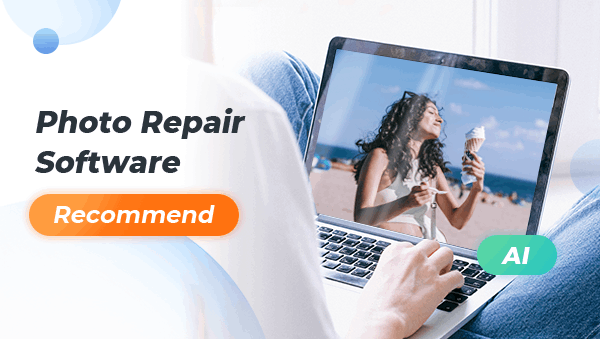 Part 1: Professional Photo Restoration Software
Restore Old Photos with Adobe Photoshop
When it comes to restoring old photos, Photoshop is often seen as the best tool for the job. It is a highly versatile tool that can be used for a variety of purposes.
By using the various features and tools available in Photoshop, you can bring new life to otherwise forgotten or damaged photographs. One of the most common uses for Photoshop when restoring photos is to improve the quality of low-resolution images. Old photos are usually scanned into a computer at a very low resolution, which can make them appear blurry or pixelated. By using Photoshop's upscaling tools, you can dramatically improve the quality of these images. Another common use is to fix damage such as cracks, scratches, or tears. Photoshop's clone stamp tool can be used to carefully remove these blemishes, generally with very believable results. 
In addition to its usefulness for restoring old and damaged photos, it can also be used to create entirely new images. By combining multiple photos, you can create composites that would be impossible to create in the real world. Photoshop's powerful blending tools make it easy to seamlessly blend multiple images together, creating truly unique works of art. Whether you're looking to restore an old photo or create something completely new, Photoshop is a versatile tool that can help you achieve your goals.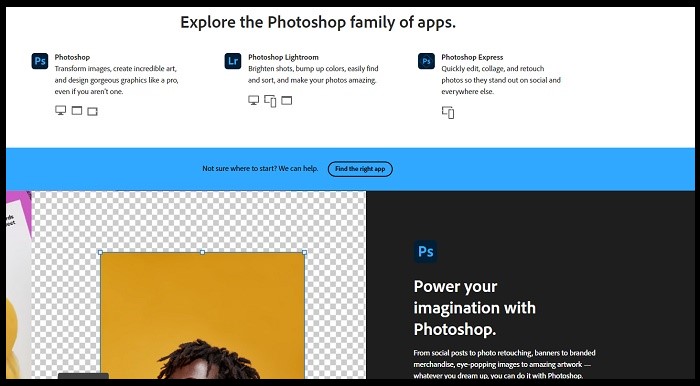 While it can certainly produce amazing results, there are also some potential drawbacks to using Photoshop for photo restoration. One of the biggest advantages of using Photoshop for photo restoration is that it gives you a lot of control over the process. You can make very specific changes to an image and get exactly the look you want. However, this level of control can also be a disadvantage. This requires the user to be familiar with every option and function of the program, and the changes that each parameter setting brings to the whole image. It may not be a good choice for novice photo editors. Another consideration when using Photoshop for photo restoration is that it can be a bit time-consuming. Depending on the extent of the damage to an image, it can take quite a while to make all the necessary repairs.
Overall, Photoshop is a great tool for restoring old photos, but that's only for the pros.
---
Part 2: AI-based Online Restoration Software
Professional editing software is suitable for professionals, but not at all friendly for novices who don't understand image editing. Fortunately, artificial intelligence technology solves this big problem. Keep reading to check some good online photo restoration tools.
1. VanceAI
VanceAI is a very comprehensive online photo enhancer and editor. Checking its official website, you can see that they have a total of 10 different functions, including Photo Enhancer, Image & Anime Upscaler, Image Denoiser, Image Sharpener, Background Remover, Portrait Retoucher, etc. This article focuses on its ability to restore old photos. VanceAI mainly provides two options for old photo restoration: restoration and coloring. It is easy to use and has free credits for trial even you are not logged in. It can process about three to four pictures, the final result looks good, but the processed pictures are watermarked.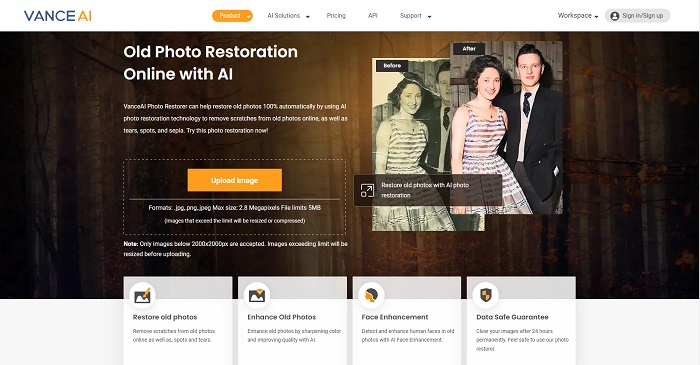 2. Imgkits
Imgkits and Vance AI are similar in that they both have different functions, and each function operates independently. The functions of Imgkits mainly include: Inpaint, Anime Filter, Photo Restoration and Background Remover.
Although it doesn't have a large variety of features, it does differentiate. For example, the Inpaint function of Imgkits allows you to instantly remove any unwanted objects including tourists, scratches, defects, skin blemishes, wrinkles, and pimples from pictures. In addition, it will maintain the picture's original aesthetics feeling without any influence. And Anime filter function provides an easy way to instantly convert your photos into a variety of effects such as anime filters, pixar filters, sketches, paintings, and more. Its photo restoration function is the same as VanceAI, both are divided into two options: restore and colorize.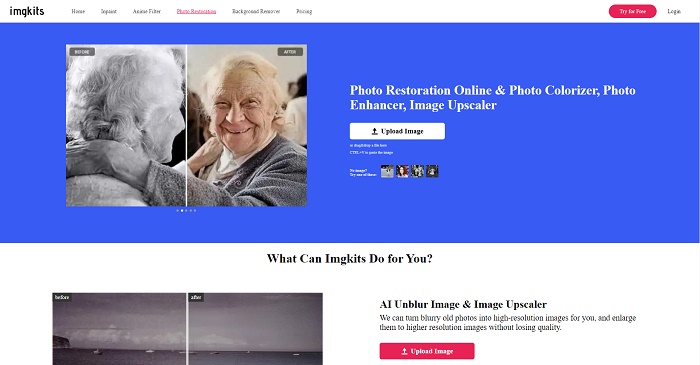 From the experience of using the program, the operation steps of Imgkits are the same as those of VanceAI, and they can be tried for free, but the processed pictures are all watermarked. The trial points of both are relatively small, and given that they can only use one model at a time, it causes a problem that if there are multiple needs for an image, such as restoration, coloring and enlargement, you can only process with one model first and save the processed image, and then upload the processed photo for the next need. This is a bit of a hassle.
3. AVC.AI
With AVC.AI, you can quickly and easily improve the quality of your photos with just a few clicks. It uses artificial intelligence to automatically identify and correct various imperfections in your photos. For example, it can remove blemishes, wrinkles, and other skin imperfections as well as improve the lighting and color balance of your photos. But the most important reason the tool was selected was the uniqueness of its use of AI models. AVC.AI mainly has six models, namely Upscale, Face Retouch, Denoise, Remove BG, Colorize and Color Calibrate. These models can be used individually or stacked. The above two online photo restoration software can only choose between repair or colorize, while AVC.AI Online allows you to select two or more models at the same time to process your images.
How to Restore Photos with AVC.AI
Step 1: Go to AVC.AI and Log in to Your Account
Navigate to AVC.AI using any browser like google, safari, etc. Whether you are trying this tool or buying credits directly, you have to sign up for an account first. Click Login/Sign up to log in to an existing account or sign up for a new account.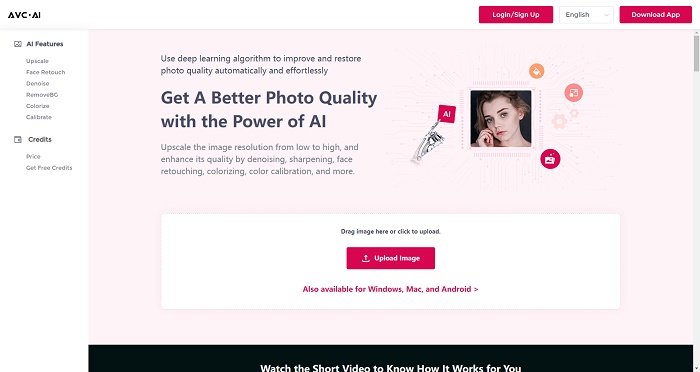 Step 2: Upload your Photos
There are 2 ways to upload pictures. You can click the Browse button to import images or drag and drop it to the program directly.
Note: Supported input formats are: *.png, *.jpg, *.jpeg, *.bmp, *.jfif, and *.webp.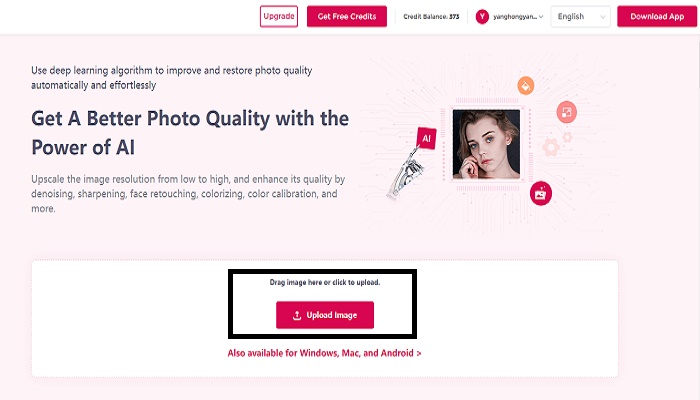 Step 3: Select the Model
As mentioned above, the program mainly has six models. You can choose one model to process single or multiple images, or you can choose multiple models to overlay the effect on the image. For example, when processing this black-and-white and noise-filled image, you can select the Denoise and Colorize models to process together or even select the upscale model at the same time to enlarge it by 200%, 300%, 400% without losing details.
Note: Different amounts of credits will be required based on the AI features you choose when using the online service. Processing 1 image costs 1 credit. Upscaling 1 image up to 300% costs 3 credits, and 400% costs 4 credits. Using Face Refinement costs 2 credits.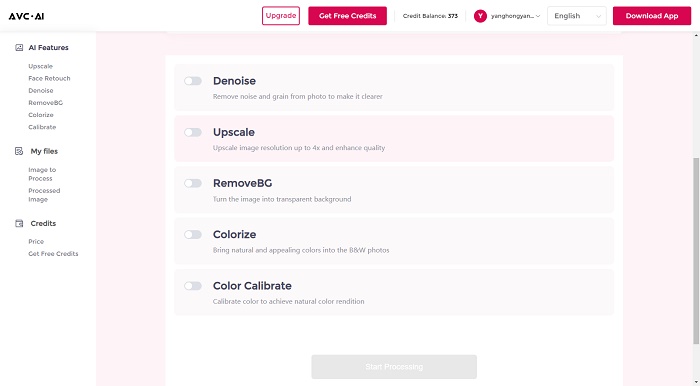 Step 4: Process the Image
After the model is selected, click Start Processing to process the image. When the processing is complete, click the eye button to enter the preview interface, and then drag the white line to preview the final result and the before and after comparison. If you are satisfied with its effect, you can click Download Image to save it to your local, if you are not satisfied, just click the Image to process on the left panel to return to the previous step and re-select the model for processing.
Note: The processed photos will be deleted after 72 hours, please download them in time.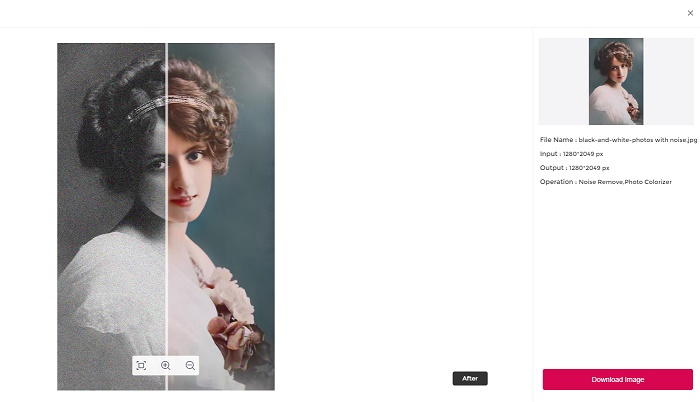 AVC.AI needs to be logged in before you can try it out. The first time you log in, you will get 13 credits for trial use. The preview of the image after processing does not have a watermark, but the downloaded image dose. Its official website shows that now there is a promotion activity to get free credits. Users can get 60 free credits by following or subscribing to their Facebook, Twitter, YouTube, or writing a detailed review of more than 200 words on Trustpilot, Alternativeto, G2, etc.
Video Tutorial: Old Photo Restoration - How to Enlarge and Upscale Old Photos with AI Online
---
Part 3: AI-based Desktop Restoration Software
In addition to the online versions of AI photo restoration software, there are also many desktop versions of programs. The next two recommended programs are the more useful and well-known ones.
1. AVCLabs Photo Enhancer AI
AVCLabs Photo Enhancer AI is the desktop version of AVC.AI introduced earlier. Both of them are almost the same in operation process, the difference is that the desktop version adds functions for photo editing, such as adjusting brightness, contrast, saturation of photos, creating more space than other single AI one-click repair programs.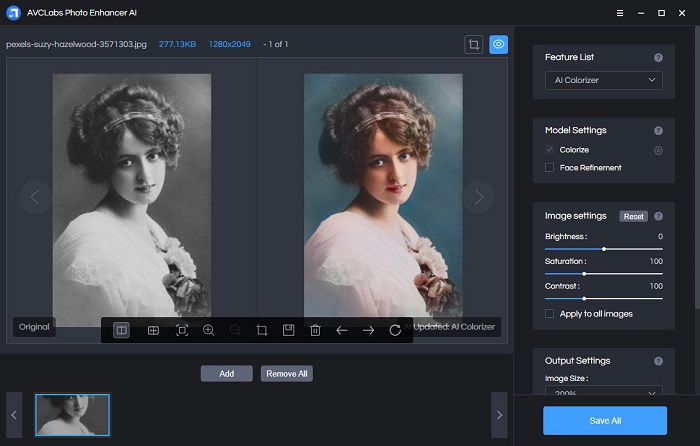 2. Topaz Photo AI
Topaz Photo AI is a suite of image editing apps that aim to make your photos look their best with artificial intelligence. Unlike AVCLabs Photo Enhancer AI, which brings together multiple functions inside a single program, Topaz has a separate program for each function. This also means that to experience the various features, you need to pay for each program and install multiple programs. There are currently four apps in the suite: Topaz Clarity, Topaz Denoise, Topaz DeJPEG, and Topaz Sharpen. Each app addresses a different problem that can occur with photos, such as noise, JPEG artifacts, or blurriness.
---
Conclusion
In general, the above 6 photo restoration software can be divided into two categories, namely professional photo editing software and AI-based restoration software. Both have their pros and cons. If you are a professional or have the confidence to master the more complex operations of Photoshop, then this is the one for you. But if you are a novice and not very familiar with the operation of editing software, then AI-based products are your best choice. The effects of the above software are all pretty good, and can meet the needs of most people. Among the above five AI programs, from the perspective of software functions, operation steps and processing effects, the AVCLabs series is the most recommended for both online and desktop versions. They can both overlay models to process images and are feature rich. You can get free credits with the online version, and the desktop version has more creative freedom. So just try them out, and you will know which one is your best choice.