How to Download and Transfer Music From YouTube to Android
As it known to all, YouTube is a website that focuses on video sharing. But you may surprise to find that it is also rich in music resources. Not only are many famous singers stationed in the channel to release official MV, there are also original songs written by music lovers and many great covers. YouTube has also developed YouTube Music, a music streaming service similar to Spotify. Whether you listen to music through YouTube videos or YouTube Music, there are limitations to downloading music for offline listening, as both have ads and cannot be downloaded directly without a premium subscription. If you want to know how to solve this problem, then this article is for you.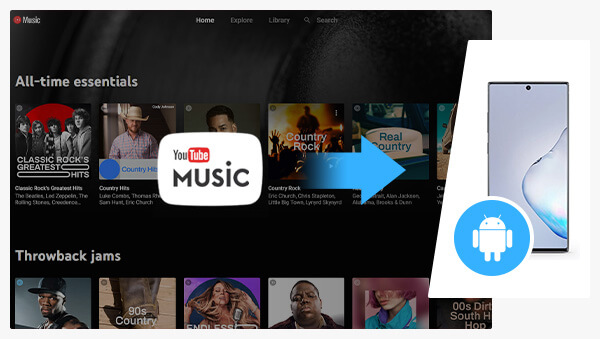 In this article, you will find details on how to download music from YouTube and transfer it to your Android phone.
---
1. Directly Download to Your Android Phone with a Premium Subscription
The first method is to subscribe to YouTube Premium, a method that allows you to listen to or download YouTube music or videos offline directly on your phone. Why not subscribe to YouTube Music Premium? Firstly, let's clarify the difference between the two subscriptions. YouTube Music Premium is $10 per month and the benefits include enjoying all of your favorite songs and videos without ads, downloading music to your device for up to 30 days, and playing music in the background on your mobile device, even when you close the app.
YouTube Premium (YouTube Red) is $12 per month, with key benefits include: watching videos without ads, downloading videos and playlists for offline viewing, background playback, as well as all the benefits offered by YouTube Music Premium. In comparison, if you have to choose one subscription, then YouTube Premium is a better deal.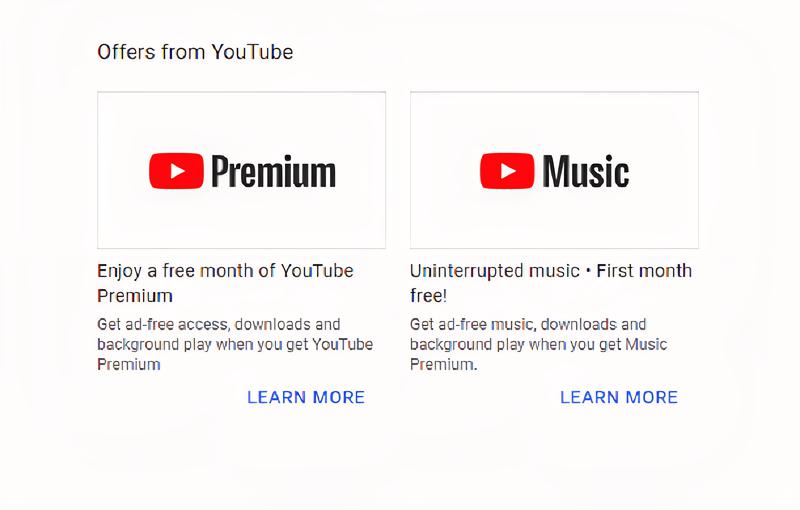 In fact, it is possible that you don't have to pay for this official channel. Both YouTube Music Premium and YouTube Premium are free to try for a month if you are a new subscriber. You will be officially alerted seven days in advance that your trial is coming to an end. You can cancel at any time during the trial period, or if you forget to cancel, you will automatically pay for the subscription until you cancel it. Once you have a membership, you can open YouTube or YouTube Music app on your mobile phone, select your favorite video or music and click the download button. However, the premium membership may not be available in some locations, click here to check Premium memberships available locations.
---
2. Download Music from YouTube with Desktop software
It's true that the official channel is the most convenient, but new users can only try it for a month, and it's a lot of money to pay for a monthly subscription. Don't worry, here's how you can download music from YouTube and transfer it to your Android phone for free.
You will need a powerful tool to help you do it. Syncios YouTube Video Downloader enable you saving YouTube videos and music as audio file formats like M4A and WEBM with perfect audio bit rates, then you can transfer the original music from YouTube to iTunes, iPod, mobile phone, to the USB drive for enjoying in your car, or customize it as your phone new ringtone.
What Syncios YouTube Video Downloader can do for you:
Download online YouTube videos and music for offline playing.
Free download YouTube videos to MP4, MKV, M4A, and WEBM.
Download YouTube videos at fast speed.
Select video quality: 144p, 240p, 360p, 480p, 720p, 1280p, 1440p, 4K.
Free offer and no extra fee.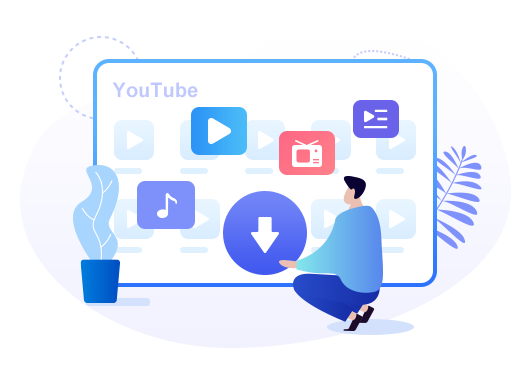 Steps to Download with Syncios YouTube Video Downloader
Step 1: Download and install Syncios YouTube Video Downloader. Open Syncios toolkit and select YouTube Video Downloader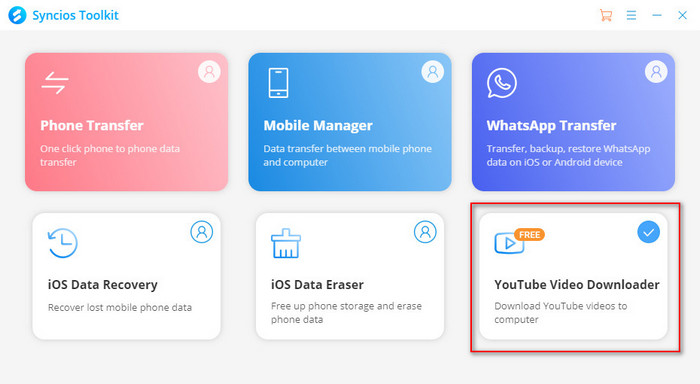 Step 2: Find the link of the music video you want to download, copy its link and paste it into the search box. Just hit the enter key on your keyboard to start the search.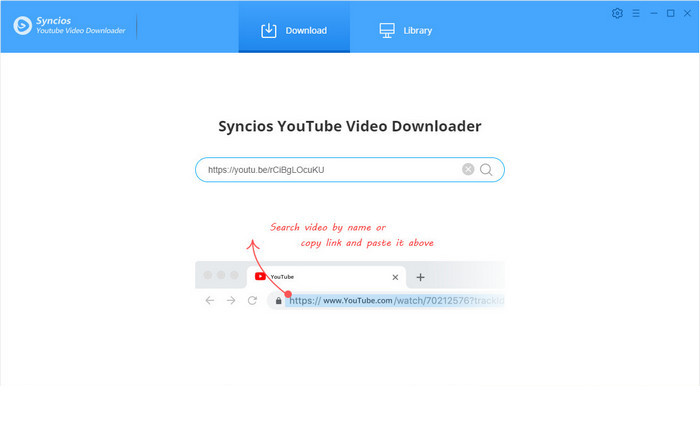 Step 3: Click the menu button, a pop-up window will pop up for you to choose the output format and quality. Since you're downloading music, please select the format and size you prefer in the audio download links section.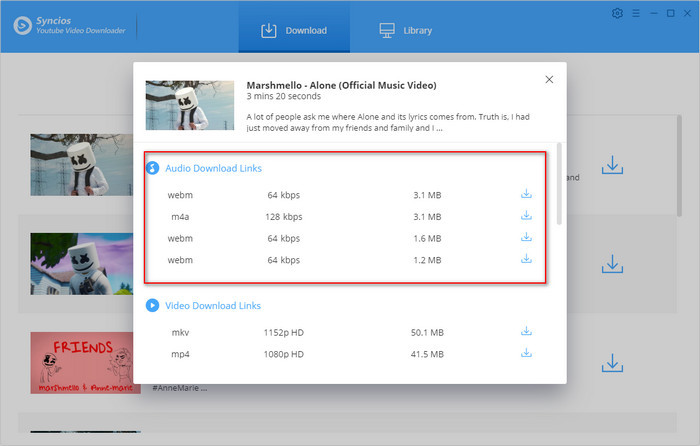 Step 4: Click the Download button. After the download is complete, you can check the downloaded video in the Library and click the folder button to directly locate it.
---
3. Transfer YouTube Music from Computer to Android Phone
The audio file downloaded in this way is saved on the computer, so how to transfer it to the Android phone? Remember that when you opened the Syncios toolkit in the previous section and a six-panel screen appeared? The second of these is Syncios Mobile Manager, which will help you transfer files for free! It's a powerful iTunes alternative that helps you export or import apps, photos, music, videos, SMS messages and more from or to your mobile device.
Key Features of Syncios Mobile Manager:
Selectively back up and restore contacts, messages, call logs, music, video, photo, eBooks, apps, etc.
Manage iOS devices/Android music, edit song details and deduplicate tracks.
Preview and export SMS, Call History & Contacts to readable format on the computer.
Handy tools: One-Click Backup/Restore, HEIC Converter, Photo Compression, Ringtone Maker, Audio Converter and Video Converter.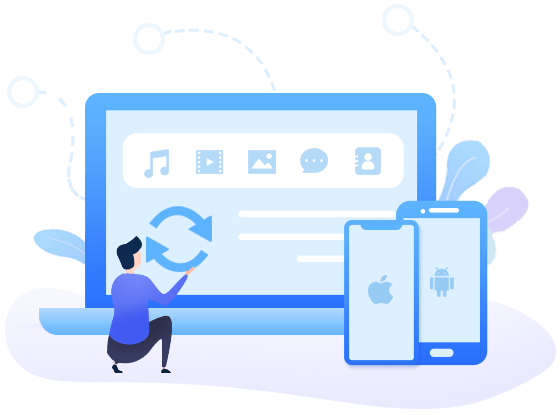 Steps to Transfer YouTube Music from Computer to Android Phone
Step 1 Open it from Toolkit > Mobile Manager. Connect the computer and mobile phone with a USB cable.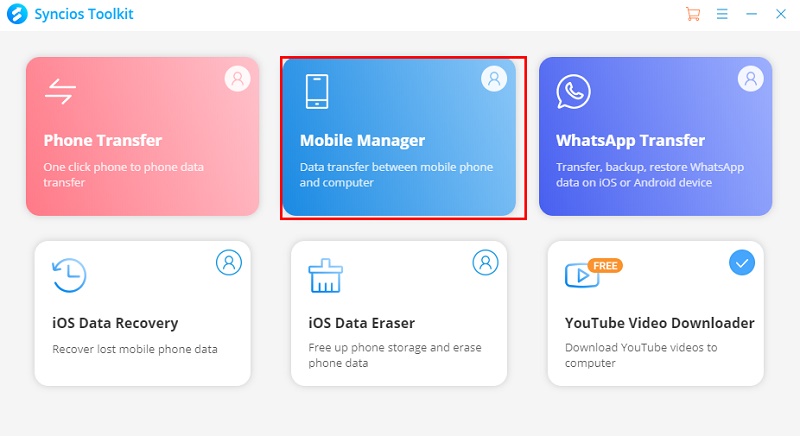 Step 2 After the connection is successful, you can see all the audio files and video files on your device. Select the appropriate directory as desired, and then click on "Add" in the upper-left corner to choose music. You can choose "Add files" to select the specific music that you want to transfer, or choose "Add Folder" and transfer all the music in this folder at one time.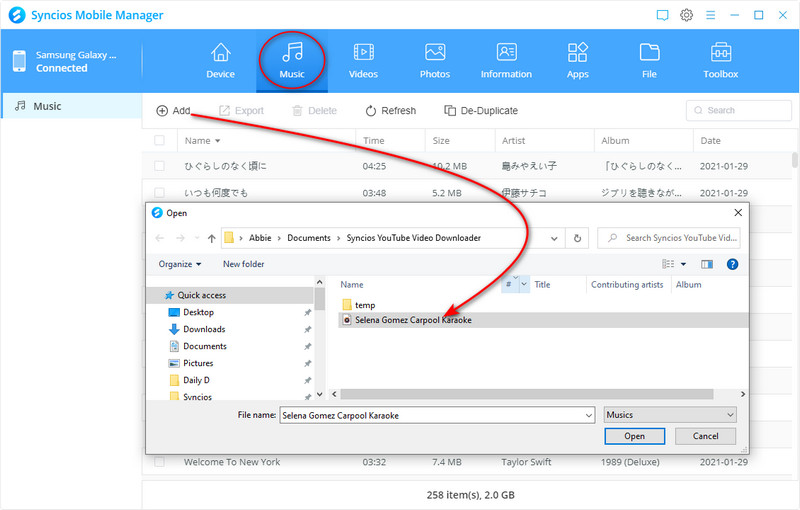 Step 3 After the transfer is complete, click the refresh button to check at the Syncios list, or you can check and enjoy on your Android Phone.
---
Conclusion
In general, official channels are convenient and direct, but cost a lot. Syncios YouTube Downloader is a powerful tool that helps you download the video and music from YouTube and convert them to widely-used formats. It's completely free, easy to use and has no bundles, so it's a good choice for you. Audio and video files downloaded through third-party desktop software are saved in local files on your computer. No matter which program you use to download, Syncios Mobile Manager can always help you transfer them to other mobile devices.
Download YouTube Video Downloader
Download Syncios Mobile Manager