How to Set Customized Ringtone on WhatsApp
WhatsApp is a widely-used instant messaging app available in kinds of devices, like Android, iPhone and Windows phones. You can make a direct call to people via WhatsApp calling service. So as one of the WhatsApp users, have you ever changed the messages, group and call tone on your WhatsApp? Still use the default one? Do you want to customize ringtones by yourself and then you can easily distinguish the received messages is from group or individual? Read this article to learn how to make ringtones for free and then set on WhatsApp.

When you hear mobile phone ringing in public, you will unconsciously take out and check your phone. Why? That's because the default ringtones are used by so many people. If you prefer a customized ringtone and would like to set it no WhatsApp, you need a 3rd party tool for help. Many available choices you can find on the internet and here we would like to introduce an all-in-one Syncios iOS & Android Manager to you.
With the tool, you can not only turn a song into ringtone and save on your Android but also manage phone photos, music, videos, contacts, messages, apps and more in a flexible way. The personal information can be saved as readable format which can view at any time.
---
Tool Required: Syncios Mobile Manager
Selectively manage phone contacts, message, call log, music, photos, videos, Apps documents (iOS devices only) and etc.
Export SMS, Call History & Contacts to readable format on computer.
Handy tools: One-Click Backup/Restore, HEIC Converter, Photo Compression, Ringtone Maker, Audio Converter and Video Converter.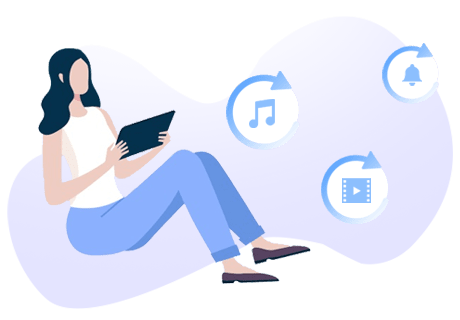 ---
Step 1: Download a mobile manager on your computer. Start it and you will see many modules: Music, Videos, Photos, Information, Apps, File and Toolbox. Let's tap on Toolbox. Here you can see many powerful tools. For example, photos compression to free up space on your phone, or Audio conversion for converting audio files into MP3, M4A, M4R, CAF, AAC and more formats to enjoy on different circumstances. Certainly. We're going to customize ringtone from a song we like, so we should enter Ringtone Maker.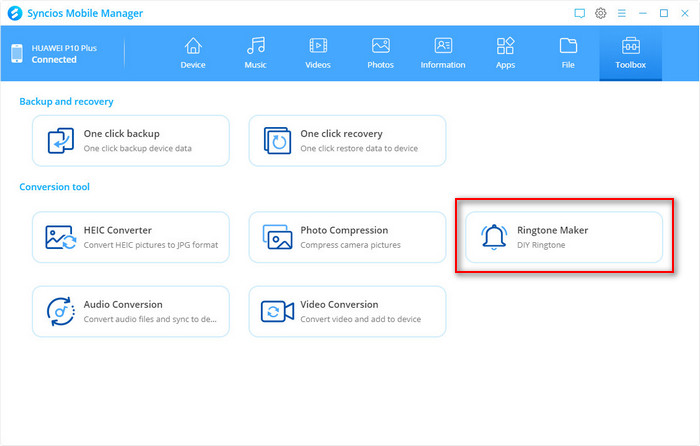 Step 2: Here you can load music tracks from computer or select directly from device. After selection, you can playback the music. Set the start and the end. If necessary, you can check Loop Playback or add fade-in and fade-out effects. It' highly recommended that the duration of the ringtone should not exceed 30 seconds. Now you can choose to import this edited ringtone. If you find the Import to device button is grayed out, you might forget to connect your Android to computer via USB cable or the device is under unsuccessful connection. Just connect it or check the connection. (Guide)
To save on computer, click Save to computer button. To import the Android, hit on Import to device instead.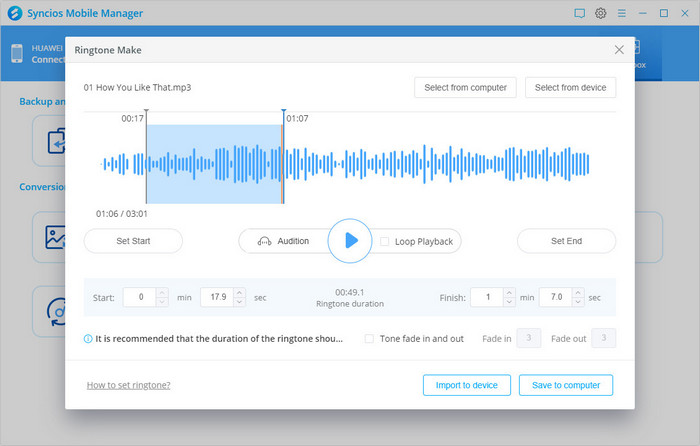 Step 3: When you see a prompt informing you that generated ringtone successfully, you can close the program and turn to check the ringtone on your Android.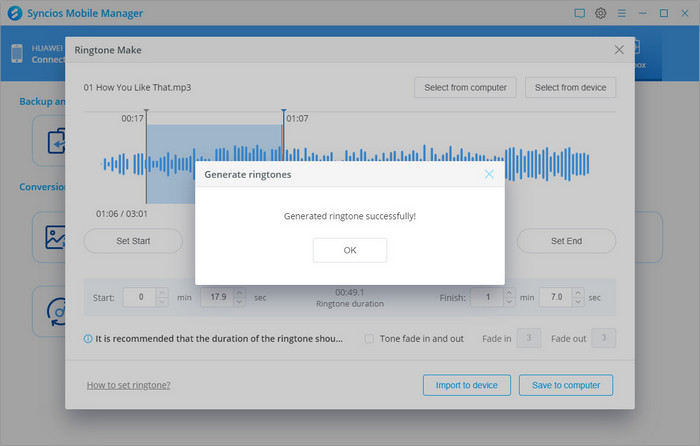 When finished loading the edited ringtone to your Android, we can begin to set it as the notification tone on WhatsApp. Follow the detailed techniques here. Since you can set the customized ringtone on WhatsApp as messages, group or call tone, and we will take the message tone as an example:
Step 1: Open WhatsApp on your Android and login your account. Find the three dots icon from the upper right corner of the Chats page. Tap on it to find a drop-down menu.
Step 2: Select Settings option and enter the page. Hit on Notifications (Messages, group & call tones). Tap on Notification tone option under Messages. And then choose Media Storage.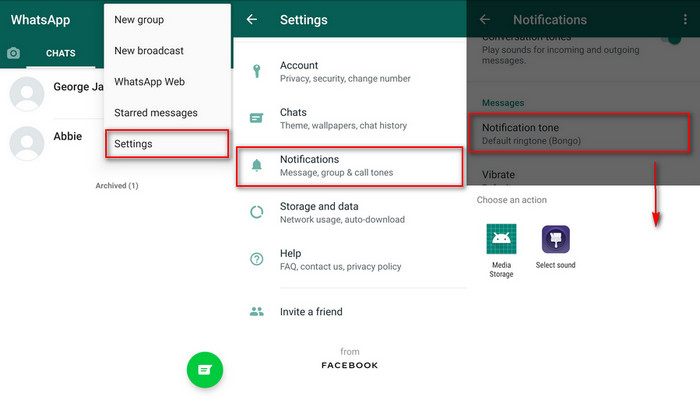 Step 3: Just swipe down the screen to find Add ringtone button. Click on it and you will see a new page.
Step 4: Tap the Open from button from the upper-left corner and choose Music. Check the ringtone you made just now.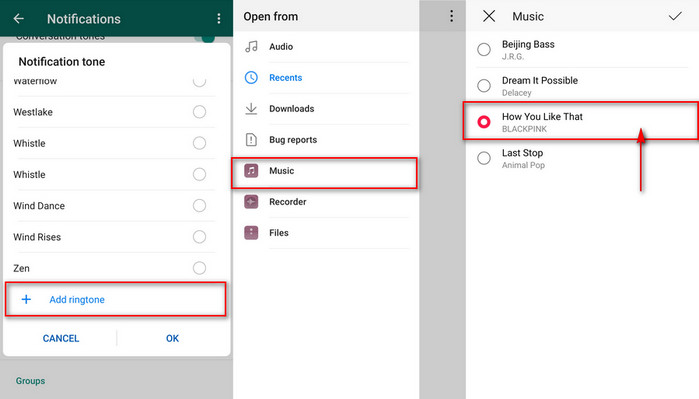 Conclusion
There are some sites or apps that enable us to download ringtones to the smart phones. However, Syncios Mobile Manager can help you turn any song into ringtone as you like. More importantly, it has many other useful features, for example, de-duplicate music on a click, save messages as HTML and then view via a browser in a clear way and etc.
---
Tips

what's next? Download Syncios Mobile Manager now!
---