How to Transfer WhatsApp Account to New Phone
WhatsApp is much in demand as a daily messaging application all over the world. So for many people who have the thoughts to upgrade a new phone, they will find it's no easy to transfer an old WhatsApp account to a new phone, no matter with the same or different numbers. Unlike contacts, messages, pictures and music, these types of files always can be migrated with even a traditional way. You don't need to get worried, since here we will give you the solutions to transfer WhatsApp account to a new phone.

Here we will introduce the official way to transfer old WhatsApp account to a new phone with old SIM card or a new phone with a new SIM card. Then you're allowed to finish the migration with ease. Let's continue to read.
Backup WhatsApp on Old Phone
Step 1: To transfer the old WhatsApp account to a new phone out of data loss trouble, you should backup the current data in advance. Firstly, open WhatsApp. Choose Chats option from the Settings page. And then click Chat backup to backup the WhatsApp account to a Google Drive. Please select the target email address to sync.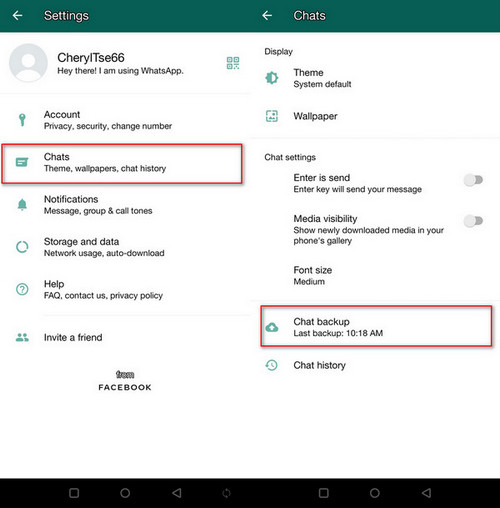 Restore WhatsApp on New Phone
Step 2: Now, let's download the backup file from Google Drive on the new phone and then install the WhatsApp again. On the start-up page, you would be asked to enter your phone number to login. It will inform you to allow WhatsApp access to our contacts, photos, media and files. Click Continue to allow.
Step 3: After that, WhatsApp will automatically scan out available backup with the date and size. Just click Restore to transfer the old account. Click Next to initiate the process.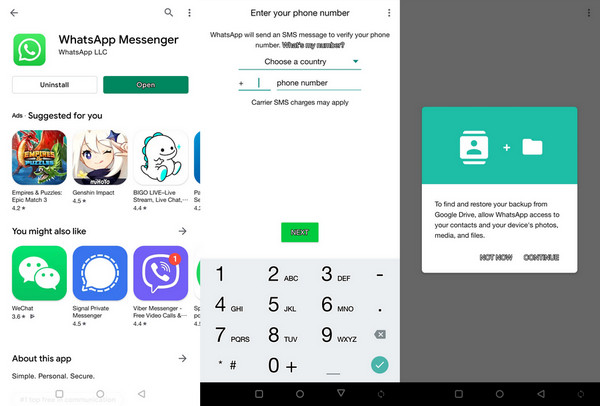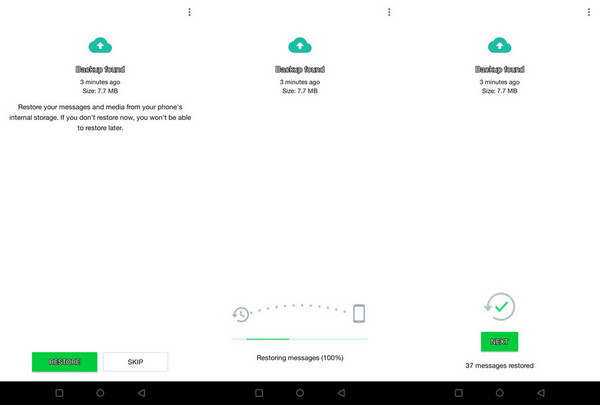 What to Do If We Change to New SIM?
However, if you also change to a new number, you should also finish the steps below before proceeding backup and restore WhatsApp account. On your old phone, open WhatsApp. Go to Settings and find Account. Under Account line, you can see Change number option, tap on it.
Before the process starts, you should confirm that you're able to receive SMS or calls at the new number. Then type in both old and current phone number into the box and select Next. Tap Done and then WhatsApp will verify your new phone number.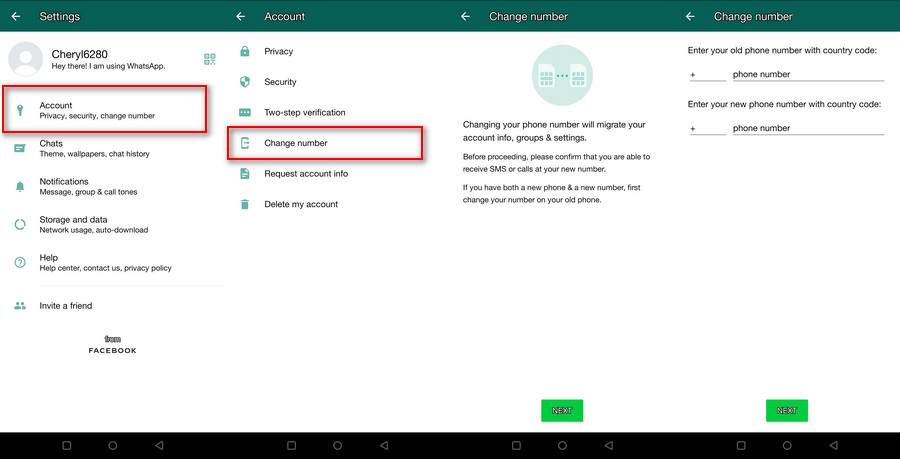 The native method of WhatsApp above is convenient, but sometimes if we forget to do a backup of current WhatsApp account before switching to a new phone, it might cause a data loss. It will be disaster. So to avoid suffering from the accident, it is recommended to use professional Syncios WhatsApp Transfer to directly transfer WhatsApp account and WhatsApp history between two devices. It can support from iOS to iOS, Android to Android, Android to iOS and vice versa. The more important thing is that the transfer becomes more flexible, you can transfer only the chats you want in batch.
---
Tool Required: Syncios WhatsApp Transfer
Transfer WhatsApp between iOS devices and Android.
Export WhatsApp backup to HTML and CSV files.
Backup and restore iPhone/iPad/Android WhatsApp data.
Preview the backup content and restore only the data you want.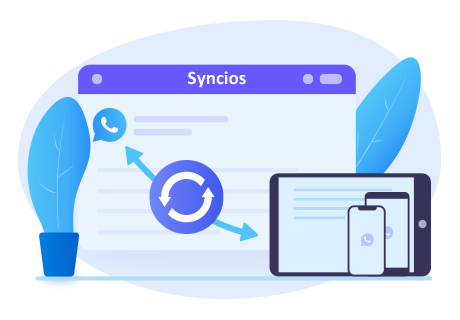 ---
Step 1: To begin with, download a suitable version of Syncios WhatsApp Transfer and launch. Enter Transfer WhatsApp between two devices module.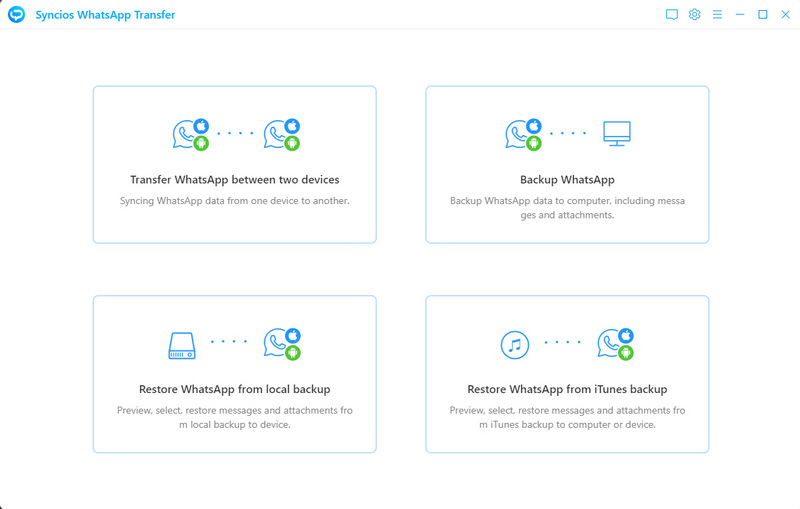 Step 2: Connect both of the Android and iOS device via two USB cables. The original ones are better. Can't get your phones detected by Syncios? Find ways to fix the issue here. (Android / iOS device) Once being detected, the device icons and names will be displayed on the interface. You're supposed to make sure the position is correct. If not, tap on Flip button to reverse the source and the target end. Now click on Transfer button to begin.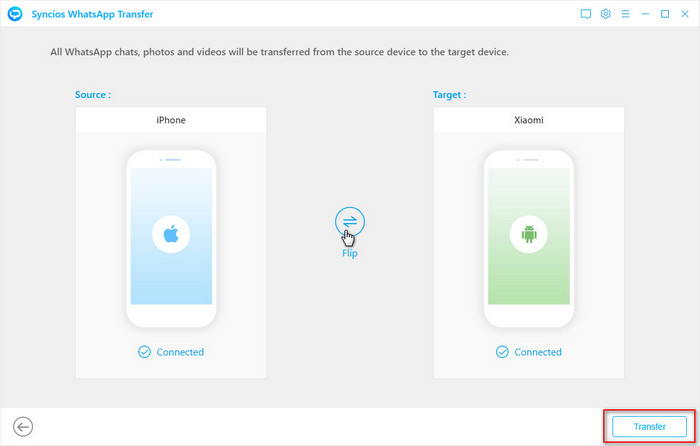 Step 3: Simply follow the Syncios on-screen tips to finish some necessary steps and patiently wait till complete. When you see words as xx Restore completed, it means that your old WhatsApp account has been successfully transferred to the new iPhone or Android. Open WhatsApp on the new phone to check the data.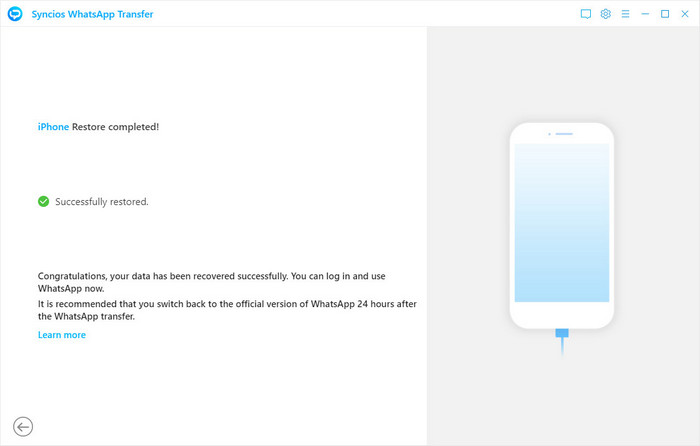 Conclusion
To sum up, if you wish to transfer old WhatsApp account to a new phone, you should change phone number on old device at first if you change a SIM card also. Then go to backup WhatsApp account to Google Drive and then install WhatsApp on new phone and choose to restore. Certainly, as you can see, the best way to finish a direct transfer between two mobile phones should be the powerful Syncios WhatsApp Transfer.
---
Tips

what's next? Download Syncios WhatsApp Transfer now!
---