Change WhatsApp Phone Number without Chats Loss
WhatsApp has been the most globally popular messaging app as well with a dedicated website client. With WhatsApp, users can send text messages and voice messages. Also users can share photos, documents, locations and more funny features. Each user is required to provide a standard cellular mobile telephone number for registering with the service. A phone number will be associated with a particular account alongside the WhatsApp contents. So if you want to change to a new phone number without losing your WhatsApp data, you can go with our guide in this article and keep your data in a safe status.
Part 1: Change WhatsApp Phone Number without Chats Loss
Systematically, you can go through the steps on your WhatsApp by yourself. So let's check the steps right now.
1. Start up the WhatsApp on the mobile phone.
2. Tap the 3 dots menu at the top right corner of the home screen, go to Settings if you're an Android users. If you are on an iPhone, directly go to Settings option. Here we will display you the steps figure on Android phone.
3. Go ahead, go into the Account option where you can find a 'Change number' option subsequently. And click it.
4. Now, you will be reminded that 'Changing your phone number will migrate your account info, groups & Settings'. And you need to confirm that the new phone number is able to receive SMS or phone calls. If everything is alright, press the Next operation.
5. Enter your old and new numbers respectively.
6. Press the Next to move to the final stage of changing your WhatsApp number.
WhatsApp will now ask you whether you want your contacts to be notified about your new number. You can choose from All contacts, Contacts I have chat with, or custom numbers — who will be informed about the change. The app will, however, automatically notify groups about the changing of your WhatsApp number. Now, tap Done.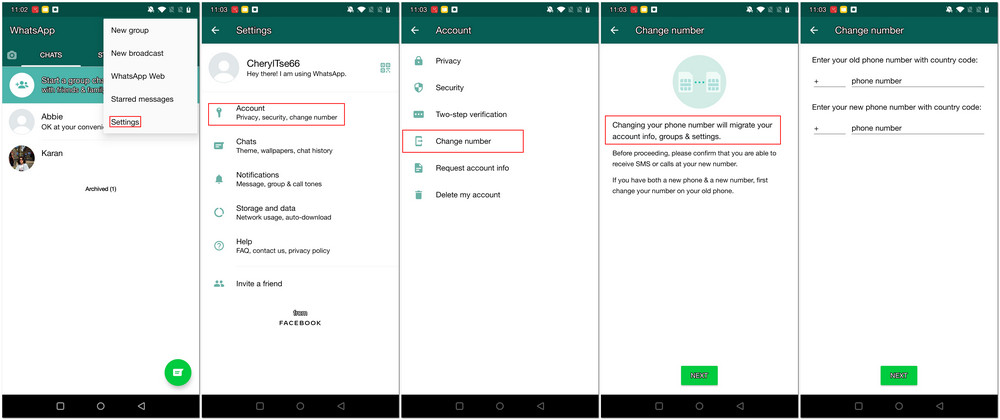 ---
Part 2: Transfer Old WhatsApp Chats to Another Phone
But what if you are changing to a new phone? How could it be easier for you to transfer WhatsApp data and files from the old phone to the new phone without chats loss? This is technically possible to migrate your WhatsApp chats with a transfer operation. Syncios WhatsApp Transfer is attainable, which has features such as the ability to transfer WhatsApp chats and attachment directly between 2 phones. This tool is fully supported with iOS and Android WhatsApp. In this case, you can simply log into WhatsApp on 2 phones respectively. And then go for a 'Transfer' operation to move the WhatsApp chats from the source phone to the target phone. Thus you can finally achieve a successful WhatsApp chats migration at no risk.
Step 1:Get and download Syncios WhatsApp Transfer from the button provided below. There is a slightly different situation, in which you need to enter 'WhatsApp Transfer' mode on Syncios Toolkit to get the program if you are a Windows user. While if you are using an Apple Mac, directly download the button to get the program to work.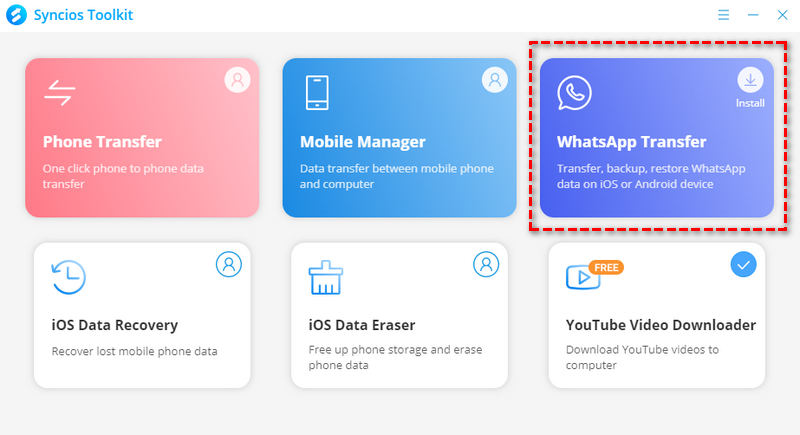 Step 2: On the homepage of Syncios WhatsApp Transfer, click on the first feature 'Transfer WhatsApp Chats between 2 devices'. You can transfer WhatsApp messages and WhatsApp attachment between your mobile phones. iOS device like iPhone or iPad and Android phone are fully compatible with this program and the features.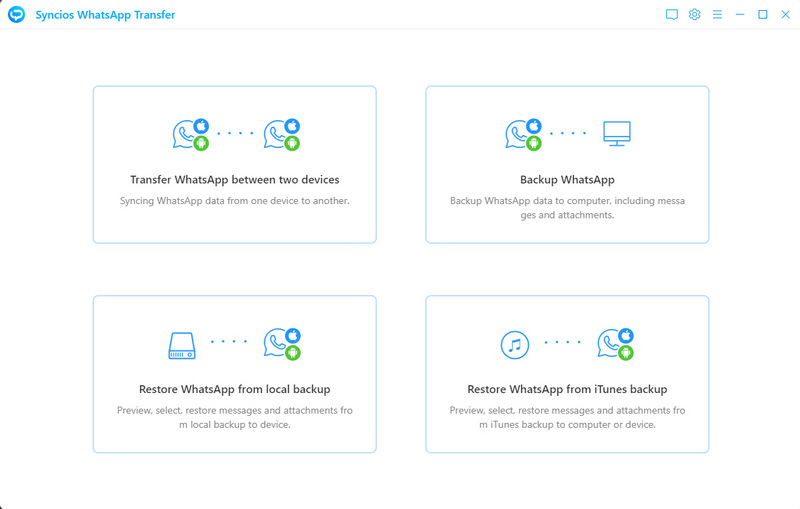 Step 3:Respectively connect your mobile phone to program via the USB cable. Especially, as an important consequence, the target phone should be placed on the right side and the source phone on the left. If necessary, click the 'Flip' button to change the position.
Step 4: Alright, tap the 'Transfer' button to operate the job. In particular, note that log in your WhatsApp account on the phone, follow the prompts from Syncios WhatsApp Transfer. So that Syncios WhatsApp Transfer can read and access to WhatsApp chats alongside the attachment. Also, log in the account on target phone and make everything is ready for the transfer.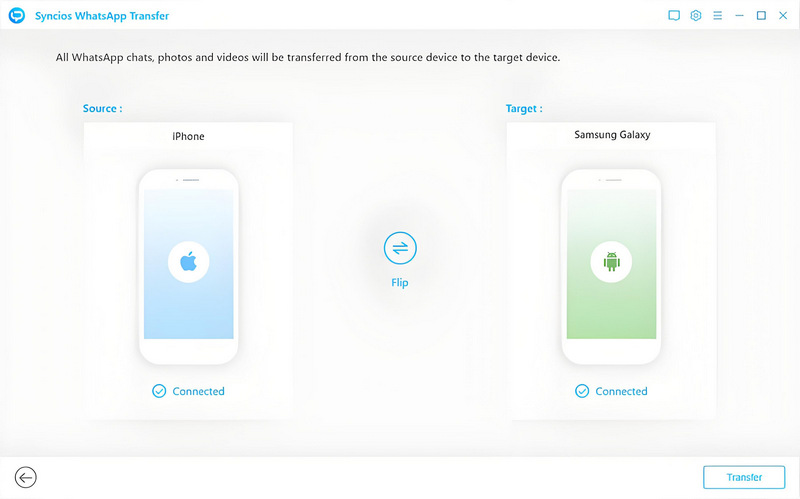 Extra tip: As we have mentioned in Part 1 when you change your phone number, mostly like WhatsApp, phone-number-based apps, you need to take good attention to your messages information. So make a secure backup is necessary sometimes. The Backup WhatsApp feature in Syncios WhatsApp Transfer is provided towards the specific needs of people.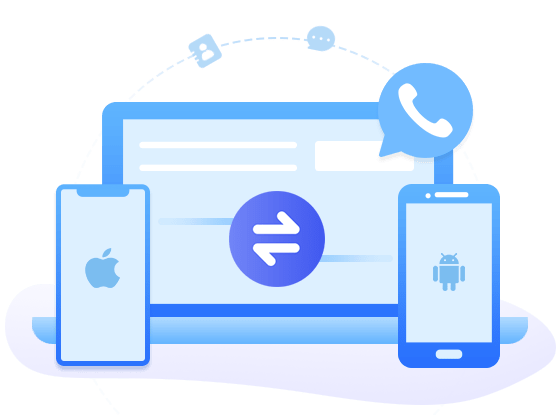 Backup WhatsApp on iPhone/Android to a Windows/Mac computer.
Export WhatsApp backup to HTML and CSV files for comfortable preview on PC.
Preview the backup contents and print out WhatsApp history at ease.
Transfer WhatsApp between iOS devices and Android.
---
Conclusion
It is now quite common that people have more than one phone number, so they will have to put the WhatsApp chats in order. Syncios WhatsApp Transfer is nicely performed both for your WhatsApp data backup, restore and a phone-to-phone transfer. If you come across an issue on WhatsApp management, why not have such a tool to help put everything in place?