Manage WhatsApp Chats to Free Up More Space
If the amount of available storage on your device is close to critically low levels, WhatsApp might not be able to function properly. Apps on the device might keep stuck or crash at a sudden. If this happens, WhatsApp might prompt you to free up space in order to continue using the app. It is critical for you to allocate sufficient memory available before loading WhatsApp. So in today's article, we will show 4 ways to smartly manage your WhatsApp chats and further free up more space.
Free up Storage on WhatsApp (Official Instruction)
WhatsApp gives a solution officially when you are confronted with a storage issue, you can free up space by deleting the WhatsApp chats and WhatsApp media that are large or have been forwarded many times.
Delete large and frequently forwarded items on WhatsApp
1. On the chats tab, tap 'More' options > 'Settings'.
2. Tap Storage and data > Manage storage. The amount of space taken up on your device by WhatsApp media and Apps and other items is displayed at the top of the screen.
3. Tap Forwarded many times, Larger than 5 MB, or select a specific chat. You can tap the sort icon to sort by Newest, Oldest, or Largest. The file size of the item is displayed in the top corner of the item.
4. Tap an item to review and delete it. Or you can tap Select all to delete all items at once.
Remove WhatsApp chats in batch to free up space (iPhone/iPad)
By the official way, WhatsApp media will be deleted on WhatsApp. While these deleted items might still be saved on your device. If you have multiple copies of an item, you'll also need to delete all copies in order to free up space. You can use a free tool to manage your WhatsApp files and remove the media files on your device thoroughly.
Mobile Manager Ultimate gives a free way to manage iPhone WhatsApp in a general overview. May you can have a try if you stored too many WhatsApp items on your iPhone device.
1. Download and run Mobile Manager Ultimate on your computer, and then connect your iPhone to the program for a handy management.
2. Click on Information section on the left of the panel, find WhatsApp on the top menu bar, then this manager tool would start loading 'WhatsApp' messages on your iPhone.
3. Select the chat individually or select all of them, finally click on the Delete button to remove them from your iPhone along with the media attachment.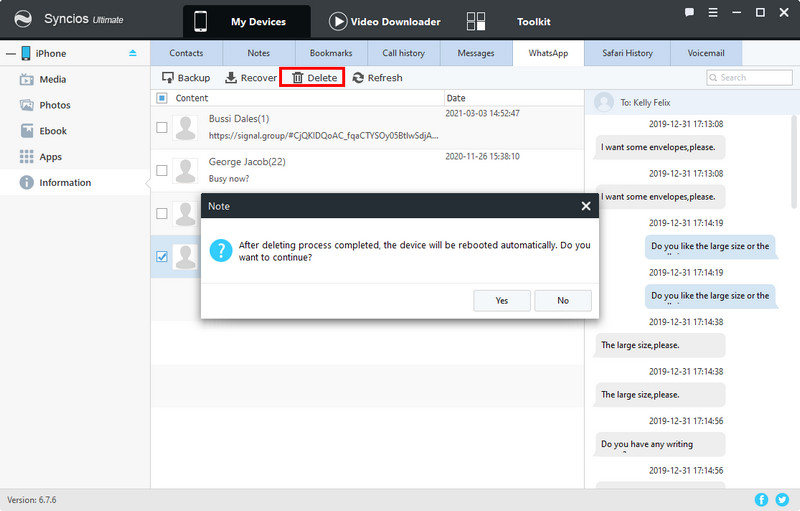 ---
Method 2: Sync WhatsApp Chats to Cloud Storage
WhatsApp is mainly associated with 2 cloud services for iOS and Android users. They are iCloud and Google Drive, which enable WhatsApp users to wirelessly store the WhatsApp chats and document, photos, audio on a remote service. Steps to sync WhatsApp data to iCloud storage are kind of different from syncing to Google Drive. Anyhow, after the synchronization, you can remove the WhatsApp data on your phone, thus releasing more space for use. It is nothing to worry about the data loss!
Sync iPhone WhatsApp Chats to iCloud.
1. Run your iPhone to Settings, tap on the Apple ID banner at the top, and then tap on iCloud.
2. Scroll down to find WhatsApp in the list and tap the switch to toggle it on.
3. Launch WhatsApp and tap on the 'Settings' menu (the gear) > tap 'Chats' button >tap 'Chat Backup'.
4. Tap 'Back Up Now' to run a backup.
5. Turn on the 'Auto Backup' toggle and choose the frequency you want it to back up from Daily, Weekly and Monthly.
6. Turn on 'Include Videos' if you want to save videos to the cloud as well.
Sync Android WhatsApp Chats to Google Drive
If you are an Android user, then sync your WhatsApp chats to Google Drive, which gives 5G free space for WhatsApp data.
1. Run your Android phone to WhatsApp application.
2. Tap More options > Settings > Chats > Chat backup > Back up to Google Drive.
3. Select the Google account you'd like to back up your chat history to. If you don't have a Google account connected, tap Add account when prompted and enter your login credentials.
4. Tap Back up over to choose the network you want to use for backups.
Some notes you should pay attention to:
1. iCloud and Google Drive provide free yet limited storage for WhatsApp. If you synced with WhatsApp media, you need upgrade the storage plans by paying space plans accordingly.
2. All the WhatsApp data will be synced to iCloud in a whole. You can't work with individual messages. Exactly, it's all or nothing.
3. Another downside is that all backup contents can't be viewed in the cloud server, which is an encrypted backup set by the manufactures. But you can restore them when you instruct Restore on WhatsApp app.
---
Method 3: Backup WhatsApp Chats to Computer
If there is a large number of WhatsApp messages on your device, and you want to normally visit and read the WhatsApp history on the backup storage, we will advise making a safe and unencrypted backup of WhatsApp history along with the attachment to a computer. Syncios WhatsApp Transfer helps back up WhatsApp chats and WhatsApp media on Android or iPhone to computer at one click. This tool is particularly very useful for backing up huge number of WhatsApp messages and media items. And all the WhatsApp contents backed up to computer are able to preview as you view on your phone. After that, you can remove the WhatsApp data on your phone without causing any data loss at all. Also, you will get sufficient space for WhatsApp again. So to make a complete WhatsApp backup to computer, do the following steps.
Step 1: In the first, click the download button provided below to get a Syncios WhatsApp Transfer to your computer. Syncios WhatsApp Transfer is Windows and Mac compatible. But Windows owner will initiate the program by clicking 'WhatsApp Transfer' mode on Syncios Toolkit.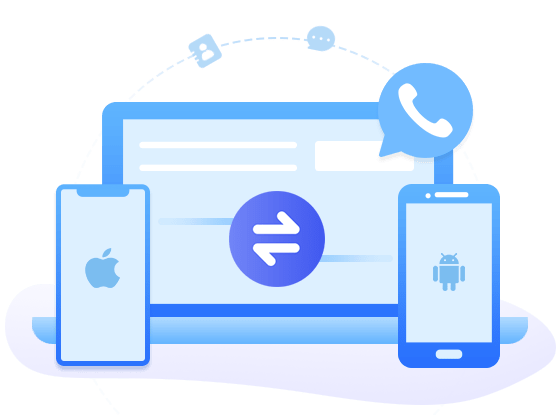 Backup WhatsApp on iPhone/Android to a Windows/Mac computer.
Export WhatsApp backup to HTML and CSV files for comfortable preview on PC.
Preview the backup contents and print out WhatsApp history at ease.
Transfer WhatsApp between iOS devices and Android.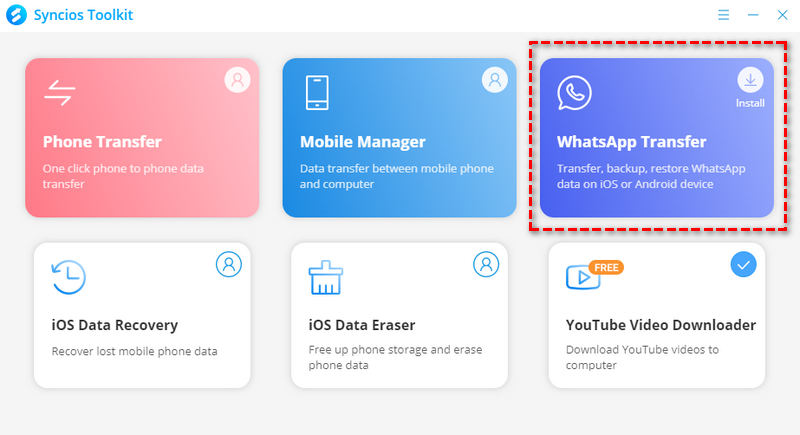 Step 2: After running into the program and you can go directly to the secord module 'Backup WhatsApp'. And then connect your mobile phone to computer with a USB cable until program successfully recognized it. Some helps you may need: 🚀 iOS Connection FAQ, 🚀 Android Connection FAQ.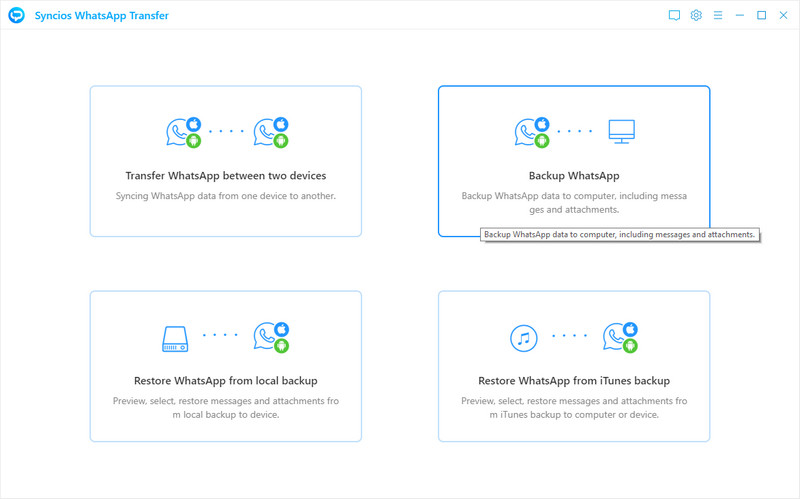 Step 3:Alright, tap 'Start' and Syncios will start to back up the WhatsApp messages and attachment from your phone. Here need to remind you that a customized WhatsApp will be installed to your phone, helping to read and write the WhatsApp data on device. The entire process is performed on your mobile devices. It didn't collect any data. Therefore it is 100% safe to use the customized WhatsApp.
Step 4: After the process, the backup will be put on computer at local. And you can further to view the contents on program. To do that, turn back to the main interface and enter 'Restore WhatsApp from Local backup' to browse the contents clearly. Or you can go to the 'Settings' on the upper right corner, go into the 'Backup path', where you can find out the WhatsApp contents on your computer.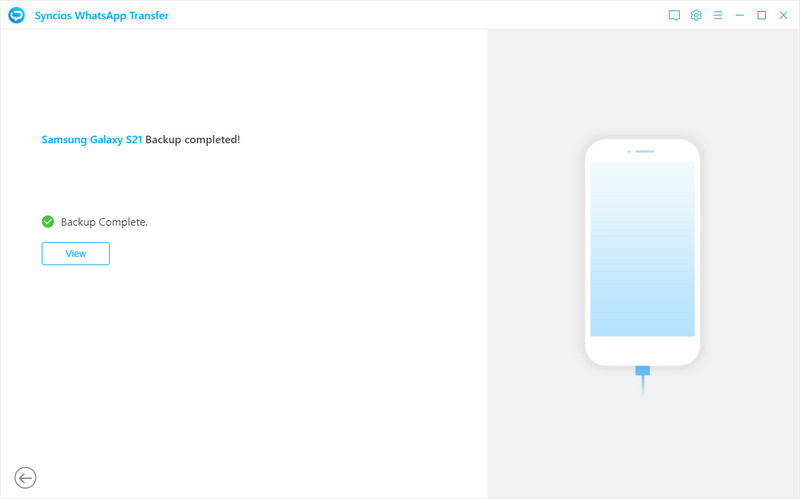 ---
Method 4: Transfer WhatsApp Chats to A phone with Sufficient Storage
When you attempt to send a WhatsApp messages to a friend, while the app stops responding, closes unexpectedly, or won't open, the main reason is that there is no enough memory to handle the requests. If you won't be too bothered by the less memory, jump to a phone with larger storage level will be wise choice. Also, you will see how quickly when using WhatsApp on a phone with literally sufficient storage.
As for the WhatsApp chats history on your old device, how do you manage them without data loss? Transfer them to your new phone! To make it, go with the steps below:
Step 1:If you have downloaded Syncios WhatsApp Transfer on your computer, run it. If not, get one by clicking the download button as we provided below to you.
Step 2: On the homepage of Syncios WhatsApp Transfer, click into the first mode "Transfer WhatsApp between 2 devices".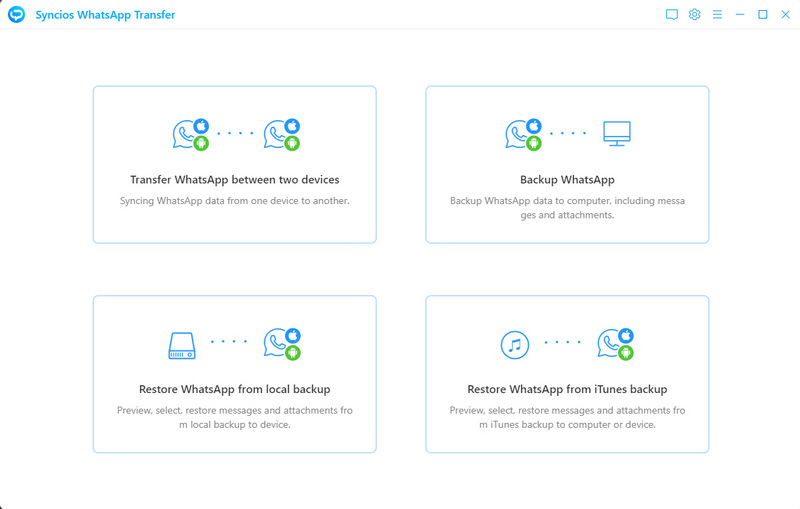 Step 3:Now, respectively connect your 2 phones to program by USB cable. To put the old device on the left, you can tap the 'Flip' button to change it. Do make sure your phone is unlocked at the time it is connected to Syncios WhatsApp Transfer. Plus, log into your WhatsApp account thus program will be able to read and access to WhatsApp data without incident.
Step 4:When everything is put in place, press the 'Transfer' button to go for a phone to phone WhatsApp transfer. If there has any prompt, just follow as the indication tells.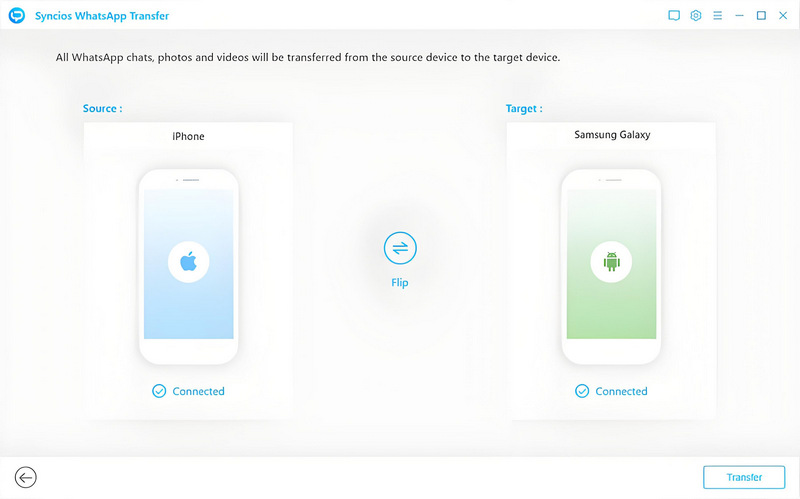 ---
End Words
Above, we sum up 4 feasible ways for you to manage your WhatsApp data without any loss. At the same time, these means take to get your phone free up more space. Surely, it should not blame on your WhatsApp for the short of available space. You can search many ways to gain more space outside of WhatsApp.
So at last, we introduce you a comprehensive tool to manage the internal data of your phone like Music, Photos, Video, Contacts, Messages, Call history, Apps even the E-book files. That is Syncios Mobile Manager with a clear yet flexible interface to create, update and delete the files, which is the way I exactly like it! You can simply offload these file types to a computer and further free up more space for your mobile phone.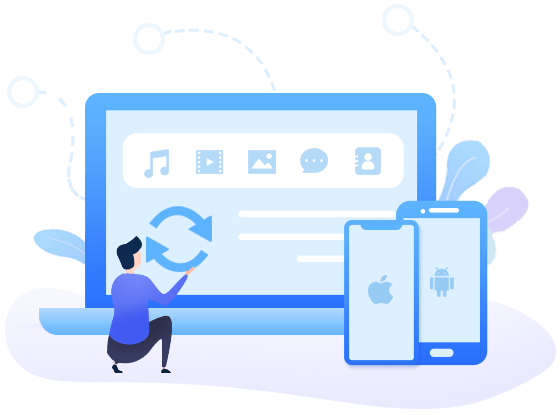 Sync iPad and even multiple iOS devices simultaneously
Transfer files from PC to iPad within seconds
Copy and backup iPad files to your computer
Manage movie, music, videos, voice memos, ebook, and more
Customize your favorite audio tracks into ringtone and transfer to device
Detect device info and media info intelligently
Fully supports iPad, iPhone and iPod Touch Apple devices