8 Ways to Transfer WhatsApp Messages to New Phone
WhatsApp users are in internet connection by sending messages images, audio and video to other numbers. Nowadays almost everyone has a WhatsApp because of features like group chatting, attachment sharing, location tagging, and voice calling. With only a phone and internet connection, you can keep in touch with people living anywhere.
If you have been using WhatsApp for quite a time you will have record of many previous conversation history, including videos, texts, pictures, voice messages, and locations that you might have tagged. Most of the people would be reluctant to lose that history because it might be useful to them in the future. You may want to move the WhatsApp chats to your new phone when you switch your phone and upgrade to a newer one. Here we are going to talk about the story about WhatsApp messages transferring.

Method 1. Directly Transfer WhatsApp Chats between iOS/Android Phones
It's highly recommended to transfer WhatsApp directly from an iOS or Android device to another new phone. The best WhatsApp chat migrator — Syncios WhatsApp Transfer can achieve this simply. Without time consuming, you can easily transfer WhatsApp chats to either an Android or an iPhone. It's an exact app designed for WhatsApp transfer. And five good reasons for you to choose this app:
🌱 1. No need to erase any data on your target phone before the transfer.
🌱 2. No overwriting to existing data on the target phone.
🌱 3. No need to link with the same WhatsApp account on both source device and target device.
🌱 4. Be able to print WhatsApp chats directly.
🌱 5. WhatsApp transfer for iOS and Android devices are available.
Video Tutotrial - Quickly Transfer WhatsApp between Two Phones
Step 1:Connect old iOS/Android device to PC
Download and install this WhatsApp Transfer on your Windows PC or Mac. Launch it after the installation. Tap on WhatsApp Transfer. Get a USB cable to connect both the old phone (the phone you need to retrieve WhatsApp from) and the new phone with computer. Unlock your phones until you see a prompt asking if you trust this computer or not on an iOS device. Of course we need to choose Trust. And for Android devices, all you need to follow instructions on your phone. If your iTunes starts automatically, please turn off it now.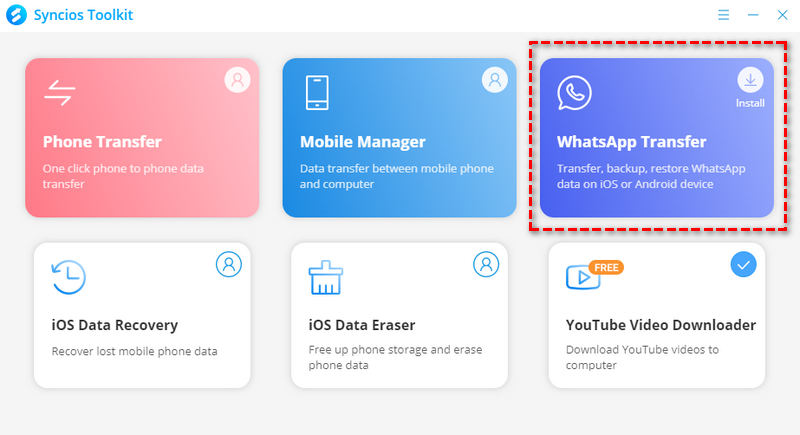 Step 2:Backup old iOS/Android device WhatsApp
On the main interface of this WhatsApp Transfer, direct to Transfer WhatsApp between devices. Choose the source device and tap Backup Device. Then it will start backing up WhatsApp and its attachments on the connected phone right now. After the process is completed, we are going to restore WhatsApp backup of old phone to the new phone.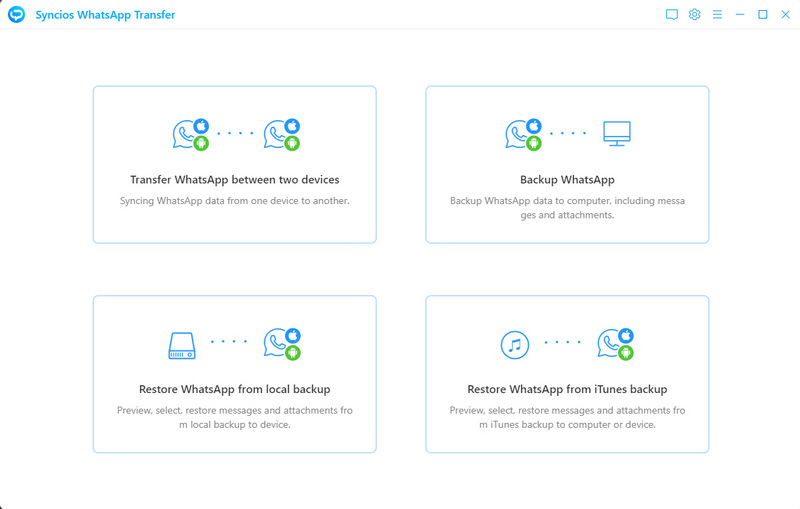 Step 3:Restore backup to new iOS/Android device without overwriting
Go backup then choose Select Backup. All backups will be enlisted. Choose the one you need and click Browse button behind that backup. Now you are able to preview all WhatsApp chats and attachments in this backup. You can check all files in detail. Choose chats and attachments you need and choose Recover to Computer or Recover to Device. Of course we choose the later option. Then choose device you need to recover to, here we choose the name of new device. Then tap Recover to start. After a while, the backup from old phone can be transferred to your new iPhone.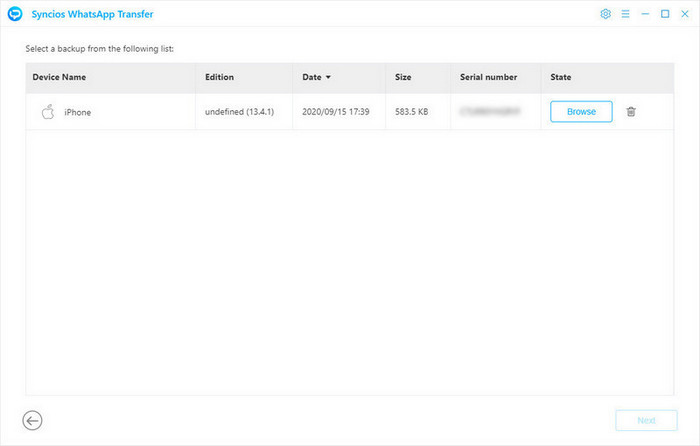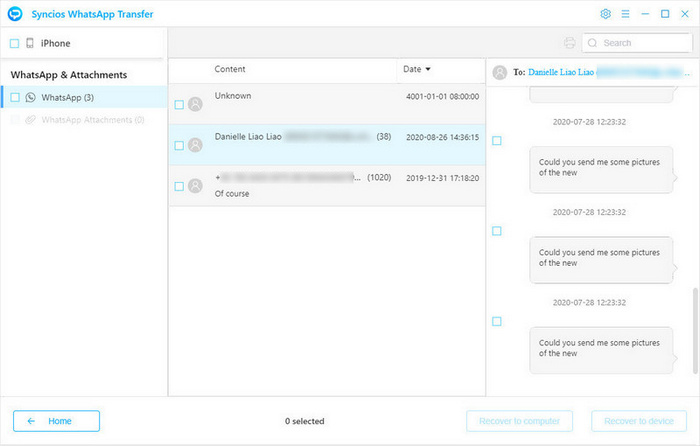 🙋 Print WhatsApp Chats:
By the way, if you need to print WhatsApp chats, just choose chats then go to upper right. Tap Print to print chats you need.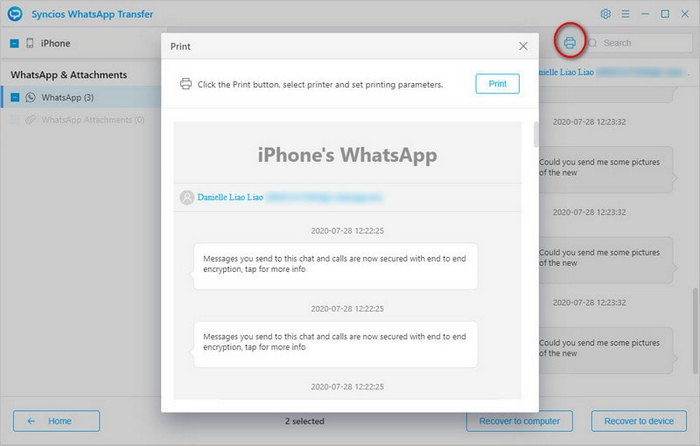 ---
Method 2. Transfer WhatsApp Chats from iTunes Backup to iOS/Android Phone
It's easy to transfer WhatsApp between iOS devices or between Android devices. But for users who switch from an iOS device to an Android device, it's not an easy job. If you were an iOS user, you may want to learn how to restore iTunes backup to the new iPhone, iPad or Android phone. And three good reasons for you to choose this app:
🌱 1. No need to erase any data on your target phone before the transfer.
🌱 2. No overwriting to existing data on the target phone.
🌱 3. Be able to print WhatsApp chats directly.
Step 1:Connect Phone to PC
Start this WhatsApp Transfer program on your computer. We choose Restore WhatsApp from iTunes Backup on the main interface. If you have synchronized your iOS device via iTunes, then this program will load the backup from your computer automatically. Choose one backup you stored WhatsApp data and click on Browse.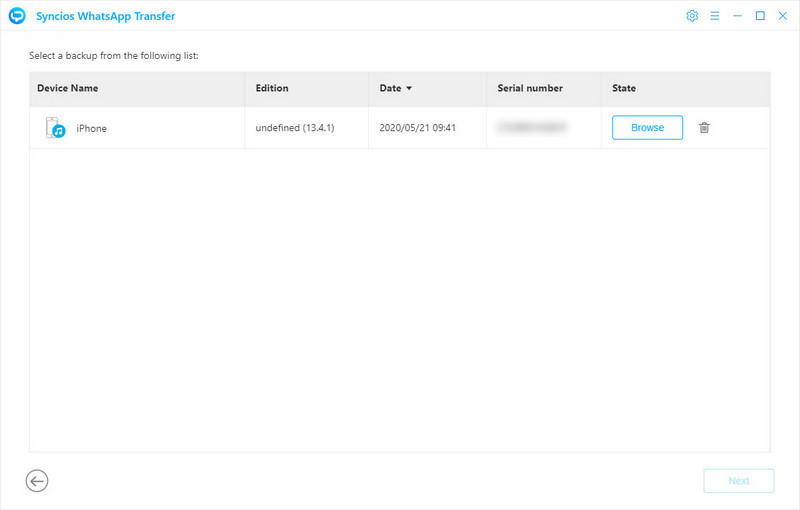 Step 2:Restore WhatsApp from iTunes backup to the new Phone
Now you can check all WhatsApp chats and media attachments in detail. Go through and select files you need, then choose Recover to computer or Recover to device. Of course we choose the later option. After a while, the backup from the iTunes backup file can be transferred to your new Phone. Wait till it finishes. Do not disconnect your phone with computer.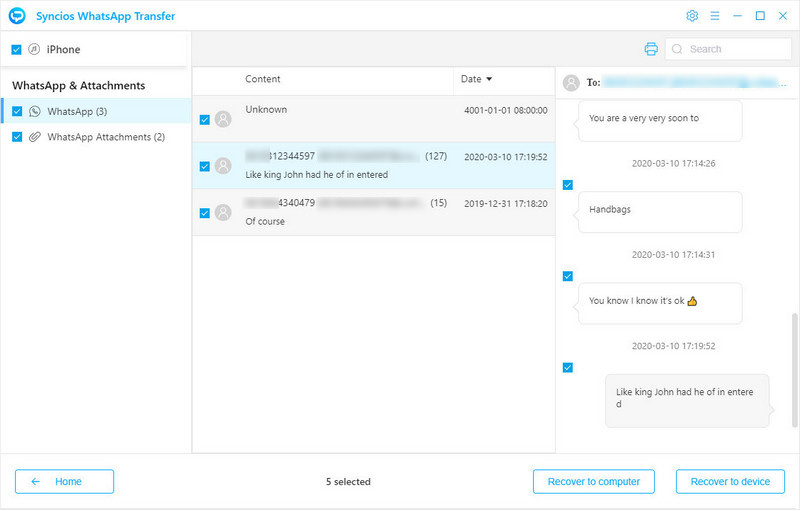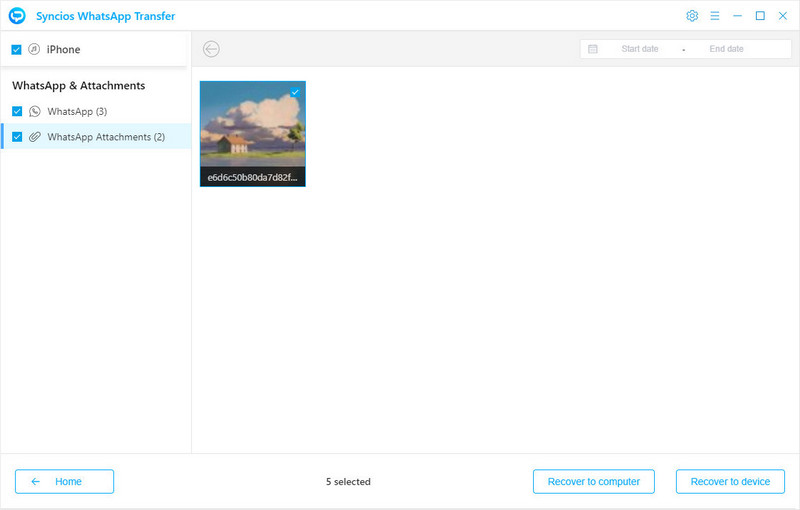 ---
Video Tutorial on How to Directly Transfer WhatsApp Messages Between iPhone and Android:
To save your time on reading the text guide above, we provide a video tutorial, then you can learn how to transfer WhatsApp data in a direct way from Android/iPhone/iTunes backup files to a new phone.
---
Method 3. Transfer WhatsApp Messages from iPhone to iPhone Directly
Transferring WhatsApp chat history with iCloud is not that convenient, the restore process requires you re-install WhatsApp on your iPhone. Is there a quick way to transfer WhatsApp messages from iPhone to iPhone? Of course, we have a great option here. Syncios iOS Data Transfer, designed for transferring data among iOS devices, iCloud, iTunes and computer directly, makes it much easier to transfer data including WhatsApp messages from an old iPhone to a new one. Yes, you can take only three steps to WhatsApp messages from one iPhone to another iPhone. Find the details below.
Step 1Install the latest version of the program on your computer from below, launch it, select Transfer mode on the homepage. Then connect both of your old iPhone and new iPhone to the program.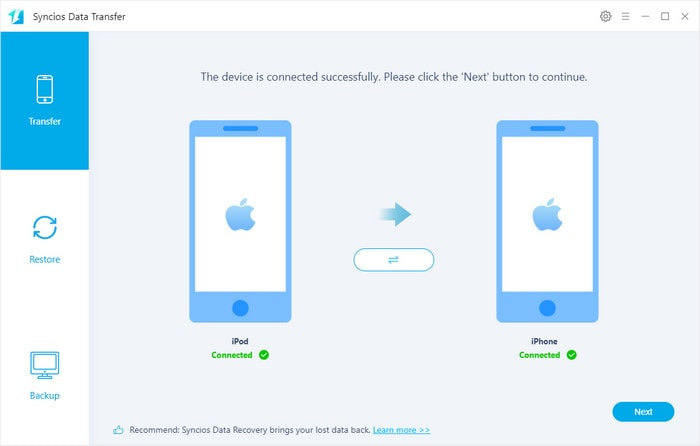 Step 2After both phones are connected successfully to the program, ensure that old iPhone (Source Device) is listed on the left while the new iPhone on the right (Target Device) panel. If not, click on Flip button to switch the device positions. Then check the WhatsApp option and uncheck other options on the middle of the panel to transfer from source iPhone to target iPhone.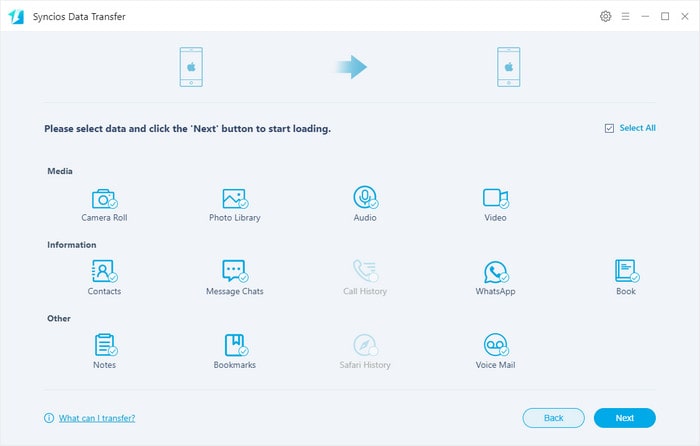 Step 3With all the steps done, simply press Next button, before long, all your WhatsApp messages will be transferred successfully to your target iPhone.
Summary: Syncios Data Transfer is a simple yet effective phone to phone data transfer tool which allows to transfer your WhatsApp messages from one iPhone to another whenever you want.
---
Method 4. Transfer WhatsApp Messages from iPhone to iPhone Selectively
After getting knowledge of how to transferring WhatsApp messages with 1 click, you may wonder if the clear preview of WhatsApp backup can be displayed to us before transferring. In fact, it does. The better way to backup and restore can be achieved by Syncios iPhone Manager, which helps you to transfer your WhatsApp messages from iPhone to iPhone selectively. More importantly, the preview and management of WhatsApp messages details before backing up are available.
Step 1Download and install Syncios iPhone Manager on your computer from below, and then launch it. In this way, we won't do the transferring directly. We need to backup iPhone WhatsApp messages to computer firstly then we restore the backups to another one. We are taking iPhone 8 and iPhone X as an example.
Step 2Connect your two phones to computer with USB cable, tap Trust and enter unlock password on your iPhone screen, and then computer can get access to your data. Syncios would detect your iPhone automatically.
Step 3Click on Information section on the left of the panel under iPhone 8, find WhatsApp on the top bar, then Syncios would start loading WhatsApp messages of your iPhone 8/8 Plus. After WhatsApp data loaded, click on Backup button, and choose the backup path, then start backing up your WhatsApp messages to computer.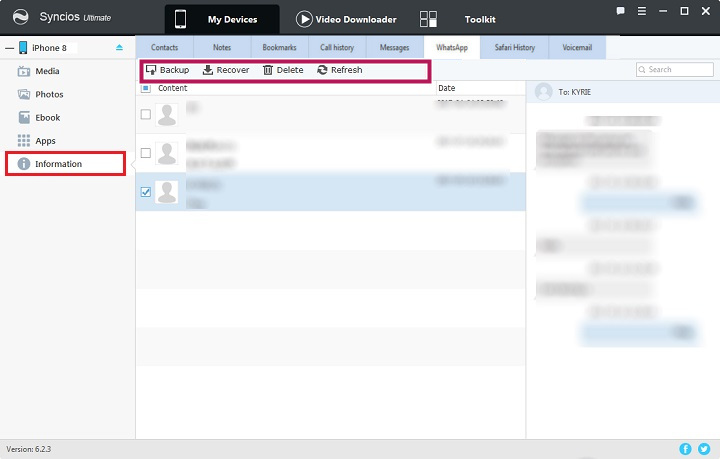 Step 4Now go to Information > WhatsApp under iPhone X device. And simply click on Recover on the top then the previous WhatsApp backup will be detected and listed by Syncios automatically. Then choose the backup file and restore.
---
Method 5. Transfer WhatsApp Messages from iPhone to iPhone via iCloud
For iPhone users, WhatsApp offers a build-in chat history migration method, Apple's iCloud. But it's not a direct WhatsApp messages transfer, you need to backup the chat history to iCloud, then restore it from iCloud to your new device.
Step 1Open Settings on your old iPhone, tap on your Apple ID on the top, find iCloud, slide down to find iCloud Drive, turn it on, and make sure WhatsApp option is turned on as well.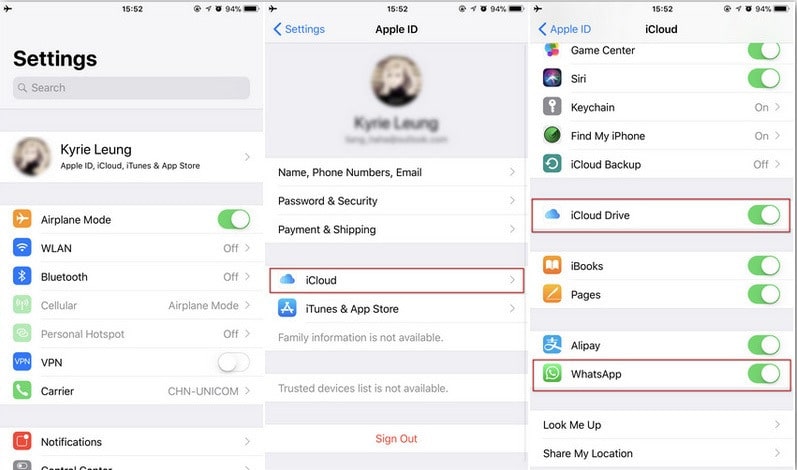 Step 2Back to WhatsApp, tap Settings, find Chats > Chat Backup, and tap on Back Up Now to backup your messages to iCloud. You can also set your chats to be backed up automatically every week, every month, etc.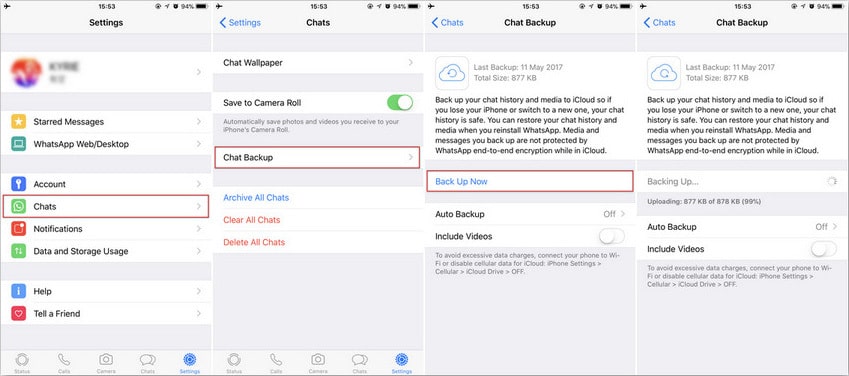 Step 3Log in WhatsApp account on your another iPhone, after your phone number being checked, it will give you an option to Restore Chat History, simply tap on it and restore the chat history backup back to your another iPhone.
---
Method 6. Transfer WhatsApp Messages from Android to Android via Local Backup
Local backup is the automatic backup of your chat history to your phone's WhatsApp folder that occurs daily every 2AM. The folder is located in your device's internal memory or external SD card. To use local backup to transfer WhatsApp messages between Android devices, follow the steps below:
Step 1If you've installed and saved WhatsApp on an external SD card, simply take the SD card out of your old phone, and put it into your new one.
Step 2If you've saved data to internal memory, you need to navigate to the internal memory of the device to the folder WhatsApp / Database after connecting phone to PC. All the backup files are saved with a date. They will look something like files with .db.crypt. Scroll down and copy the file with the latest creation date (it will have a different name from the automatic backups created) onto your PC in an easy to find location (such as your desktop).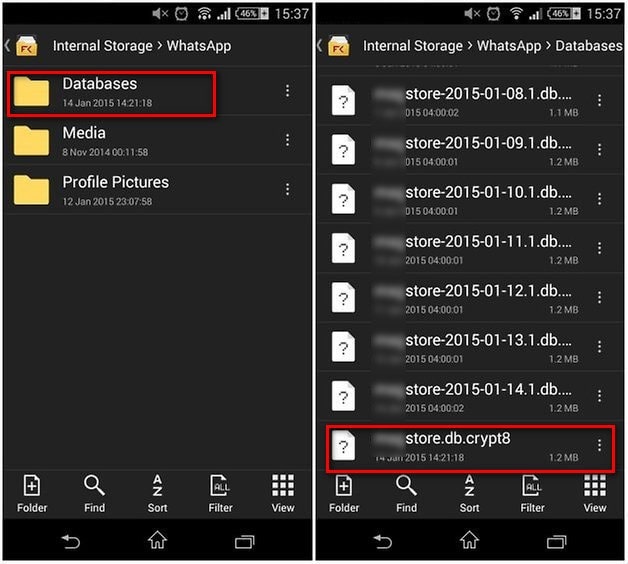 Step 3Install WhatsApp on your new device but do not start the app. Connect your new device to the PC via USB. Because you've already downloaded WhatsApp onto your new handset, the folder WhatsApp / Databases should now exist. If not, you can manually create a new Databases folder in the WhatsApp folder.
Step 4Now copy your WhatsApp conversation backup file into this folder and start WhatsApp on your new phone and verify your phone number. You would be notified that a message backup was found. Just tap on Restore, and you're done. After a few seconds, all of your messages should have appeared on your new device.
Note: Please uninstall WhatsApp first, then install WhatsApp on your new device. This is the only way that WhatsApp will restore new messages back up.
---
Method 7. Transfer WhatsApp Messages from Android to Android via Google Drive
Google Drive can save your messages and media files to your personal Google Drive account. To transfer WhatsApp from one Android to another Android by Google Drive can also work well.
Step 1Launch WhatsApp on your old Android phone. Navigate to Menu button > Settings > Chats > Chat backup where you can view the backup options under Google Drive settings.
Step 2Tap Back up to Google Drive and select a backup frequency (Daily, Weekly or Monthly) other than Never to back up WhatsApp automatically to Google Drive. Or you can click on Back Up to back up now. All of your conversations will be backed to WhatsApp cloud server.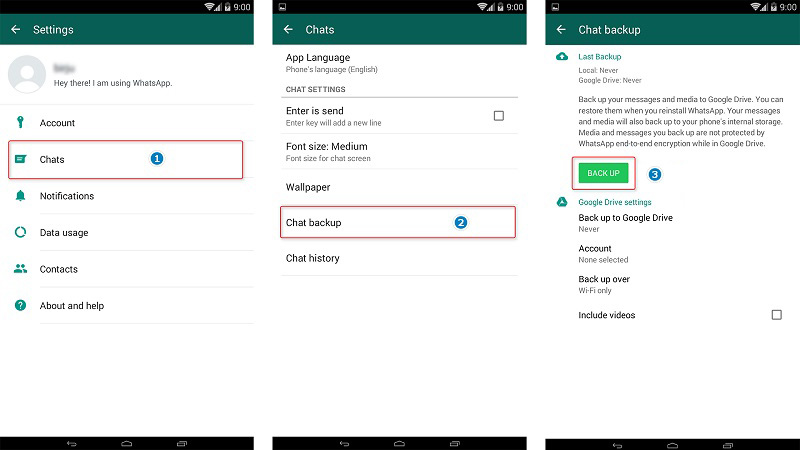 Step 3To transfer the Backup to new Android phone, download WhatsApp on new Android phone and after verifying your phone number you will be prompted to restore chats and media from Google Drive. After the restoration process is complete, tap Next and your chats will be displayed once initialization is complete. After restoring your chats, WhatsApp will begin restoring your media files.
Note: If you change your Google account, you will not be able to access your backups that are linked to a different Google account.
---
Method 8. Transfer WhatsApp Messages between Android and iPhone via Email
It's really a little difficult when it comes to data transfer between cross-platform devices. You may want to transfer WhatsApp chat histories immediately after getting new Android phone. But if you've just switched from iPhone to Android phone. There is a little trouble for the limitations on Apple's part. But what we need to do is to find a solution instead of complaining. The first way I'd like to introduce is to transfer WhatsApp chat history from iPhone to Android phone via Email. It's easy to learn for everyone.
Step 1Launch WhatsApp app on your iPhone and navigate to Settings at WhatsApp from your old device, click Chat settings, then click Email chat from the showing list.
Step 2Choose the WhatsApp history that you want to transfer. A window will pop out says that "Attaching Media will generate a larger email message". Click Without Media or Attach Media according to your needs.
Step 3Type your email number at the sending interface and click Send.
Step 4Log in your email at your new device, you can view your WhatsApp messages at email from your new device. But you can't sync WhatsApp messages to your WhatsApp application.
Note: This is not suitable for massive transfer. It could be a trouble-maker to email messages from contacts one by one.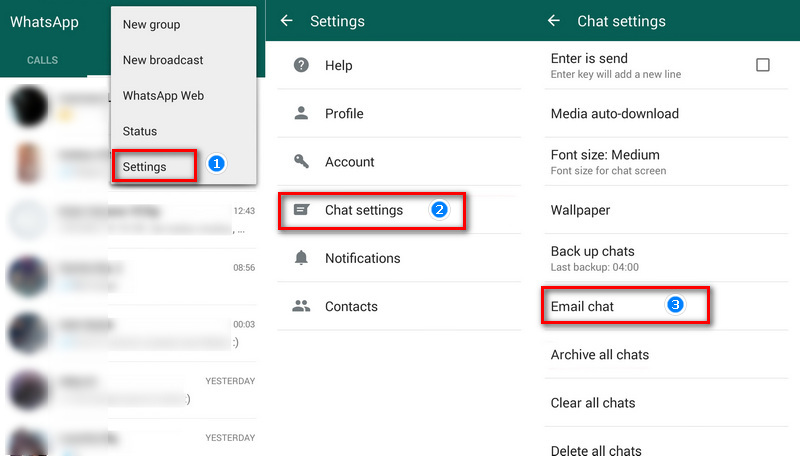 Conclusion
This tutorial tells almost all ways to transfer WhatsApp to your new Phone. Moving WhatsApp chats to another phone is a common decision whenever you get a new device. Keep this article in case you need it later. If this guide helps, don't forget to share it with your friends. If you need transfer tools we listed above, you can download now!
WhatsApp Transfer (Win and Mac):
Syncios Data Transfer (Win and Mac):