How to Increase Resolution of Your Image
When it comes to photo editing, the more resolution your image has, the better. However, even with high-end smartphones and cameras, you might find that your pictures lack quality and resolution. This is because most devices don't have an optimum resolution. Luckily, there are some simple tips and tricks you can use to increase the resolution of any picture.
With this article, you will learn different ways to increase the resolution of your images, no matter what device or camera you are using. The increased resolution will result in a sharper picture with more details and less noise. Let's get started!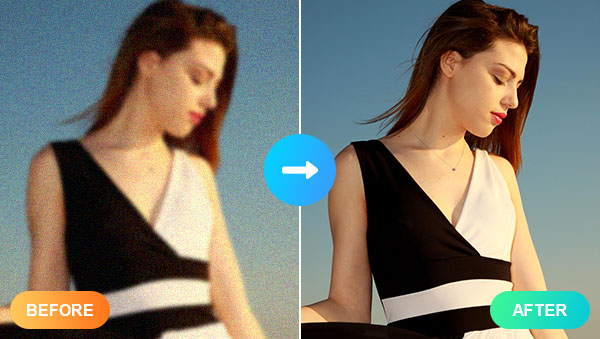 ---
Part1: What is Image Resolution?
An image resolution is the amount of detail an image has. Resolution is often measured in pixels or DPI, which stands for dots per inch. A pixel is the smallest point on a computer screen and the higher the resolution, the more pixels you have per inch, which results in a cleaner, more detailed image. High-resolution images will appear crisp, clear, and detailed when printed, while low-res images may appear pixelated or blurred if you try to print them. Increasing the resolution of your image can be useful in case you want to crop it, print it at a larger size, or use it as an important part of another image.
---
Part2: Ways to Increase Resolution of Image
Increase Resolution of Image by Using AVC.AI
The first thing most people think of when it comes to photo editing is using Adobe Photoshop, and there are many tutorials on the internet. While this article is dedicated to finding an easier and less time-consuming way to increase the resolution of your images, that is using AI-based tools.
AVC.AI is a professional online photo enhancer specializing in fixing any image issues. Based on a powerful deep learning algorithm, it enables users to improve and restore photo quality automatically and effortlessly. AVC.AI provides a comprehensive suite of features and services, like upscale images, denoise, restoring old photos,etc., and each of them creates a dramatic result. Since it is an online tool, you do not have to download any program and can reach it anytime, anywhere as long as you have a browser.
Steps to increase Image Resolution with AVC.AI
Step 1: Go to AVC.AI
Visit AVC.AI with any browser you like and click Login/Sign up to create an account.
Step 2: Upload your Images
Click the Upload button to upload a local image or drag and drop it.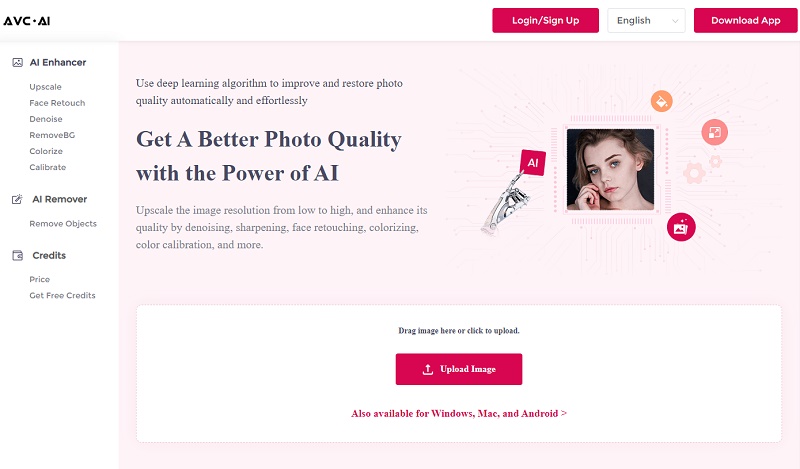 Note: Supported input formats are: *.png, *.jpg, *.jpeg, *.bmp, *.jfif, and *.webp.
Step 3: Select the Model
AVC.AI has six models. You are allowed to choose more than one models to process at the same time. To increase the resolution of images, you just need to select the Upscale model. You can choose to upscale the photo as 200%, 300%, or 400%, or keep the original size as 100% by selecting different scale factors.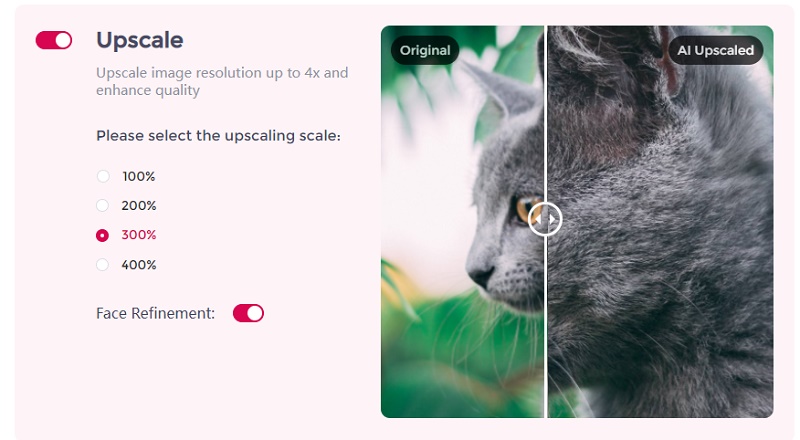 Step 4: Start Upscaling and Increasing Resolution of Images
Click Start Processing to increasing the resolution of the images. When the processing is complete, click the Eye button to preview the final result. If you are satisfied with its effect, you can click Download Image to save it to your local.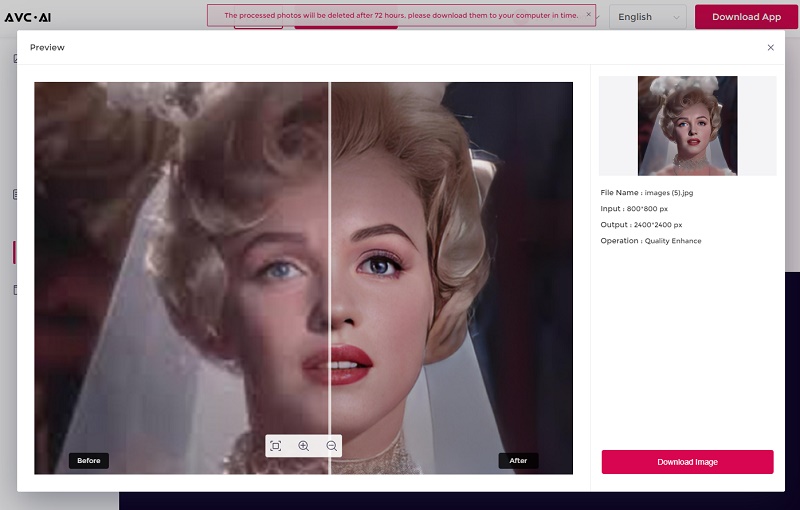 Increase Resolution of Image by Using Higher-quality Lens
In addition to using these image editors or enhancers to increase the resolution in the post, you can also find ways to get the highest-resolution images possible right at the time of the shooting. For example, using a higher-quality lens on a camera to result in images with greater detail and clarity. While lenses with shorter focal lengths typically produce images with more resolution, choosing the right lens for a particular scenario is important. For instance, a telephoto lens would be the better choice if you are trying to capture a faraway subject.
---
Part3: Relationship Between Image Size and Image Resolution
It's easy to confuse image resolution with image size, but they are two very different things.
The two are closely related. Image size is a measure of the dimensions of an image, while image resolution measures how much detail is displayed in an image. The higher the resolution, the more detailed and clear the image will appear. Conversely, a lower resolution can cause images to be blurry or pixelated.
When it comes to file size, there is an inverse correlation between resolution and file size. The higher the resolution, the larger the file size; conversely, as you decrease the resolution of an image, its file size shrinks accordingly. When using images in digital projects such as webpages or presentations, it's important to consider both image quality and file size when selecting an appropriate resolution for your images. If you have a large file size and a low resolution, your image may appear blurry or pixelated. On the other hand, if you have a small file size with a high resolution, it could take too long to load on different devices.
It's important to consider the purpose of the image When deciding on an image resolution and file size. If you're displaying an image online, both quality and loading speed are important considerations. For printing images, however, higher resolutions are usually preferred as they produce better results when printed out at larger sizes. Ultimately, finding the perfect balance between quality and file size is key to achieving satisfactory results in any digital project.
---
Conclusion
After reading this article, even if you are new to photo editing, you will already know some of the necessary basics related to image resolution. A high-resolution photo will help you do many things. You can use them for your blog posts, ads, and social media posts. Having high-resolution images will make your posts more engaging and shareable, which will help you get more followers. So just try to increase the resolution of your images right now following the above guide.
Download AVCLabs Photo Enhancer AI
---