How to Change the Default Messaging App on Android?
Thanks to Android's open ecosystem, if you're not happy with the default SMS app, you can easily change it. There are many third-party messaging apps available via Google Play you can try them out. No matter what version of Android you had installed, Android 4.4 Kitkat, Android 5.0 Lollipop, Android 6.0 Marshmallow or the latest Android, you can change the default messaging app to some other text applications with ease like Hangouts, GoSMS pro or Textra.
Part 1: How to Change the Default Messaging App on Android
If you do, or wish to use a custom SMS app instead of the default Messaging one, here's how to set it up for your device:
Phones with the latest Android (take OnePlus as an example):
Step 1 Swipe the phone screen and open "Settings" app. Scroll down to find "App & notification".
Step 2 Then, tap on "Default apps" > "SMS app" option.
Step 3 In this page you can see all available apps that can be set as default SMS app. Check your preferred texting app.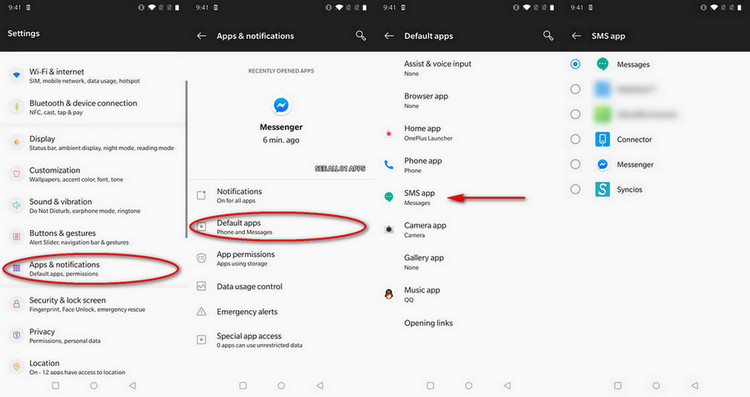 Phones with Android 8 (take OnePlus as an example):
Scroll to find Settings app again. Tap on "App" option under "Personal". Tap on "Default" > "SMS app" option. Choose another app you like.
Phones with Android 7 (take Samsung as an example):
Scroll down the notification shade to enter Settings app. Tap on "App" option. Tap on the gear wheel icon in the top-right corner. Tap on "Default" apps and change one desired app.
That's it, now you will receive new SMS messages through this client. Also, then you can simply change it back whenever you want.
Part 2: How to backup Android Messages on custom SMS App on one-click
If you would like to backup messages on Android phone or tablet, Syncios Data Transfer could be your best choice. It backs up messages not only on Android built-in app, but also the third-party SMS app, such as Hangouts, GoSMS, Textra, etc. It takes only one click to backup and restore text messages and more.
The program is compatible with Windows and Mac PC. Install any one of them on your computer according to the operating system and follow the below mention guide.
Step 1 Run Syncios Data Transfer, and connect your android phone or tablet to computer using USB cable.
Step 2 On the homepage, click "Backup". You can clearly see the free space of the default backup path, if it has not enough storage space or you want customize a save path, click on the icon under "Backup to". Then tick "Text Messages" option in the middle.
Step 3 Click "Next" button to start copy. After a while, all of your messages on default messaging app would be backed up on computer.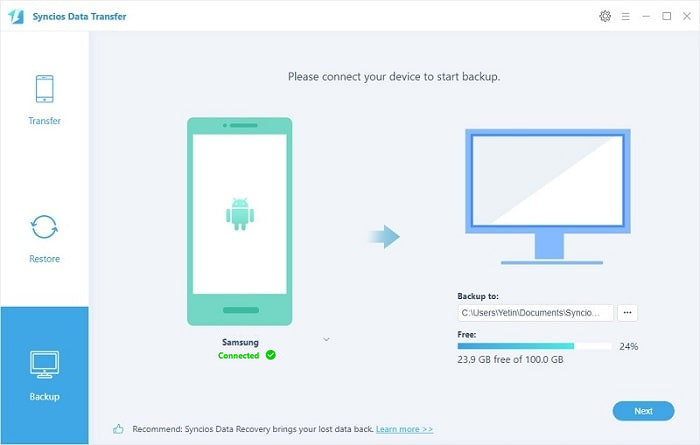 Tips: Syncios Data Transfer provides three different modes to you to restore backed up data, from local backup file, from iTunes backup file or from iCloud backup files, you're allowed to restore messages on your Android or restore to iPhone whenever you want with only one click.
Part 3: How to backup Android Messages on custom SMS App Selectively
Sometimes, to backup or extract parts of the messages for keeping them permanently or printing out, what is the easiest way to backup them selectively? Free Syncios Manager is the best Android phone manager, which can flexibly manage messages, contacts, music, photos, videos and apps on Android.
Step 1 Free download and install Syncios Manager
Step 2Connect your Android phone to the computer via USB cable or Wi-Fi (USB cable is quicker and more stable), then tap on "SMS" module. After completely loading, you can browse detailed contents of every message in the right-hand dialog box, just check what you need to transfer and click on "Backup" button to transfer this part of messages from Android to computer.
To recover the backed up messages one day, just connect target device to the computer:
To an iPhone: Go to Information >> Messages >> Recover.
To an Android: Go to SMS >> Recover.
Tips: If you would like to browse backed up massages on your computer, you can open it via web browser, Notepad or Microsoft Word.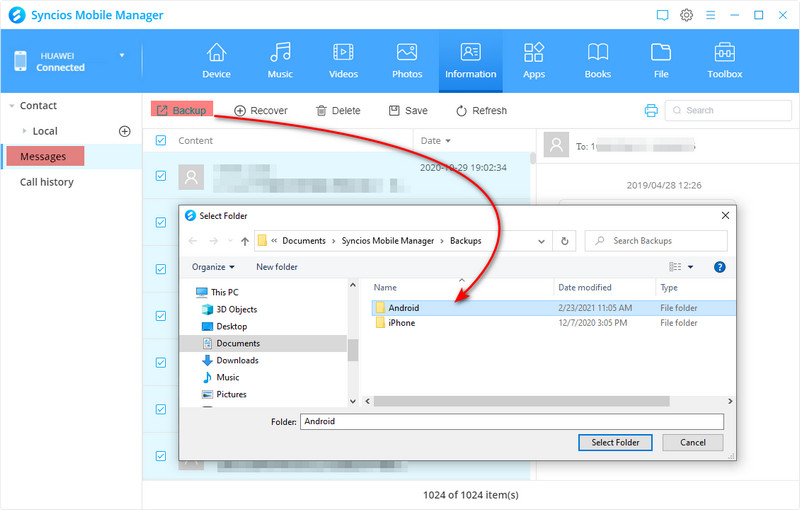 Conclusion
Now you know how to change the default messaging app on an Android phone, and then how to backup all Android Messages on custom SMS app, like Hangouts, GoSMS, Textra in a click via Syncios Data Transfer or backup part of the messages selectively through free Syncios Android Manager. And both of the methods enable us to recover backed up messages to other mobile phones later.