5 Best Apps to Remove Objects from Photos: An In-Depth Review
In today's world, taking the perfect picture isn't necessarily about how good the photographer is. Instead, it's about the power of technology and the tools available to help create the perfect shot. With the latest advancements in technology, there are now apps that allow you to remove objects from photos with ease. From small blemishes to large objects, these apps can do it all. In this in-depth review, we'll take a look at some of the best apps available and how they can help you remove unwanted objects from photos. So if you're looking for a way to make your photos look their best, read on to find out more.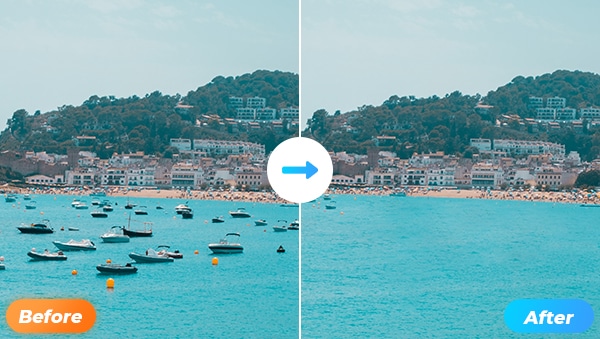 Part 1: What is Object Removal
Object removal refers to the act of removing one or more objects from a photo. These apps can be used for a variety of reasons, including removing a watermark or blemish from a person's face, removing a power line or other unattractive object from a landscape photo, or even removing a post-processing effect from a photo that was created in a different app. The technology behind object removal apps works by sampling the pixels in one part of the image, analyzing the pixels, and creating a template of the original image. Once it has this template, it will then search the rest of the image for pixels that match that sample. The algorithm will then replace the pixels that it removed with the pixels from the sample.
---
Part 2: Paid Apps Collection
1. Adobe Photoshop: Available to Win and Mac Users
Adobe Photoshop is one of the most popular image editing tools of all time. It has a plethora of different tools and features that allow you to do everything from editing photos to creating graphics, thus it is definitely the first choice of professionals or people who excel in using it.
How to Use Adobe Photoshop to Remove Objects?
To remove objects with Photoshop, you will use Content-Aware Fill to help you sense the object you want to remove. You can use any selection tools in the Toolbar to make an initial selection. The tool will automatically identify the object inside the area you define and shrinks the selection to the object edges. To open the Content-Aware workspace, select Edit > Content-Aware Fill. The display on the left side will feature a green overlay to show the area that Photoshop is looking at for selecting detail to complete the fill. The right side will show a live preview of the fill, which can be modified through the tools and controls in this workspace. Select the different options according to your demand. For any of these selections, you can also employ the Sampling Brush tool, with its add or extract choice, to alter the components of the image being employed as the basis for the fill.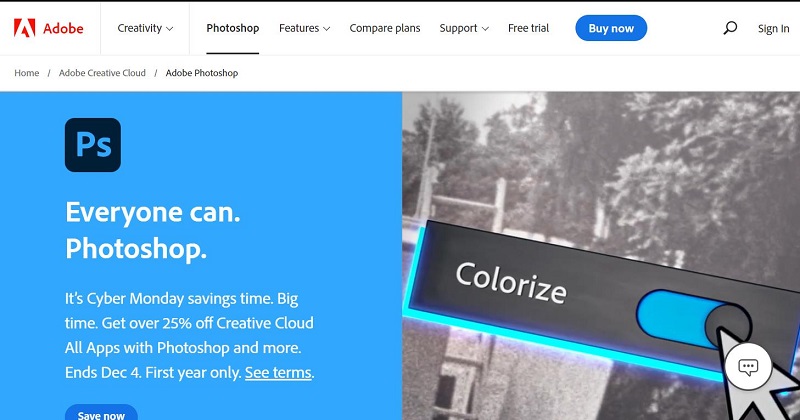 Pros:
High level of accuracy. Precisely identify the shape of selected objects.
Excellent final results. The processed images look so natural.
Powerful tools to help you easily achieve what you want.
Cons:
Time-consuming and expensive.
It requires a great deal of skill and expertise. Even with advanced features like Content-Aware Fill, it takes practice to master the process.
2. TouchRetouch: Available to Android and iOS Users
TouchRetouch is a powerful app for editing photos on mobile devices. It allows you to quickly and easily remove unwanted objects from your images with just a few taps. With its intuitive user interface, TouchRetouch makes it simple to erase any element that detracts from the composition of your photograph.
How to Remove Objects with TouchRetouch
To begin using TouchRetouch, open the app and select the image you wish to edit. Then swipe left or right until you find the tool's menu. Tap this button to expand options including Object Removal, Clone Stamp, Cut Out, and Line Remover. Object Removal is best used for erasing unwanted elements like people, trees, or street signs from an image. Simply tap on the object you want to remove and then press the eraser icon to begin deleting it. You can also adjust the size of the eraser and feathering to get a more natural-looking result.
The Clone Stamp tool is great for duplicating items in an image, like copying part of a building or adding a reflection effect on water. Tap the Clone Stamp button and then select the area you wish to copy. Drag your finger over the area you want to duplicate and watch as TouchRetouch quickly creates perfect copies of whatever you choose.
Finally, Cut Out lets you easily isolate specific parts of an image with precision. Simply drag your finger around the object you want to keep, and then press the cut button. All other elements will be removed from the photo, while the part you selected will remain.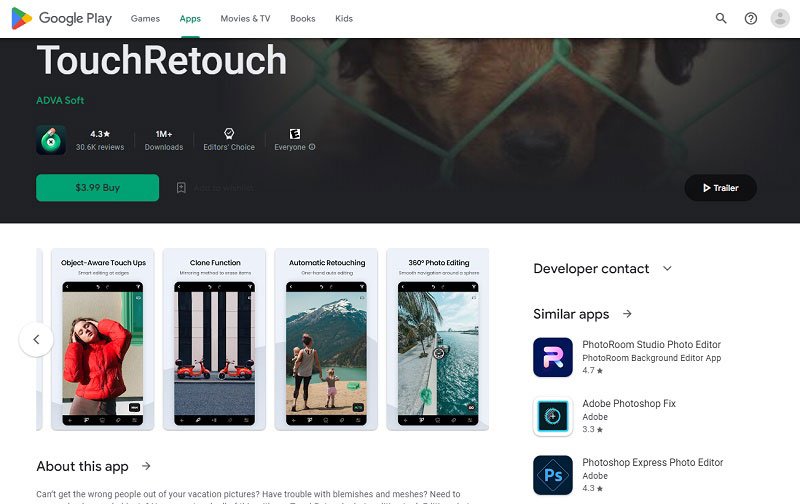 Pros:
Easy to use or learn.
It supports a wide range of picture formats; this means that you can access and edit more photos with this app.
Cons:
It doesn't work wonders when your background is more complicated.
The function is single. It only supports deleting unwanted objects and does not have functions that let you correct the lighting of the image or adjust image sharpness and contrast.
---
Part 3: Free Apps Collection
As everyone knows, free is the best! If you do not have any budget for these paid apps, or you just think that it is not cost-effective to buy a program specifically since the feature of removing unwanted objects from photos is not quite often used. If so, then just read on, here list of some good free apps to help you remove unwanted objects.
1. AVC.AI: Available to Win and Mac Users
AVC.AI is an innovative artificial intelligence online tool that utilizes advanced machine learning algorithms to automatically enhance digital photos. With this tool, users can easily remove unwanted objects precisely in a few seconds. It offers a variety of features in addition to removing objects. As a well-performed AI Enhancer, it also allows users to upscale low-res images, denoise, clorize black and white photos, etc.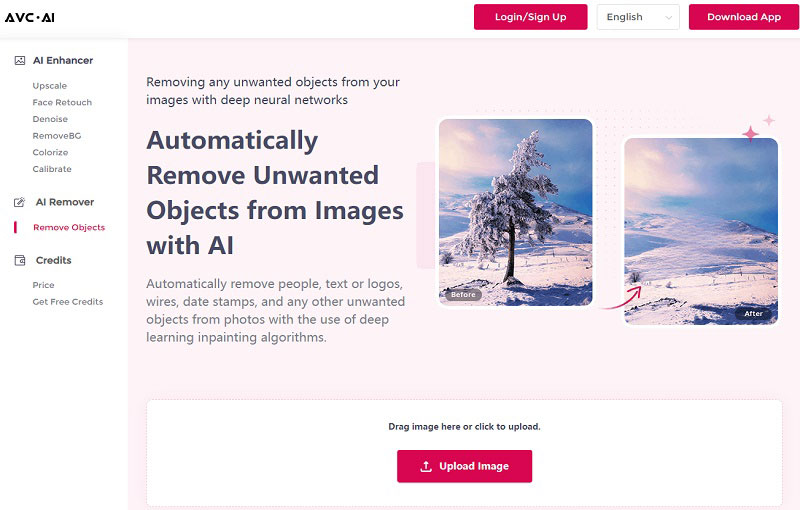 How to Remove Unwanted Objects with AVC.AI
Step 1: Go to AVC.AI
Visit the official website of AVC.AI with any browser you like. Even though it doesn't require creating an account to remove unwanted objects from photos, it is highly recommended you create one, since you will get some free credits that can be used to try other functions shown under the collection of AI Enhancer.
Step 2: Upload Images
To remove objects from a photo, you should click on the 'Remove Objects' option under the AI Remover and then click 'Upload Image' to add the picture, or you can drag and drop it directly into the empty space.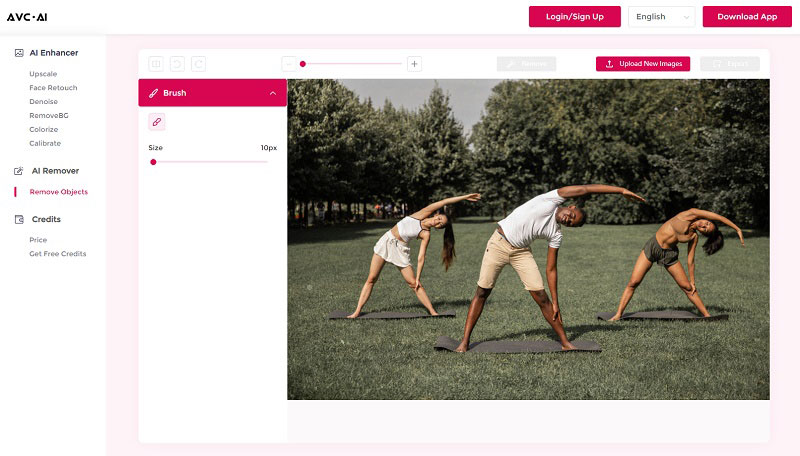 Step 3: Highlight Objects that Need to be Removed
Removing objects always begins with making a selection. After uploading the image, there will be a translucent circle on the image which works as a brush and helps to cover unwanted objects more intuitively. What you need to do is to smear those unwanted objects with this brush. You can adjust the size of the brush or the size of the image at will, and revoke the action at any time.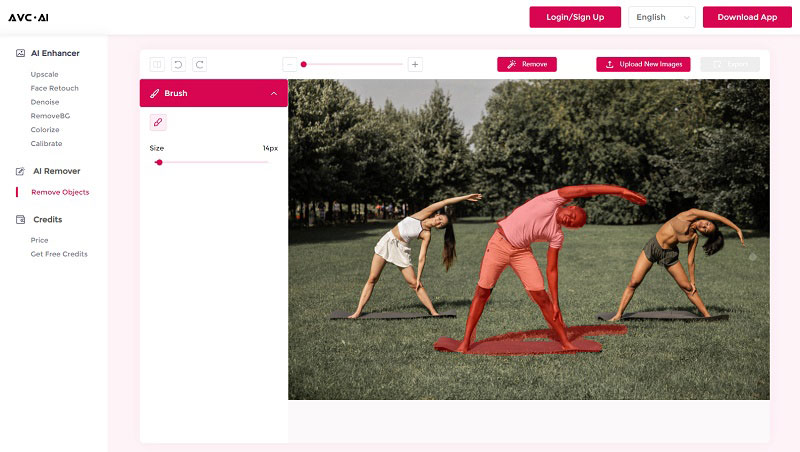 Step 4: Start Removing and Export Processed Images
Once all objects are highlighted, you can click the Remove button to start removing them. It will take a few seconds to finish the whole process. After it is complete, you can type the Contrast button located in the top left corner to compare the before and after images. Finally, click on the Export button to download the processed image.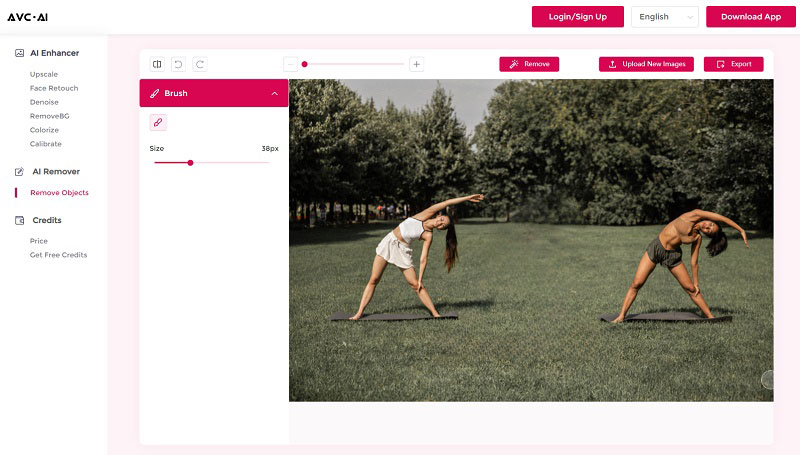 Pros:
It supports versatile formats of input images.
Free to remove unwanted objects from photos.
Export processed images without a watermark.
Users can get free credits for their first registration.
Feature-rich and all tools integrated into one site with no need to download any programs.
Cons:
Unable to identify objects intelligently.
---
2. PhotoRoom: Available to Win and Mac Users
PhotoRoom is also a free online object remover. Its interface is clean and free of ads. The special feature of this tool is the interesting effect that appears on the image when the object to be removed is painted, with a purple area covered and with a magic-like flash, which enhances the user experience. Unlike other object removers that let the user paint all the areas that need to be removed and then do the one-click removal process, PhotoRoom starts removing as soon as the user paints. This is not bad if the object you need to remove is only a small piece, but if the part to be removed is larger, then this approach will be extremely inconvenient for the user.
How to Remove Objects with PhotoRoom
The operation steps are similar to those of AVC.AI.
Step 1: Upload an image to the site. It only supports PNG and JPG formats.
Step 2: Select the unwanted object and use the brush tool to select the object you want to erase from your picture. You can change the brush size to make it easier.
Step 3: Download your image as a PNG file.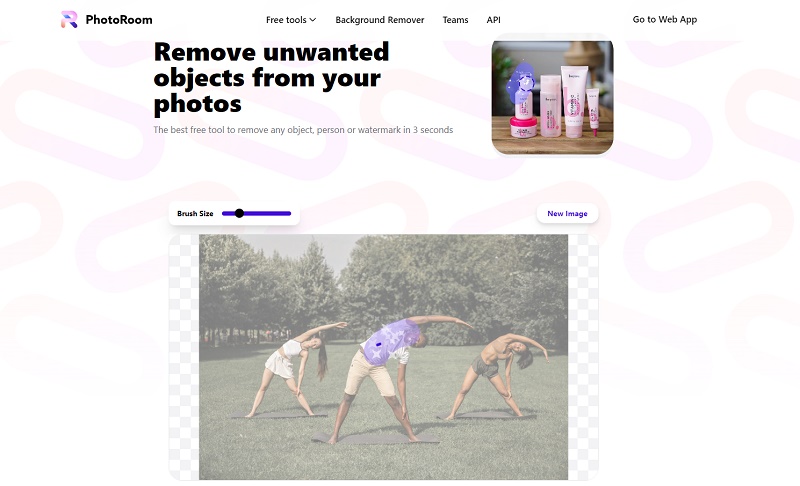 Pros:
Remove objects in just several steps.
Fancy effects enhance the operation experience.
Cons:
Inconvenient processing mechanism.
Unable to identify objects intelligently.
The processing results are less natural, making it obvious that it has been edited.
---
3. SnapEdit: Available to Win and Mac Users
SnapEdit, another well-performing online object remover, is a visual AI platform that leverages AI technology to help automatically remove objects/people from images. It can claim to be one of the top-ranked removers in terms of processing results. The highlighted part of SnapEdit over other tools is its AI intelligent object recognition feature. You can easily and accurately select objects without having to scribble them yourself. But this is only suitable for identifying objects like people, trees, etc. If you want to remove the watermark, you still need to apply it yourself. So far, the only drawback is that there are ads on the home screen.
How to Use SnapEdit to Remove Object
Basically, all similar online tools have the same procedure. Firstly, upload or drag and drop images into the "Upload Photo" Frame to start editing with SnapEdit. App. Then select objects automatically detected by AI to remove objects from the photo, or choose Eraser to blur. Finally, select the download size of the processed image and save it to your computer.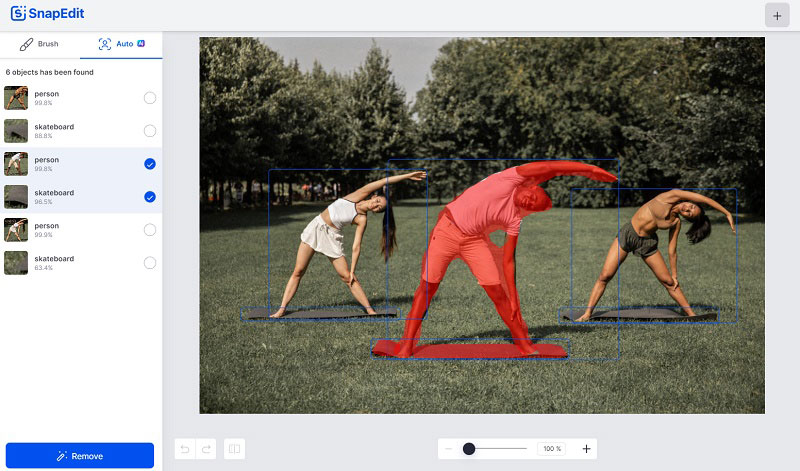 Pros:
Excellent final results.
AI automatically recognizes objects, no need to blur them yourself.
Cons:
The interface is not clean and fills with some ads.
---
Final Words
That's all about apps for removing unwanted objects, both paid and free, with details about their features, how to use them, and their pros and cons. Actually, if you search for free programs, you will get a lot of results, but honestly, most of them are not very good. However, the three handpicked free online object removers in this article all perform well in all aspects and are worth a try.