The Best App to Remove People from Your Photos Easily and Freely
"When I went on a trip, I took a picture with a perfect composition, but it was ruined by a passerby who accidentally intruded into the shot. It's hard to restore the previous composition, is there any way to remove the person from the picture naturally? I am not very good at Photoshop".
Ever want to get rid of someone in your photo without having to retake the entire shot? Wouldn't it be great to have a tool that can easily erase unwanted people from your pictures? Well, you're in luck, because there are now a variety of apps that can help you remove people, watermarks, objects, and other distractions from your photos with just a few clicks. Whether you're a professional photographer or just a casual smartphone snapper, you'll find the perfect app for removing pesky people from your photos. From simple and intuitive editing tools to more advanced AI-driven image manipulation, the best app for removing people from photos offers a range of features that are sure to make your photos look their best.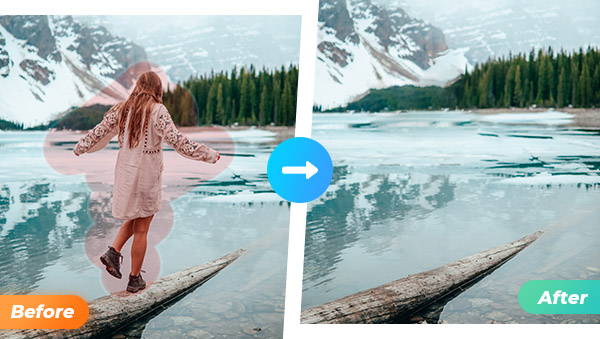 ---
Part 1: Ways to Remove People from Photos: Traditional Photo Editing Apps or AI-based Apps?
When it comes to removing people from photos, there are two main methods of doing so: traditional photo editing apps and AI-based apps. Photo editing apps like Photoshop allow users to manually remove unwanted elements from a picture using their own skills, such as retouching, masking, and other manual techniques. However, these tools can be time-consuming and difficult to master. AI-based apps, on the other hand, are becoming increasingly popular due to their accuracy and ease of use. They use machine learning algorithms to identify the elements in a photo that needs to be removed automatically, which makes them much faster and more efficient than traditional methods.
Both types of tools can be effective for removing people from photos, but they come with their own unique advantages and disadvantages. Depending on the user's skill level and the complexity of the task at hand, one method may be more suitable than the other. For example, if a user is looking for an easy way to quickly remove objects from a photo without sacrificing quality, then an AI-based app might be the best option. However, if a user is looking for more control over their edits and wants to get creative with their work, then traditional photo editing apps may be the better choice. Ultimately, it comes down to personal preference and the complexity of the task at hand. By understanding which tool works best for each situation, users can make the best decision for their photo editing needs.
---
Part 2: The Best App to Remove People from Images Easily and Freely
Given that most people are not good at using advanced image editing software and just want to erase people from images quickly, easily and naturally, AI-based programs are more suitable. There are many of these AI programs, but the quality varies. AVC.AI is one of the best.
It is a comprehensive AI-powered online tool dedicated to solving kinds of photo issues, including removing unwanted objects from photos, upscaling low-res images, repairing old photos, etc.
Steps to Remove People from Photos with AVC.AI
Step 1: Go to AVC.AI
You can access AVC.AI's official website with any web browser. The program does not force the user to log in when using the object removal feature. But it is strongly advised you sign up, as you will receive some complimentary credits which can be used to experiment with the other features provided by it.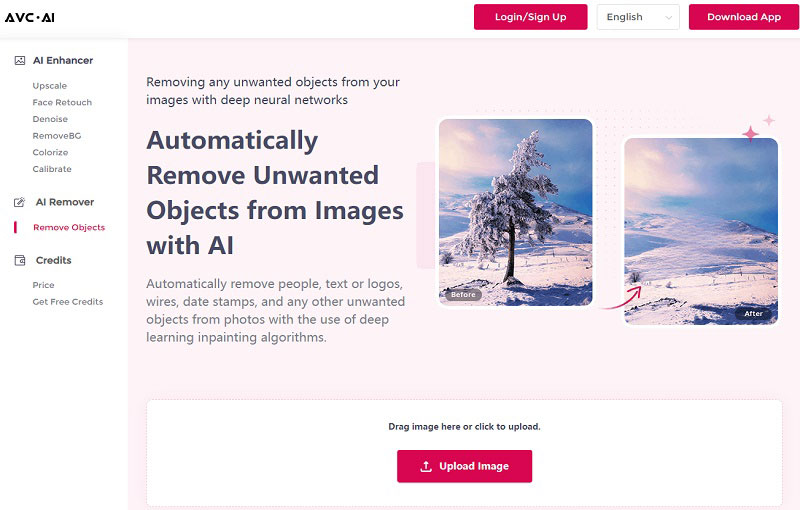 Step 2: Upload the Image
Click on the "Remove Objects" option under the AI Remover and then click "Upload Image" to add the picture with unwanted people, or you can drag and drop it directly into the workplace.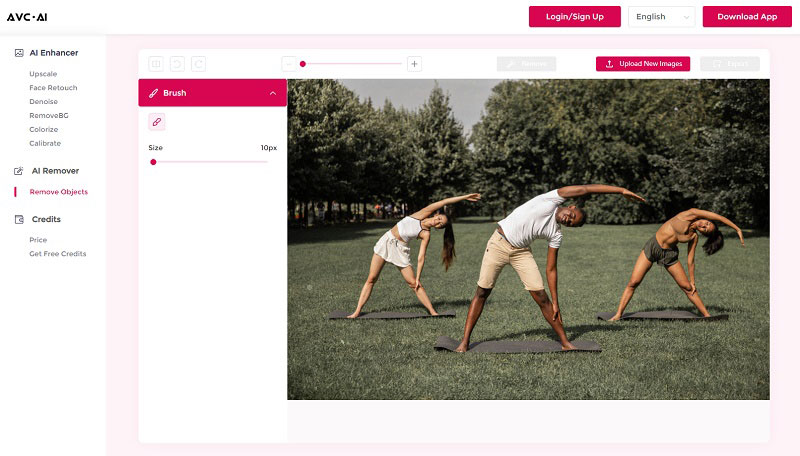 Step 3: Highlight Unwanted People
Cover people that you want to remove with the brush. You can make it easier by changing the brush size or the image size. To get the best results from the processed images, the finer the object is when applying the removal, the better.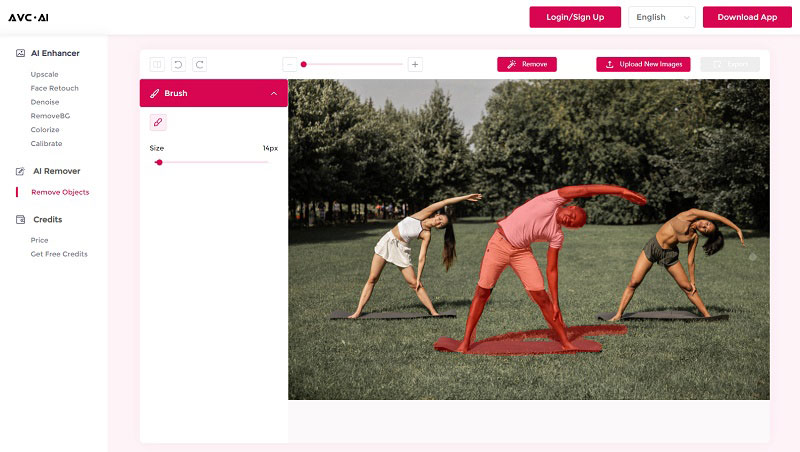 Step 4: Start Removing and Export Processed Images
Click the Remove button to start removing those highlighted people. It will take a few seconds to remove people from the photo. After it is complete, you can type the Contrast button located in the top left corner to compare the before and after images. Finally, click on the Export button to download the processed image.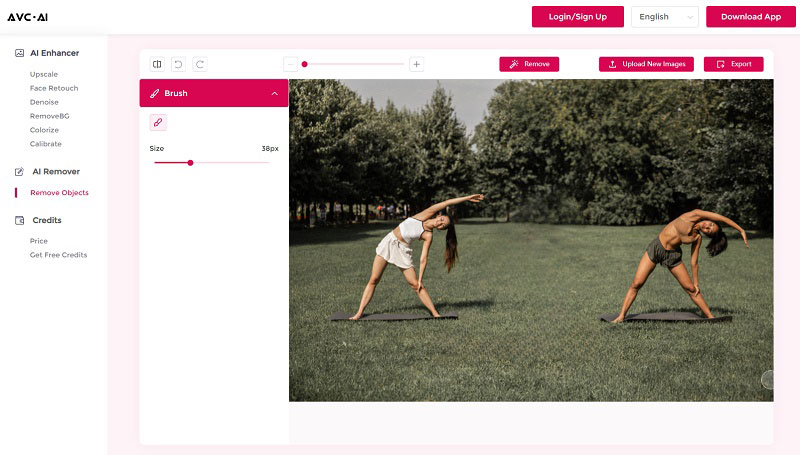 ---
Conclusion
It can be frustrating to have an otherwise perfect picture ruined by a casual passerby. But fortunately, there are many apps that can help to remove people from a photo. Users should choose to use a traditional image editor or an AI-based app depending on their needs. If you are looking for an excellent AI object remover, then AVC.AI is your best choice. Its operation is simple, its functions are diverse, and its effect is remarkable. Now, find a picture and try to remove people from it using AVC.AI.
---