How to Remove Objects from Photos with the AI-Powered Tool
Everyone is familiar with the frustration of taking a seemingly perfect photograph, only to find out later that there's an unwelcome object in the frame. Whether it's a tree branch encroaching into the shot, a person walking in the background, or a sign in the foreground, these pesky elements can ruin the composition of an otherwise great photo. Fortunately, removing objects from your photos is a fast and straightforward process, and it doesn't require any advanced knowledge of photo editing software. With just a few clicks, you can easily get rid of any unwanted objects and restore your photograph back to its original glory. In this article, you'll learn how to remove objects from photos quickly and easily.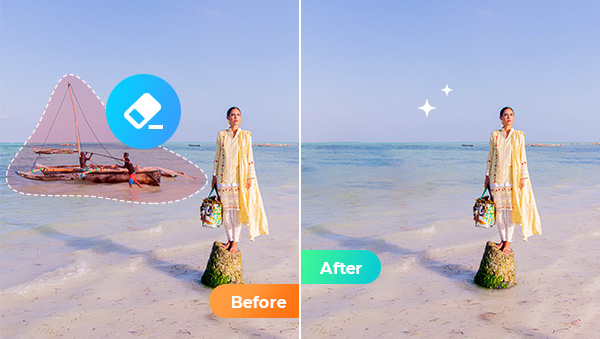 ---
Part 1: What Do You Need to Remove Objects from Photos?
Editing photos is no longer a difficult and time-consuming task. With today's technology, it's now easier than ever to remove unwanted objects from your photos. Whether you want to clean up a cluttered background or get rid of a pesky tourist photobombing your vacation memories, you can do it all with a few clicks of your mouse. But only if you have a strong assistant.
Among Kinds of object removers, AVC.AI is the one that is highly recommended. Using advanced image inpainting technology makes it possible to remove unwanted objects and replace them with content that would seamlessly fit into an image. AVC.AI can do much more than remove objects from photos, it is also an excellent AI image enhancer. Click to learn more about the detailed features of AVC.AI.
---
Part 2: Detailed Steps to Remove Objects from Photos
Step 1: Upload Images
Go to the AVC.AI homepage. Choose the "Remove Objects" option from the left sidebar, then either click the "Upload Image" button to upload an image that you want to remove objects from it, or simply drag it into the workplace.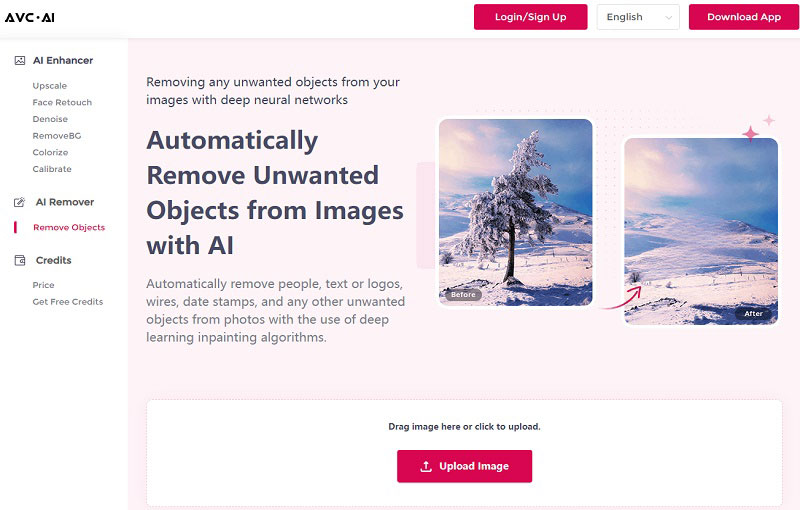 Step 2: Cover Objects and Start Removing them
Cover unwanted objects with the brush and click the Remove button to start the process. You can adjust the size of the brush or the size of the image to make it easier and more accurate.
Step 3: Preview and Download Processed Images
It will take a few seconds to remove objects from the image. After it is finished, you can hit the Contrast button located in the upper-left corner of the screen to go through the differences between the original and the final version. Finally, you can hit the Export button to save the polished image.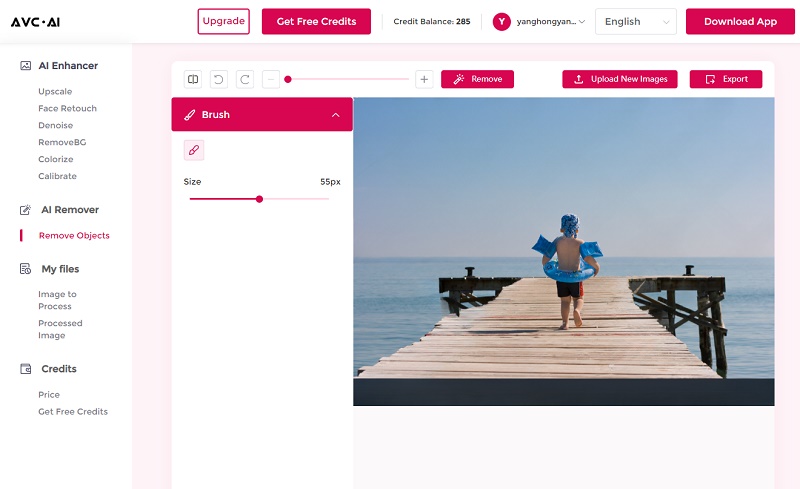 ---
Part 3: What Can you Do with this Object Remover?
AVC.AI can help you remove all kinds of objects easily. Let's take a look at some examples and the final result.
1. Remove People: The human figures present in your holiday snaps can be quite an interruption to getting the ideal picture. But don't worry - AVC.AI provides an effortless method to erase them without any deterioration to the photo's quality!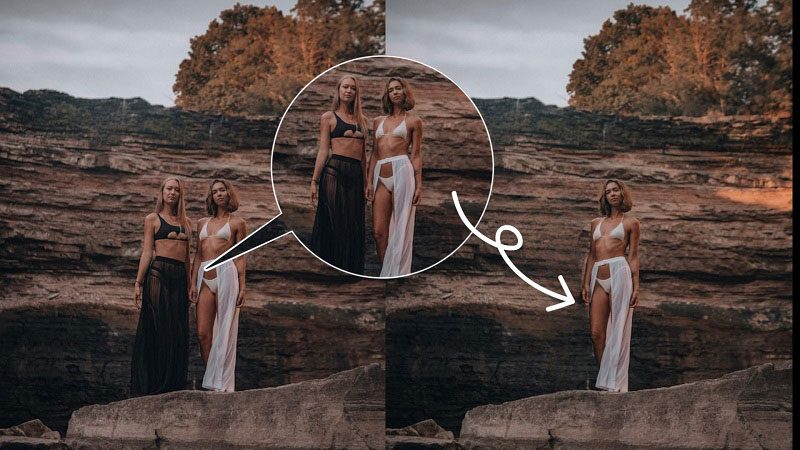 2. Remove Text from Photos: erase text, logos, date stamps, etc.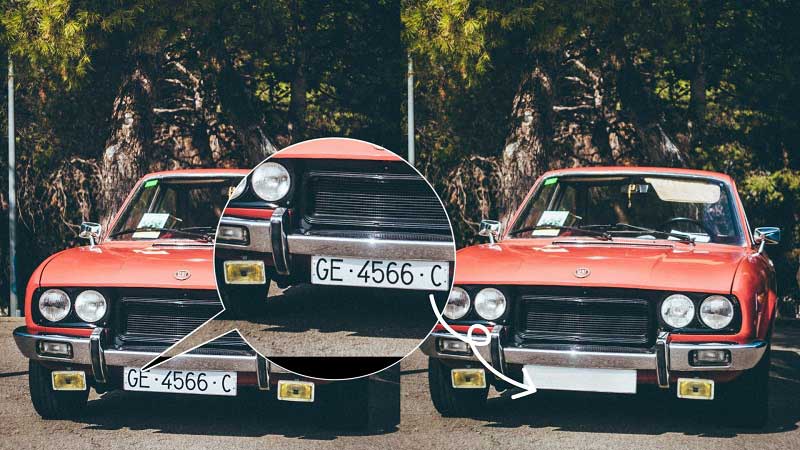 3. Remove Watermark from Photos: save any photo you like without a watermark.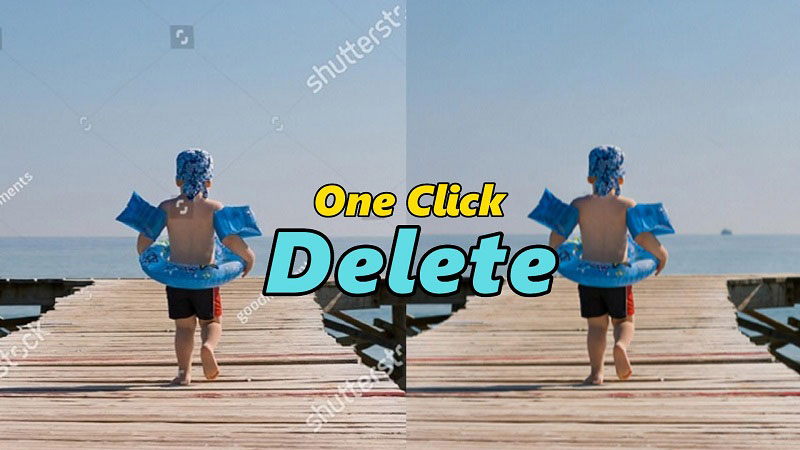 ---
Part 4: Advanced Techniques for Removing Unwanted Objects
Image Inpainting Technology
Image inpainting is a new technology that uses computer algorithms to fill gaps or remove unwanted objects from digital images. This is accomplished by "in-painting" the missing area with neighboring pixels, creating an illusion that the gap was never there in the first place. This technology has been around for over a decade but only recently it became popular due to its ability to produce high-quality results and save time when editing photos. It can be used for retouching old photos, removing objects from scenes, fixing errors, and more.
Content-Aware Fill (CAF)
Content-Aware Fill is a tool in Adobe Photoshop that allows users to remove undesirable elements from an image and replace them with content that matches the surrounding area. It uses advanced algorithms to analyze the contents of an image, identify what should be removed, and then fill the area with new pixels that match the color, tone, and texture of the surrounding pixels. This technique can be used to remove objects, people, or other elements that are unwanted in a photograph without affecting the integrity of the original image. Content-Aware Fill is an incredibly powerful tool for photographers and designers who need to quickly and effectively edit images without having to redo them from scratch. It's also useful for retouching photos, removing distractions from a landscape, or creating a background for a composite image.
Summary
Based on advanced inpainting technology, AVC.AI makes it easier than ever to remove objects from photos. Best of all, not only does it process well, but it is also completely free. In addition to these uses listed in this article, AVC.AI has many other treasured features waiting to be discovered. So just open your browser, visit AVC.AI and remove annoying objects from your photos right now.
---