How to Delete Duplicate Songs on iPhone
Most iPhone users may not be unfamiliar with iTunes since it plays a significant role in connecting the iPhone with the PC, it not only supports iOS devices backup but also can restore the previous data to a new device. Nonetheless, people sometimes are really disappointed with this software.
Recently we have noticed that some iPhone users are struggled in dealing with duplicate songs when they sync their new iPhone with iTunes. Generally speaking, 90% of users would not encounter this trouble so it's kinda hard for people who have this trouble to find reliable solutions. We believe everyone will be agitated when they have duplicate songs on their phone.
This article will show you three excellent solutions to delete duplicate songs on your iPhone.
---
1.Delete Duplicate Songs Through Syncios Mobile Manager
Syncios Mobile Manager is one of the most popular data management software for mobile devices, it supports both android and iOS devices including iPhone 4-12, iPad, iPod, etc... With this Mobile Manager developed by Syncios, you could delete all duplicate songs on your iPhone in just a few seconds. Besides that, you can also import songs to your iPhone directly from your PC through Syncios Mobile Manager. Don't be hesitating to register and subscribe to this product if you think it fits your need perfectly. Here are some steps about how to delete duplicate songs using Syncios Mobile Manager.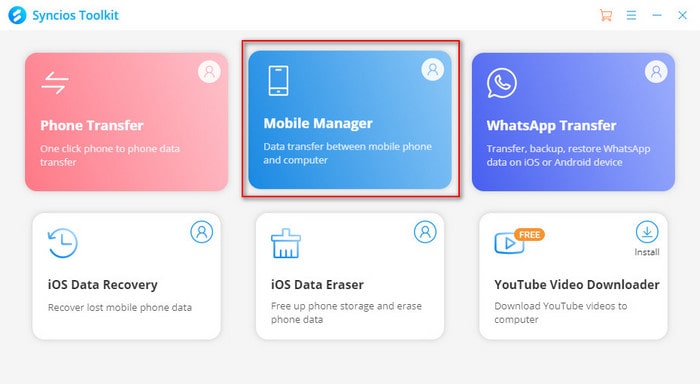 Step 1Firstly, download Syncios Toolkit by clicking the links given above and launch it, you would see 6 available programs in Toolkit if you get the right version. Then, start to install 'Mobile Manager' in Syncios Toolkit. After you have successfully installed Mobile Manager from Syncios Toolkit, launch it and connect your device with your PC using a USB cable, remember to check the connection status at the top left of the operating interface.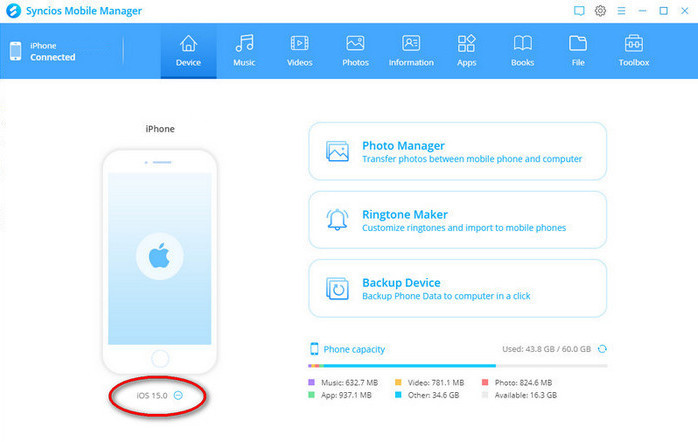 Step 2Secondly, choose 'Music' from the top and you will see different types of audio files like Music, Ringtones, Podcasts, etc... Click 'Music' and you will see all songs on your iPhone, at this point, you just need to click 'De-Duplicate' button and this program will filter all duplicate songs automatically.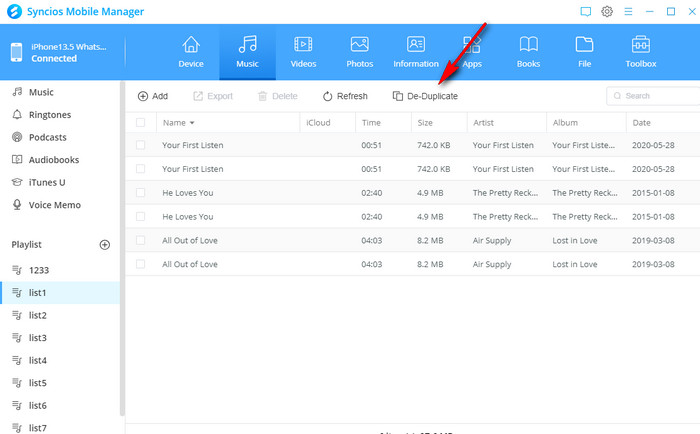 Step 3In the end, click 'Delete Duplicates' to finish the process.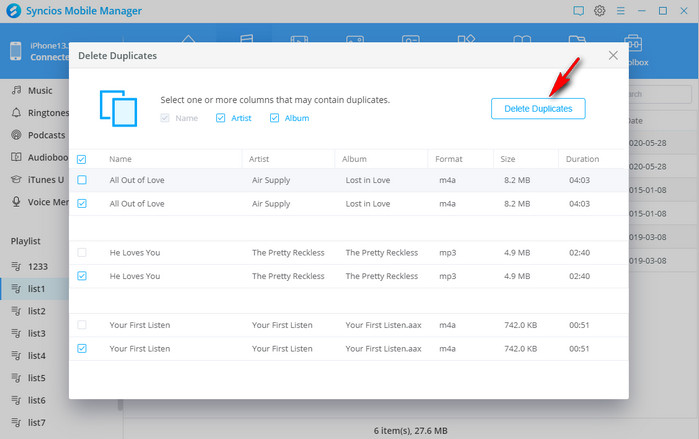 Pros:
It supports filter duplicate songs by name, artist, and album at the same time
Rich features as a data management software
Easy for users to operate
User-friendly interface
Cons:
Not free
Fail to connect the device occasionally
---
2.Delete Duplicate Songs with iTunes
As we have already mentioned that some issues may occur when users are syncing their iPhone with their PC. Some people complain that they got duplicate files after syncing their iPhone with PC because iTunes always mess up imported files with downloaded files. Fortunately, this issue could be solved right by iTunes.
---
Step 1Launch iTunes on your PC or MAC and make sure to connect your iPhone with the PC, then show devices list on the left.
Step 2Click 'Music' and choose all songs in the list (press 'Ctrl' and choose songs individually), then click File-Library-Show Duplicate Items to find all duplicate songs. In the end, delete duplicate songs individually and re-sync iPhone with iTunes.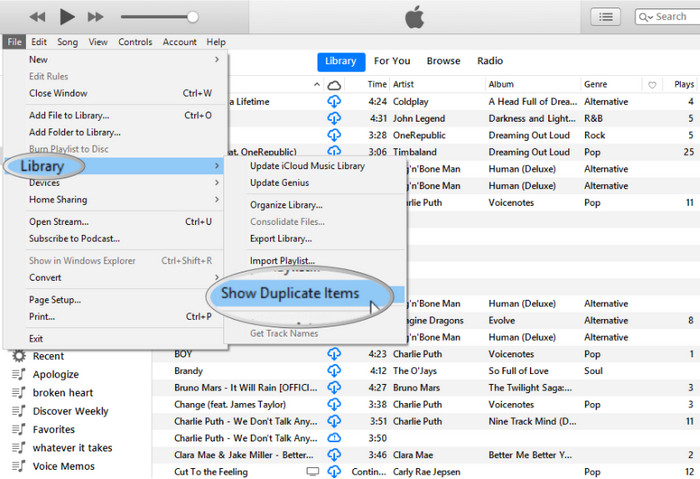 Pros:
Free to use
Integrate well with iOS devices
Cons:
Running slowly on a lot of computers
Hard to operate for new users
---
3.Delete Duplicate songs using CopyTrans Manager
CopyTrans Manager is a commonly used audios management software for iPhone users, besides delete duplicate songs, it also supports customize your own playlist and import music from your PC. It's definitely excellent software if you want to manage your playlists well. Here are 2 easy steps about deleting duplicate songs using CopyTrans Manager.
Step 1Launch the program and make sure you have successfully connected your iPhone with your PC, right-click and choose 'Display duplicates'.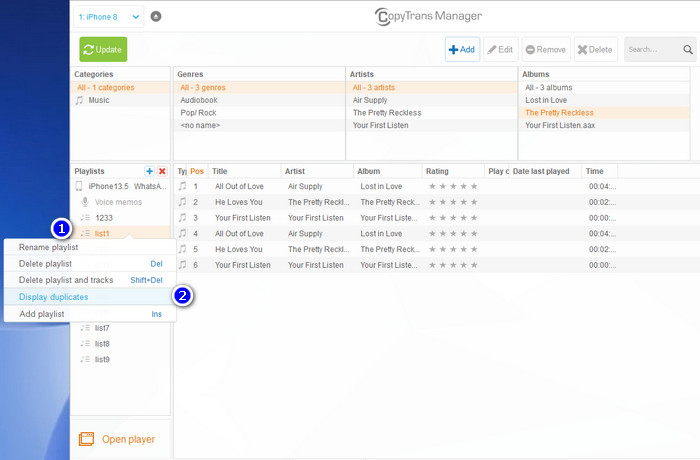 Step 2Select duplicate songs individually and right-click, click 'Delete tracks from iOS devices'. Don't forget to update those changes on the left top.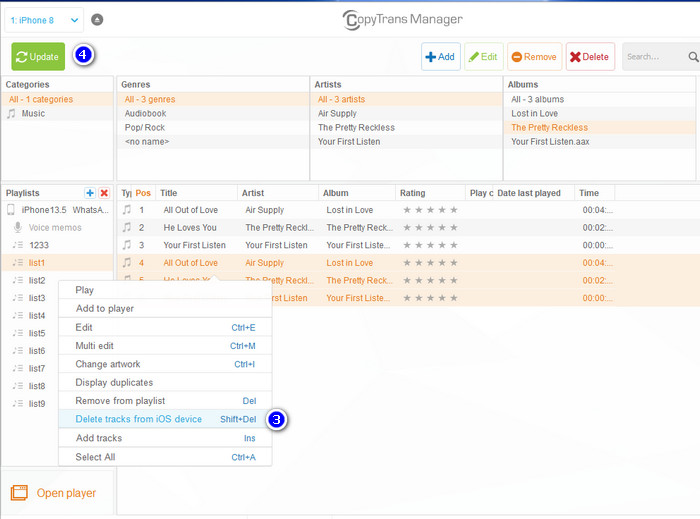 Pros:
Easy to operate
Completely free to use
Cons:
Low-efficiency when you have hundreds of duplicate songs
---
Conclusion
According to our own experience, all of these 3 methods work pretty well when we want to delete duplicate songs on iPhone. Syncios Mobile Manager can help filter all duplicate songs in few seconds and delete them in one click and it also supports other file transfer, both iTunes and CopyTrans Manager are good at screening out duplicate songs but it's very hard to delete them if you have hundreds of duplicates.
In conclusion, based on the information given above, Syncios Mobile Manager is your optimal choice when you want to delete duplicate songs easily on your iPhone, don't be hesitating to start using this software if you have a strong interest in it.
---
Tips

what's next? Download Syncios Mobile Manager now!
---