Top 3 Photo Manager For iPhone and iPad
"Want to manage iPhone photos like a master? This article brings 3 excellent photo management softwares to you."
In this high speed development era, we always struggle in adapting to use different kinds of new electronic products like iPhone, Apple Watch and etc... Based on numerous complains given on the internet, we find that most of people get frustrated with their chaotic photos in both their iPhone and iPad, so today we're going to show you top 3 photo manager which has multiple functions for you to manage photos in your phone, they are Syncios Mobile Manager, Slidebox and EaseUS. All of these applications have powerful functions of managing photos like import photos to iPhone from PC, export photos to PC from iPhone and even backup all photos from iPhone to PC in just one click... Be patient and swipe down for more details about these amazing products.
1.Syncios Mobile Manager
Syncios Mobile Manager is one of the most popular and common used photo management software worldwide, you can deal with all your photos whatever you wanna do including transfer between iPhone and PC, create and edit albums and delete a single photo or the whole album. In addition, this application also has the simplest operating system which satisfies millions of users, here are some tips listed below of using this signature product:
Step 1 Preparation
After getting the app installed, you should click 'Mobile Manager' tag to get into the specific app. Before getting start to explore this phone manager, make sure to connect your iPhone with PC and the mobile manager can recognize your device. By the way, we highly recommend you to register and subscribe so that you can enjoy our premium service without any limits.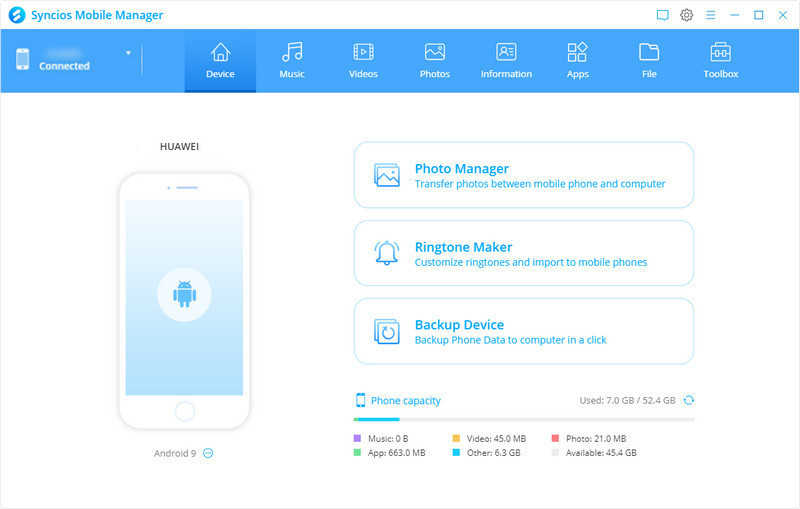 Step 2 Import photos from PC to your phone
More and more people start to enjoy putting everything in their phone including their photos, favorite songs and etc, so they could take their memories anytime if they want. But sometimes when people are trying to transfer some old photos from their PC to phones, it's a little bit complicated.
With Syncios Mobile Manager, you can import all your 'memories' to your iPhone so that you can enjoy them anytime or take them anywhere if you want. This process usually takes few seconds depends on how many photos you want upload, you only need to choose the album you want import and click 'import' button to select which photos you would like to transfer.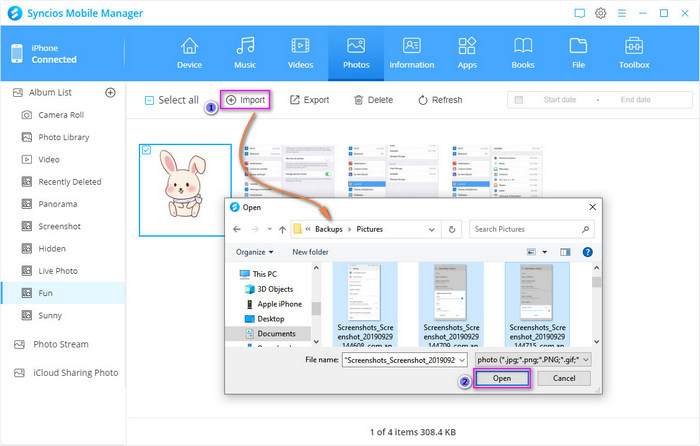 Step 3 Export photos from iPhone to PC
Using Syncios Mobile Manager, you can export any photos or albums to your PC in the specific pace without any space limitation. You can also print these photos out to preserve them into physical albums if you want.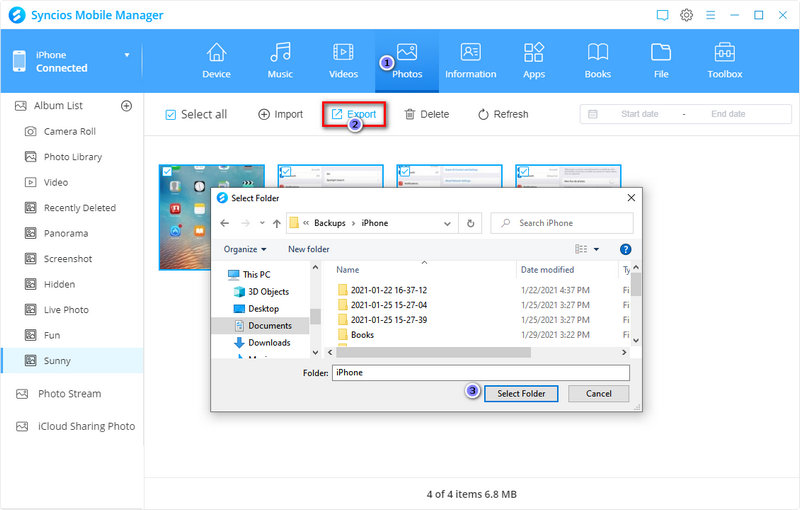 Step 4 Delete photos you don't like
Select the photo you don't like and click 'delete', you can also choose 'Select all' to empty the whole album.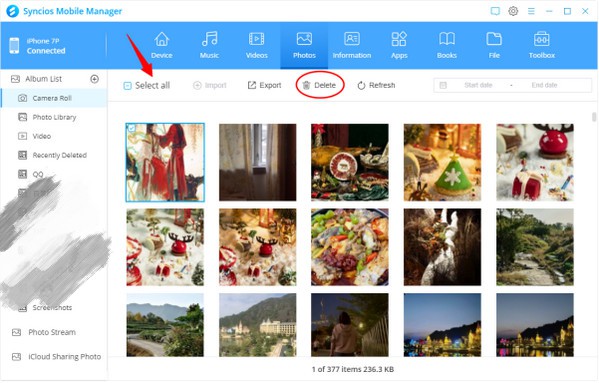 Bonus:
1: One click for backup photos on your iPhone:
In addition, if you still think all of those operations given above are intricate, no worries, this app also have the one click backup function prepared for their users. You can choose specific data type like camera roll, audio, video to backup.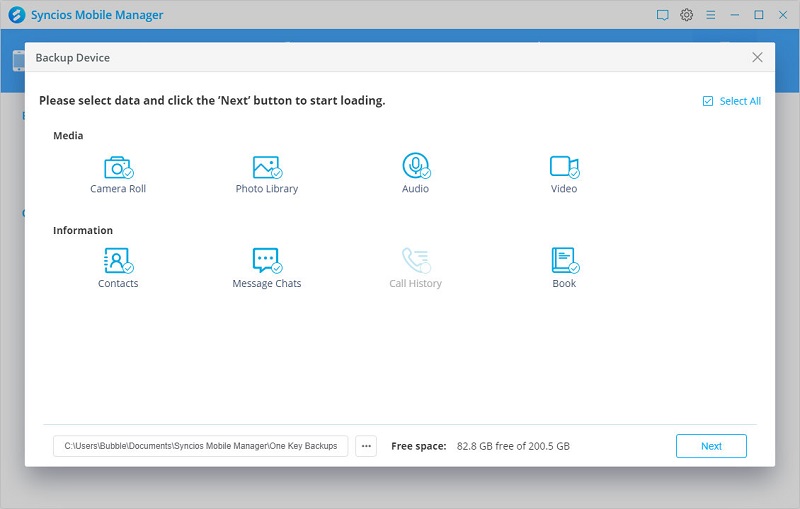 2: Photo compression:
A lot of iPhone users struggle in the limit storage of their phones since the mobile camera techniques become more and more mature, sometimes a single photo will occupy 20MB storage. With photo compression function in Toolbox, you can easily compress some unnecessary photos to release some space for your packed iPhone.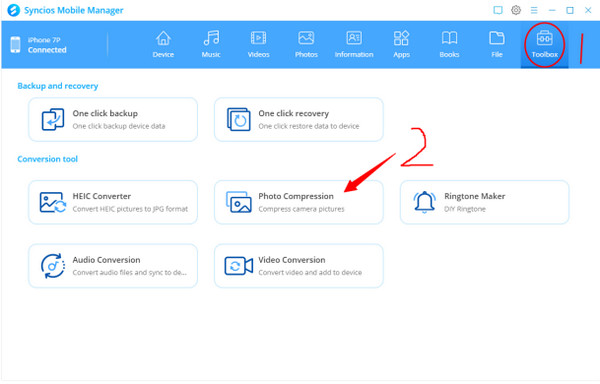 ---
2.Slidebox - Photo Organizer
Slidebox is a free image management software designed with minimalist so this app is relatively popular among young generation. It's commonly used to help people delete unwanted photos, sort photos into specified album and compare similar photos. There is no doubt that Slidebox is a perfect app for people who prefer minimalism and enjoy sorting their photos.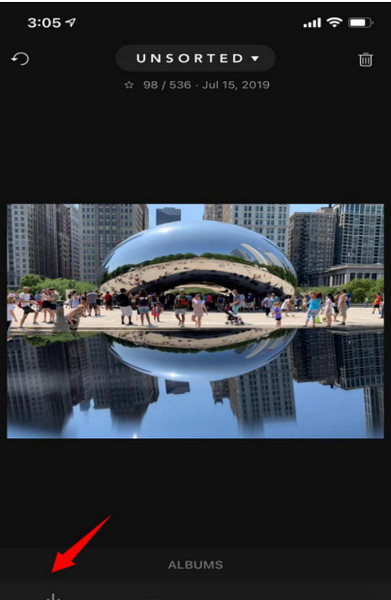 Pros:
Fastly sort photos
Easy to operate
Cons:
Limited functions as a mainstream photo management app (without import, export and delete function...)
Cannot support batch processing
Low price-performance ratio
---
3.EaseUS MobiMover
EaseUS MobiMover is a popular iPhone manager which has some similar feature comparing to Syncios Mobile Manager, from their operation interface, we can see that it also supports photos transfer between PC and iPhone. Unfortunately, this photo management software cannot support photo compression and lack some amazing functions like one-click backup or restore.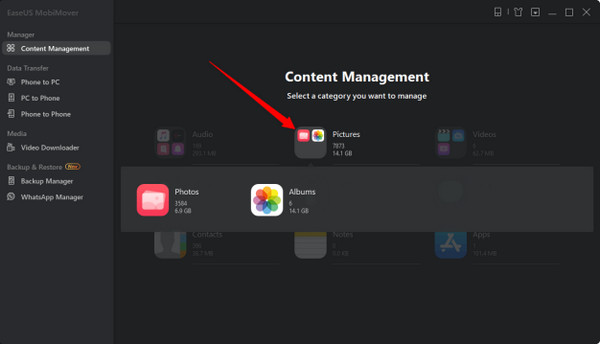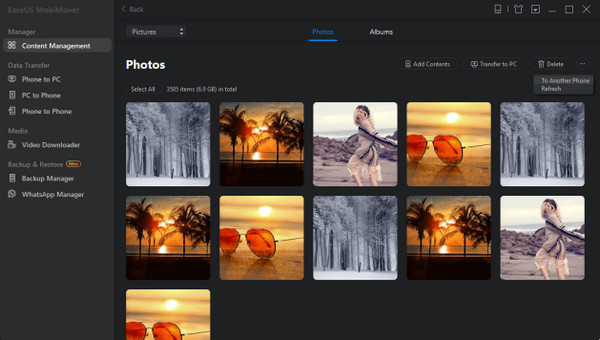 ---
Conclusion
All things considered, although there are couple of ways to transfer photos between your phones and PC and also thousands of photo management software in the world, we're super confident to say that Syncios Mobile Manager is one of the best iPhone photo managers since it has the fastest speed, patient supporting team, fairly competitive price and various functions.
Of course Slidebox is also an excellent app for people who just want sort photos on iPhone. But if you expect a photo manager with comprehensive functions, Syncios is your optimal choice. We highly recommend you to subscribe our product since it has already been used by millions of customers and most of our customers are satisfied with this experience.
---
Tips

what's next? Download Syncios Mobile Manager now!
---