How to Free Up Storage on Your iPhone
Back to the time when smart phones just emerged, users always got troubled by the limited phone storage because smart phones have more caches than traditional phones. In traditional phones era, it's impossible that a single app will occupy more than 2GB storage and we cannot get a high quality photo like iPhone does on a traditional phone.
Recently I have noticed that a lot of people have complained about the limited storage on their iPhone, every time they took a new photo, they will receive an alert reminds that iPhone storage is full. It's so sad that people are still worrying about the limited iPhone storage in 2021, this article will show you how to free up storage on your packed iPhone.
---
Method 1: Free up storage on your iPhone through Syncios iOS Eraser
iOS Eraser is a data cleaning software developed by Syncios, this software is commonly used to free up space and erase data deeply on users' iPhone. With this software, you can clean up all the junk files and caches in just one click, iOS Eraser will automatically detect temporary files, junk files, and caches. The only thing you need to do is selecting files you want to delete.
Key Features of Syncios iOS Eraser:
Erase data on iOS device completely with nothing recoverable.
Selectively erase deleted files and private data with 0% recovery.
Support 30+ data types: messages, contacts, call history, photos & video, etc.
Wipe social app data: WhatsApp, LINE, WeChat, Kik, Facebook, etc.
Clear junk files and speed up your iPhone/iPad/iPod Touch.
Erase deleted files and private fragments with no chance to recover.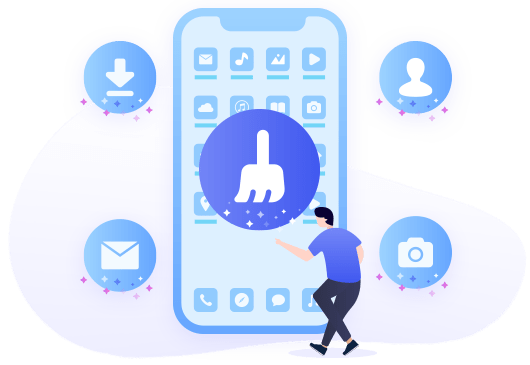 ---
How to Free up storage on your iPhone through Syncios iOS Eraser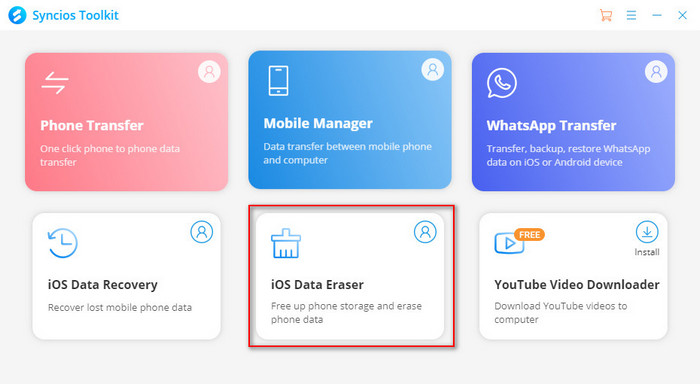 Here is the step-by-step guide on how to free up your iPhone storage by using Syncios iOS Eraser
Step 1Download Syncios iOS Eraser from the link given above and single click 'iOS Data Eraser' in the Toolkit. Before we start, make sure we have successfully connected the iPhone with the PC, you can check it out on the right of the operating interface.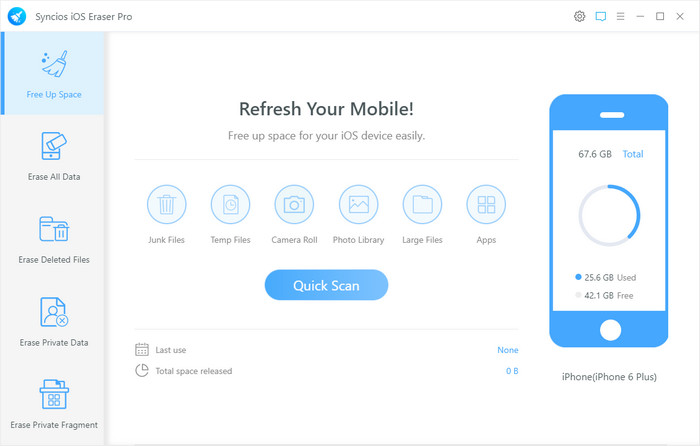 Step 2Choose 'Free up Space' from the left panel, then click 'Quick Scan', the iOS Data Eraser will automatically scan out temporary files, junk files, trash, caches, and large files. After the scanning is done, you can see how much space you can save by cleaning the data.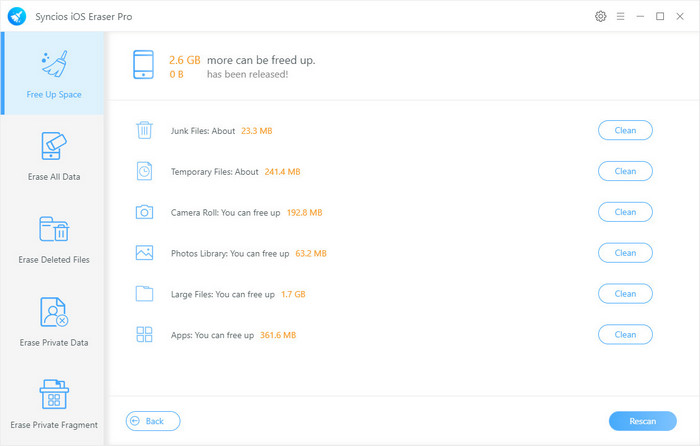 Step 3Free up your iPhone space by clicking 'clean' button.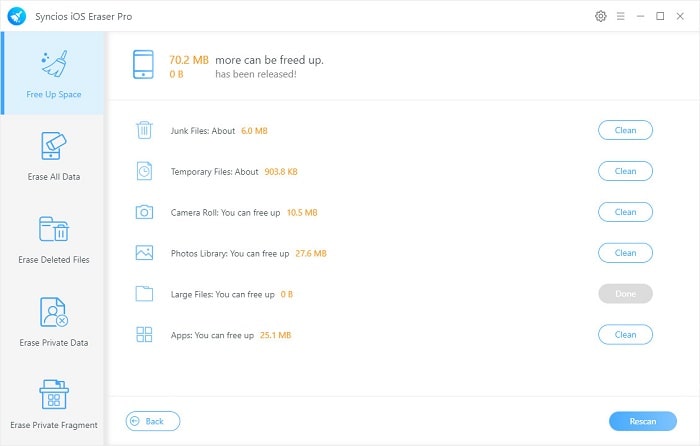 Tips:
Junk Files: You can clean caches on your iPhone by cleaning 'Junk Files'

Camera Roll: iOS Eraser could help compress photos on iPhone and it also supports to back up photos to your PC, so more storage will be released

Large Files: You can delete downloaded songs and videos from your iPhone or back them up to your PC through Syncios iOS Data Eraser if you want free up storage onyour iPhone

Apps: Delete unused apps on your iPhone to free up some space
Pros:
Rich features besides data cleaning
High efficiency
Support back up file to the PC while deleting it
User-friendly interface
Cons:
---
Method 2: Free up storage on your iPhone right on your iPhone
We know that a lot of people would like to free up storage right on their iPhone instead of using third-party software so we have cleared up some mainstream methods for you to clean up iPhone without using any other apps or software.
Free up Storage Right on Your iPhone
Step 1Clear caches to free up storage on your iPhone
If you are a social media apps lover, you should know that these apps usually have more caches than other apps because they will save all texts, images and videos you have viewed while you are using the app. Therefore, it's necessary for us to clear caches in these social media apps like Instagram, Snapchat, Tiktok, etc... This method will free up more space than you imagine, you can also clear caches for your browser or other apps.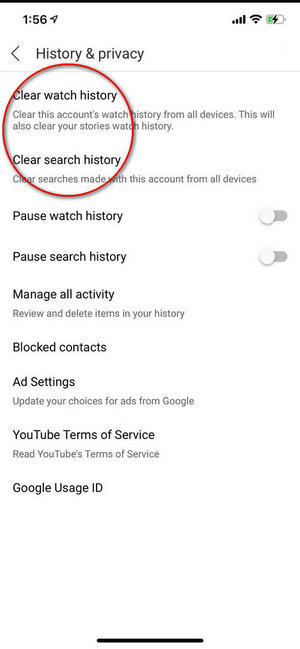 Step 2Offload apps to free up storage on your iPhone
In most cases, apps take up 80% of the storage of an iPhone, so offload apps is one of the most efficient ways to free up storage on an iPhone since this process will free up storage without deleting documents and data in the app. Go Settings--General--iPhone Storage, then you can offload apps individually.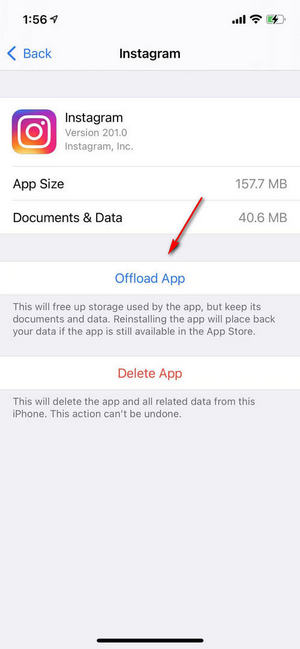 Step 3Uninstall apps you never use
It is not amazing that sometimes people would install some apps which they never use, uninstalling these apps will free up some storage on the iPhone. Go Settings--General--iPhone Storage, then you can find apps you don't use and uninstall them.
Step 4Delete photos, songs, videos you don't want to keep on your iPhone anymore
I know some people may have hundreds of high-quality photos and videos which may take up too much space on their iPhone, even though they never view or listen to it, they still keep these photos or songs on their iPhone for no reason. So it's necessary to delete these meaningless files if we want more free space.
Pros:
No third-party software is needed
Free
Will not delete files by mistake
Cons:
Low-efficient
Cannot clean up data deeply
---
Conclusion
Based on the information given above, we know that Syncios iOS Eraser is an excellent software that supports to erase junk files, delete unused apps, erase large files, and compress or backup photos. If you are not willing to use third-party software and don't mind spending more time to do that, cleaning up data right on your iPhone is also a good choice.
All things considered, by comparing the 2 methods in this article, obviously Syncios iOS Eraser is the optimal choice to free up storage on your iPhone since it has strong features and a high-speed processor. In the end, I highly recommend you to subscribe to this software and start to explore more features.
---
Tips

what's next? Download Syncios iOS Data Eraser now!
---