Set Free Christmas Song as Ringtone for iPhone and Samsung
Christmas, the worldwide festival is coming. You are preparing Christmas gifts, Christmas trees, Christmas decorations, and other pieces of stuff. And do not forget to change your mobile ringtone to a Christmas one. Here is the method to set free Christmas songs as ringtones for iPhone and Samsung. Moreover, you can create unique mobile phone ringtones for Christmas. You can turn any Christmas song, dialogue, background music, and movie music into your iPhone ringtone.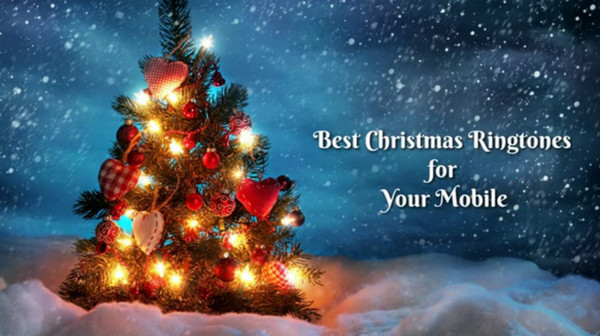 Part 1. Free Resources for Christmas Songs
If you want to download free Christmas songs and ringtones, you can get more choices from online sites. Here are top 5 sites to get the best Christmas holiday ringtone downloaded.
☛ Top 5 Sites to Get Free Ringtones for Christmas
| Sites | Online Christmas Ringtones Download | URL |
| --- | --- | --- |
| Zedge | Zedge offers the huge collection of free iPhone Christmas ringtones. You can get Christmas Bells, Christmas Time, Christmas Techno and many other Christmas oriented free tracks online. | https://www.zedge.net/ |
| MyTinyPhone | Here are over 1000 free Christmas ringtones for iPhone and iPad users. You can get funny Christmas ringtones, country Christmas ringtones and many other themes from MyTinyPhone. | http://www.mytinyphone.com/ |
| Notification Sounds | You can download Christmas ringtones as MP3, M4R or OGG format. Any Christmas ringtone in the Notification Sounds site is licensed. | https://notificationsounds.com/ |
| Cellsea | Cellsea is also a good option to download free Christmas music ringtones. Though the popping-up ads are quite annoying. | http://www.cellsea.com/ringtone/ |
| Mob.org | You can download not only free Christmas ringtones, but also good SMS and messages tunes here. Moreover, you can scan QR code to download Christmas ringtones to iPhone for free directly. | https://tones.mob.org/tag=holiday/ |
---
☛ Free Christmas Songs on YouTube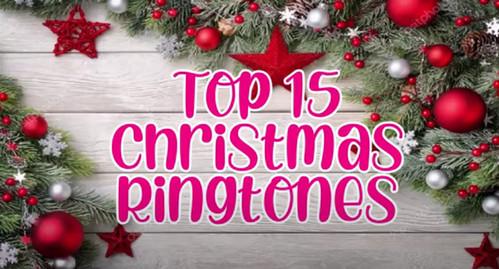 YouTube is another resource to get free Christmas songs. Here are some resources.
You can download these Christmas songs by using Syncios YouTube Downloader, which enables you to extract audio security online. It provides an online converter feature so as to and save the audio to our computer. Also, it owns the ability to download both YouTube video and music from online to offline for personal enjoyment, saving locally for a worry-free watching at any time. For video enthusiasts and creators, this is such a piece of good news that Syncios YouTube Video Downloader is totally free of charge program. Here is a guide about how to download YouTube music with this tool.
---
Part 2: Create a Unique Ringtone for iPhone and Samsung
If you want to tailor the Christmas song and create a special Christmas ringtone, you can use the Ringtone Maker of Syncios Mobile Manager. It enables you to import the music from both mobile phone or the downloaded song from the computer, cut the song and convert it to a ringtone file. Moreover, transferring ringtones to iPhone and Samsung directly. In a word, you can make a custom iPhone ringtone for Christmas with ease. Just follow the steps.
What Syncios Mobile Manager can do:
Support importing music files from mobile phone directly to make ringtone.
Support exporting text messages in HTML or CSV format file.
Selectively back up and restore contacts, messages, call logs, music, video, photo, apps, etc.
Preview and export photos from phone to the computer.
Supports almost all iOS phones and Android phones.
Fully compatible with the latest Android and iOS.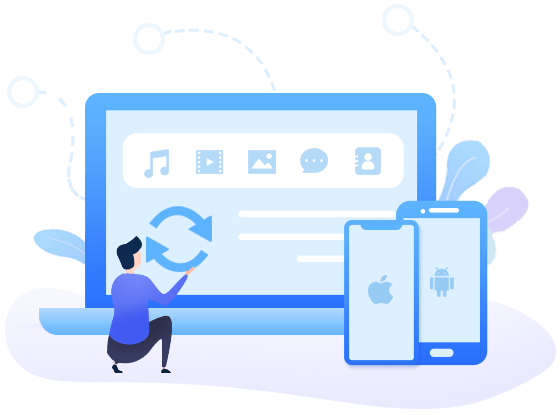 ☛ Steps to create a ringtone for iPhone and Samsung
Step 1 At first, download and install the proper version of Syncios Mobile Manager.
If you are a Windows user, just run Syncios Toolkit and choose "Mobile Manager" on the main interface to launch the program.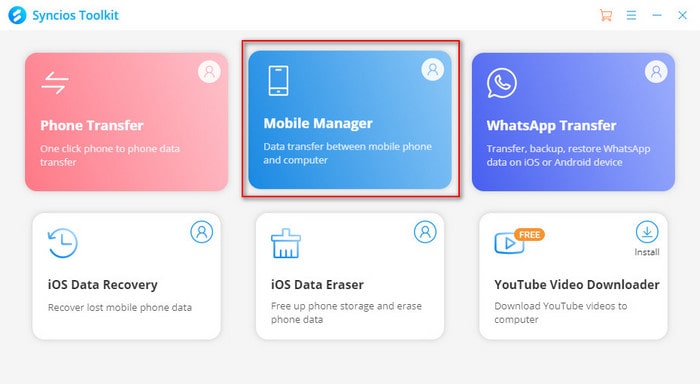 Step 2 Connect your iPhone or Samsung to the computer via USB cables. In case any prompt appears on your phone, you'd better keep your phone unlocked.
Tips: If the device fails to be detected by Syncios, please follow this tutorial for iPhone and follow this guide for Samsung.
Step 3 When the phone is detected successfully, just go to Toolbox. There are many useful tools such as backup and recovery, HEIC converter, etc. Just choose Ringtone Maker.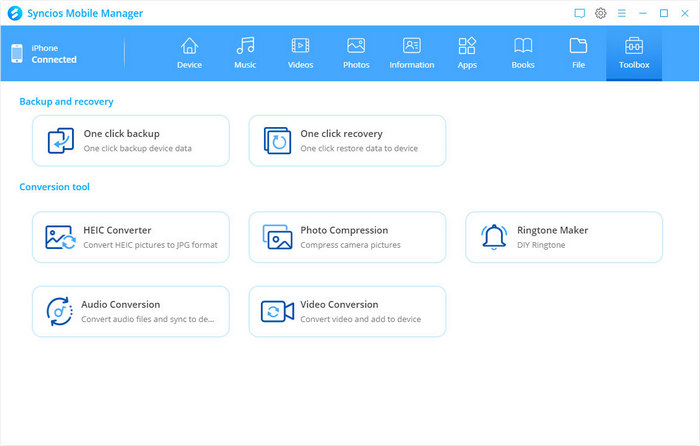 Step 4 Import the music you like.
You can import the music from your mobile phone directly by clicking the button "Select from device" to choose your favorite music from your iPhone or Samsung.
You also can import the Christmas music from your computer you just downloaded by clicking the button "Select from computer".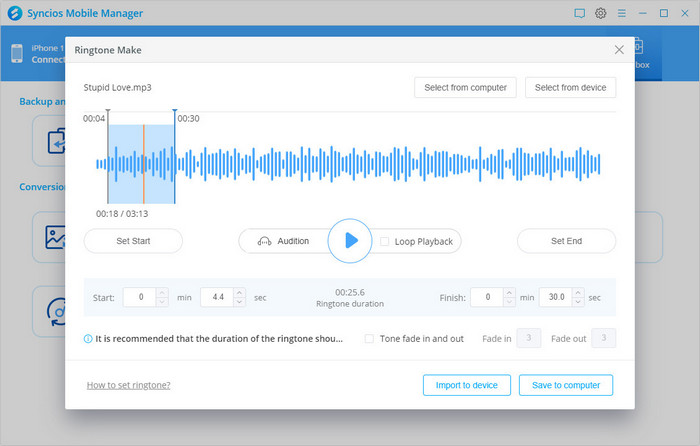 Step 5 Edit the music as a ringtone.
In the Ringtone Make window, you can click the "Play" button to play the music. When you find the proper place as a start, please click the Set Start button. And find a suitable place for the end of the ringtone and click the Set End button. Preview the ringtone and modify it till you are satisfied with it.
Note: the ringtone is no more than 40 seconds in length.
Step 6 Add fade effect to your ringtone.
By checking Tone fade in and out, you can add the fade effect to your ringtone.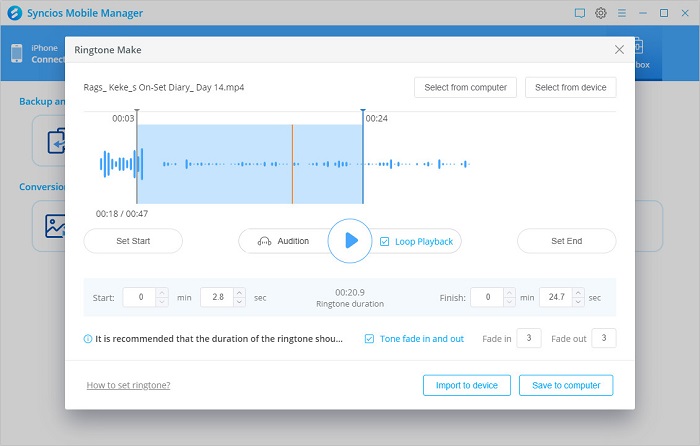 Step 7 Click the Import to device button to add this new ringtone to your mobile phone.
You can view this new music file on your iPhone or Samsung. Next, apply it as the new ringtone.
Tips: If you can not find the new ringtone on the iOS device, please switch back to Syncios Mobile Manager and choose to export the ringtone to your computer. Then go to the Music panel and click the "Ringtone" folder. Click on "Add" > "Add Files". Then choose the newly created ringtone file and click "OK". Then you will find it under the Ringtone on your iPhone.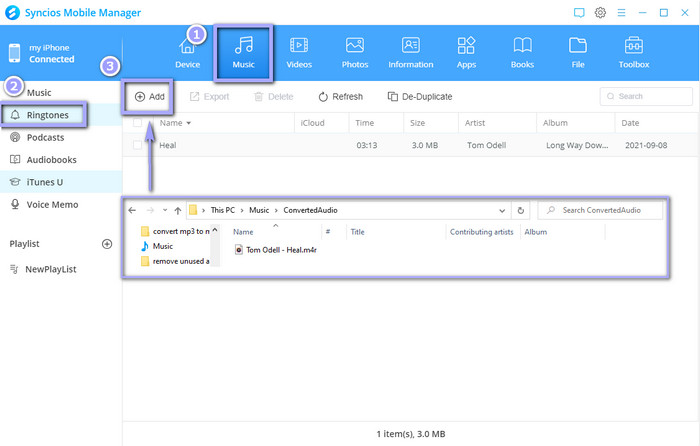 ---
Part 3: Apply Ringtone to iPhone/Samsung
Apply Christmas Ringtone to iPhone
Now set the song as the new ringtone for iPhone by the following steps.
Unlock the iPhone and tap on Settings > Sounds & Haptics > Ringtone.
Normally, the newly added music will be placed at the top of the ringtone list. Then find the music you just added and tap on it. The music will be played when you tap it. And a check symbol is shown beside the music, which means you have set this song as the ringtone for your iPhone.
Assign a personal ringtone to an individual contact on iPhone.
To differ some contact from others, you can assign a special ringtone to him/her. As long as you hear the special song ringing, you will know who is calling. The following are steps of how to costume ringtone to a contact on iPhone 13:
Open the "Phone" app of your iPhone.
Go to the "Contacts" section and tap on the contact person you want to set a personalized ringtone for.
Once you are in the contact details menu, please tap on "Edit" at the top-right corner of the screen.
Scroll down and tap on the "Ringtone" field and choose a ringtone you want to be for this contact as the custom ringtone. Once you have done, tap on "Done" to confirm the changes.
---
Apply Christmas Ringtone to Samsung
To apply the new Christmas ringtone as messages or call notifications, please do as follows:
Unlock your Samsung and go to "Settings", then tap "Sounds and vibration".
Check that "Sound" is selected as the "Sound mode", then tap "Notification sound".
Select the music file, where you can see your customized ringtone is provided as an option. Choose it and then tap the return button to apply the changes.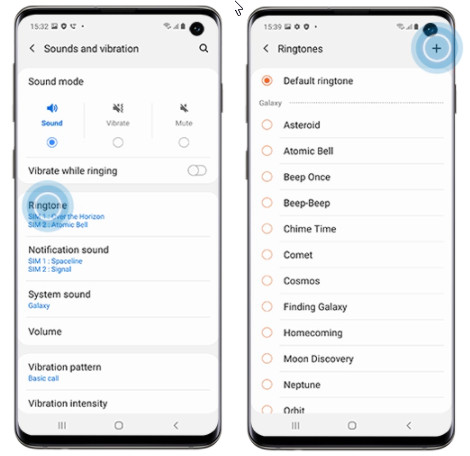 ---
Conclusion
To welcome the coming Christmas festival, you can DIY a free Christmas ringtone from the resources and method provided here. Furthermore, you can also use Syncios Mobile Manager to transfer other music to your iPhone or Samsung, or you can transfer wonderful Christmas party photos to your computer. It is an awesome tool!
Syncios Mobile Manager is a professional tool to manage all the content on your mobile phone, such as contacts, photos, video, music, etc. You can transfer music files from the computer to your mobile phone or export the music from the mobile to your computer. It provides both Mac and Windows versions. So no matter you are using Mac or Windows PC, Syncios Mobile Manager helps you to transfer the downloaded music from computer to mobile phone with ease and this feature is completely free.
Tips:

what's next? Download Syncios Mobile Manager now!