Merry Christmas! Top 10 Christmas Songs
"Unlike any other music genre, Christmas songs never seem to get old. Enjoy the best Christmas songs in the special time of the year."
Christmas is one of the most celebrated holidays in the world. The holiday season brings many enduring traditions, but one that's pretty much impossible to ignore is the blessing of constant Christmas and snow tunes! Here we are glad to share opinions about Christmas music. We just collected a list of the top 10 Christmas songs in 2021, including the top 10 Christmas songs on YouTube, Spotify top ten Christmas songs.
Merry Christmas! Hope you can find the favorite song from the Christmas songs list to get happy.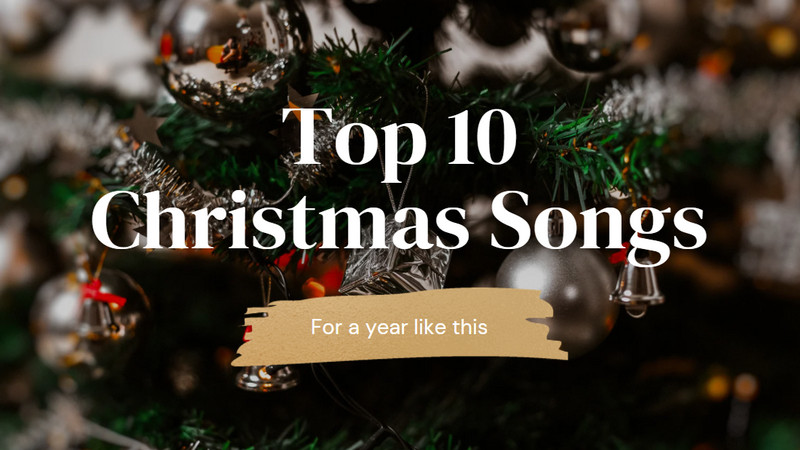 ---
Part One: Top 10 Christmas Songs of All Time
Obviously, music is the best companion for Christmas to make the holiday party more joyful. Christmas songs can be peppy, classic, funny, pop, and more. Choose the ones you desire from the list below. Let's check it out.
Best & Classic Christmas Song
If you started with some slightly older holiday classics, now it's time to shift gears with some equally beloved but slightly more contemporary tracks. The classic Christmas songs below will surely set the mood right.
1. Last Christmas by Wham
This is one of the most popular Christmas classics that hit the charts only after the year 2017.
Artist: Wham
Released: 1984
Enjoy in YouTube:
---
2. All I Want for Christmas Is You
The gold standard of Christmas songs is capable of putting you in a holiday mood within the first five seconds.
Artist: Mariah Carey
Released: 1994
Enjoy in YouTube:
---
3. White Christmas
Probably the most iconic Christmas song of them all. Packed with nostalgia and memories of Christmases gone by. Like pulling on a warm sweater on a cold winter day.
Artist: Bing Crosby
Released: 1942
Enjoy in YouTube:
---
Christmas Songs for Kids
When children think of Christmas, they think of Santa Claus, presents, and singing. Many people enjoy reminiscing and singing Christmas tunes from their childhood, including these favorites. Below is the list of the top best Christmas songs for kids.
1. Jingle Bells
Jingle bells is the most sung Christmas song by kids and adults alike. This is one of the first songs taught to children at a very early age.
Artist: Bobby Helms
Released: 1957
Enjoy in YouTube:
---
2. Rudolph the Red Nosed Reindeer
The Red-Nosed Reindeer is one of the favorites for kids and adults. It talks about Santa's special reindeer, Rudolph, who made a name for himself by using his glowing red nose to lead Santa's sleigh through a dark, foggy night.
Artist: Jack Johnson
Released: 1964
Enjoy in YouTube:
---
3. Santa Claus is Coming to Town
This is a song that comes with an excellent message for kids preparing for the holiday season. Most little ones tend to consciously think about their behavior more around Christmas so Santa will bring them gifts instead of a lump of coal.
Artist: Mariah Carey
Released: 1957
Enjoy in YouTube:
---
4. Frosty The Snowman
The song tells the story of a snowman who comes to life and plays with the children who built him, all because of a magic top hat. Sadly, their fun comes to an end as the day begins to get warmer and the sun melts the snow.
Artist: Gene Autry
Released: 1950
Enjoy in YouTube:
---
Popular Christmas Songs in 2021
Apart from the classic Christmas songs, your Christmas playlist should cover some modern and newish songs. We've collected a list of the best new and latest popular Christmas songs for 2021.
1. Merry Christmas
These two music legends releasing a Christmas song is going to be a hard act to beat in the Christmas charts.
Artist: Ed Sheeran & Elton John
Released: 2021
Enjoy in YouTube:
---
2. Little Things
These two music legends releasing a Christmas song is going to be a hard act to beat in the Christmas charts.
Artist: ABBA
Released: 2021
Enjoy in YouTube:
---
3. Fall in Love at Christmas
The reigning Queen of Christmas pop songs has a new release. Nothing more to say except to listen to it!
Artist: Mariah Carey, Khalid and Kirk Franklin
Released: 2021
Enjoy in YouTube:
---
Part Two: Create Your Perfect Christmas Playlist using Syncios
1: Download Christmas Songs via Syncios YouTube Video Downloader
With the help of Syncios YouTube Downloader, you can download Christmas songs to Mp3, M4A for free, thus you can listen to the Christmas songs offline on the go. You are able to play these downloaded Christmas songs on iPhone, Samsung phone, OnePlus, etc.
---
Key Features of Syncios YouTube Video Downloader:
Download online YouTube videos and music to offline playing.
Convert YouTube music to offline M4A or WEBM files.
Convert YouTube video to MP4, MKV, M4A or WEBM files.
Select video quality: 144p, 240p, 360p, 480p, 720p, 1280p, 1440p, 4K.
Provide a user-friendly and intuitive interface, easy-to-use for all users.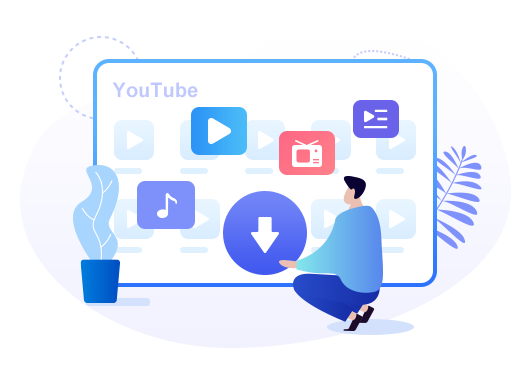 ---
Step 1: Download and install the free Syncios YouTube Video Downloader on your computer. If you are a Windows user, when the installation is finished, you will see a Syncios Toolkit icon on the desktop. Double-click to open the Syncios Toolkit and tap on the YouTube Video Downloader option on the main interface to launch this free YouTube downloader.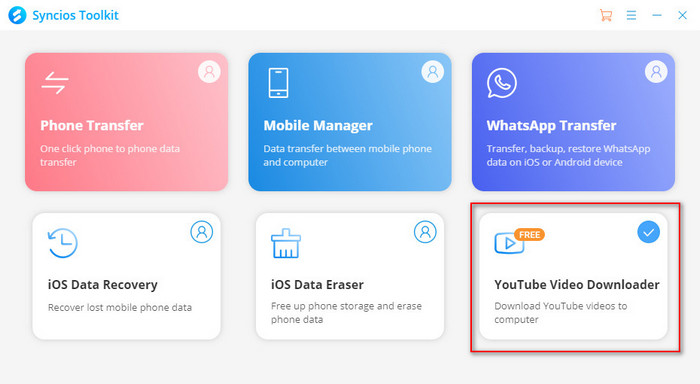 Step 2: Copy the Christmas songs URL on YouTube and paste the URL into the search box of Syncios YouTube Video Downloader. You can also search for Christmas songs by entering the name of Christmas songs and then click on the Magnifier icon beside the box to start searching.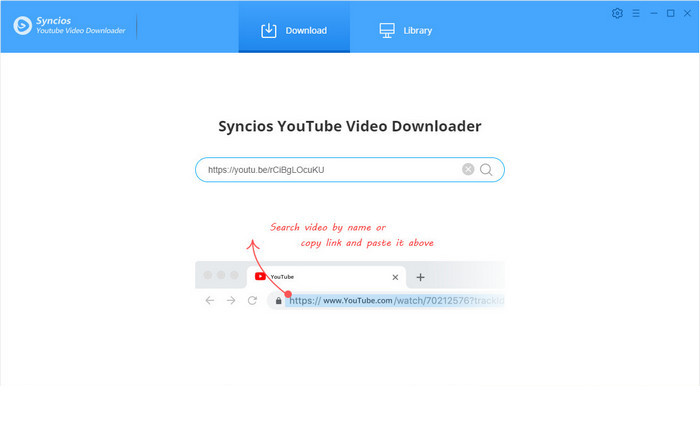 Step 3: Wait till it completes searching and there's a list with the target video and other related videos. Tap on the "more"

icon button beside the target item.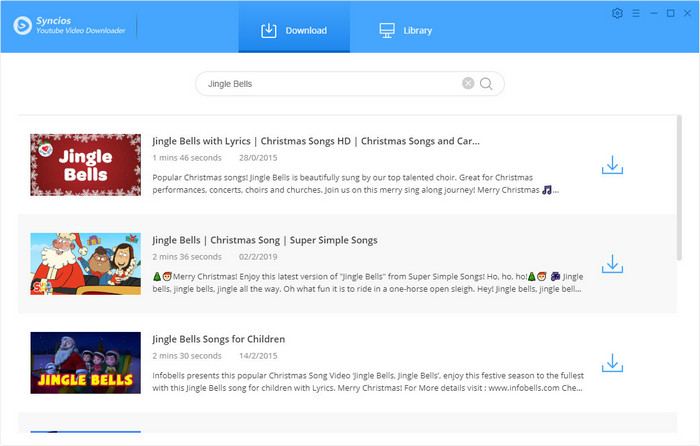 A window will pop up allowing you to select the corresponding video or audio in different output formats & quality.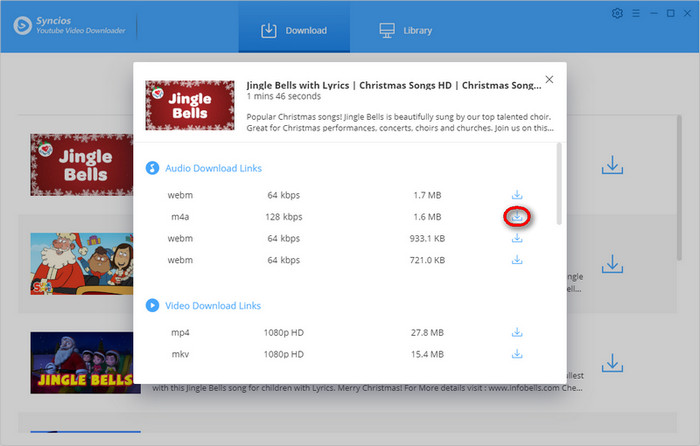 Click the download icon

to start downloading the Christmas songs on YouTube to your computer. Once the downloading process is done, you can click on Library to find the well-downloaded Christmas songs.
---
2: Transfer Christmas Songs to Mobile Phone & Create Christmas Playlist via Syncios Mobile Manager
Now you have the list of the classics, kids, and pop Christmas songs on your computer, it's time to create Christmas playlists. Syncios Mobile Manager helps you to transfer the downloaded Christmas songs from computer to iPhone, Samsung phone, OnePlus phone, etc. for free. Moreover, it comes with a built-in ringtone maker, which allows users to cut the favorite part down, and make Christmas songs as a ringtone, alarm, or notification tone for iPhone, Samsung phone, etc.
If the formats of the downloaded Christmas songs are not compatible with a mobile phone, you can use the built-in handy tool: Audio Conversion to convert the downloaded Christmas songs to MP3, M4A, M4R, CAF, AAC, WAV, FLAC and more.
---
Key Features of Syncios Mobile Manager:
Selectively backup and restore contacts, messages, call logs, music, video, photo, eBooks, apps, etc.
Manage iOS devices/Android music, edit song details and deduplicate tracks.
Preview and export SMS, call history & contacts to readable format on computer.
Handy tools: One-Click Backup/Restore, HEIC Converter, Photo Compression, Ringtone Maker, Audio Converter and Video Converter.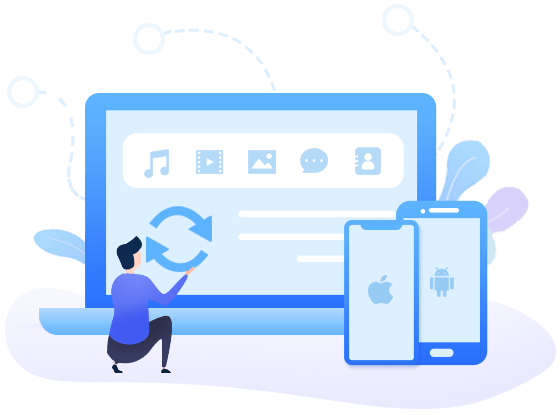 Steps to import Christmas songs from PC to iPhone, iPad, Android
Step 1 In this part, just run Syncios Mobile Manager by clicking on the Mobile Manager option on the main interface of Syncios Toolkit.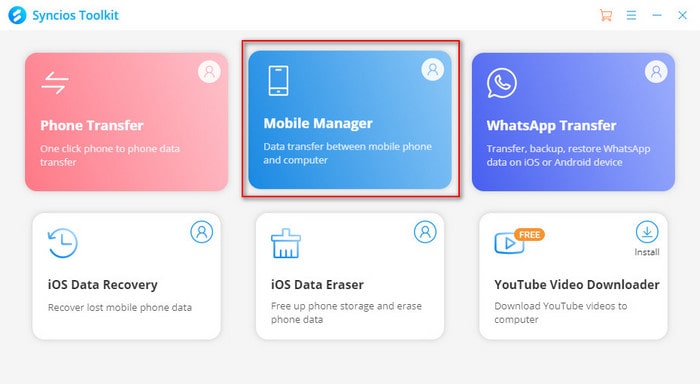 Step 2 Get your mobile phone connected to the computer with a USB cable.
If you encountered any problems during the connection process, please follow this iOS tutorial for iPhone and follow this Android guide to get help.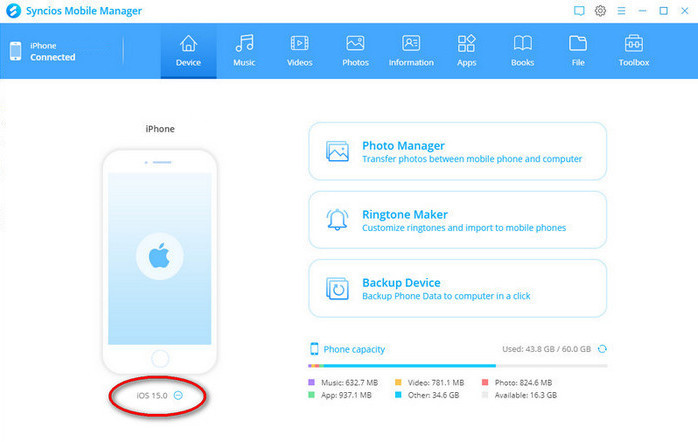 Step 3 Go to the Music tab on the top menu bar and click on the Add button. From the drop-down list, you can choose Add Files or Add Folder to import the downloaded Christmas songs to your iPod touch, iPhone, iPad or Android phone.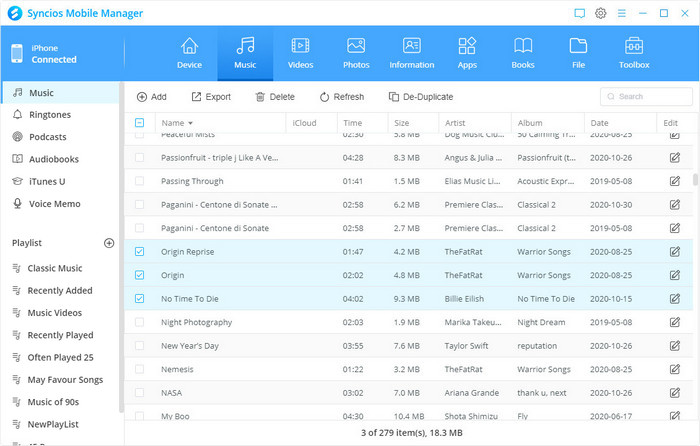 Now you can enjoy the Christmas songs on your mobile phone anywhere.
Step 4 You can create playlists for the transferred Christmas songs by clicking on the Playlist option on the left side of the Syncios Mobile Manager.
Detailed Tutorial: Set Free Christmas Song as Ringtone for iPhone and Samsung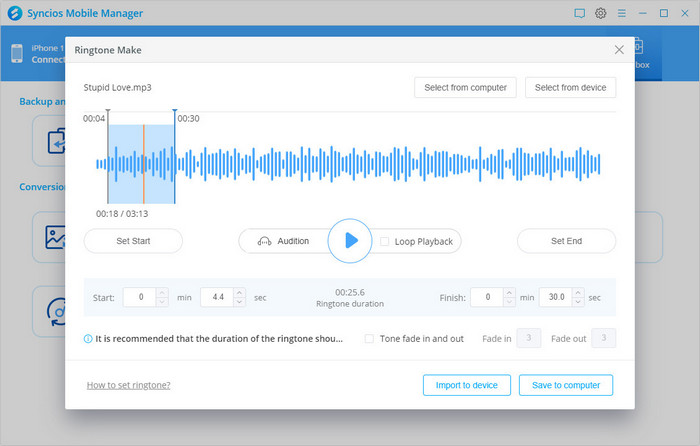 ---
Conclusion
That's all. Hope you will like this Christmas music playlist during the holiday season. You can not only listen to Christmas songs on your mobile device but also can use your favorite Christmas songs as ringtones on your phone. Syncios YouTube Downloader and Syncios Mobile Manager give you more possibility to handle these Christmas songs. You can enjoy Christmas songs anywhere and everywhere. If you are looking for a popular Christmas songs playlist, this top list will do a great help as it covers the 10 best Christmas music including original Xmas tunes to seasonal classics that you might love to get this Christmas.
---
Tips

what's next? Download Syncios Mobile Manager now!
---