Best Free Online Image Quality Enhancer: How to Enhance the Quality of Low-res, Pixelated and Blurry Images in a Few Clicks
"I'm a photography enthusiast, and I'm still in the practice phase. I take a lot of pictures and many of them have little imperfections and I don't want to delete them, so I try to fix them with retouching software, but I'm not good at Photoshop, and it's rather expensive, is there any other way to enhance the pictures?"
Enhancing the quality of your images can be a difficult and time-consuming task, especially for those with limited technical knowledge. You may find yourself spending hours trying to tweak and adjust settings in photo editing software, or you could be stuck with a low-res, pixelated and blurry image. Luckily, you don't have to spend all that time and effort anymore. Thanks to the power of technology, you can now improve the quality of your images in just a few clicks. Introducing the best free online image quality enhancer, AVC.AI, a revolutionary tool that can help you turn your low-res, pixelated and blurry images into high-quality, clear and sharp images in a matter of seconds. With this tool, you can quickly and easily enhance the quality of your images to make them look professional and polished.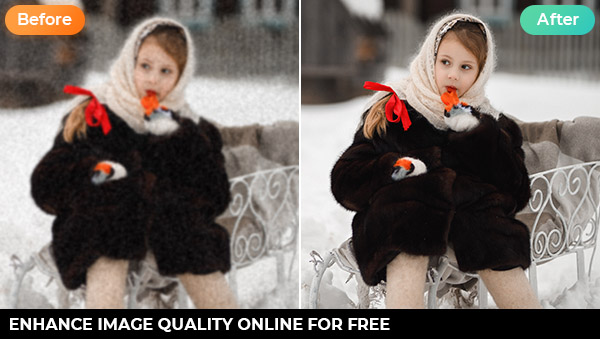 ---
Part 1: Brief Introduction to AVC.AI
AVC.AI makes a unique mark in the midst of kinds of online free image quality enhancers. It is a web-based photo editing application that is completely compatible with all devices, allowing users to immediately fix various common issues of images. This image enhancer has been trained on millions of hazy pictures and uses machine intelligence, which is why it is able to detect and clear out imperfections from images in a matter of seconds. People are not required to have expertise in any editing knowledge like using Photoshop to enhance images.
---
Part 2: What Kind of Image problems Can be Solved by AVC.AI: Common Image Imperfections Encountered in Daily Life
AVC.AI is both an AI enhancer and an AI remover. It has a total of seven AI functions combined to solve various common image problems in life.
1. Denoise: automatically and accurately gets rid of the graininess from a grainy and noisy image, in order to restore the true visual and extract crucial information from noiseless images, without the utilization of any noise reduction filters.
2. Upscale: upscale and enlarge the image size to 200%, 300%, or 400% and enhance the image quality. Additionally, this model can also be used to fix other image problems like unpixelating images, fixing blurry and out-focus images, etc.
3. Face Refinement: one click to get high-quality, stunning portraits by improving skin tone, removing blemishes, or enhancing features like eyes and lips. This feature is integrated under the Upscale model.
4. RemoveBG: automatically removes the background from the photo.
5. Colorize: colorize old family snaps and historical pictures to bring them new life.
6. Color Calibrate: fix color casts in your digital photos, and restore balanced tones as well as vibrant colors.
7. Remove Objects: remove people, text or logos, wires, date stamps, and any other unwanted objects from photos.
---
Part 3: How to Enhance Images with AVC.AI
Step 1: Log Into AVC.AI
Go to the AVC.AI website and log into your account. If you are new to this free online image quality enhancer, then click on the Sign up button to register an account. You will be rewarded with some free credits. Non-new users who want to use AVC.AI for free can participate in the campaign launched on their website to get free credits.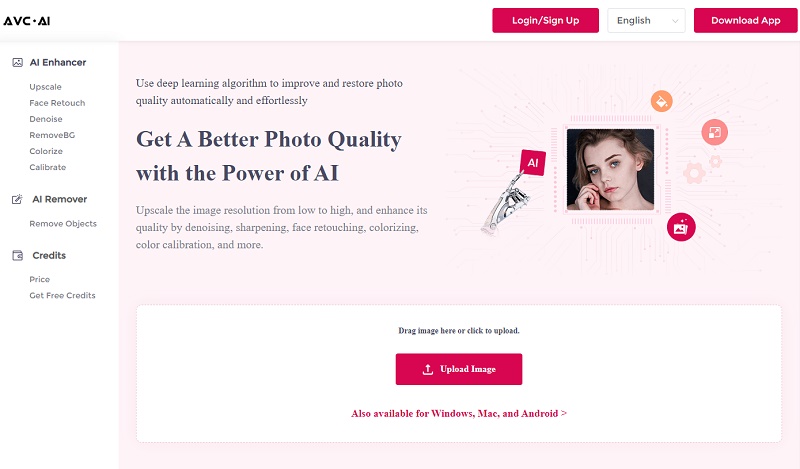 Step 2: Upload the Image
Click the Upload Image button or drag and drop the source file. This online image quality enhancer supports batch processing. So you are allowed to upload more than one image to process at the same time by clicking Upload New Images.
Note: Supported input formats are: *.png, *.jpg, *.jpeg, *.bmp, *.jfif, and *.webp.
Step 3: Select AI Models and Start Processing
If you have uploaded multiple images to enhance, you can use different models for each image to process separately, or select multiple images and use the same model for batch processing. To turn your low-res, pixelated and blurry images into high-quality, clear and sharp images, you should select the Upscale model.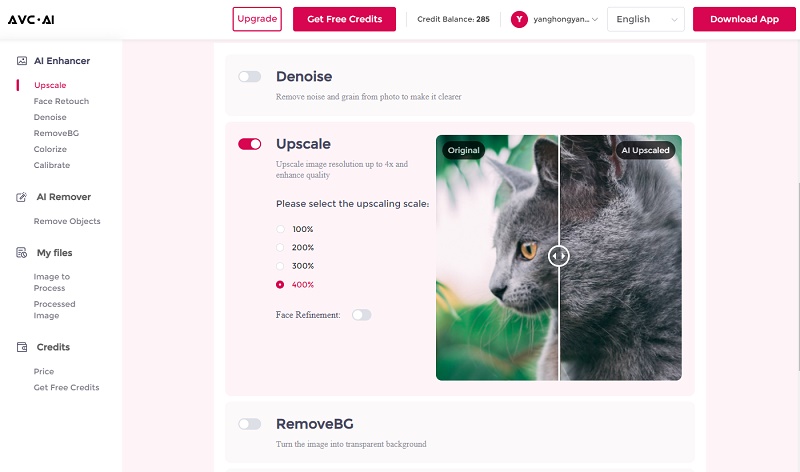 After selecting the appropriate models from the seven AI features introduced above, click on the Start Processing button to start enhancing them.
Step 4: Preview and Download Images
The whole enhancement will be finished in a few seconds. Once it is finished, an Eye button will appear near the processed images. You can click it to preview the results. If you are satisfied with it, then click Download Image to save the processed photo.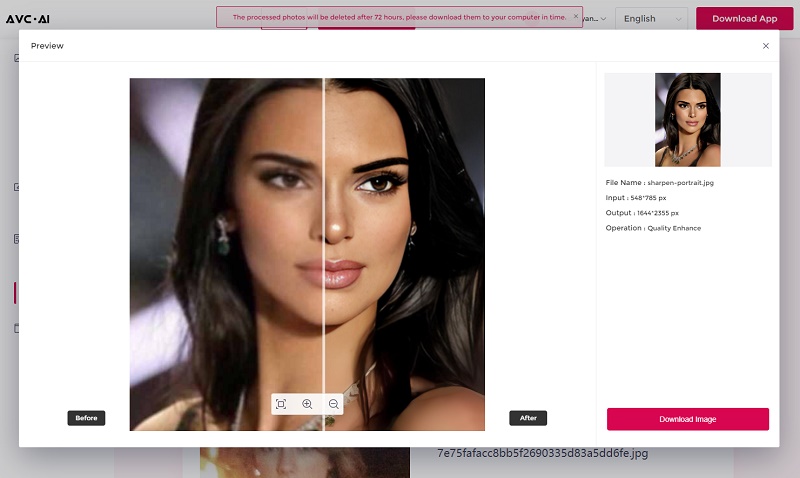 ---
Conclusion
AVC.AI is the best free online image quality enhancer that can help you fix low-resolution, pixelated, blurry images in a few clicks and remove unwanted objects. It almost meets all of your needs and can fix most of the image imperfections encountered in daily life. This app is perfect for anyone who wants to improve the quality of their photos without spending hours editing them manually. So if you're looking for an easy way to enhance your images, give AVC.AI a try. You won't be disappointed!
Download Desktop Version of AVC.AI
---